Earth has more than 4,000 minerals. In our lifetime, we'll never see most of them. Bizarre trace impurities and mineral assemblages have resulted in a variety of the rarest gemstones in the world.
Minerals are classified as gemstones depending on their optical characteristics, crystal structure, refraction and chemical composition. The degree of imperfections and classification in a birthstone or mineral determines its associated rarity and value.
Our list of the top 50 most popular gemstones combines commonly known ones such as diamond, amethyst and opal with some exotic and rare gems like larimar and grandidarite.
To feed your curiosity, and for easy reading, we made some tabs here. Each tab contains 10 shortcuts to different gemstones, so you may quickly know what popular gemstones are there and get to details in a blink.
Top 50 Most Popular Gemstones
1. Paraiba Tourmaline
Tourmalines are very popular, especially in Brazil. They are common in many colors. The Paraiba tourmalines are the only ones with a striking, bright turquoise hue all thanks to their copper content.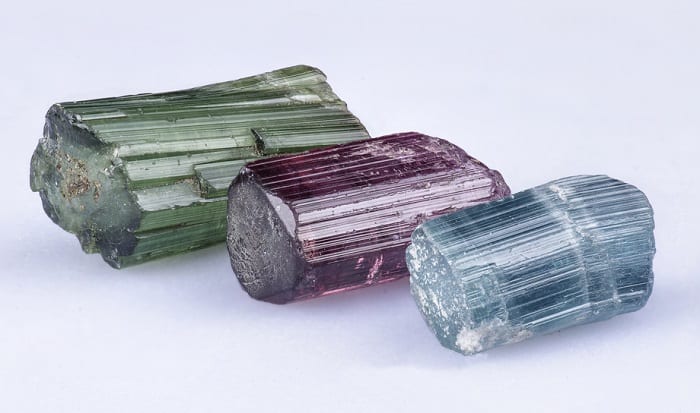 Heitor Dimas Barbosa, a determined miner discovered these rare gems. A belief that there was something special that lurked under Paraiba, a Brazilian state drove him on an adventure to search for the stones.
After countless years of fruitless digging, he finally unearthed a neon blue stone that set the entire gem market alight.
Afterwards, it became one of the most sought after gemstones. In 2003, similar turquoise-colored tourmalines were discovered at mines in the mountains of Mozambique and Nigeria.
---
Guess you like
Types of Gemstone Cuts: Your Comprehensive Guide
Platinum, White Gold, Yellow Gold and Rose Gold
Necklace Chain Types: A Guide for You
---
2. Painite
The first person to discover Painite was Arthur Charles Davy Pain, a British gemologist in 1951. For many years, only a single specimen of this dark red crystal was in existence. It was housed in London's British Museum.
Later on, miners discovered other specimens. However, by 2004, less than two dozen known Painite gems were still in existence.
In the recent past, several mines in Myanmar started to produce some of the gemstones. Today, more than 1000 gemstones of this variety have been mined. The stone's scarcity makes it extremely popular and valuable. One carat of well-cut painite can cost over $80,000.
3. Aquamarine
Aquamarine derived its name from a Latino word seawater. A semi-precious gem of the Beryl Family, Aquamarine is of the same family as Emerald. The stone's sea blue like colors make it a darling of many.
Perhaps the striking blue colors are what make it highly popular. The gemstones are famous due to their excellent transparency and clarity.
Some of the main sources of this stone include the USA, Pakistan, Russia, Madagascar and Brazil. One of the best attributes of Aquamarine is the fact that it is extremely durable. Consequently, it is suitable for jewelry applications including earrings, pendants and rings.
---
Also read
How to Clean White Gold? (Steps with Hints)
10K vs 14K vs 18K vs 24K Gold: Which to Choose?
Diamond Accents: Are They Worth It?
---
4. Diamond
There is no doubt that diamonds are very popular. Traditionally, they have been used for engagement rings.
Diamonds are among the hardest minerals on earth. This means that jewelers can use them in jewelry for centuries without getting scratched. Both colored and colorless diamonds exist. They come in different shapes and sizes.
The current trend with diamonds is to use rough ones in jewelry. Rough diamonds boast a cool shape. Depending on their clarity, they can appear or look spectacular. Some of them even feature a black coating over them which reveals a white part when they chip away.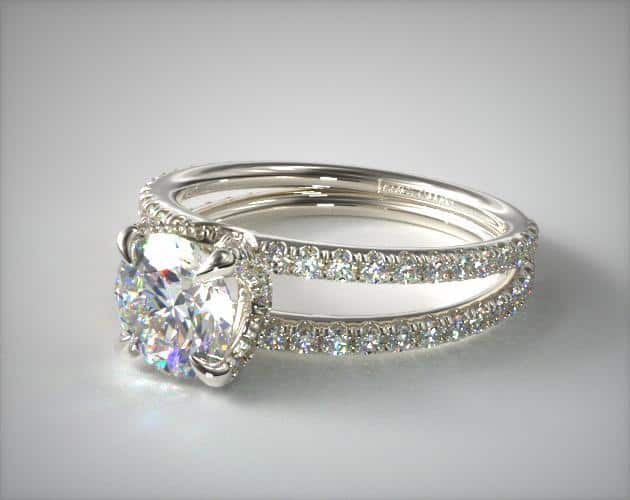 ---
Related
Pavé Setting: Know It Before You Buy Diamonds
White Sapphire Engagement Ring: A Better Way to Go?
Chocolate Diamond: Why So Controversial?
10 Best Places to Buy Diamonds Online
---
5. Black Opals
Opals are very popular. Usually, they feature a creamy-white color. A rainbow-colored inclusion that reflects light characterizes them as you move the stone.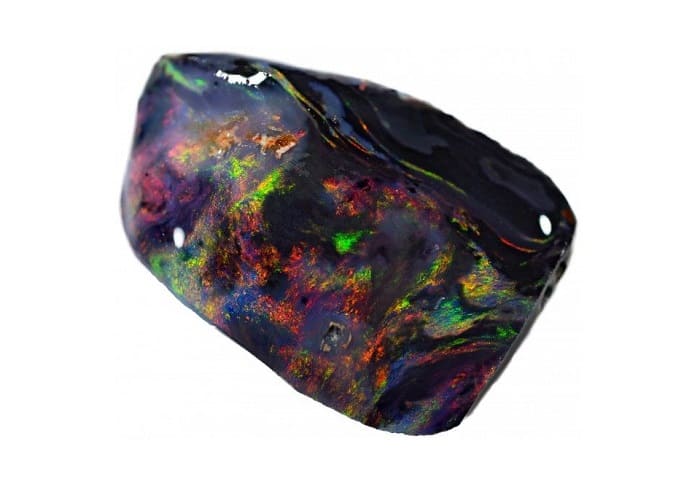 Black opals are popular due to their rare nature. You can only find them in the New South Wales region of Australia. The brighter the inclusions and darker the background color, the costlier or valuable the stone.
Aurora Australis is among the most expensive black opals. This variety was uncovered in 1938 in the Lightning Ridge. Many people admire the 180-carat opal mainly because of its intense harlequin coloration and large size. In 2005, the gemstone was valued at approximately $763,000.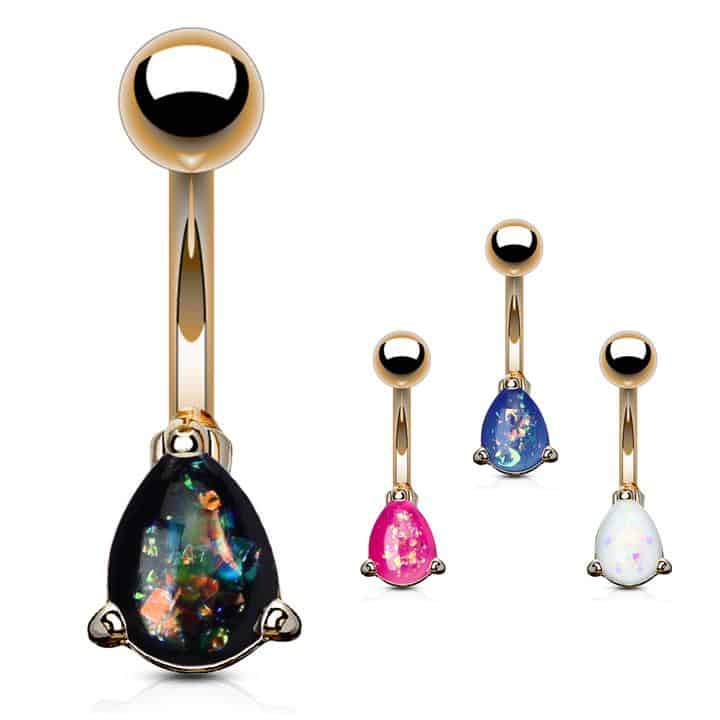 ---
Also read
Popular and Rare Black Gemstones
Black Onyx Meaning: Positive or Negative?
Black diamonds: Are They Real Diamonds and Worth Buying?
The Beauty of Belly Button Piercing
---
6. Tanzanite
This is an attractive blue variety of the mineral zoisite. It is named so since it is only present in a very small area at the foot of Mt. Kilimanjaro in Tanzania. Until the 1960s, the gemstone hadn't been discovered in commercial quantities.
Since then, it has grown in popularity courtesy of efforts by Tiffany & Co. Heat-treating it at extremely high temperatures improves the blue coloration.
Tanzanite that hasn't been heat-treated and still maintains its natural strong blue color tends to be of a higher value.
As the gemstone is only available in one tiny location, tanzanite's value soars over time. Unless miners find a new source, once they empty the mines, the gemstone will be extinct.

Did you know that Tanzanite is your birthstone if you were borne in December. Learn more here: December Birthstones
7. Larimar
Larimar is a blue variety of the pectolite mineral. Mining of this gemstone occurs in a small region of the Dominican Republic.
Miguel Mendez is the man that brought this stone to prominence in 1974. He is also the one that came up with the turquoise stone's name.
Miguel took the maiden part of his daughter's name, Larissa, combined with mar, a Spanish word for sea, to form the name portmanteau larimar.
For generations, locals had been aware of the stone's existence as small portions had been washed up by the seashore.
However, it was not until the '70s that adequate quantities of the gemstone were discovered in the ground and a mine had to be opened.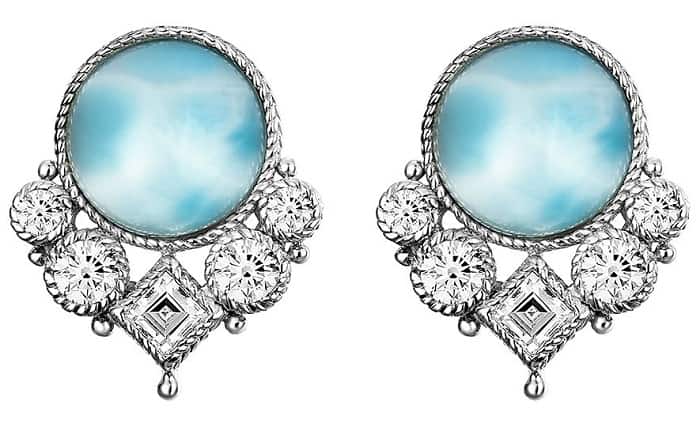 ---
Related
Sterling Silver, Pure Silver, and 925 Silver: Are They the Same?
Can You Prevent Silver From Tarnishing (and Keep it Shine)
---
8. Grandidierite
Mineralogist Alfred Lacroix first described this gemstone in 1902. The French miner found it in Madagascar. He named it as an honor of Alfred Grandidier, a French explorer and expert of Madagascan natural history.
Grandidierite is a rare blue-green mineral that is present in various locations across the world. However, so far, only Sri Lanka and Madagascar have produced gem-quality stones.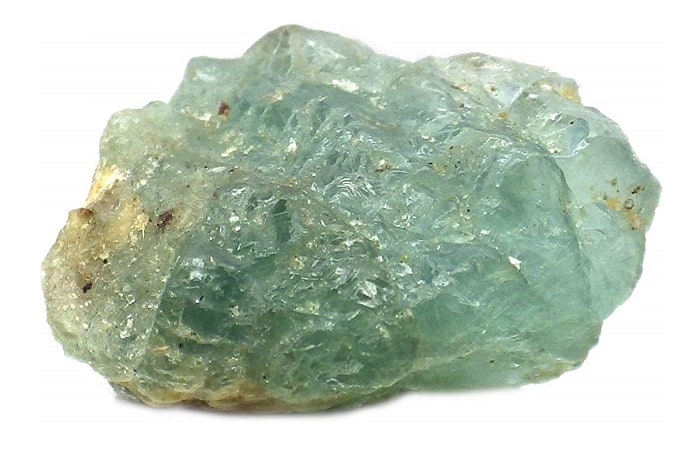 One thing for sure is that these remain extremely scant. Because of their transparency and color, many people confuse Grandidierite for another rare gem by the name serendibite. Due to their rare nature, well cut Grandidierite gemstones are very expensive.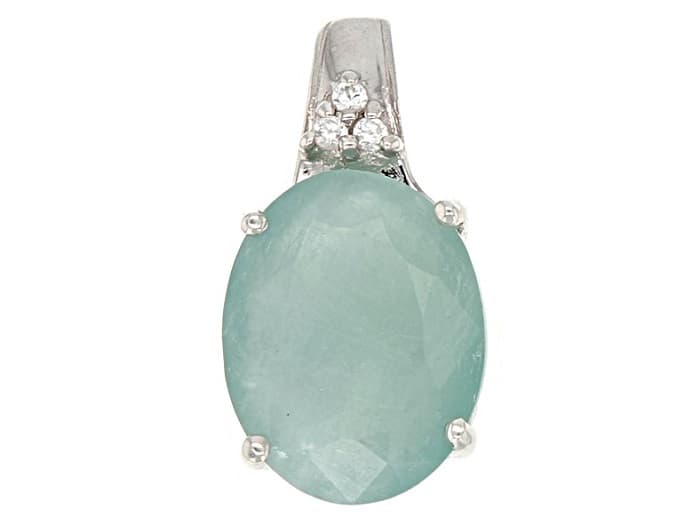 ---
You may also be interested: How Many Types of Green Gemstones Are There?
---
9. Benitoite
Benitoite is mined in only one small region in California, close to the San Benito River. In 2006, commercial mining of the stone came to a halt hence making it yet more scarce.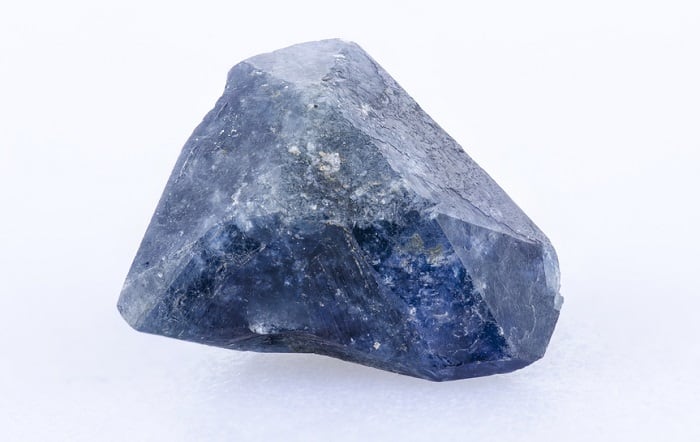 George Louderback, a geologist first identified the gem in 1907. It features a deep blue color that appears in interesting qualities when you catch it under UV light. Under fluorescent, it glows magnificently.
Despite the gemstone being found in small quantities in Japan, Australia and Arkansas, California remains the only place where miners can feasibly mine it. Because of its rarity, benitoite fetches huge prices in the open market.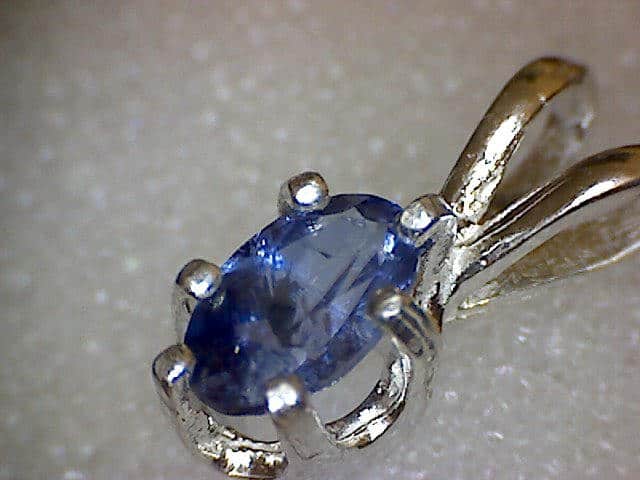 10. Red Beryl
Red beryl is also known as red emerald or bixbite. According to the Utah Geological Survey, one piece of this gemstone is uncovered for every 150,000 gem-quality diamonds.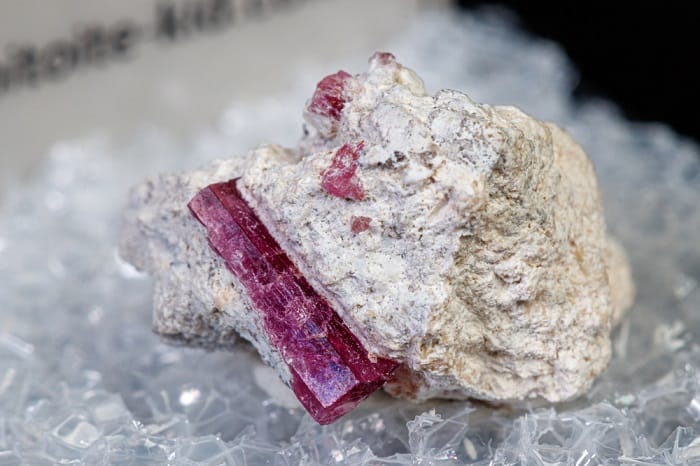 Of great importance to note is that pure beryl is colorless. It enjoys its brightness hues from froths in the rock. Vanadium and chromium give beryl a green color that results in an emerald. Iron offers a yellow or blue tint thus creating golden and aquamarine beryl.
Manganese adds a deep-red color that creates red beryl. Mexico, New Mexico and Utah are the only places you can find red beryl. Majority of them are millimeters in length. They are too tiny to be cut and/or faceted for use.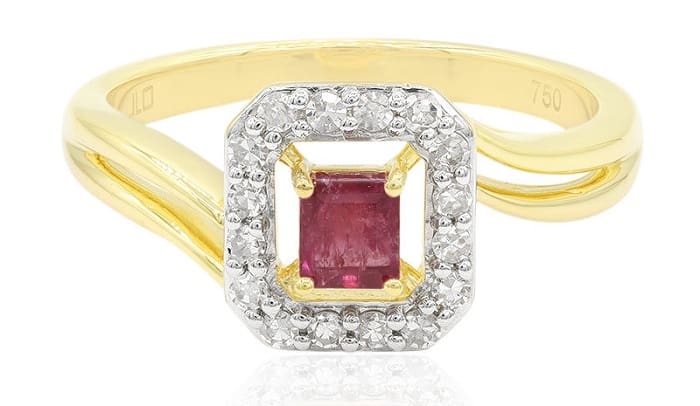 ---
Also read
Gold Markings and Their Meaning
What Does The "925" Mark On Gold Jewelry Mean?
---
11. Alexandrite
One of the major highlights of this gemstone has to do with its color-shifting attributes. Discovered in 1830 in Russia's Ural Mountains, this color-changing stone was named after Alexander II, the Russian tsar.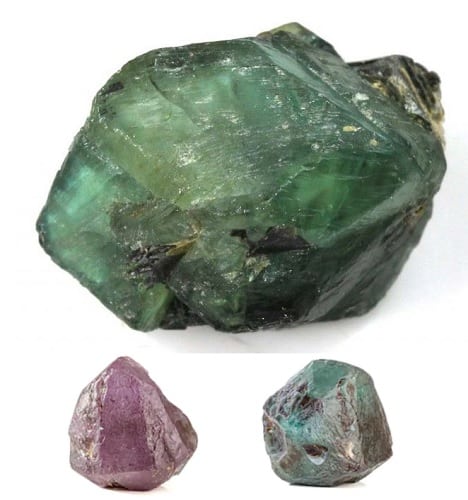 An array of chrysoberyl, the gemstone's incredible color-shifting capabilities make it highly sought after. Under incandescent light, the stone becomes red-purple while in sunlight it turns blue-green.
The extent or degree of color change is different from stone to stone. Some only show marginal change. However, the most valuable ones are the clear stones which demonstrate total color change. Those that are larger than one carat fetches more money.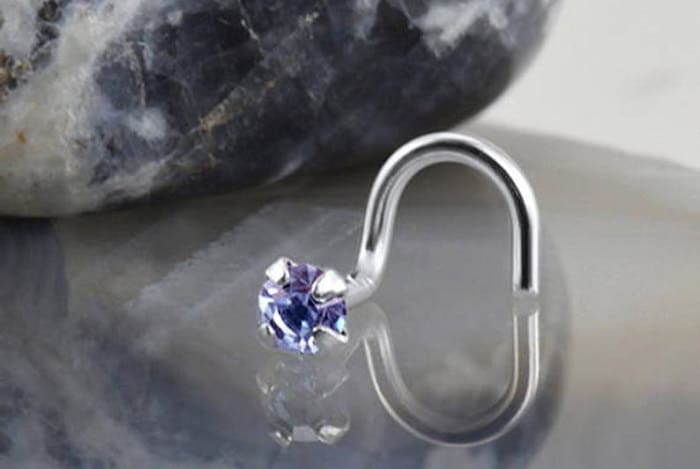 ---
Guess you like
Which Nose Ring Sizes are Perfect for You?
How Much Does Nose Piercing Cost?
How Long Does It Take for A Nose Piercing to Heal?
---
12. Fluorite
The attributes of fluorite gemstone are connected predominantly with a specific area of stabilization and fortification. Still, the protective features tend to be more delicate especially with hematite stones.
This precious stone is useful for grounding and synchronization of spiritual forces within our microcosm. The stone has the ability to use insights and perceptions to various types of conditions via physical certainty.
Fluorite is handy for enhancing perception by easily assembling the connection between universal awareness and an individual's mind.
Major sources of this gemstone include the USA, Norway, Thailand, South Africa, Poland, Peru, Mexico, Hungary and Germany. Others are England, Canada, China and Czechoslovakia.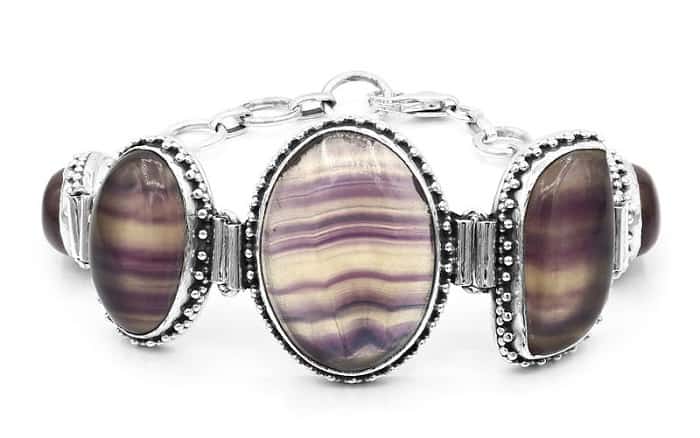 ---
Also read
Purple Gemstones List: Ornaments for Your Elegance
---
13. Taaffeite
Count Edward Richard Taaffe, an Austrian-Irish purchased a box of cut stones from a jeweler in the '40s in Dublin thinking he had bought a collection of spinels.
Nevertheless, on closer inspection, he ascertained that one of the pale mauve gemstones wasn't reacting to light as the rest. As a result, he had it analyzed.
Once the results were out, they revealed that he had found a hitherto unknown gemstone. The only drawback is that he did not know how to mine it.
Eventually, the stone's source was tracked down to Sri Lanka. A handful have been found in China and Tanzania. Miners are of the opinion that just 50 of Taaffeite exist. Most of them are housed in private and geological collections.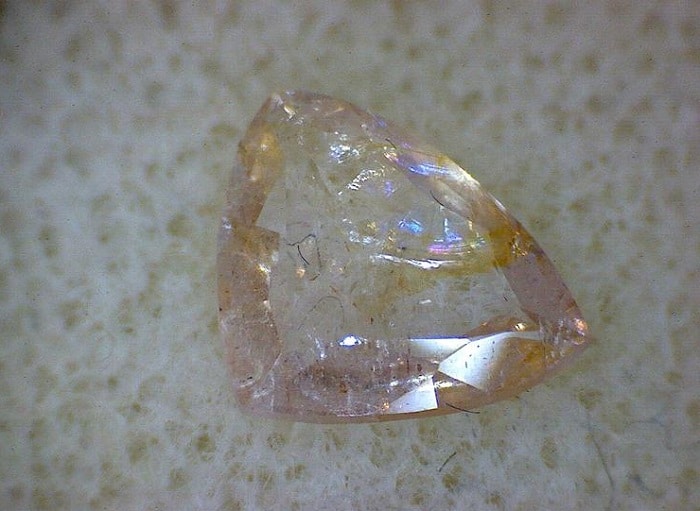 ---
Related: Contemporary Trillion Cuts
---
14. Sapphire
Sapphire gemstones are available in almost all colors with the exception of red. Red Sapphire go by the name Ruby. Royal blue sapphire gemstones are for those that are into traditional-looking stones.
If you are the fancy type, you can choose the yellow pink Padparascha or 6 rayed star sapphire. Sapphire gemstones are known are the stones of royalty and wisdom.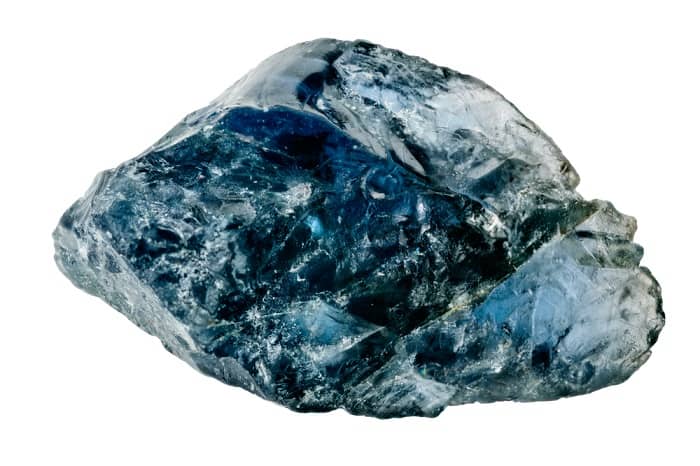 Many people associate these gem of gems with sacred things. One great thing to note about sapphire gemstones is that they are among the jewels that are steeped in the history of almost all religions.
The late Princess Diana is one of the most popular figures to dawn a piece of jewelry made of this gemstone.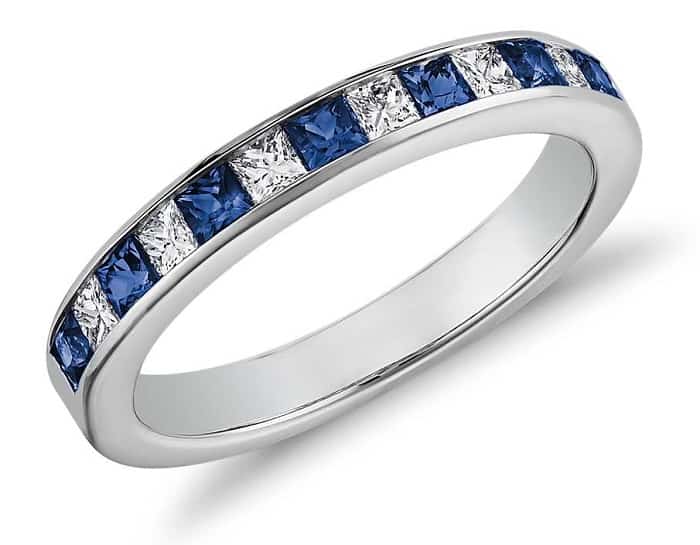 ---
You may also like
20 Types of Ring Settings: Find the Perfect Design For You!
Beyond The Ocean Blue: Black, Pink and White Sapphires
White Sapphire Engagement Ring: A Better Way to Go?
---
15. Jeremejevite
Jeremejevite is among the rarest minerals from the borate class. It can be pale yellow, sky blue or colorless. The gemstone's origin is in the Erongo Region in Namibia.
It is amongst the most sought after by many gem collectors and mineral collectors. The stone is hard, but not brittle. On top of that, it does not have cleavage.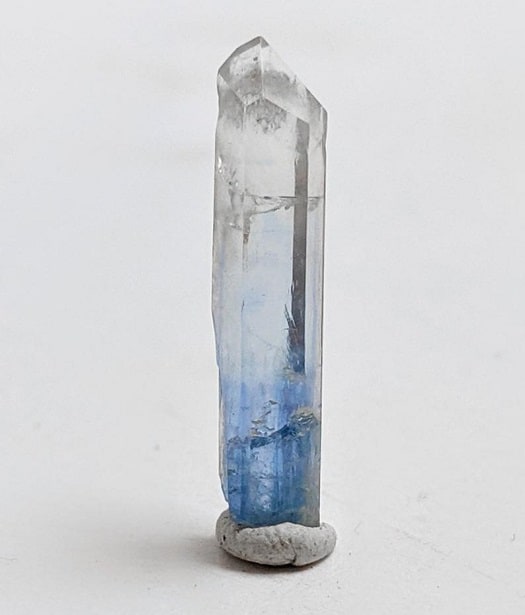 Cut Jeremejevite stones are not only clean but also without inclusions. Finding them is almost next to impossible. For this reason, they demand much higher prices.
An interesting feature of this gemstone is that it is piezoelectric which means it can produce an electric current once you apply a mechanical force to it.
16. Ruby
Ruby is simply a magnificent, deep red precious stone that is in high demand all over the world. While they are not available everywhere, you can find traces of them in the USA, Australia, and some parts of Africa.
Both loose and rough rubies are available for sale. Among the many attributes of this stone, hardness is the one that stands out. Its hardness is rated at 9 out of 10.
Because of their hard nature, the gemstone is not only strong but also highly resistant to things such as scratches. When it comes to buying rubies, a heart cut is a common choice.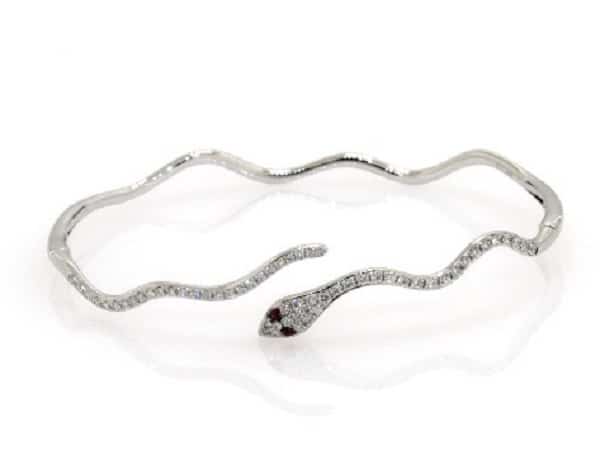 17. Pearl
Pearls are the oldest gems. They were used as early as 520 BC in the Persian kingdom. This organic gemstone has been used in various applications for centuries.
Pearls are used either in jewelry or crushed in paint or cosmetics formulations. Valued as a gemstone, the pearl is harvested or cultivated for jewelry.
Currently, China is the largest producer of Akoya pearls. Japan was once the leading producer. Sadly, the country no longer produces the precious gemstone. South sea peals emanate mainly from Australia, the Philippines and Indonesia. Large pearl farms also exist in Mexico.
18. Topaz
One of the extremely versatile gemstones is Topaz. It is available in big clean crystals. Blue is the most common Topaz present in the market.
Almost all of these stones have undergone irradiation treatment for purposes of changing their color. You will be glad to know that the stones come in a range of colors.
Desired colors and its sturdiness coupled with abundance and available make Topaz one of the most popular gemstones. Golden-orange-yellow types are the most common topaz. They go by the name Imperial topaz.
The other popular ones are the orange-reed and dark-pinkish-red colors. The deepness of color increases the value of this gemstone.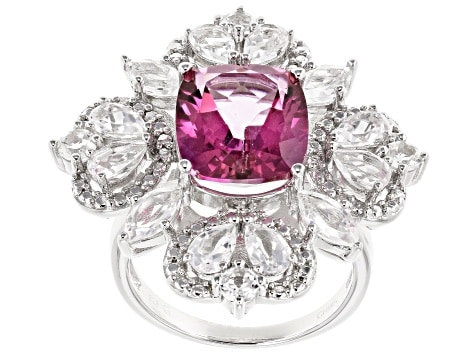 Guess you like
A List of Pink Gemstones: Get to Know the Best of the Best
CTW vs. CTTW: Know Your Gemstones
Pick Your Type: Blue, White, Pink and Yellow Topaz
Sapphire and Topaz: What to Look for?
19. Seraphinite
Seraphinite is famously known as the angel stone. The stone is dark-green. It plays beautifully with light. The main source of the gemstone is in eastern Siberia.
Unfortunately, it is not among the hardest gemstones out there. It boasts similar fibres such as charoite which is another popular Russian stone.
This gemstone helps in its ability to communicate with the angels in the spiritual level. Many people love it because of its ability to help in the purification of the environment.
In addition to that, it is known to improve and manifest in any situation of any kind. The gemstone aids in the improvement of unconditional love.
20. Moldavite;
Moldavite is approximately 14 million years old. This silica-based tektite was formed when a meteorite struck the surface of planet earth.
It melted and fused with the surrounding rock. The stone is only available in Bohemia, the Czech Republic.
It is a crystal that transforms a person for the intensity of goodness. It makes you aware of spiritual being. In the present world, the stone is known to heal pollution as well as assist individuals to quit smoking.
On top of that, this gemstone brings harmony to those with marital issues. It acts as a healing tool for folks in relationships.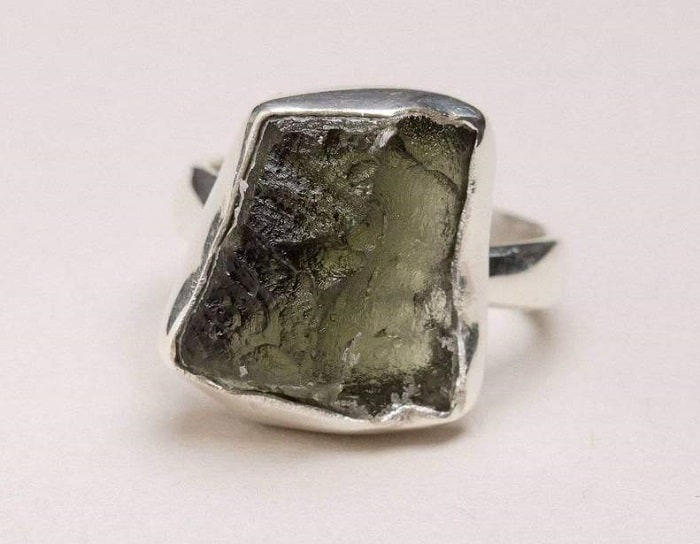 ---
Related: Is It a Good Idea to Buy an Uncut Diamond?
---
21. Hackmanite
Hackmanite is among the most unusual gemstones in its range. It boasts the ability to change its colors especially when you expose it to sunlight and UV lamps.
The feature to transform colors goes by the name ''tenebrescence''. It is some sort of reversible protochroism.
Primarily, the Hackmanite appears in a pinkish tone which you can restore through different ways. One way is by leaving it in a dim-lit room or even box for several hours or weeks.
The other effective way of restoring is via long or short UV flourishes. Comparing the two methods, the most effective one is the short wave method.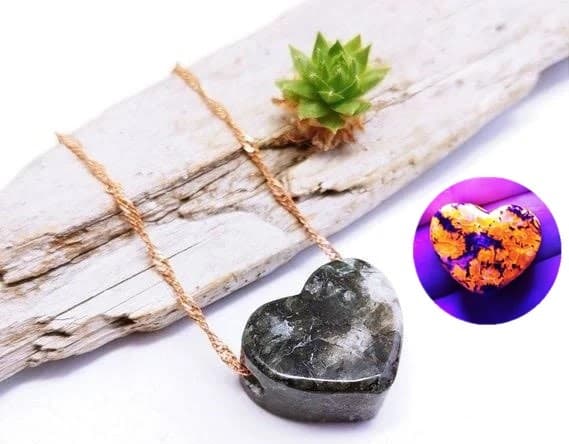 ---
Related: Gold Vermeil, Gold Plated, and Gold Filled: Know it Better
---
22. Amber
Miners and gem collectors have mined or collected amber in the Baltic Sea for years. Generally, it is a yellowish, translucent stone.
It might contain trapped insects that greatly raised its value. Surprisingly, some of the insects could be millions of years old.
When it comes to colors, the gemstones color ranges from dim brown to yellow to almost black. On top of that, it is colored in various colors like green, blue and pink.
Baltic amber emanates from the old Umbrella trees of a million years ago. The different shades of amber colors can turn out to be slightly different from every tree. What makes amber unique is the difficult nature of describing how the color is formed.
23. Hiddenite
Hiddenite is a gemstone of the Spodumene variety. Mining of this stone takes place in Brazil and North Carolina.
The stone is related to pink Kunzite. Cutting and faceting it is difficult. It has properties and meaning of providing light to your life.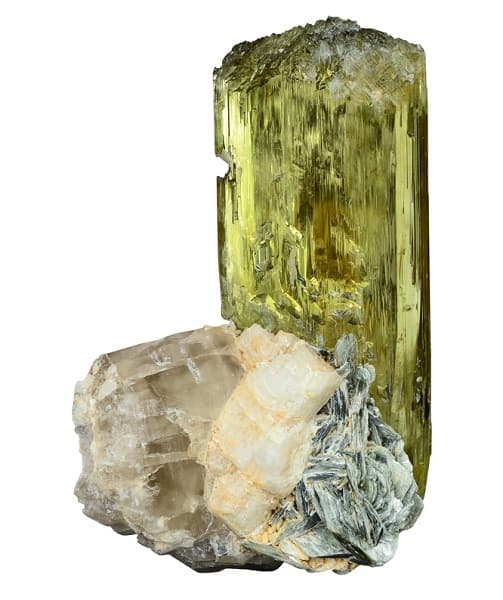 Moreover, it can increase your power and will to live by offering positive energies to your heart. If you are down and want to feel brighter, this is one of the stones to use.
The stone is green. It needs to contain chromium for you to refer it as Hiddenite. If not, it goes by the name Green Spodumene.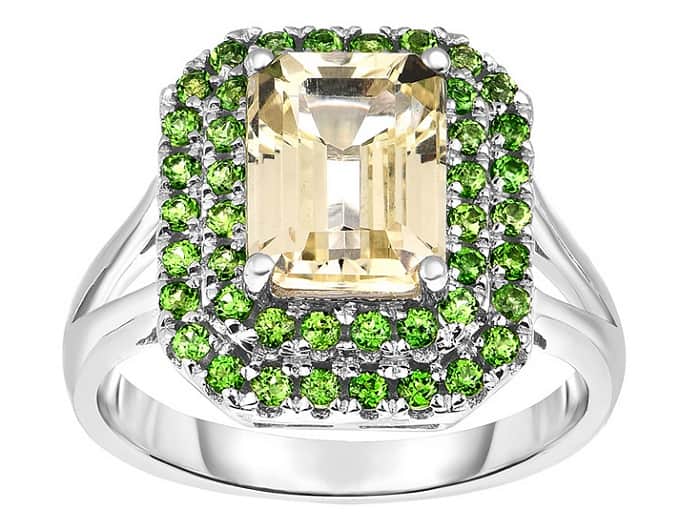 24. Musgravite
Musgravite is among the rarest gem species of all time. The tested and certified stone enjoys a close relation to taaffeite. Magnesium content is what distinguishes the two.
Their optical and physical properties are identical making it quite challenging to differentiate them. One surefire way of establishing one from the other is through the Raman Spectroscopy.
Just like taaffeite, musgravite is among the hardest gem specifies around. On the Moh's scale, it enjoys a hardness of 8.0-8.5. It was first discovered in Southern Australia's Musgrave Ranges.
25. Amethyst
For centuries, Amethyst has been a treasured gem. It stands out as the birthstone for Pisces as well as the month of February.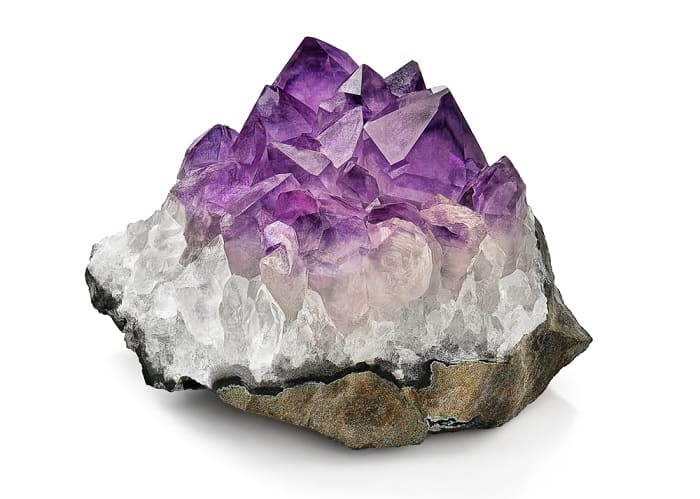 Across the world, from British crown jewels to ancient Egypt, this gemstone is included in royal collections. Ancient civilizations prized it more than any other gem including the ruby and sapphire that today enjoys more value and recognition.
In the olden times, this stone saw its place within the Christian church, as it was won on the rings of Bishops. Its royal color symbolizes Christ. St. Valentine was thought to put on a ring set with an antique stone that was carved in the image of Cupid.
26. Ruby Zoisite
Ruby Zoisite is also known as Anyolite. It features a pretty contrast and many people use it a small gemstone. Jewelers polish this stone into cabochons.
They carve it into ornamental shapes. One of the notable attributes of ruby zoisite is that it is very much heart-based.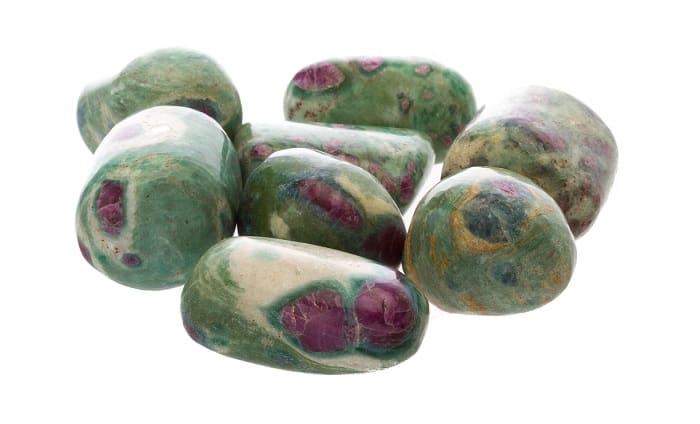 The vigor of a green colored zoisite stimulates positives feeling, appreciation and happiness for which someone craves for.
The combination of energy and color that the stone is supposed to increase the neural connections and energy between the wearer's spirit and head.
The vivacious energy of the rock holds such a strong spiritual nature that might alter its consciousness.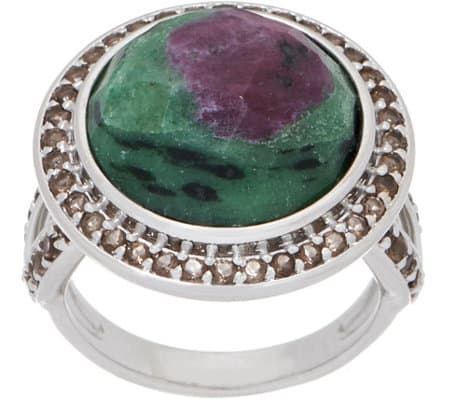 ---
Related: 11 Best Crystals for Focus: Saving You from Mindlessness
---
27. Ammolite
Ammolite gemstones get their name from Ammon, the Egyptian god. It also goes by the names Korite and calcentine. Often, he is depicted with rams' two horn behind his ears.
This opal-like organic stone was primarily found along the eastern slopes of North America's Rocky Mountains.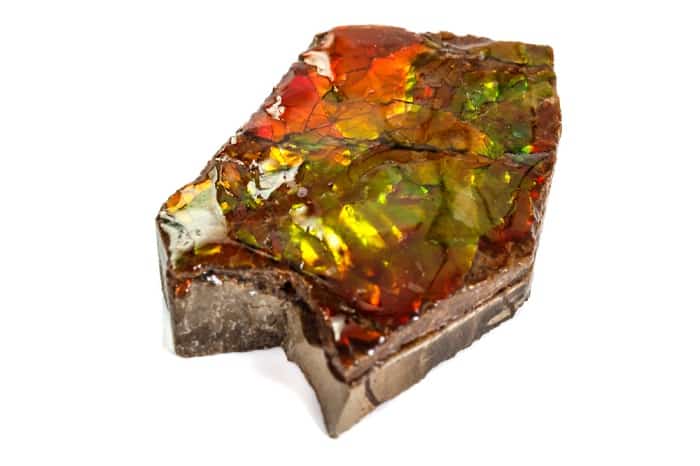 Fossilized shells of ammolites characterize the stone. Mainly, the shells contain aragonite which is a mineral that is also found in nacre. It has a microstructure that is inherited from the shell.
Just like pearl and amber, ammolite is among the few biogenic gemstones. In 2007, Lethbridge city in Alberta designated this gemstone as its official gemstone.
28. Pietersite
Pietersite also goes by the name tempest stone. The gemstone was found in Namibia. Lately, some have been discovered in China. It features an array of colors with some having unusual color combinations.
It carries a charge, akin to a storm raging within it. The gemstone brings cleansing energy that is handy in helping you create change.
A great attribute about it is the fact that it is highly stimulating to your energy. It is handy at assisting you to let go of any negativities and unwanted habits.
The gemstone boasts a strong vibration that creates an energetic connection to the deepest spiritual inner self to assist you to access spiritual guidance.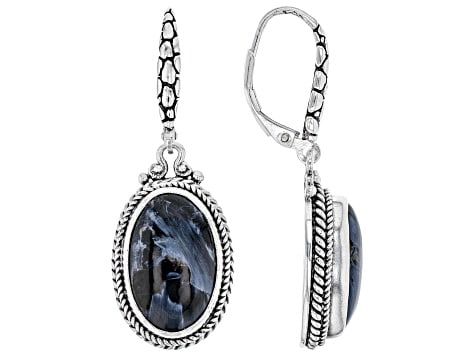 29. Rainbow Obsidian
Rainbow Obsidian might look black but when polished and exposed to strong light, bands of dazzling rainbow colors appear.
If you consider yourself soft-hearted, sensitive and gentle, this is your ideal gemstone. Meditating with this stone takes you on a journey leading to the illuminating darkest corners of unresolved past issues.
The amazing stone not only brings light but also love into your life thus helping you recognize the true spiritual nature.
Many people also see this stone as a gemstone of pleasure that guarantees enjoyment and gratification into your life. When it comes to physical healing, this gemstone is thought to be important in treating heart conditions.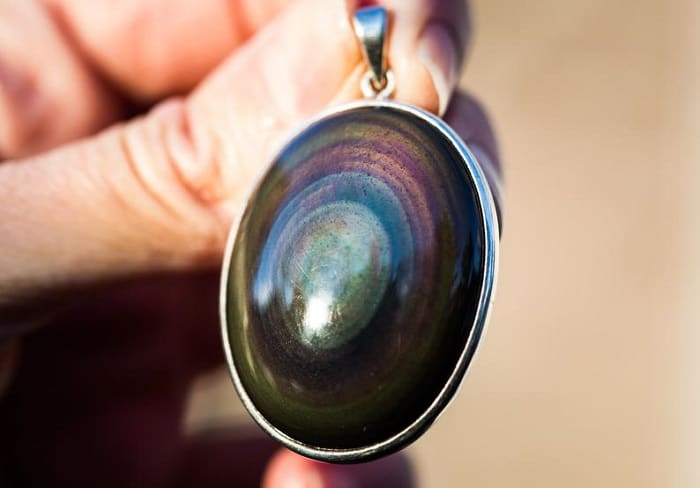 30. Anglesite
Anglesite with pale colors boasts great dispersion and brightness. They are inadvisable to wear and difficult to cut. Faceted pieces are quite rare. You can seldom see them unless in complete gem collections.
Because of its perfect cleavage and low hardness, this gemstone is rarely cut as a gemstone making it unsuitable for use as jewelry.
William Withering, a scientist from England discovered it in Parys Coppermine within Anglesey Island in Wales. It was not until 1763 that it was recognized as a mineral species.
Since it has a very high refractive index, identification of cut and/or polished Anglesite can turn out to be tricky.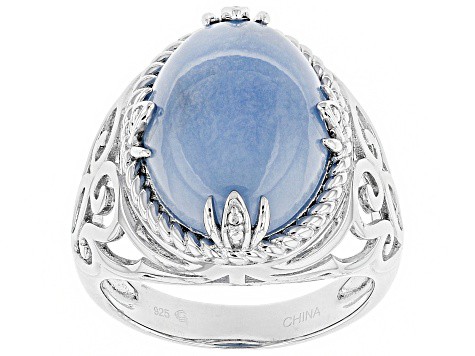 31. Pyrite
Pyrite also goes by the name the fools' gold due to its shape and color. It is highly popular because of its brittleness, lustre, streak, hardness and crystal habit. A pale brass-yellow color characterizes its appearance.
It derives its name from the Greek words 'pyrites lithos' whose meaning is the 'stone which strikes fire' as it alludes to the sparks produced when a lump of pyrite struck the iron.
Many people opine that it can spark creative thinking as well as open an individual to new ideas. Iron pyrite is a highly protective stone. You need to carry it when you are conducting or taking part in dangerous work.
32. Peruvian Opal
Peruvian Opal is Peru's national stone. It is relatively rare. You can only find it in the country's Andes Mountains.
This stone has a random internal crystalline composition meaning it lacks the fire or color play of a normal Opal.
It is a sedimentary rock that is formed at low temperatures from an igneous rock featuring high silica content. Its composition contains hydrogen, silicon and oxygen.
Blue and pink peruvian opal are the most popular varieties. The former has high water content making it prone to heat and delicate. Heat makes it lose its even fracture or intensity. The latter, on the other hand, is high in silica. It is stable and sturdy.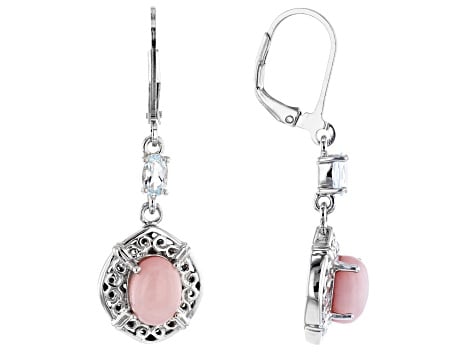 33. Montebrasite
Montebrasite forms as enormous crystals. It occurs mainly in granite pegmatities in the province of Limousin in France.
The stone is found in phosphate and lithium-rich pegmatities as a major mineral. A great attribute about it is the fact that it features a fairly compact structure that gives rise to some kind of high specific gravity.
A quick look at this stone's formula shows that the elements present include phosphorus, oxygen, fluorine, hydrogen, aluminum, lithium and sodium. None of them is heavy which means that even the gemstone is light.
34. Kunzite
A soft pink gemstone, Kunzite is a variety of the Spodumene mineral. It comes in attractive large crystals that you can cut into faceted gems. Rough pieces that you can facet into a gemstone are also available.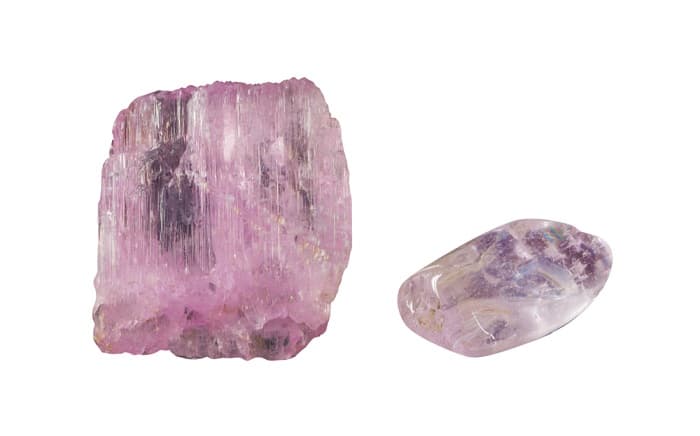 Many people are of the opinion that this stone possesses mystical and romantic powers. Its color ranges from pink to purple. At times, it might appear colorless or violet-pink depending on the angle you look at it.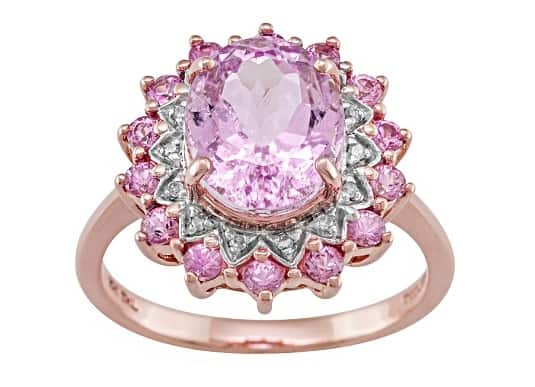 35. Lava Rock
Lava rock jewelry was initially used in the 19th century in Italy from the volcano Vesuvius. The stone from the pacific islands is natural. It is not re-heated.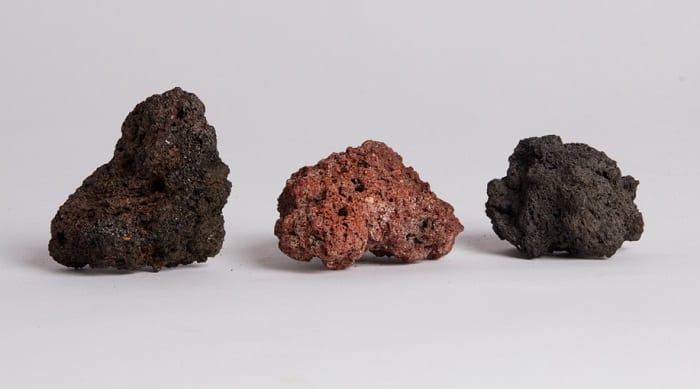 Lave stone is tumbled polish in plastic beads drums that polish black lava stones and black lava beads. Chances are high that it is likely igneous and tough following a volcanic eruption.
The beads are not only formed but also carved thus leaving the small cavities that form the stone's basic feature.
36. Ironstone
The ironstone we're talking about here is mainly mined in outback Australia within the opal fields of Yowah or Koroit. The Jundah Boulder opal fields also have some deposits of the stone. This brown colored stone brings with it beautiful patterns.
It contains a huge proportion of iron compound from which the industry can smelt iron commercially. It is important to note that the Precambrian deposits are of a different origin.
Generally, they are known as banded iron formations. The iron minerals consist of ironstones that can comprise either of oxides such as magnetite, hematite, limonite or siderite.
37. Bloodstone
Bloodstone is green with red spot cuts in cabochons form mostly. Nonetheless, in high-quality form, it is available in faceted gems. Bloodstone is of the Chalcedony Quartz family.
Many people in the middle age thought that its red spots were Jesus Christ's blood. It is a good stone for balancing the body to enable one to overcome any anxiety or distress.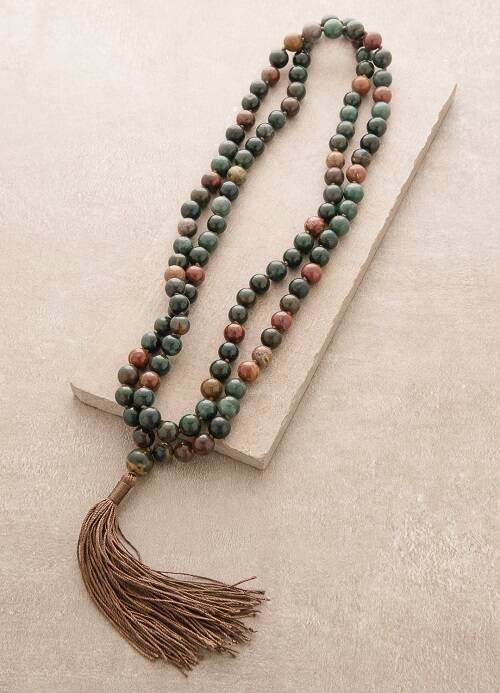 38. Emerald
Compared to most of the other gemstones in our primer, Emeralds boast a richer history. Historical records from as early as 4,000 years ago claim that these gems were discovered in Egypt.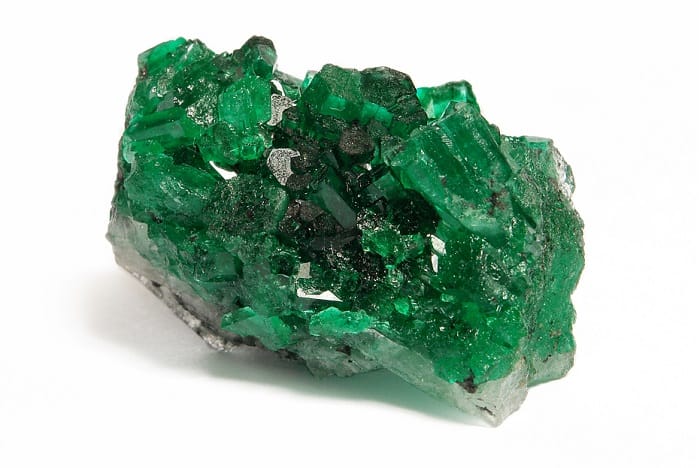 Today, countless emerald producing areas exist. Some of them include Brazil, Zambia and Columbia. Of these, Columbia is the best producer.
This gemstone is a sign of power and status. It has been such a favorite of many royal families. The European royal family, Princess Diana, and Queen Victoria are some of the popular figures to have dawned it.
39. Jasper
Jasper means 'dappled or spotted.' Normally, it is made of silica. It features an excellent sedimentary uniformity like clay which is not only solid but also comes in different colors.
Many gem collectors believe that this gemstone is formed through hydrothermal movement as it produces hot water swooshing around.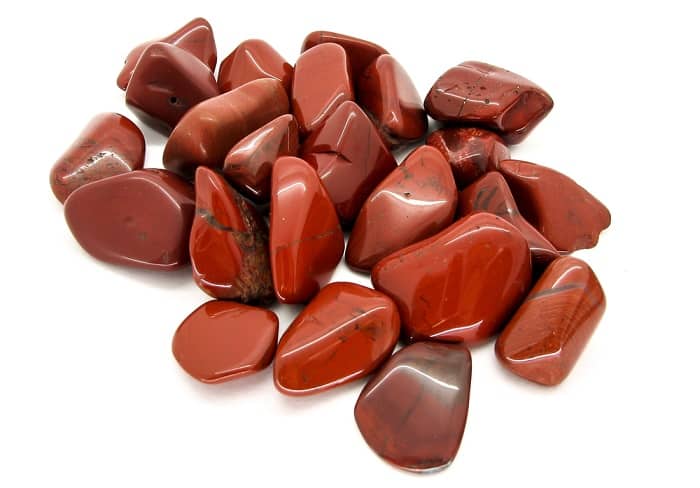 The stone offers moderate but tenacious energy whose appearance is diverse and extensive just like the location it emanates from.
Each piece of jasper is mysterious and distinctive in its manner. They all remind us of the importance to perceive life.
Learn more: 5 Best Crystals for Root Chakra
40. Ametrine
Ametrine is a highly unique stone that is available in bands of purple and yellow. Fine quality Ametrine exhibits a drastic change in color.
The change mainly occurs at the gem's center. Since it is part of the larger Quartz family, finding a durable one that is appropriate for daily wearing can turn out to be challenging.
In terms of cleaning, all you need to do is clean it with some warm, soapy water. If the stone is contained in a piece of jewelry, utilizing an ultrasonic cleaning machine does the trick.
Steam cleaners are not recommended for all gemstones as it is not prudent to heat and cool the stones rapidly.
41. Moonstone
Moonstone is handy at enhancing spiritual concentration and psychic. It is popular when it comes to reducing stress and calming the nerves.
This gemstone also strengthens an individual's intuition. Because of its properties of feminity and sensuality, moonstones are popular among many jewelers.
Moonstone not only delivers harmony and peace; it also draws one to spiritual things. The stone helps open yourself to be served and treated with the consideration and kindness you deserve.
42. Crystals
Crystals are just an example of how planet earth creates gems and packages them into dazzling arrangements.
Some emanate from the USA, Brazil and Peru. Certain crystals are colored in unique colors such as Tangerine.
Most of them make beautiful gifts and ornaments. Their attractive and long-lasting nature is what makes them highly popular.
---
You may also be interested
Exploring the Meaning of Rose Quartz Crystal
Meaning of Blue Quartz Crystal: Message from the Rare
---
43. Chrysocolla
Generally, chrysocolla is saturated greenish-blue or bluish-green colored stone.
For centuries, many people have used it in the encrustation and creation of not only jewelry but an array of everyday items. Often, many people confuse this stone with turquoise because they both have similar features.
44. Azurite
Azurite is just a gemstone of copper form. Generally, it is light-blue.
Nonetheless, sometimes it features a deep, spectacular copper-blue color because of the copper carbonate hydroxide formation. You can use it ornamentally of for color dyes of fabrics and paints.
45. Morganite
Morganite is a stunning peach or soft pink colored stone of the Beryl family. Some of the other stones in this family are Heliodore, Emerald, and Aquamarine.
Their great clarity, beautiful nature and large size are what makes them highly sought. Major sources include Brazil and Madagascar. Minor sources include Russia, Mozambique and China.
A major highlight of this gemstone is that it is durable. Therefore, if you are a jeweler that needs a stone to include in jewelry pieces to be worn every day, then this is a great option.
46. Iolite
The name Iolite originates from a Greek word violet or ios. At its best, the stone is simply a rich, violet-blue colored stone.
Ancient mariners used the stone as a compass to navigate around the world. It has been handy even in the yesteryears to give the direction of the sun, particularly on cloudy days.
Lolite is popularly known as the 21st century wedding anniversary gem. It is perfect when it comes to releasing causes of addiction. This gemstone encourages one to be independent.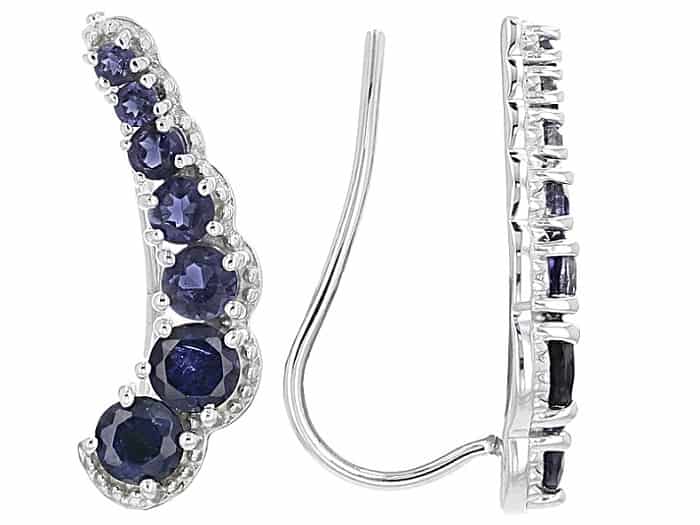 47. Lepidolite
This natural untreated stone is mined in Russia. The mica present in the stone offers a striking glitter of light whenever you move it, especially in sunlight.
Lepidolite is normally purple, red or pink. Of great importance to note is that this gemstone stands out as the most popular lithium-bearing mineral.
It serves as a minor lithium metal ore with cesium and rubidium sometimes being byproducts. Once you mix it with quartz, you can use the stone as a minor gemstone.
---
Also read: 8 Best Healing Crystals for Anxiety
---
48. Andalusite
Andalusite is one of the most unique gemstones in the world today. You can find it in the USA, Sri Lanka, Spain, Russia, Canada, Brazil and Australia.
it comes in a yellow-green, reddish-brown or brownish-red colors. The fact that it sits on the 7.5 mark on Mohs scale means it is tough and durable.
49. Mystic Quartz
Mystic quartz is a high-quality, colorless gemstone that has been enhanced to form a rainbow of colors. The stones are very popular for making bracelets, rings and pendants. It aids in balancing the body.
The cut and polished variety are coated with extremely thin titanium film to bond it at the molecular level. Minimal heat is involved in the process.
The quality, value and cost of these treated gems are as good as the company that offers the tech to improve them.
You may also like
11 Best Crystals for Focus: Saving You from Mindlessness
What's the Meaning of Clear Quartz Crystals?
White Quartz Crystal: What Does It Mean?
50. Orthoclase
Orthoclase is part of the feldspar family of minerals. The family also includes labradorite, spectrolite, amazonite and moonstone.
This transparent yellow feldspar resembles yellow beryl or citrine quartz. Orthoclase is mainly found in Madagascar. It is also present but to a lesser degree in Myanmar and Kenya.
The fact that it falls on the Mohs 6 – 6.5 range means the stone is suitable for collectors or jewelers to make pins, earrings and pendants. The stone's crystal system is monoclinic, prismatic.