With such a wonderfully creative range of ring designs out there, you might be feeling a little overwhelmed with choice. Don't stress though; it's a good thing!
With so many options out there, you'll soon be well on you way to finding the perfect fit for your finger.
Here, we're going to take a look at 20 different ring settings that you'll find on offer across jewelry stores. A lot of ring designers will work with all kinds of different setting styles, from the most popular to the more obscure, from single stone settings to designs that include multiple stones.
Whether it's a straightforward, pure diamond ring you're looking for or a more unusual design that includes multiple types of gemstones, you'll find a whole load of ideas here. So sit back, relax, scroll through and get inspired…
20 Types of Ring Settings
1. Prong setting
We're kicking off the list with a tried and tested, time-honored favorite: the prong setting.
This classic design uses small metal prongs to hold the ring's gemstone in place, positioning it above the metal band.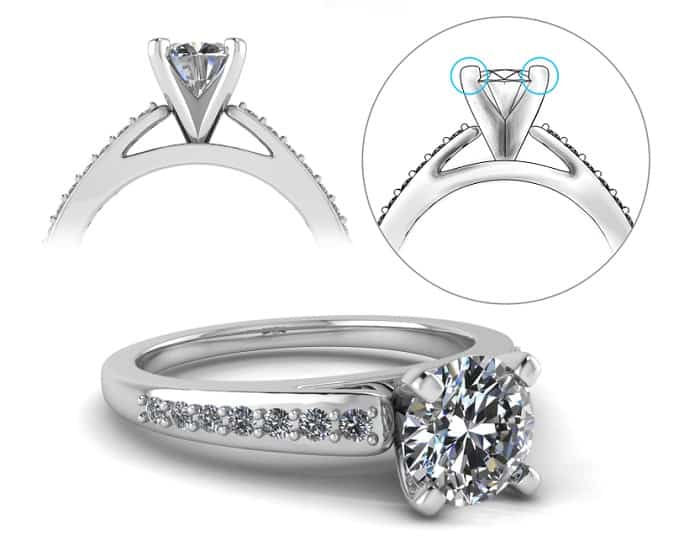 Prong settings have proved so popular through the ages as they lift the gemstone up. This style maximizes its visibility on the ring and allowing more light to interact with the gem's gorgeous structure.
This enhances the stone's brilliance; brilliance being the technical term for how much light is reflected off the gemstone's interior.
For example, as they're a clear gemstone, diamonds have high brilliance. Plus, rough diamonds are deliberately cut to maximize this feature.
As prong settings really enhance their central stone, this design is especially popular for classic engagement rings.
Prong settings are also sometimes called claw settings, because of the claw-like shape the prongs make around the gemstone that they're holding safely in place.
The larger the number of prongs securing the gemstone in place, the safer the design will be. You could also add ring guards or ring wraps into the design.
These features help to protect the central gemstone, as well as adding additional aesthetic points to the overall look of the ring. They'll create a handy frame for the feature gemstone, maximizing its appearance.
But, it's also vital to bear in mind that :
If there are more prongs holding a gemstone in place, you're going to see less of the stone itself.
If you opt for this classic, elegant setting, make sure you remember to have your ring's prongs checked up for tightness one every couple years – you wouldn't want them loosening their grip on that precious gem, now would you?
2. Solitaire Setting
The most popular prong setting of them all is known as a solitaire setting.
As you might have guessed from the name, solitaire ring designs feature a single, prize gemstone – most often a diamond, if we're talking engagement rings – on a simple metal band.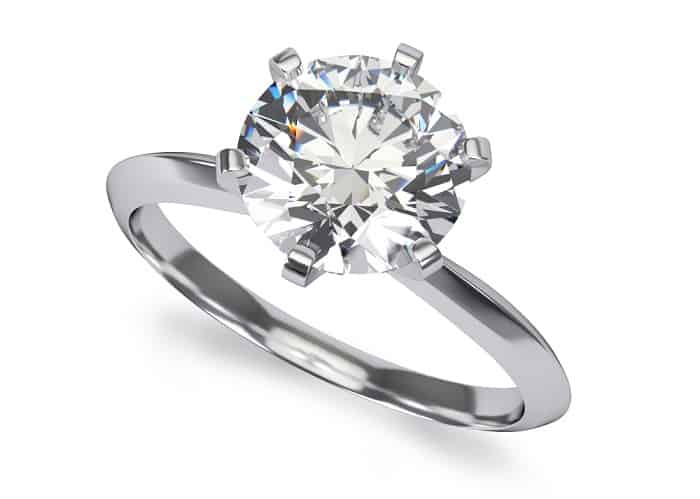 ---
Related: White Sapphire Engagement Ring: A Better Way to Go?
---
Many people love a solitaire setting for its unrivalled simplicity: just the band, the gemstone and several prongs to keep it in pride of place.
If you want the stone to really pop out of your ring as the main feature, a solitaire design might just be the perfect style for you.
3. Bezel Setting
Bezel settings are very popular designs for rings and earrings. If you're looking for a more chic, less traditional aesthetic, this might just be the perfect option for you.
Bezel settings work by surrounding the central gemstone with a slim band, most often made from the same metal as the underlying ring itself.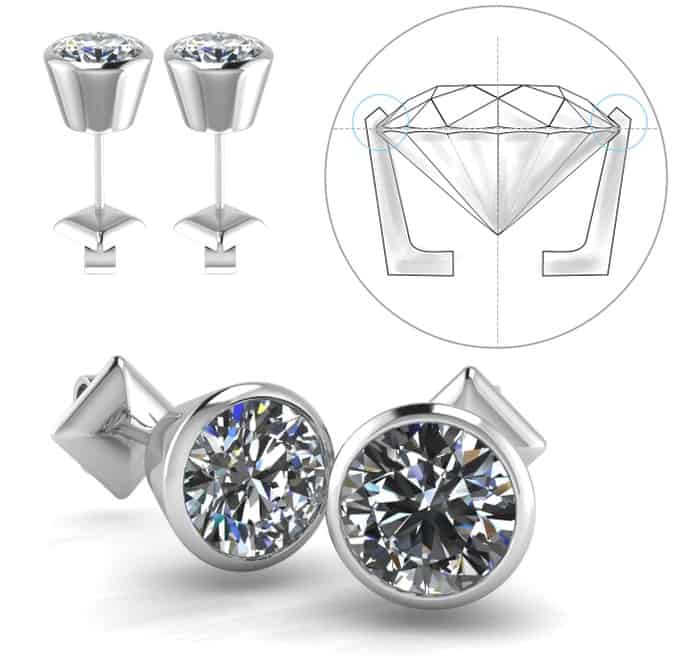 This band is custom made to perfectly fit the gemstone featured on your ring, keeping it safely in place.
Bezel settings can use a flat shaped metal encasing to hold the central stone securely; alternatively, scallop shaped designs are also popular.
Depending on the size and cut shape of the gemstone you'd like to set in your ring, an expert jeweler will be able to advise on the best bezel setting design to use.
Bezel settings are so widely used as they're super practical. While prong settings are still the most popular, bezel settings get one up on them, as they won't catch on clothes or surfaces.
If you lead an all-go lifestyle that means your hands are always busy – whether that's with your children, at work or in your free time – you might like to consider a bezel setting as a reliable yet aesthetic option.
There are several different designs possible with the bezel setting category, too. If you're looking for a secure setting for your gemstone, but you don't want to hide quite that much of the stone itself, a half bezel setting could be for you.
While a full bezel would surround the entire stone with a thin metal band, a half bezel will only partially encase your ring's central gemstone.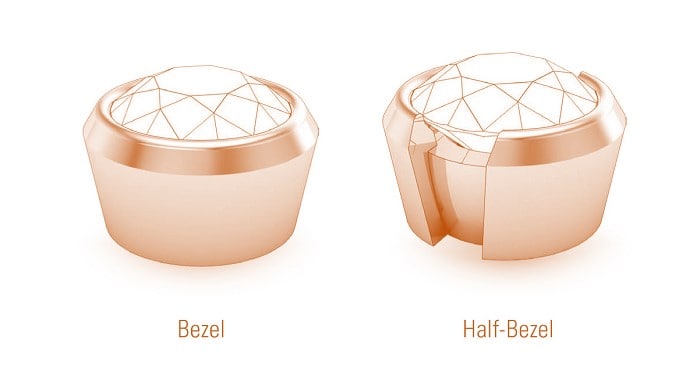 Because of their practical and aesthetic advantages, bezel settings are widespread among jewelry pieces other than rings, too.
You're likely to see these settings used in tasteful examples of bracelets, earrings and necklaces as well.
4. Tension Setting
These settings reveal their secret in their name: it's the tension generated by the metal of the ring that holds the central gemstone in place.
Tension settings make for a sleek, modern look, where the centerpiece stone looks as though it's floating between the two sides of the ring. This is an incredibly stylish option that might be the perfect look for you.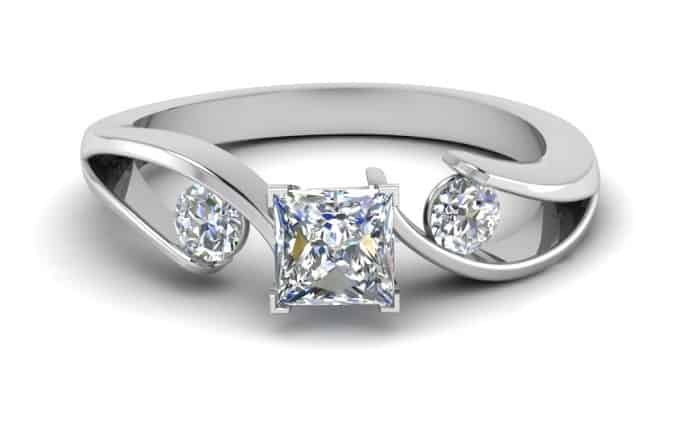 The experts get into the technical side of things for these settings: all the measurements for the stone, plus the metal band and the pressure levels on the gemstone, are carefully calculated to make it all work perfectly.
Tension settings are recommended for gemstones that are strong enough to withstand the pressure this design places on them. So, tension settings are great for diamonds, but not necessarily for less durable precious stones.
While it might look a little risky, the bands won't damage your diamond in the slightest.
Don't forget that diamond is the hardest natural substance on earth – even though they might look as delicate as ice. Expert jewelers will create little grooves on the inside of the ring's band to hold the gemstone safely in place.
As tension settings put very little metal in contact the central stone, this enhances the gem's brilliance for a wonderful sparkle. However, it's important to remember that, while it's incredibly rare, it would be possible for the gemstone to get dislodged from a tension setting if it was hit hard at just the right angle.
On the plus side, the fact that the gemstone is just suspended between the sides of the ring means it will be very easy to clean and maintain over the years.
---
Guess you like:
Types of Diamond Cuts: Your Comprehensive Guide
Diamond Accents: Are They Worth It?
Top 5 Best Ultrasonic Jewelry Cleaners
---
If you're browsing to surprise a special someone with a ring, it's also worth bearing in mind that tension settings can often be fiddly to resize – with an appropriately high price tag to match the effort and expertise involved!
5. Pavé Setting
Pavé settings are commonly used to position smaller, accent gemstones on a ring band around a larger, central stone.
For example, you might set the ring's main stone in the popular prong setting we saw first, then add detail to the ring band with smaller gems in the pavé style.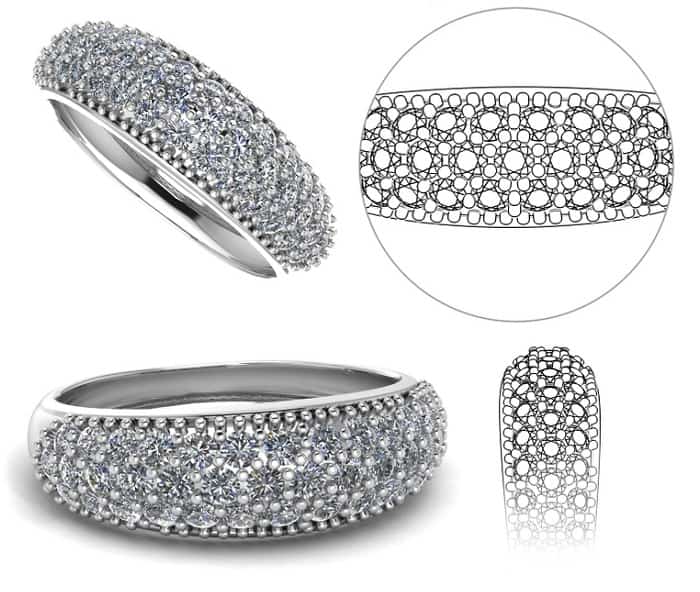 The origins of this particular setting style are European: the setting got its name from the French wording meaning "paved" or "to pave", as these rings are literally paved in gemstones.
You might also see pavé settings called bead settings, as jewelers sometimes use tiny metal beads, rather than prongs, to hold all the small gemstones in place.
Pavé settings create an aesthetic of an ongoing sparkle all around the ring band. They're versatile enough to be adapted, according to the size of the smaller stones to be set.
---
Learn more: Pavé Setting: Know It Before You Buy Diamonds
---
If the smaller stones for the pavé setting are .01 to .02 carats or larger (carats being the specialist unit used to measure diamond weight), jewelers will refer to their setting as a pavé style.
If the gemstones are any smaller than .01 of a carat, you'll get into micro-pavé territory. This follows the same design and technique, just with even smaller accent stones.
6. Flush Setting
This particular gemstone setting style is also known as a gypsy setting. Flush – or gypsy – settings work by creating a customized hole for the gemstone within the ring's metal band.
You might also see rings of this setting style referred to as burnish settings or shot settings.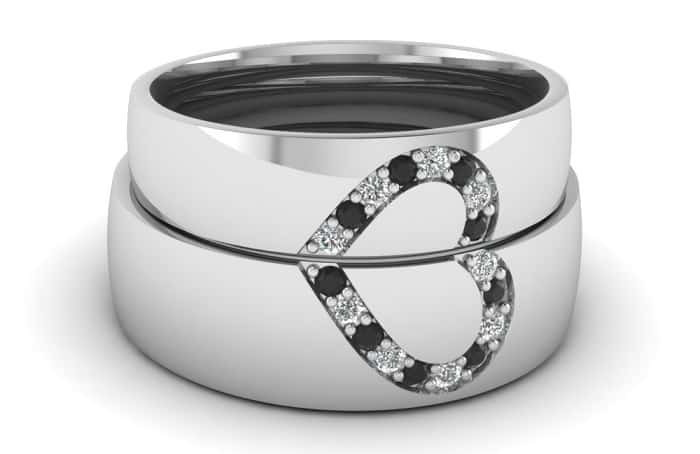 All these names refer to essentially the same design idea: gemstones inserted into specially created inlets in a ring's band, to create a smooth, level finish for the design.
It's only the crown of the gemstone (the crown being the technical term for the upper surface of the cut gemstone) that's on show in this type of setting.
This creates a sleek finished piece, which protects the gemstone in the ring from damage at the same time.
---
Also read:
What's Different about Platinum, White Gold, Yellow Gold and Rose Gold
Black diamonds: Are They Real Diamonds and Worth Buying?
Popular and Rare Black Gemstones
---
The jeweler will drill into the ring's metal band, creating a space exactly the right size for the gemstone to sit in.
Then, the jeweler will need to hammer the surface of the ring that will sit right around the gemstone, to make sure the stone is held securely in place for years to come.
As this hammering process is an integral part of creating a flush setting, this setting style is only recommended for harder stones that won't be vulnerable to chipping or cracking while under the hammer.
That makes a flush setting absolutely fine for diamonds, but it would be sensible to talk to your jeweler before deciding on this type of setting for any other type of gemstone.
Similar to the useful characteristics of the bezel setting we saw earlier, flush settings are ideal for people with a very hands-on lifestyle.
As the ring's metal tightly encases the gemstone set in it, it provides the stone with durable protection from damage.
7. Bar Setting
Bar settings are a great choice for setting multiple, smaller stones in a stylish band ring, or for positioning accent stones around a larger, central gemstone.
Bar settings hold the stones in place using – you guessed it – metal bars that lie along two sides of the gemstones.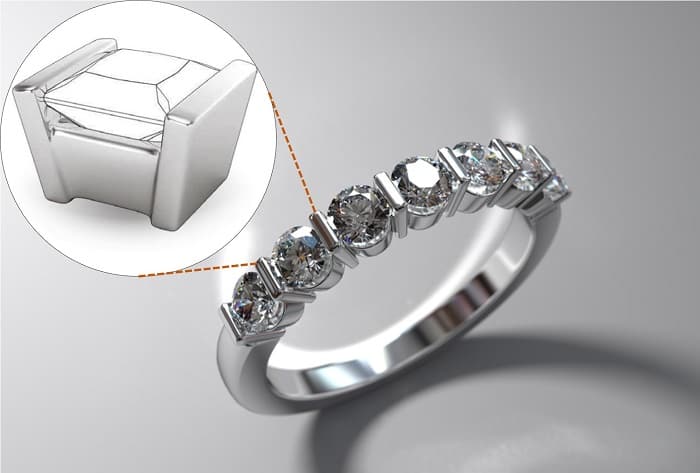 As the metal bars will only flank the stones on two of their four sides (assuming we're talking square or rectangular cut gemstones), the smaller stones' sparkle will be enhanced.
Bar settings can be a great choice if you're looking to design a chic, stackable ring using multiple smaller gemstones.
Bar settings are also common in bracelets and necklaces, creating a more contemporary look in these pieces of jewelry.
However, it's key to bear in mind that bar settings aren't the most secure setting out there for your smaller gemstones, as they'll only have their metal surrounded on two sides.
For a more secure setting option, read on…
8. Channel Setting
Channel settings are quite similar to the bar setting we've just looked at. Rather than holding the individual gemstones in place with metal on two sides, though, channel settings encase the stones on all sides.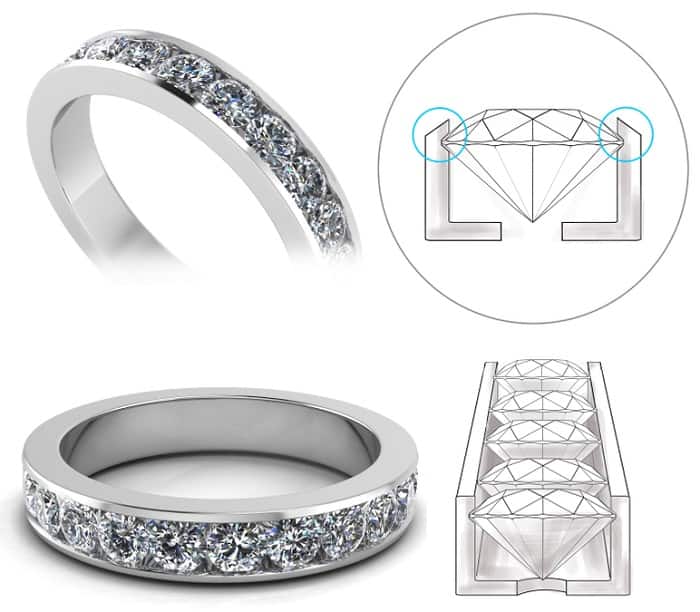 This makes for a more secure setting, but, as we already know, the more we surround a gemstone with metal, the less we get to see its sparkling brilliance.
However, channel settings are still a popular option for placing smaller stones within the band of a ring, whether they accentuate a central feature stone or just sparkle for themselves.
The jeweler creates one continuous, channel-like groove along the band of the ring, to securely fix the small gemstones inside.
The smaller stones sit right next to each other, without any metal set in between them to keep them in place – no prongs or beads like we've seen in the settings higher up on our list.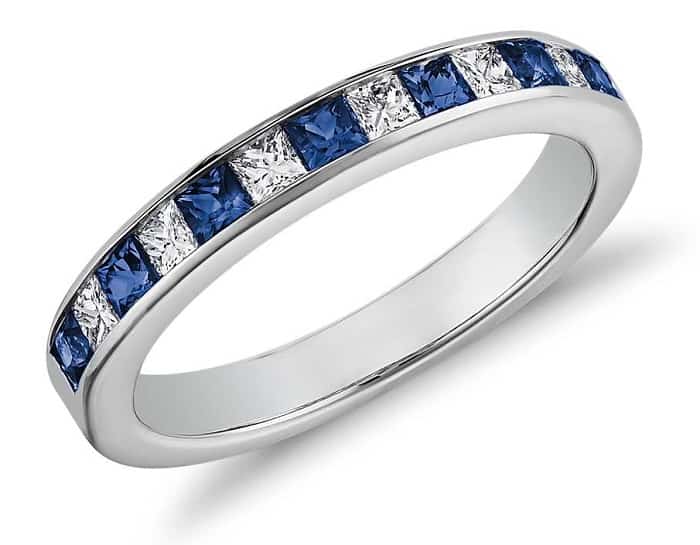 ---
Guess you like:
Black Sapphire vs Pink Sapphire vs White Sapphire
Square Cut Diamonds: How Do You Choose the Perfect Stone
---
As the outer sides of the metal channel come up and over the very edges of the stones, the channel design is a great way to defend the smaller stones from chipping or other damage.
But, a channel setting might mean you'll have to clean your ring more often than with some other settings, as some dirt could build up along the sides of the channel.
9. Tiffany Setting
Let's take a slight detour back to a prong setting design… Tiffany settings were first thought up back in the 1880s by the famous jewelry brand after which the setting is named.
Tiffany's experts were looking to come up with a ring setting design that would really bring out the very best of the gemstones they housed.
Using a set of six prongs rising up from a minimalistic metal band, the Tiffany settings lift up their centerpiece gemstone, allowing as much light as possible to touch it.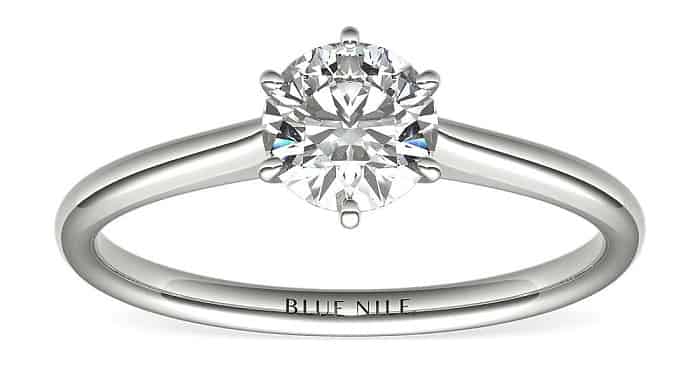 This enhances the way the stone catches the light, giving it a really special sparkle.
You might come across similar prong styles while you're browsing a range of jeweler's sites, but bear in mind that Tiffany is the only one who will be able to set you up with a real Tiffany setting ring.
So, if you're looking for a timeless setting, with a little touch of added ingenuity thrown into the mix, head on over there and select the Tiffany setting that's waiting for you!
10. Halo Setting
As you might have guessed, halo settings involve placing smaller, accent gemstones tightly around a centerpiece stone on the ring.
It's not just circular shapes though: halo settings also refer to smaller stones set in a larger square, around a square cut feature gemstone, or even more adventurous shapes than that.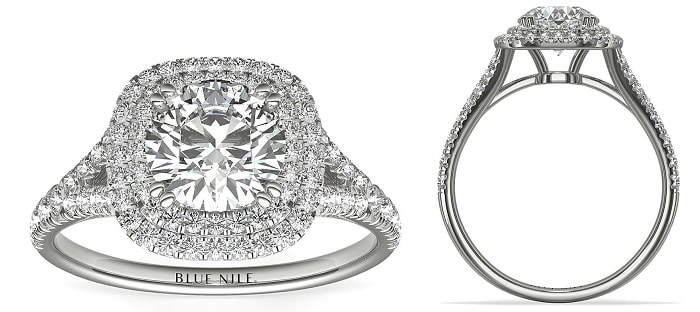 Halo settings position the smaller stones in such a way that they work together to enhance the appearance of the central stone.
This means a halo setting could be the perfect design choice for you, if you have smaller stones that could be used to make a central stone look even fancier.
Halo settings open up a whole range of creative options: as we've seen, they'll combine well with central stones that are cut in various different shapes.
Standard halo settings can be extended into a double halo design, with two concentric circles of accent gems around the central feature stone.
Plus, if you're looking to set accent stones with different colors around a central gem, halo settings could work those gems into a gorgeous design.
11. Three Stone Setting
These settings combine several gemstones to create a coherent, classy ring design.
Three stone settings might be ideal if you have different types of gemstones that you'd like to include: for example, two smaller emeralds or sapphires would beautifully enhance the appearance of a larger, central diamond.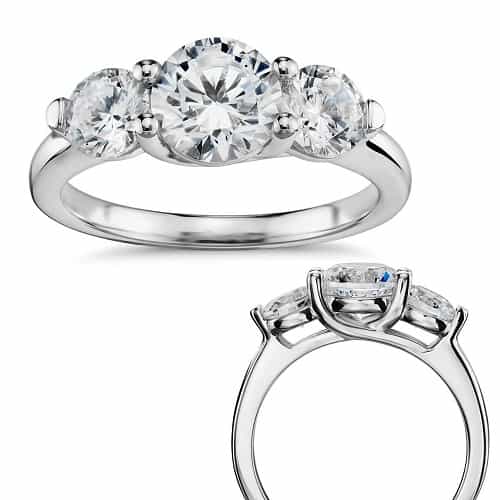 This ring setting could be the super romantic engagement ring option you've been looking for, too: the three stones are seen to represent your past, present and future as a couple.
12. Cathedral Setting
If you're a religious person, you'll be familiar with the stunning arches that often feature in the designs of cathedrals and churches.
Cathedral settings are inspired by these shapes, holding the gemstone above the ring band to enhance its appearance.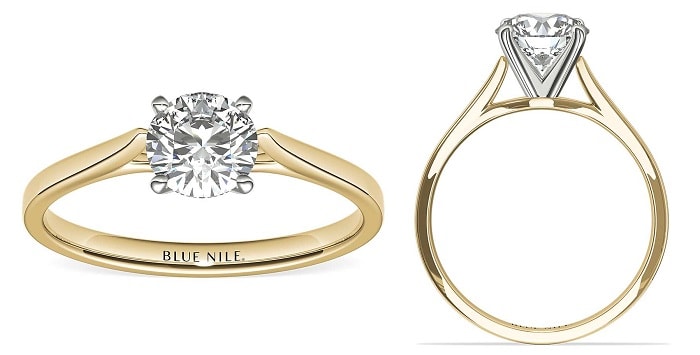 Designing the sweeping arches that will hold the ring's central stone in place could provide some really meaningful personalization to its setting style.
In fact, if the church or cathedral you're planning to get married in has some gorgeous arches of its own, why not consider incorporating their inspiration into your engagement ring's design?
Now, that's some real attention to detail that's sure to mean so much to your loved one.
13. Infinity Setting
Infinity settings were dreamed up to portray the infinite love and dedication a couple has for one another.
These settings cleverly incorporate a couple of band into the ring itself, entwining these into the shape of the infinity symbol as they circle around your finger.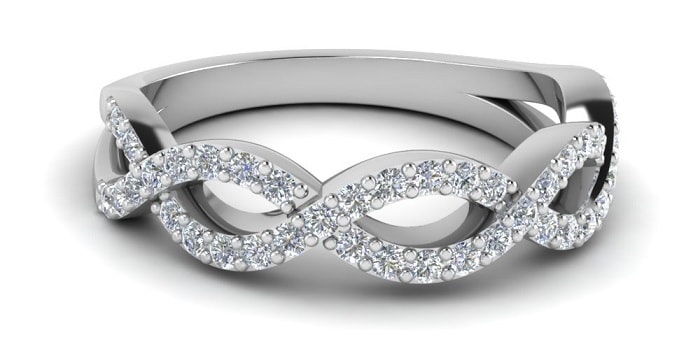 There are loads of design options that you might want to incorporate into an infinity setting ring.
A solitaire setting that showcases one stunning central gemstone,
A halo setting positioning accent stones around a larger gem,
Pavé settings to set smaller stones all the way around the interlinking bands…
There are options to suit every taste within this elegant, meaningful design. The scope for creativity with infinity settings mean the ring you design is sure to be a real eye-catcher.
14. Vintage Setting
Vintage settings, also known as antique settings, are a real interesting choice.
Many of these antique or vintage style ring settings will have been selected to echo the design trends that came about during different periods of history.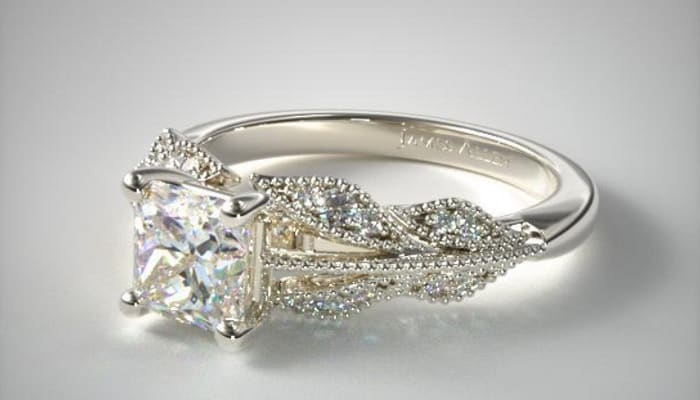 That gives them a whole lot of intriguing character, as well as meaning they often include other beautiful design features that were particularly popular at that time.
If you're looking at vintage rings, you're likely to come across both actual antique rings and rings that have been made new, but that have been designed to look vintage.
If it's the first option that really captures your imagination, make sure its stones are still safely set and not likely to fall out!
15. Cluster Setting
Cluster settings are a perfect choice if you want to maximize your ring's sparkle without maximizing its price tag quite so much!
These designs position several smaller gemstones side by side, so they look like they could be one, larger stone.
Clusters are pretty versatile, depending on your design tastes: you could create a gorgeous cluster with smaller stones that are all the same size, or position a cluster of accent gems around a larger, central stone.
Whatever the combination you go for, the cluster setting will work to enhance all the gems on the ring.
Plus, you might have quite a lot of flexibility when it comes to choosing the shape of your gemstone cluster.
---
You may also be interested:
Watch out: Gold Vermeil, Gold Plated and Gold Filled
Know the Differences: Diamond, Cubic Zirconia, White Sapphire and Moissanite
---
Circular designs are more classic, whereas more angular geometric shapes create a modernized look. Or, you could opt for more unusual, creative styles or floral shapes.
16. Shank Setting
There are lots of technical terms involved in jewelry design, so it can be pretty important to know exactly what you're looking at before you decide to purchase that most special of gifts.
Shank settings refer to all those smaller stones that are placed securely in the shank, which is the technical term for the band of the ring.
For example, you might want a pavé setting around your ring's shank to accent the larger, central stone, or a bar setting, or a channel setting, or a flush setting…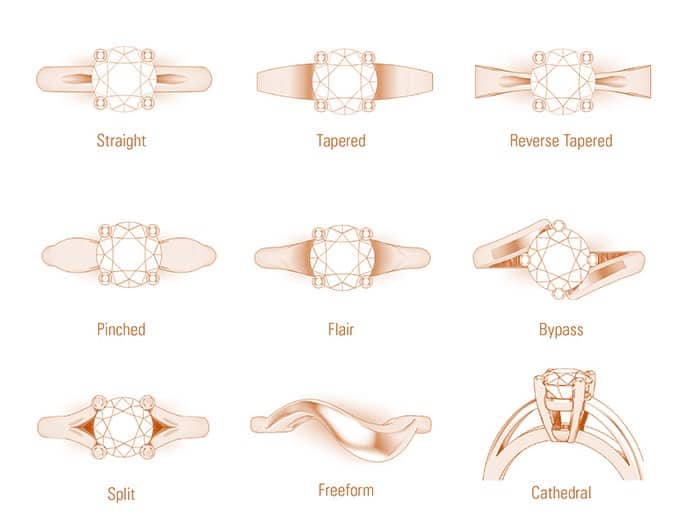 Remember, the central stone might be the most eye-catching highlight of the ring, but there's a whole load of options to create a real intricate design in the band itself.
17. Split Shank Setting
As well as getting creative with accent gemstones on the ring's shank, jewelers often get inventive with the shapes of the shanks themselves.
We saw a little of this with the infinity settings we looked at a little earlier on. That sleek infinity symbol design incorporates various shanks to create its overall shape.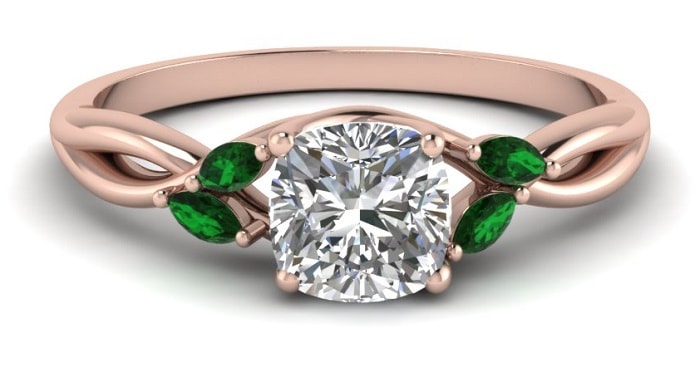 ---
Related: How Many Types of Green Gemstones Are There?
---
Split shanks are another creative option, where the band divides in two as it circles up and around towards the centerpiece gem.
Design them right, and the shanks can do a lot to really maximize the potential of the feature stone.
Classic shank designs can make for an elegant, timeless look, but more geometric, angular shapes could also work perfectly if you'd like a ring with a chic, modern touch.
18. Eternity Band
While we're on the subject of ring shanks, eternity bands deserve a mention.
"Eternity" isn't technically a type of setting; it's the name given to a type of ring band that has gemstones set all the way around it, creating this eternal-style design.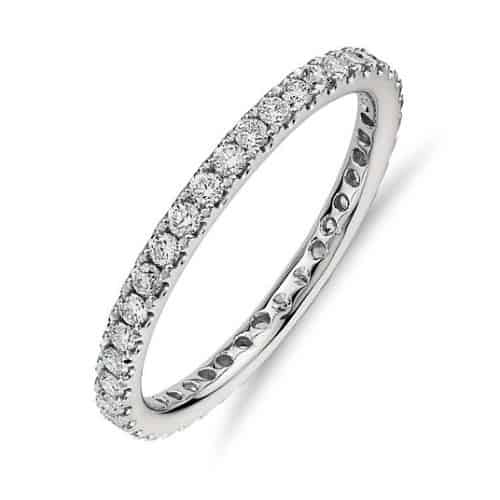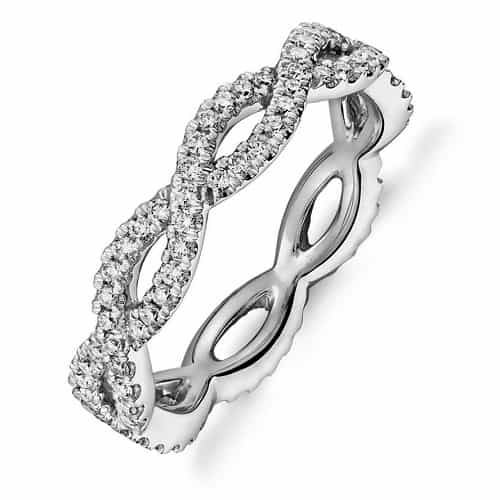 A popular style of shank for any type of occasion, eternity bands feature in many jewelers' designs.
We've seen a couple of settings that lend themselves to stackable rings (channel and bar settings, for example), which would work well in a sleek eternity band design.
19. Step Setting
Step settings are a chic, angular design that builds in several layers of smaller gemstones between a central stone and the ring band.
Raising the feature gemstone up from the ring's shank, a step setting effectively enhances the main stone, while also blending the design into the actual band of the ring.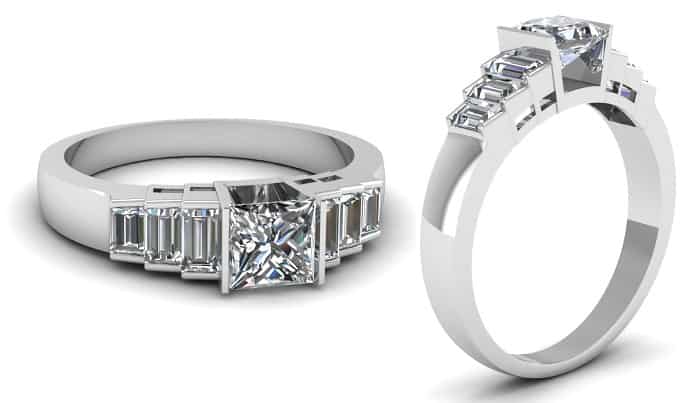 Step settings make for an unusual design that will really draw the eye. This setting would be perfect if you have smaller stones to incorporate into a ring design.
What's more, a step setting would also work with a variety of gemstone colors, meaning you can blend emeralds, sapphires, rubies or whatever other gemstones take your fancy into your ring's design.
20. Illusion Setting
Last but definitely not least, illusion settings are a very smart option.
These settings position several smaller stones very snugly together, so they have the overall look of a single, larger gemstone.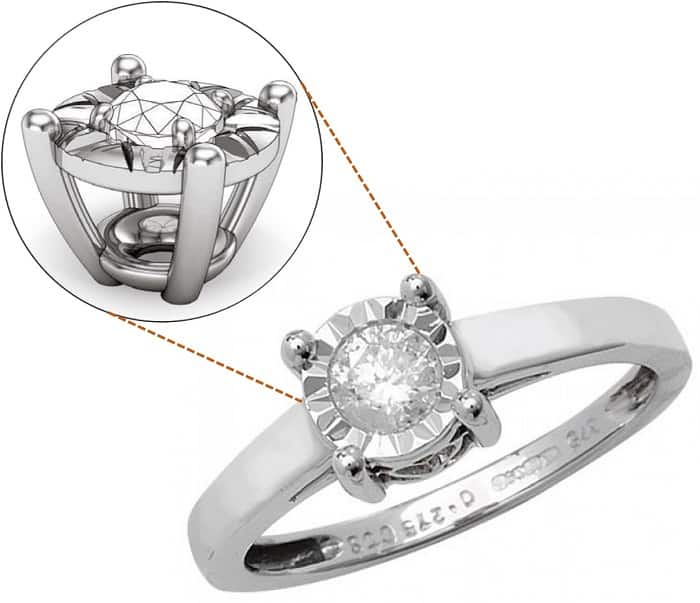 Illusion settings fix the gemstones in place from below, creating a fairly seamless impression of a larger, more valuable gemstone.
A similar illusion can also be created using precious metal. With expertly designed patterns, the precious metals surrounding a gemstone can create the impression that it's larger than life.