Getting nose pierced is a huge decision and is certainly not something you can think up overnight. Nose piercings generally take a long time to heal.
However, you can only determine the correct time based on which area of your nose you'll get pierced. If you've got your nose piercing and are going through the healing process know that just because the area doesn't feel so red or sore doesn't mean the hole has healed.
In this article, we'll detail everything about how long it takes a nose piercing to heal. Additionally, we'll highlight the things that have an impact on your healing process and precautions to take to avoid the irritation, infection or something worse.
[toc]
There are many factors that can affect the healing process of your nose piercing. However, let's first see how long it takes for each nose piercing to heal, depending on its location.
How Does the Nose Piercing Procedure Look Like
If you've already done the researching, then you probably know that there are different types of piercings. When you go to the piercing professional, you'll pick whether you want nostril piercing, septum piercing or some other type of piercing. Then, you'll share other details such as the location, height and other aspects of where the piercing will go.
---
Guess you like: Types of Nose Piercings
---
If you haven't already bought the piercing you want to wear as the hole is healing, your piercing professional will suggest a few options. Make sure to wear material that is ideal for healing, such as surgical steel or gold. Don't opt for silver, as it can leave dark stains and mark on your nose. Additionally, it can cause irritation, and with some, even allergy.
After you've picked the side you want the piercing to go through, the piercing professional will mark it with a sharpie or something else and begin the procedure.
Nose piercing can be an extremely painful procedure. However, if you have low pain tolerance, don't be surprised if your natural body's reaction gets teary.
There's nothing shameful in feeling the pain from the process, after all, a part of your nose is getting pierced. The nostril piercing can be additionally painful, and will also follow with the reaction of crying.
It's worth noting that if you're getting a septum piercing, your piercing professional must be especially cautious. Septum piercings can cause excruciating pain, which may result in strong irritation and discomfort that can last for days and weeks.
However, if the strong and unbearable pain persists, it's possible that your piercer did the wrong job.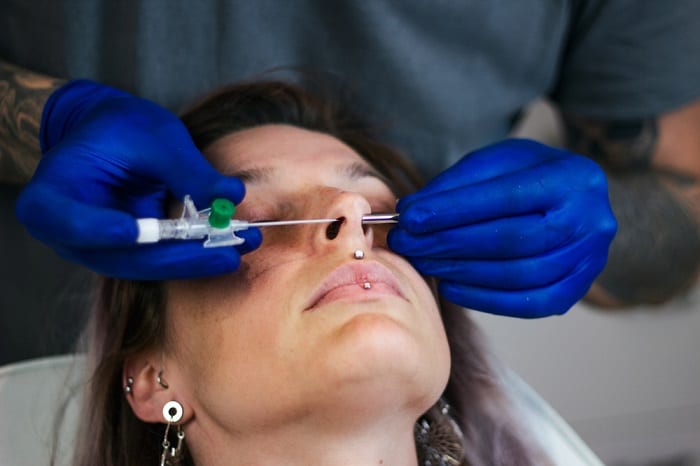 Sometimes, due to mistake or misalignment, it can happen that the septum cartilage got pierced, which can result in tremendous pain, irritation and discomfort.
In this situation, it's important to immediately remove your piercing and perform all the caring methods for the wound to heal.
If you'll still want to get the septum piercing done despite this unfortunate situation, we advise you to pick another professional who won't injure you while piercing your nose.
To avoid all sorts of incidents while piercing a nose, it's best to look for a piercer who has experience and a good reputation. If the person is active on social media, look for reviews, evidence of previous work and more.
Also, make sure to ask them all the questions about the procedure so you don't get surprised in the middle of the process.
How Long Does It Take for A Nose Piercing to Heal
Given that there are different types of nose piercings, as well as different locations on the nose, the healing times may vary.
Additionally, the healing process also depends on the individual person. However, we derived the average amount of time for each piercing type, listed below.
Nostril piercing will take anywhere between 4 to 6 months to heal. Those with a good immunity system may be lucky enough to heal within 3 months.
Septum piercings, while hurt, take much less to heal. You can expect your septum piercing to heal anywhere from 6 to 8 weeks. However, if the cartilage suffered damage, it'll take much longer to heal. If the piercer does a good job on your septum, it'll heal faster than any other piercing type.
Rhino piercing is demanding and will take the most to heal. The difficult procedure sees the complete healing results from 6 to 9 months.
Bridge piercings will take between 8 and 12 weeks to heal, depending on the care and individual piercer.
Nasallang piercing will take anywhere from 4 to 6 months to heal. Given that they are difficult types of piercings, they will also take longer to heal. If you attempt to get this piercing, make sure to find a reliable and trustworthy piercer who will perform this without injuring you and causing damage.
You shouldn't touch, twist, play with or remove jewelry while the piercing is healing. However, there are instances where removing your nose ring is acceptable, such as allergy. Besides, if your nose swells and it keeps being persistent you should remove the piercing and see a doctor.
Other irritations may include itching, rash, and extreme swelling. The piercer should then swap the jewelry for stainless steel or solid titanium nose ring.
Other types of irritations may happen in situations when your nose ring isn't long enough to make for the average amount of swelling. In that case, the piercer will insert a larger piece of jewelry to prevent infection or necrosis.
Don't try to swap the nose ring yourself because you can damage the tissue or healing fistula. Lastly, the fistula (healing hole) may get closed. Sometimes, your piercer will ask you to pay a fee for the piercing maintenance, but even that is better than closing your hole or causing an infection.
Nevertheless, in a situation where you have to swap the jewelry yourself, use the nose ring with the same gauge as you used on the previous nose ring. That will lessen the struggle of inserting it in your nose, else you may need a larger hole.
How to Care for the Healing Nose Ring?
There are various products that can help the healing process of your nose. For example, you can use Recovery Piercing Aftercare Spray as well as H2Ocean to care for the swelling and irritations every once in a few hours. To reduce the swelling you should spray it both inside and outside the nostril.
Other caring methods include cleaning the piercing with a sea salt solution soak (also known as SSS.) The good thing is that you can make the solution yourself, using ¼ tsp. of sea salt, and mix it with 2-3 drops of tea tree oil because it is equipped with healing antiseptic qualities.
Also, avoid using oils, balms, and creams onto your piercing because it could cause irritation and eventual infection to your nose. Don't twist and slide your jewelry because it can slip out and close the hole.
Moreover, it's important that you don't change the jewelry for the first 3 months so that the nose can properly adapt to the change of tissue.
Things that Affect the Healing Process
Touching the piercing
Your piercer will tell you not to touch, twist, curl or play with your skin around the piercing as it can hurt you. Picking at scabs or crusty areas of the hole may cause an infection, and slow the healing times.
Washing piercing in water
Don't clean the nose ring in water, as it can cause the bacteria to attach to the jewelry. Clean it with alcohol or salty water solution.
Sunlight
Don't leave your nose ring in the sunlight. You shouldn't sunbathe for too long or swim outside while the healing is still not complete.
Hygiene
It's important to take proper hygiene with your piercing to avoid unnecessary and unwanted infections. You must follow the proper caring and aftercare regimes to make sure both wounds and jewelry are clean. Consult your piercer on how to take and remove jewelry safely and get useful tips and tricks on how to keep it all clean.
General health
When all the factors get eliminated, it's our own health and immunity system that dictate how we'll heal. Make sure to stay hydrated, eat vitamins, fruits and vegetables and avoid catching a cold and getting sick. Doing so will make sure your healing process speeds up too.
Conclusion
After all the healing process comes down to how often and how consistently we treat our piercing wound. Although different nose ring locations mean that healing may take different time to heal, it's still factors like our caring routines and general health that will affect the overall healing process.
Using additional chemicals, like the ones we mentioned above may ensure that the wounds are safe from dirt and infections, but it's mostly our routines that contribute to the swifter recovery.
What are your tips and tricks to heal the nose ring wound? Let us know in the comments!