Once looked upon with disdain, black gemstones were not the most popular. Today, they are more popular in jewelry pieces. Most people associate the color black with gloom, negativity, and gothic culture, so it was not often desired.
With a rainbow of translucent gemstones and colored diamonds to choose from, black gemstones have been tossed to the side. Most black gemstones are of a solid pigment, so you don't get the same opaque look as you would with clear or other colored gemstones.
But this was the old way of thinking. Black is now the favorite color of everyone. Black goes with everything, looks great with other colors (except for navy blue), and is regarded as sophisticated and professional.
[toc]
---
At a Glace
Black Diamond
Black Opal
Black Sapphires
Black Onyx
Black Pearl
Black Tourmaline
---
1. Black Diamond
We're starting this list with the most popular black gemstone found in fine jewelry, a black diamond. Black diamonds are a sort of conundrum.
For years and years, it has been engrained in our brains that diamonds should have a rainbow brilliance and no visible inclusions. Yet, these black diamonds are just solid, almost a matte color.
The black diamond goes against everything we've been taught about diamonds, yet it is very popular. You'll most often see black diamonds paired with white diamonds for a lovely contrast of colors.
---
You may also like:
10K, 14K, 18K and 24K Gold: Which to Choose?
How to Choose from White Gold, Platinum, Yellow Gold and Rose Gold
---
Black diamonds are also common in adolescent jewelry as they are used to make a lot of animal jewelry.
How black diamonds are formed
Black diamonds are said to have gotten their dark pigment due to graphite. When you look at a well-cut black diamond, you are not going to see any inclusions like you would looking at a white diamond.
Does that mean they don't have any? Actually, it's just the opposite. Black diamonds are riddled with inclusions!
In fact, there are so many inclusions, the whole stone is black with them. These stones are also a 10 on the Mohs scale (hardness and durability scale for minerals) and are even though to be more durable than white diamonds.
Most colored diamonds have an intensity range of pigment, but black diamonds only have the one, called fancy black.
How to buy a good quality black diamond
How to pick it out
When picking out black diamonds for a custom ring, you still need to consider the 4Cs. If you don't know what the 4Cs are, it is the scale used to determine the rarity and value of a diamond.
Cut is craftsmanship of the ring
Color is the amount of white light shown through brilliance
Clarity is how many visible inclusions the diamond has, and
Carat is how the diamond weight is measured.
Since black diamonds don't exactly relate to the same color and clarity grading as white diamonds, it is still important to make sure the black color within the diamond is evenly shown throughout the stone.
Black diamonds of lesser quality may have irregularities in the coloring and have visible inclusions on top of the already included surface.
Cost
The biggest factor that will determine the prices of black diamonds are going to be whether or not they are natural or treated.
More often than not, the stones are treated and made to look black. Natural black diamonds are quite rare and aren't usually found at physical retailer shops.
---
Learn more: Black diamonds: Are They Real Diamonds and Worth Buying?
---
Natural black diamond prices can range from $3000 to $5000 per carat.
Treated black diamonds are much lower in price between $100-$900 per carat. Color-treated diamonds are often more durable than their natural forms.
2. Black Opal
The black opal is one of the rarest opals. Opal is a gemstone that is most often seen as an opaque white with flashes of the entire rainbow throughout.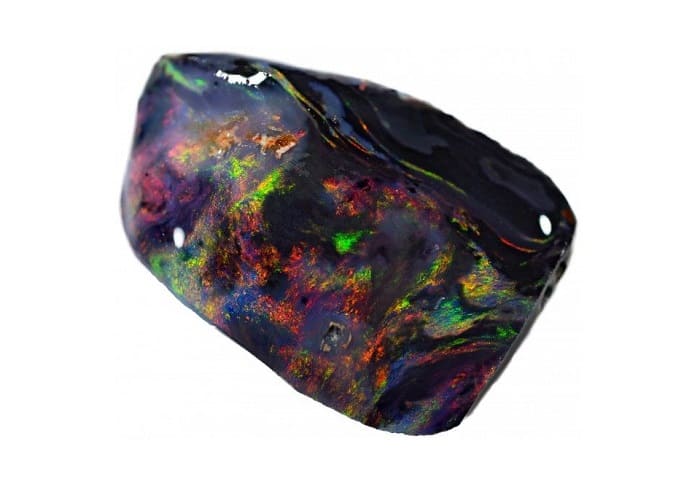 There are numerous opal colors that replace the milky white such as blue opal, pink opal, fire opal, and our star today, black opal.
Opal is the birthstone for October. It is made up of water, so you need to handle opals with care. They have a hardness of 6 on the Mohs scale, making it easy to damage.
Opals should not be one by someone who is hard on their hands, at least if you're wearing it in a ring.
How black opals are formed
Primarily, opals come from Australia, as they supply 90% of the world's international market.
Opals are unique gemstones, both in appearance and how they're formed. The formation of opals happened at least around 65 million years ago when the center of Australia was made up of sea.
The waves kept receding and extending over time. This created silica deposits on the shorelines. Over the next 35 million years, the silica deposits would be changed further into soluble silica.
The silica flows through cracks in the ground and begins to form the opals we see today. The process for opals to develop is a long one. It's estimated to take about 5 million years to see an opal deposit form.
Black opals are formed when silica becomes the substitute for natural material within the structure. The darker tone of the black opal comes from black quartz that has attached to the opal stone.
How to buy good quality black opals
Pick it out
When picking out a black opal, you'll want to know if the opal is a doublet or triplet opal. These names will tell you if it is a manmade opal.
These types of opal actually contain just a sliver of real opal. If it is described as solid opal, then you know it's a natural opal.
The best black opal is the one with the darkest background. This allows the rainbow spectrum, or play-of-light be more vivid and desirable. The pattern of the brilliance of the opal also contributes to the quality of the stone.
---
Guess you like: Necklace Chain Types: A Guide for Your New Year
---
Patterns are divided into three categories: excellent, good, and poor. Excellent patterns have very prominent designs in their light. Poor will have indistinct patterns.
Cost of black opals
Black opals are the highest valued opal and natural ones can cost up to $10,000 per carat, which is more than a very good quality 1 carat diamond. The cost a black opal also increases when the pattern is of the excellent quality.
3. Black Sapphire
You've probably heard of a sapphire, but we're betting it's not this one. Most people don't even know that black sapphires exist. Sapphires are most often known for the blue variety, but pink, yellow, and white are also popular.
Black sapphires often are mistaken for the stone onyx, but the two are very different. They have a similar hue of black in their stones, almost completely opaque. '
Very little light flows through them and they seem to absorb every bit of light that touches them (a tad depressing, right?). But don't count them out yet.
Sometimes black sapphires can look like a very deep blue or deep gray. However, black sapphires are significantly more durable than onyx stones, rating a 9 on the Mohs scale, making them second to the hardness of a diamond.
---
Related:
Best Healing Crystals for Anxiety
More than Just Blue: Black, Pink, and White Sapphire
Sapphire and Topaz: What to Look for?
White Sapphire Engagement Ring: A Better Way to Do It?
---
Black sapphires have their own metaphysical characteristics as a healing crystal. They possess the ability to keep one calm in the midst of chaos. It allows you to trust your own intuition as well. Black sapphires can ward of bullying and provides protection from rage and intimidation.
How black sapphires are formed
Sapphire is formed when aluminum oxide minerals form crystals known as corundum. Corundum comes in a variety of different colors are they are all known as sapphires, with one exception. Red corundum is known as ruby.
Black sapphires can be translucent or opaque and sometimes also look brown or black. They mostly come from Australia and are a very common stone, so they are in abundance.
How to buy good quality black sapphires
Pick it out
When it comes to picking out the perfect black sapphire, you don't have to worry about too much. You should consider the 4Cs with black sapphires in a relevant form.
For example, some black sapphires can look dark brown or murky gray. If you want a good black sapphire, you're looking one that is a deep black throughout.
Clarity isn't a huge factor, but there could be some surface inclusions seen when the light hits.
Also, in this case, because the inclusions are what causes the sapphire to be so black, you want this one to have enough inclusions to make the stone solid black.
The main C you'll want to look at is the cut. Depending on the fancy shape you want from a black sapphire, it's a good idea to make sure the proportions of the stone are cut to how they are supposed to be.
---
You may also be interested:
Types of Gemstone Cuts: Your Comprehensive Guide
20 Types of Ring Settings: Find the Perfect Design For You
---
Cost of black sapphires
Black sapphires are very common and less valuable. They are mined in large quantities and are very easy to find. Because it is very common, it is also very affordable.
You don't see very many natural black sapphires as most of them are color treated anyway. You can purchase black sapphires for under $100 per carat.
Black star sapphires are rarer than a regular black sapphire, going for a couple hundred per carat. Star sapphires are a group of sapphires that have a light pattern over the surface of the gemstone that looks like a 6-point star.
It gets its design by little needles within the stone crystal. These needles are intersecting with each other to make that star.
Star sapphires are considered special and come in a variety of colors. Black star sapphires are not a rare form of star sapphire, but more valuable than a regular black sapphire.
4. Black Onyx
Onyx is probably one of the most common black gemstones you've heard of, but we're doubting you know much about it. Onyx isn't really used in fine jewelry, but more so in cocktail pieces or bohemian jewelry.
Did you know that onyx actually comes in different colors, not just black? In fact, onyx can be red, brown, and orange. Usually, these shades are accompanied by bands of white throughout the stone.
Onyx is a softer stone, so it's not too durable for hand jewelry. It rates between a 6 and 7 on the Mohs scale.
Onyx was used in the Renaissance period to make cameo brooches rather than in gemstone jewelry. It also is used in the realm of healing crystals.
The stone is said to have protective powers, shielding you from outside negativities. In the psychic realm, it has been known to connect to the spirit world.
---
Learn more: Meaning of Black Onyx: Positive or Negative?
---
How black onyx is formed
Onyx is a variety of the oxide mineral chalcedony. It is confused a lot with agate, as both of these have bands that run throughout the stone. Black onyx may be completely black or black with bands of white.
You can find onyx deposits in Argentina, Australia, Mexico, Madagascar, and Botwana, among others. It is considered to be a cryptocrystalline that contains both quartz and moganite to create silica mineral deposits.
How to buy good quality onyx
Pick it out
Almost all onyx is treated, so there's not really a worry about natural vs treated associated with good quality. You want an onyx stone that is a deep black. It's up to you to decide if you're wanting it to have bands in it or not. If it has white bands, it does not affect quality.
Your onyx jewelry should have a natural gloss and luster and be smooth to the touch. It has very little inclusions and high clarity, so if someone is trying to sell you something otherwise, you're going to get ripped off.
Onyx should be cut to maximize the glossiness and luster and can be cut into different fancy shapes to include round, marquise, pear, princess, and trilliant.
Cost of black onyx
Black onyx used to be highly valued, but in modern days, it is not regarded in this fashion at all. Because natural black onyx is rare, you're most likely only going to ever see treated black onyx.
The cost of black onyx can very between $1-$500 per carat, depending on what else is accompanying it (other stones, metal). Black onyx is affordable for every budget.
5. Black Tourmaline
Black tourmaline is more thought of as a healing crystal, rather than a gemstone. You will see it in protection jewelry, costume jewelry, but not as much within fine jewelry.
As a protection stone, black tourmaline wards against negative energies and defends against psychic attacks, and be good for those who have sensory issues or OCD.
Keeping black tourmaline in your pocket is said to increase your self-confidence, remove fear, and overthinking. We're starting to think that maybe we should get some of this!
Physically, black tourmaline is helpful with illnesses such as bronchitis, pneumonia, and other immune system diseases.
---
Also read: Best Crystals for Protection in You New Year
---
Black tourmaline registers a 7-7.5 hardness on the Mohs scale, making it not the ideal stone for durability. Most jewelry containing black tourmaline is found in pendants, as many of the healing crystals are placed.
How black tourmaline is formed
Tourmaline, like some others on our black gemstones list, comes in a variety of colors as well. Tourmaline has over 30 different kinds of itself, but most of what we deal with today is split into three categories:
Elbaite- This is the gem quality tourmaline, which comes in bright, translucent colors. These tourmalines are used in fine jewelry.
Dravite- brown tourmaline
Schorl- dark, opaque tourmalines
You can probably guess that black tourmaline is in the Schorl category. Tourmalines are formed deep underground by an extremely hot liquid full of various minerals.
The liquid starts to cool and those minerals are crystallized into tourmaline. Tourmaline is usually found in granite, but also can be found in marble as well.
How to buy good quality black tourmaline
Pick it out
In general, a good quality tourmaline is one that projects bright and vivid colors. So, being a black tourmaline, there is no real measurement on a good black tourmaline. They are not looked upon too kindly in the fine jewelry world and are considered not very attractive.
Because of the opaqueness, the black tourmaline doesn't have much for clarity. However, you'll need to keep an eye out for cracks that have formed.
This is due to tension or what's referred to as stress within the stone. Gemstone cutters try to identify these areas but many of them go unnoticed.
Cost of black tourmaline
Black tourmaline is extremely affordable. It is very common to purchase in a tumbled form or a rough form, as this is how many people choose to use healing crystals. However, you can find it in a pair of earrings or pendant as a gemstone.
Black tourmaline goes for around $10 per carat, if even that. The Schorl category of tourmaline actually accounts for 95% of tourmaline found.
Black and blue tourmaline would be found within this category. It is not a sought-after gem, but makes great and affordable jewelry to wear.
6. Black Pearl
And no, we're not talking about Captain Jack Sparrow's ship in Pirates of the Caribbean. This black pearl refers the June birthstone and the only gemstone formulated by a living creature. Pearls are wondrous in their origin and formation.
There are two kinds of black pearls. One is the Tahitian black pearl and the other is a pearl that was originally white and has been colored to be black. As you can probably guess, Tahitian black pearls are rarer and completely natural.
The black pearls are not a true opaque black like many on our black gemstones list. A black pearl looks like a dark gray color with overtones of various colors. The iridescence on a black pearl is what makes them so desirable. In the light, you can catch pink, purples, greens, blues, and other colors shimmering on the dark gray surface.
While black pearls are indeed beautiful, they are not suited for everyday wear. Because they are formed under the sea, opals carry a high density, which causes them to be soft. They have a rating of 5.5 on the Mohs scale and are the softest gemstones.
---
Related:
Sterling Silver, Pure Silver and 925 Silver: Are They the Same Thing?
Can You Prevent Silver From Tarnishing (and Keep it Shine)
Diamond Accents: Are They Worth It?
---
The softness can cause damage when hit just right, so be careful with large opal rings. The opals will can scratch. The hardness of an opal is similar to glass. It should not be placed under high heat as that will cause it to swell and crack.
How black pearls are formed
Black pearls come from the black-lipped oyster. Pearls in general, come from oysters, but not all oysters produce pearls. A pearl occurs when an irritant such as sand or a pebble, gets stuck inside an oyster shell.
The oyster gets bothered by the discomfort and makes an attempt to relieve itself from the annoyance. It starts coating the irritant in calcium carbonate. The buildup of the carbonate forms a pearl.
Most oysters have a shiny white or silver shell on the inside, also referred to as a nacre. The nacre of a Tahitian black lipped oyster has a band of black running through it. If the irritant is near that black band in the shell, it absorbs the color to create the Tahitian black pearl.
Black pearls, like all pearls, are either cultured or uncultured. Cultured is when a pearl farmer physically introduces an irritant to the oyster and the process naturally occurs from there.
Uncultured pearls happen on their own, by chance. Pearls can be color treated to become black, but they do not carry that beautiful sheen as Tahitian black pearls do.
Other black pearls are colored by radiation by gamma rays or dyeing white pearls. The gamma rays only color the center of the saltwater pearl, so the visible pearl is a blue gray color. The gamma rays in freshwater pearls make them closer to a black color.
How to buy a good quality black pearl
Pick it out
When buying black pearls, you are looking for the darkest pearl that displays the most amount of colors in its iridescence. They can come in a variety of shapes, but the round pearl is the most sought-after.
A good black pearl will also be perfectly round. If you are looking at a strand of Tahitian black pearls, make sure all of them are round. A strand of pearls should be able to roll on a surface with no hindrance or irregularity in the movement.
Tahitian pearls have their own grading system containing grades A-D. An A grade with Tahitian pearls is equivalent to the AAA grade in gemstone quality.
The best black pearls will have the slightest bit of inclusions (around 10%) and no deep inclusions. The luster will be very high and reflective, and is the same 360 degrees around the surface.
Cost of black pearls
Treated black pearls are very affordable, ranging from $50-$1000, depending on what it is set in. Strands are always more expensive because they contain so many pearls.
Akoya pearls, which are Japanese dyed pearls are more expensive than regular dyed black pearls. They can range from $100-$2000.
And now for the star of our black pearls, the Tahitian black pearls. When searching for these pearls in the market, don't be surprised range from $300 up to over $25,000.
Black Gemstone Jewelry Today
Historically, black gemstones are not very respected in jewelry. Most black gemstones are regarded as minerals and crystals used in healing, rather than fine jewelry. Other black gemstones include
Black zircon
Obsidian
Black jet
Black garnet, and
Black jade
Most of these are not used in fine jewelry.
Black gemstones are getting their spotlight in Hollywood. Actress Jennie Garth was given a black diamond engagement ring with a halo of white diamonds set around it on a yellow-gold band.
British actress Emily Blunt has been seen sporting a cushion-cut black onyx ring. Sandra Bullock has been seen wearing black spinel earrings.
Black gemstones are becoming more and more popular in the modern world. The combination of the black gemstone with white diamonds makes a striking and sophisticated look that is becoming more popular. Black gemstones are perfect for the person who desires non-traditional piece to complete their look.
To Wrap Up
We hope you have enjoyed our black gemstones list. Even though black gemstones may not be valued highly by the jewelry world, there's no denying the beauty of each of these gemstones. Black gemstones have always been associated with the stigma of depression, evil, and darkness and as a result, their beauty goes unnoticed.