Are you looking for the secret meanings in different colors of gemstones? Purple looks enchanting and stylish and has been used for a long time throughout history.
However, while other colors like red, orange, green, and blue come in different versions and vibrant textures, purple is not so widespread and available in terms of the color specter.
Nevertheless, if you're looking for a gemstone that will make you feel stylish and shine with prestige, purple may be the right choice for your jewelry.
Meaning of Purple Gemstones
Purple gemstones have existed in jewelry production for centuries, despite the fact they are rare compared to red, green, blue and other gemstones. They are commonly associated with power, prestige and wealth. Furthermore, some sources also associate purple gemstones with nobility, luxurious lifestyle, and royalty.
When it comes to spirituality, purple gemstones are connected to the 6th and 7th chakra, which is associated with third eye and crown which emphasizes spiritual awareness, visioning, psychic ability, and intuition. Some say that purple gemstones come in assistance when you're confused with your life and may help you find purpose and order in life.
Whether the spiritual bit is the truth or not, the purple color looks undoubtedly enchanting and eye-catching, and with the right piece of jewelry, it'll look sophisticated and elegant.
While purple gemstones are rare, there are still many varieties of purple, including violet, lilac, lavender, mulberry, wine, and others. Choosing the right purple gemstone is no easy task, and to help you choose the right one, we've highlighted the 12 most popular purple gemstones for your piece of jewelry.
Purple Gemstones List – 12 Purple Gemstones
1. Purple diamonds
The formation of the diamonds, in particular, is extremely exciting, and different processes that occur during their creation affect the color that they come with.
Main features:
Exclusive in their design.
Rare to find.
Because they're rare to find, they're expensive.
There are a lot of synthetic and enhanced options at disposal.
In the case of purple diamonds, their creation is affected by a high concentration of hydrogen when those important processes are taking place, which affects how rare they are to find and how expensive.
The price is also affected by the intensity and vibrancy of the diamond's color, as well as the color saturation.
Fortunately for those who are in love with purple diamonds but can't afford to find them easily available or afford their high value in particular, there are plentiful of synthetic and enhanced variations that are more easily available on the market, and thus more affordable.
There are a plethora of purple diamonds variations, which are well-known by their nicknames such as Lilac, Orchid, Lavander, Grape, and Plum Diamonds, which detail the colors of the stone.
Nevertheless, if you're looking for the unique diamond design, keep in mind that the collectors, as well as diamond hunting hobbyists, are after them, and if they're to sell those diamonds, they're going to set an extremely high price-tag.
---
Related: Black diamonds: Are They Real Diamonds and Worth Buying?
---
2. Amethyst
If you've been on the hunt for purple gemstones, you must've heard about Amethyst before, as it's the most well-known and popular gemstone. It also has an interesting past, as these gemstones were considered cardinal gemstones, which means that they are more precious compared to other gemstones.
Main features:
The most popular purple gemstone on the market.
They are easy to find because they are abundant.
Extremely affordable.
They are hard.
However, they aren't too tough.
In the past, they used to be as equal as diamonds, sapphires, rubies, and emeralds. Its fame and value have been ruined when miners in Brazil found large deposits of it and started digging it out. In the process, it has become the most affordable and popular gem, suiting even the tightest of budgets.
Amethysts are scalable and come in a lot of variations of purple colors, with the ones that are the most color-saturated and show the deepest purple hues are the most popular and desired.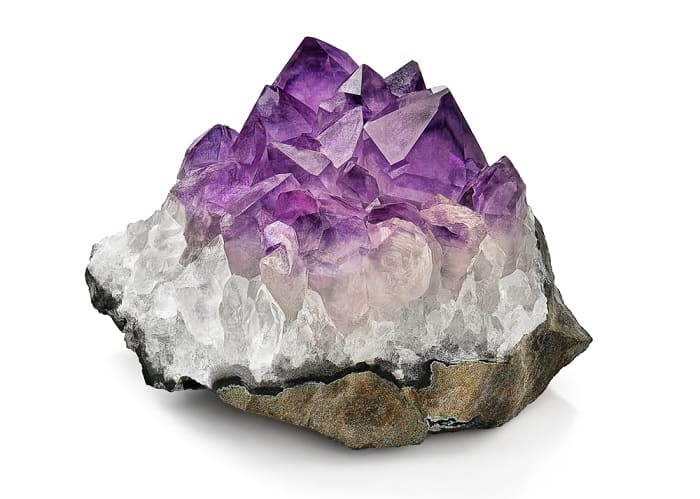 Because of their hardness, they are a durable option for all types of jewelry, with a value of 7 Mohs. However, despite that, they need extra care and maintenance, which will keep their color as prominent.
Despite their durability and hardness, they are easy to scratch because they're also brittle. When they are exposed to rough wear, they can scratch and even crack.
Also, it's the best to store it in a dark space, as it is known that its color sometimes fades when it's exposed to direct light.
---
Guess you like: Best Crystals for Protection
---
Despite some of the flaws of these gemstones, it can last for a lifetime if it's regularly maintained and checked for any type of damage.
3. Purple Chalcedony
Purple chalcedony presents purple in beautiful purple shades that look unique on this particular gemstone, whether you're going for a brighter or dark purple variant. This crystal is translucent to opaque most of the times.
Main features:
Durable material.
Very vitreous.
It can be found at an affordable price.
Additionally, it boasts a naturally rich color, so it may be appealing to everyone looking for a reliable shade of purple.
The microcrystalline structure of chalcedony doesn't boast crystal formations inside. That has several implications of which one is that it's compact, has no cleavage, which makes it durable enough.
It's also tougher than amethyst and boasts a medium hardness of about 7 Mohs. Aside from jewelry, you can find chalcedony in wonderful carvings and engravings.
It's worth noting that purple chalcedony can be faceted to add more to its depth and make it lighter to suit any type of jewelry. Also, Chalcedony is ideal for bohemian and ethnic jewelry.
4. Purple Spinel
Purple spinel is flattered by a variety of shades, with consumers mainly being on the hunt for lilac and mauve design.
Main features:
Durable
Relatively rare.
Affordable
While it boasts beautiful shades, red and blue spinels are more popular and sought-after. Purple spinel is relatively affordable despite being somewhat rare, while also being durable and hard gemstone with a hardness of 8 Mohs.
It is often found on every-day jewelry and is as brilliant as it is, it can be cut into faceted gemstone shapes. While purple spinel was synthesized in the great matter, it's still rarely enhanced, so it's most likely that if you see a purple spinel, it's shine and color vibrancy are natural.
5. Iolite
Like amethyst, iolite is extremely abundant and popular among gemstones. However, that didn't stop people from looking after.
Main features:
Quite popular
Abundant and common
Inexpensive
Brilliant
Not durable
It boasts a stunning and stylish structure, which made it as appealing as some more rare gemstones. It's abundant and brilliant, rivaling many more expensive blue stones.
It's not durable because of its unique cleavage which makes it easy to chip or crack. Nevertheless, its hardness boasts 7 to 7.5 Mohs and can be used on most of the jewelry.
It is often found on rings, although it's advisable to set it in protective frames like halos or bezels. They are often faceted into different shapes, but that only contributes to its shine and brilliance.
6. Purple Jade
While people mostly associate the jade with green, it's worth noting that there's also purple color, among other vibrant options. Jade comes in two varieties – nephrite and jadeite.
Main features:
Not Very hard
Very tough
There are two varieties
Waxy luster
While Nephrite is more commonly found, and thus, more affordable jadeite is more durable and boasts better quality. With that, it's also more expensive than its counterpart.
Purple jade is softer than other purple gemstones, having only 6 Mohs, although it's tougher because it's compact considered to others.
This stone is translucent to opaque when found, with a smooth, waxy luster. It can often be found cut into cabochons and is either smoothly cut or carved. However, jade isn't often faceted.
7. Purple Sapphire
Sapphire is most commonly associated with popular and expensive blue gemstone. However, what many don't know is that there is a purple option, which is often more unique and gives a special effect to jewelry.
Main features:
Uncommon color
Is often left untreated
More durable than other purple gemstones
Rare to find.
The reason for the purple color is that because, during its formation, there are traces of elements such as chromium, which add to the purple hue.
Purple sapphires are sometimes confused as amethysts, although they are rarer to find. It's also worth noting that despite being hard and durable, blue sapphires are harder at 9 Mohs, being softer only compared to diamonds.
Purple sapphires are resistant to breakage and chipping, but unlike other sapphires that are also often heat treater, which enhances their color and clarity, making their beauty more present, purple sapphires aren't generally treated because their color is unique and natural.
They are durable and brilliant, so they are a great option if you can afford a more expensive gemstone, while also being rare.
---
Also Read:
Sapphire vs Topaz: What to Look for?
White Sapphire Engagement Ring: A Better Way to Go?
What's Different between Cubic Zirconia, Diamond, White Sapphire and Moissanite
---
They look great on formal pieces of jewelry, but they can also be found on everyday necklaces, rings, earrings, and more. Furthermore, sapphires are often found in engagement rings.
8. Purple Fluorite
Fluorite is known for its low durability, but it's still extremely popular when it comes to average gemstones and can be found on various jewelry, although it is more preferred elsewhere because of its durability.
Main features:
Not very durable.
Very rare.
Vitreous luster.
It can be transparent.
While it is available in purple color widely, it can also be found in different colors. They are available in simple colors, but they can also be found in combinations, one of the most popular being purple and white combo, often called Blue John.
If you're on the hunt for a high-quality purple fluorite, it should have good transparency and be clean to the eye. Its vitreous luster looks wonderful, while the gemstone can be cut into most of the standard gemstone shapes.
Its durability is compromised by its soft structure, which is only 4 Mohs. Its distinct cleavage is also very prominent which makes it susceptible to chips and cracks.
If you're looking to put it on jewelry, check which jewelry it's the most suitable for, as it has high exposure. It is most commonly found on pendant necklaces as well as earrings.
9. Purple Kunzite
Kunzite isn't the most well-known gemstone you may find, although it's available in pink and purple shades. While it was discovered in the USA, nowadays, it's mostly dug out in Pakistan and Afghanistan.
Main features:
Its structure is clear
It boasts both light and vivid varieties.
Relatively affordable
It has a distinct cleavage.
Purple Kunzite is often found light in color, although there are varieties that are darker and more prominent versions of purple.
It's worth noting that Kunzite exhibits pleochroism, which means it can manifest two colors at the same time, depending on the angle you observe it from. One of the colors can be pink or purple, while it can also be colorless from another angle.
Kunzite is quite transparent, and in addition to that, it's free of inclusions. It is available in a selection of shapes, with smooth, polishes cabochons being particularly abundant.
With fairly good durability and hardness of between 6.5 and 7 Mohs, Kunzite is mostly found in a natural state, free of enhancements and chemical treatments. It complements a large selection of jewelry.
However, its distinct cleavage calls for better protection from chips and cracks. Available in different sizes, Kunzite is widely available on the market, and thus more affordable than some other stones.
10. Purple Tourmaline
Among different shades and colors of tourmalines, the purple one doesn't quite stand out. Nevertheless, it's a wonderful addition to jewelry, and with a selection of purple shades available on the market, it can be extremely affordable.
Main features:
Not extremely popular among tourmaline colors
Very durable
Vitreous luster
Brilliant structure.
All types of colored tourmaline come with prominent pleochroism, and the purple one is no exception. It boasts a vibrant selection of colors, and when viewed under different angles of light, tourmaline can be wonderful on jewelry.
Jewelers and collectors often expose purple tourmalines to faceting, which will enhance its durability and brilliance. If the pleochroism is noticeable, it'll be enhanced too. The durability of this gemstone is great as it boasts hardness of 7 to 7.5 Mohs.
If you treat it properly and maintain it on a regular basis, it'll last for years. Jewelers and crafters will also expose tourmaline to heat processes, which can enhance their color vibrancy. If the processes were done, the jeweler should let the buyer know as treatment is then different.
11. Sugilite
Sugilite was initially discovered in Japan and then listed in the rare gemstones. However, throughout centuries and decades, sugilite was discovered in other regions too, although that didn't take it off the rare gemstones list. That made it not so standard on jewelry, with not so many options available in the jewelry.
Main features:
Rare
Not often used in jewelry
Isn't too clear
Not the most durable material.
Sugilite isn't often found, but its faint shades of pink to purple options and even dark blue-purple make it stunning. It is opaque to translucent and isn't too clear at first sight.
Its structure is streaked with dark veins and patches which then result in unique patterns on the surface of the material. It can be cut on cabochons or even carved into different designs. Even though it's translucent, it can be faceted, which adds up to its depth.
With 5.5 to 6.5 Mohs of hardness, sugilite isn't the most durable gemstone and can easily be damaged. Crafters and jewelers often add its protection to prevent that, although this gemstone in itself, isn't found on jewelry oftentimes, mostly because of its low durability.
12. Purple Jasper
Jasper is mainly found in a red shade, although purple shades are also pretty common. It's detailed to explain, being referred to as a variety of chalcedony and quartz.
Main features:
It can be commonly found.
It boasts opaque to translucent clarity
Veins and different patterns.
Not the most durable material.
There are unique matrix inclusions on it, as well as patterns and veins that add to its originality and desirable design. It boasts translucence to opaque in terms of clarity and can be cut on cabochons and carved.
It's not faceted, although that remains an option to improve its durability. It boasts medium hardness of 6.5 to 7 Mohs, although it's pretty tough due to its compact design.
Purple jasper, if protected properly with frames on jewelry, can last for a long time without damage. It's also relatively affordable, so it's a nice addition to jewelry for those tight on budget.
Other Purple Gemstones
In the list below, we'll list some other purple gemstones which exist but are less frequently used on jewelry due to its durability, availability, price, or some other reason.
Chariote – It is available in different shades of purple starting from lilac to deep purple.
They are frequently mined in Siberia and come with soft structure.
It's quite rare, and thus more expensive.
Purple Agate – Agate is available in different colors, with both combined and single-color options.
It is most commonly found in Brazil as well as Botswana.
Purple Lepidolite – Purple Lepidolite is a beautiful and fragile gemstone.
It comes with only 2.5 to 3 Mohs of hardness, and with that not suitable for jewelry.
Purple scapolite – This transparent purple gemstone boasts a vitreous luster and looks sparkly on jewelry.
It boasts medium hardness and durability and is rare to find.
Those who are into mineralogy and collect gemstones may be particularly interested in it.
How do purple gemstones get along with different types of metal?
Purple gemstones get along with all types of metal, although the color of metal and type determines what style the jewelry belongs to.
Purple gemstones go with white metals such as platinum, silver, white gold, and others, which gives them a sophisticated and contemporary look, as well as some level of contrast.
Amethyst, for example, is most commonly found in white gold, making it more prominent and beautiful.
On the other hand, rose and yellow gold contributes to a more vintage look of jewelry in combination with purple gemstones. Being as classical as they are, they are not often chosen together.
---
You may also be interested: What's Different about Platinum, White Gold, Yellow Gold and Rose Gold
---
Final Words
After a detailed review of every shape and type of purple gemstone we could find, it's time to wrap the things up and conclude what we've learned. Purple is a rare color of gemstones, which makes it more alluring. To add up to its symbolics and royalty, purple gemstones were worn only by members of Queen Elizabeth's family, adding up to its royal power.
If you don't know where to look for purple gemstones, it's best to start with brick and mortar stores. Physical stores in the street will boast amethysts, and several other common gemstones, while those rarer will be hard to find. If you're shopping for it online, you should check Amazon as it has a good range of different purple gemstone jewelry, as well as those rare.
Finally, James Allen also boasts different shades of amethysts, with the addition of more rare gemstones. Lastly, Leibish is a good store if you're looking for natural and untreated purple diamonds and other rare gemstones.
If you're buying on the street, keep in mind to look for a reputable and licensed jeweler who will reliably check the quality and origin of the gemstone. Given that there are various physical and chemical treatments to enhance it, inform the jeweler that it's necessary to let you know about them.
If some jeweler seems fishy, ask them about the certificate which can confirm their authenticity. Finally, make sure that the gemstone is authentic and comes with a value, especially if it's rare and expensive.