Happy holidays to you ALL! When you think of green gemstones, which one springs to mind? Emerald and jade are two of the most popular, but they are by no means the only options when it comes to green gemstones.
If you specifically want a green gemstone, there are many affordable options that look just as lovely as a dazzling emerald.
Have a read though our green gemstones list to discover which lime, pine, moss, olive, or mint colored gemstone could soon be working its way into your jewelry collection.
List of Popular Green Gemstones
Emerald
Jade
Garnet
Peridot
Alexandrite
Opal
Sapphire
Diopside
Emerald
The best-known green gemstone, emeralds are both dazzling and expensive. Along with diamonds, sapphires and rubies, emeralds are one of the 'precious four' gemstones and are more sought after than any other stones.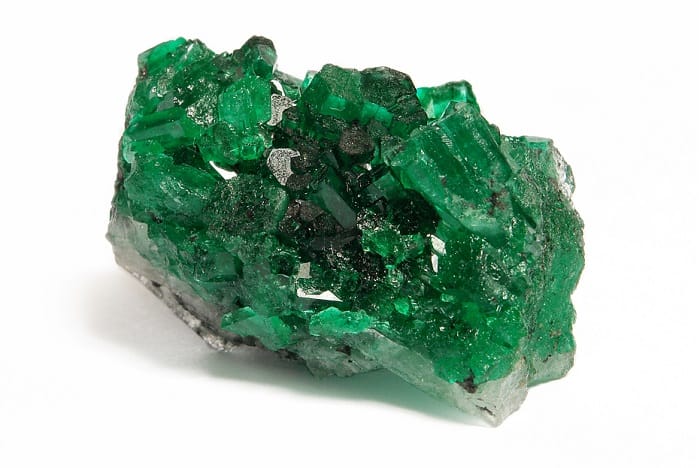 Guess you like:
Types of Gemstone Cuts: Your Comprehensive Guide
Of all green gemstones, emeralds have the most intense depth of color. Emeralds are very hard compared to other green stones and so are very tricky to cut well.
As such, the emerald cut has been developed – a rectangular cut that lends itself well to the challenges of this stone. Emeralds are of the beryl category and are green due to chromium and also sometimes because of the mineral vanadium.
Famous emeralds
Egyptian Queen Cleopatra loved emeralds and adorned herself with these sparkling beauties – only the most stunning stones in the world would be suitable for a queen of such notorious beauty. However, Cleopatra wasn't the only royal who loved these wonderful green stones.
In 1799, British Major-General George Harris was given a set of emeralds as a reward for his victory at the Battle of Seringapatam in India.
They remained in his family and in the late 1800's were made into a set of jewelry including a brooch, bracelet, necklace, and a pair of drop earrings. They were created from the gifted emeralds as well as diamonds, gold, and platinum.
Also read: Platinum, White Gold, Yellow Gold and Rose Gold: Which is Better?
If you visit the Louvre museum in Paris, you can see a stunning piece of jewelry that belonged to the Duchess of Angoulême, Marie Thérèse, of France. Created in 1820, the emerald diadem (tiara) was so lavish and magnificent that it was known as the crown jewel of France.
One of the most incredible emerald rings of modern times was the engagement ring given to Jacqueline Bouvier in 1953 by future US President John F. Kennedy. The diamond and emerald ring was both stunning and memorable.
Another one of a kind emerald and diamond engagement ring is owned by the actress Halle Berry.
The largest emerald in the world is the Bahia Emerald. Mined in 2001 from Bahia (Brazil), the gemstone weighs approximately 752 lb (341 kg) (roughly 1,700,000 carats). With an estimated value of $400 million, it's unfortunately been the subject of ownership disputes which are still ongoing.
Other famously large emeralds, which are dwarfed in comparison with the Bahia, can be found in museums across the globe.
Who Can Wear an Emerald?
Emeralds are the birthstone for people born in May. They're also special stones for both twentieth and thirty-fifth wedding anniversaries. Astrologically, the gemstone is linked to Cancer. The name emerald comes from ancient Greek and means 'green gem'.
As an expensive and sought-after stone, it's no wonder that emeralds are often linked with money and financial good luck. Green is the color of mother nature and the natural world, so this green stone also has links with fertility, sexual energy and romance.
Everyone knows that redheads suit green better than anyone, but green is actually a great color whatever your skin tone or hair color. Saying that, emeralds do work particularly well on people with light skin, people with a deeper, darker skin tone, and those with the 'silver fox' look.
While emeralds are often found in the emerald cut shape, another popular choice is teardrop. Emeralds are usually set in gold but equally can work in silver and platinum, and they pair best with diamonds. This is unique because, on the whole, green stones are often paired with silver instead of gold.
Related:
Jade
The name jade is given to two different minerals that result in a green stone. Jadeite is a silicate of sodium and aluminum, whereas nephrite is a silicate of calcium and magnesium. Both are known as jade, which is most popular in China where the stone is known as "玉".
Dushan Jade was being mined in China as early as 6000 BC, so the culture of creating jade ornaments has an extremely long history.
From ceremonial items and burial suits to jewelry, hair decorations and household ornaments, the Chinese have found endless uses for this classically beautiful gemstone.
The importance of jade in China
'Gold has a value; jade is invaluable' – this is a saying that sums up the importance of jade culture in China. To the Chinese, jade is the embodiment of the Confucian virtues of modesty, justice, courage, wisdom, and compassion.
One of most popular jade items you'll find in China is the traditional jade bangle. Originally these round bangles without a clasp would be rounded both inside and out, but these days are often smoothed flat inside the circle to make them more comfortable to wear. Some are also carved with a bamboo knot design on the outside.
You might be surprised to know that all colors of jade are popular, from the pale or white varieties through to the much darker green shades that are almost black.
Which hue you go for will depend on your skin tone (particularly if it's warm or cool) and finding a piece you connect with. Some say that the natural coldness of the stone can help to cool the blood and regulate the body temperature.
Worn on the left wrist, some Chinese women never take off their jade bangles. Good quality jade is a sign of wealth and is also believe to protect the wearer from harm.
Another piece of Chinese jewelry using jade is the pendant on a red cord. Red is a lucky color in China and despite its boldness, it pairs beautifully with a jade pendant. The typical design has the jade cut into a circle with a hole in the middle, and the red cord threaded through. This is the shape of old Chinese coins and is said to bring you wealth.
How to Wear Jade
Jade is a celebration stone for the 12th wedding anniversary. Like many green gemstones, jade is known for its benefits in promoting youthfulness and healthy skin.
Some people use a jade rolling stone to smooth their skin after applying moisturizer, or wear a jade pendant to promote a healthy complexion. As well as being good for the skin, another use of jade can be taken from its name.
Derived from French and Spanish roots, the name jade comes from the name 'loin stone' as it was famed for its ability to heal the loins and kidneys.
Did you know
Jade also comes in other natural colors. While green is the most common version, jade can also occur in shades of yellow, red, orange, lavender, grey, black and white.
Whatever color jade you choose, make sure to care for it carefully. To experience the best results from the qi (energy) of the stone, wear it continuously but protect it from bright sunlight as it can become brittle.
The beauty of jade is said to grow with time, and a piece of jade that's been in storage might look dull and lifeless.
Garnet
While a garnet is more commonly known for its red variety, green is just one type of little-known garnet, along with orange, yellow, blue, purple, pink, brown, black and colorless. If you just can't decide, how about seeking out a rare color-changing garnet?
Garnets are a silicate mineral with a rating on the Mohs scale of about 6.5 to 7.5. This makes garnets fairly hard stones (the hardest on the chart, a rating of 10, is a diamond) and so garnets make a great choice if you want a durable stone.
If you want a rare and exquisite green garnet, look for a uvarovite, which is very a rare garnet in shimmering bright-green.
The durability and abrasiveness of garnets make them suitable for industrial uses, not just decorative. Garnets can be used to cut steel with the use of a water jet. It's also a common replacement for silica sand in sand blasting techniques. Most garnets come from India and Australia.
Who Can Wear a Green Garnet?
Garnets are the birthstone for those born in January, they are linked with Aquarius, and are a celebratory stone for 2nd wedding anniversaries.
While the red variety is usually more popular for these themed gifts, there's nothing to say that a dazzling green garnet can't also fit the occasion.


Garnets are also much cherished across the US. You may have heard that garnets are the state gemstone of New York, and almandine garnets are the state gemstone of Connecticut.
There are numerous types of garnet which are held dear by particular places. Idaho chose the star garnet as its state gemstone, and Vermont has grossular (calcium-aluminum) garnet as its state gemstone.
Peridot
Also known as chrysolite, peridot is a lime green gemstone combined of olivine and a silicate mineral. The hue ranges from yellow-green to olive-green and lime, but is one of the only gemstones that comes in just one color – there are no varieties with blue or red hints.
The intensity and exact hue of the color depends on the percentage of iron in the crystal structure. With a glassy luster, peridot is an offbeat but attractive choice for jewelry.
The largest cut peridot olivine is a 310-carat specimen in the Smithsonian Museum in Washington, D.C. Most gems found are under 3 carats.
When people think of dazzling green gemstones, their minds are instantly drawn to emeralds. As such, peridots are often confused with emeralds, particularly in treasures belonging to churches where the glistening green gems can easily be mistaken.
This was famously the case with a stone that adorns the shrine of the Holy Magi in the cathedral at Cologne, where a peridot was believe to be an emerald.
Ancient Egyptians and the Peridot
The Ancient Egyptians coveted these stones and particularly liked them paired with gold. It might be the case that many of the 'emeralds' that Queen Cleopatra wore were actually peridots.
To the Egyptians, peridot was known as 'the gem of the sun'. These days, much peridot jewelry is set in silver or platinum – these colors allow the brilliance of the gem stone shine.
Setting peridot in gold can make it seem pale and washed out, so choose carefully. Peridot is often paired with diamonds that can heighten the unique color of the stone.
Who Can Wear a Peridot?
Peridot olivine is the birthstone for those born in the month of August and is a celebratory stone for the 16th wedding anniversary.
If you like the look of emeralds but can't afford these precious stones, a peridot is a great alternative. This is particularly true if you like to dress up in swanky jewelry for evening events.
A peridot is known as 'an evening emerald' because of the way in which it is transformed under artificial light. Peridot jewelry will appear much more brilliant of an evening than it will in the daytime.
Because of its yellow-green color, peridot has been believed to have healing properties relating to diseases of the liver, as well as aiding digestion.
Other problems a peridot can be used for relate to the kidneys, ulcers, IBS, bladder, gall bladder, constipation and stomach issues.
Alexandrite
The alexandrite is a variety of chrysoberyl, an aluminate of beryllium. This is best known for the color change phenomenon that has been named after it – the alexandrite effect.
It's all down to the sensitivity of human vision. Green light is what our eyes are most sensitive to. We are least sensitive to red light. As such, alexandrite appears in greenish hues in the daylight where the full spectrum of visible light is present.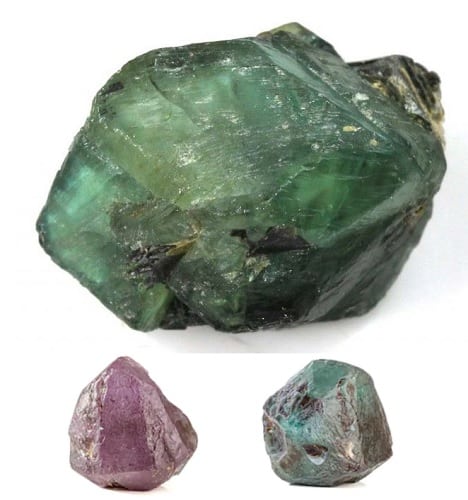 As natural light diminishes in the evening, the stone appears reddish in incandescent light, which emits less on the green and blue spectrum. There are also varieties of alexandrite that appear in other colors.
Discovery of Alexandrite
When it was discovered, the stone was named in honor of the future Tsar Alexander II of Russia. He was the emperor of Russia from 1855 until he was assassinated in 1881.
It's rare to find the stone bigger than 3 carats, although there have been some discoveries of 5 carat alexandrite and bigger, found in the Ural Mountains (Russia) and in Brazil.
For its color changing ability, the stone is known as 'emerald by day, ruby by night'. Alexandrite measures 8.5 on the Moh's scale, making it hard and durable as well as rare, unique and beautiful.
Because of their rarity and also the difficult in obtaining alexandrite stones in larger sizes, jewelry featuring this stone can be expensive and hard to come by.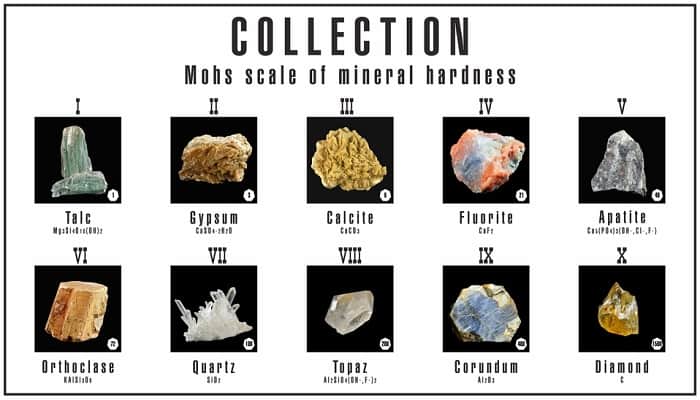 Having only been discovered in the 19th century, this gem is relatively modern in comparison with other green gemstones that have been collected and coveted for thousands of years.
One way to source alexandrite trinkets is to find a good dealer of antique jewelry from Russia. This is where the stone was first made famous and became a popular ornament for affluent Russian women. As such, you might be able to source some vintage jewelry from that part of the world.
Price depends on much more than just size and condition. Alexandrite stones all have the color changing ability, but to different degrees. Some stones only display a 5% change of color, going up to 100%. Clearly, the more of the stone that displays this phenomenon, the more expensive it is.
Also, the clarity of the color matters. A stone that changes from a bright green to a bright red will be much more valuable than a stone with dull hues.
Alexandrite is the birthstone for June and is a celebratory stone for the 55th wedding anniversary. This beautiful gemstone is a wonderful reminder of the fleeting nature of our lives, and the changes that we all go through on the journey we take.
Wearing alexandrite jewelry and witnessing its mesmerizing changes can help you to accept changes in your own life. Choose alexandrite for a beautiful gem that will help ground you and find acceptance in your life.
Opal
Opals are best known in their multi-colored variety. The milky white stone glimmers in an array of colors, with highlights in blue and pink as well as many other colors.
However, opals are also sometimes seen with a more dominant hue, and green opals are both unique and stunning. Opals, which are the national gemstone of Australia, are a hydrated amorphous form of silica, with varying water contents.
The famous multi-colored glimmer that opals are known for are found in the iridescent variety, not the common variety. The rarest form is the black opal, whereas the green variety is more common, along with white and gray opals.
Another variety you might be interested in is the Peruvian opal, also known as the blue opal, which is a blue-green stone from Peru.
You may also like:
Why Choose a Green Opal?
Green opals would make a lovely present for someone with bright green eyes – the flashing, almost fiery light of the stone will complement green eyes immensely.
For anyone who likes the sparkly and multi-colored nature of an opal but doesn't want a predominantly white stone, a pale green opal is a good choice.
Because of the differing levels of water content and colors in different lights, no two opals are the same. As such, opals make a great choice if you'd like a unique, one of a kind stone.
They are the October birthstone and celebrate the 14th wedding anniversary.
Superstitions Surrounding Opals
Have you ever heard that it's bad luck to wear an opal? Over the years, this myth that opals are unlucky has prevailed. However, with modern research we can easily dispel this myth back to its root and see that, before the rumors, opals were prized as being gemstones that contained a rainbow.
One reason that opals were thought to be bad luck is due to their nickname as 'the evil eye' and association with witches and witchcraft. Another rumor comes from the time of the Black Plague, when a woman wearing an opal gemstone died.
People blamed the gemstone rather than what we would now conclude was the obvious cause of death – the plague that was affecting everyone else, too!
Also read:
A similar story brought bad connotations to the opal. A Spanish king fell in love with a princess and gave her an opal ring. After two months of wearing the opal ring, the princess died.
The Spanish king didn't want to waste the beautiful ring he'd given to his love, so instead gave it to his grandma, but she soon died, too. Later, he passed on the ring to his sister and then sister-in-law… both of whom died.
By then, the king was convinced that the ring was evil, and slipped it onto his own finger in the hope that he'd die too. When he died, people were sure that the opal gemstone was doomed.
However, this all happened at the same time as a cholera epidemic in Spain, and so it's more likely that the whole family actually just perished from cholera.
Celebrities Who Love to Wear Opals
Even so, these stories and superstitions still make opals a less popular precious stone than they should be. As such, you're likely to find beautiful stones for a good price and have something completely unique.
Celebrities who have adored opals include –
Artist Andy Warhol (who had a huge collection of opals)
Queen Victoria (who completely shunned ideas of their bad luck)
Queen Elizabeth II (who was given Andamooka, a huge and beautiful opal, on her first visit to Australia)
Actress Elizabeth Taylor, Evil Presley (who owned a huge 14k vintage opal ring), the actress Sarah Bernhardt, and of course, the gemstone queen, Cleopatra.
Sapphire
One of the 'precious four' gemstones, sapphires are the most famous blue stones in the world. They are hugely popular and sought after, particularly with their links to royalty.
Princess Diana's engagement ring included 14 solitaire diamonds surrounding a 12-carat oval blue Ceylon sapphire set in 18-karat white gold, and was later given to Catherine Middleton by Diana's eldest son, Prince William.
At that time, sapphires and replica rings were catapulted into popularity again. However, while the green sapphire is far less famous, it's no less stunning.
As well as the popular blue variety, sapphires also come in yellow, purple, orange, and green. A 'parti sapphire' has two or more colors. These only occur naturally (in Australia) and can't be made synthetically.
Related
As they're also rare, parti sapphires are relatively unknown. Stones that are predominantly blue can have secondary color highlights in violet or green. There are also color changing sapphires that display the alexandrite effect.
Why Buy a Green Sapphire?
Sapphire is the birthstone for September and the gem of the 45th anniversary. Like blue sapphires, green sapphires look best when paired with silver or platinum.
Putting a green sapphire on a gold band may wash out the delicate color of the stone and make it seem pale.
Also, if you pair a green sapphire with stones of bolder colors, it will diminish the beauty of the piece. Look for green sapphires paired with smaller, sparkly diamonds on a silver band.
All sapphires are stones of wisdom. Associated with the heart chakra, sapphires can help to open your mind and help you to make good decisions. Green sapphires are particularly good for easing tension, bringing calm and lightness, and improving vision.
Diopside
Are you looking for an alternative to an emerald that still has a rich, deep color? Diopside looks dull as an uncut crystal but, when polished and cut to perfection, these bright stones make lovely pieces of jewelry.
Registering at 5.5 – 6.5 on the Mohs scale these aren't the hardest of stones, but for occasional of costume wearing will be a great choice.
These stones are semi-precious and known as Siberian emeralds, due to their similarities with their expensive cousins.
Green is a great color for crystal healing and these stones are said to aid recovery from illness or trauma. Their calming green color can help you to find balance in your life.
Other Green Gemstones
There are a great number of green gemstones aside from those listed. Some are gemstones that are known for their greenish hue.
Others are stones that are more popular in other colors, and you might be surprised to know that you can source them in shades of green. If you'd like something a bit more unique, read our extended listed of green stones:
Actinolite – dark gray-green
Agate – various hues, striped, rippled colors
Amazonite – pale, milky green
Aventurine – deep, speckled green, sometimes milky
Bloodstone – deep and dark, flecked with red, brown and orange
Chrome Tourmaline – glassy, bright green, sparkly
Chrysoprase – varied, often light and milky
Gaspeite – rich green and brown, often speckled, rough
Hiddenite – glassy, sometimes bright but often pale green
Idocrase – various, often moss, gray or olive green, glassy
Malachite – dark turquoise, sensational swirling patterns, striped with black
Moldavite – dark, glassy, highly textured, rarely seen in jewelry
Prehnite – yellowish, pale and milky green, dull
Seraphinite – dark, sensational swirling and stormy patterns, white and black streaks
Sphene – lime or yellow-green, glassy, glittery
Variscite – milky green, streaked with white or gray, often dull
Zultanite – brown-green, glittery, sometimes with brown/pink hues
Share the beauty today