Assuming you're a new player in the diamond game. You may have heard that diamonds come in all shapes and sizes. This is true.
You may be familiar with popular shapes such as the round, princess, oval, pear, and marquise. The truth is, there are dosens of types of diamond cuts and most of them have pretty interesting background info.
The Right Shape
By the end of this guide, you should be able to customize or at least have an idea of what you would like your dream ring or diamond jewelry to look like. Perhaps you've approached this guide with a favorite shape already in mind. Who knows? By the end, you might have selected a new favorite.
We've broken down the heart of this detailed guide into a few different sections:
Well-Known Cuts – cut of diamonds you're most likely to see on the market
Less Common Cuts– cuts of a diamond that you've probably heard of, but not seen too often
Rare Cuts – the shapes of diamond you might have heard of, but aren't commonly used or produced any more
Diamond Jewelry Cuts – cuts used in pieces of fine jewelry other than rings
Side Stone Cuts – cuts predominantly used as side stones, or also referred to as diamond accent stones
---
Also Read: Diamond Accents: Are They Worth It?
---
Terms to Know:
Facet- a polished and flat angle on a diamond that exudes brilliance and sparkle
Table – The top flat surface on the top of a diamond
Pavilion – the bottom half of a diamond shape. (Note: Not all diamond cuts have a pavilion)
Girdle – narrow band that separates the table from the pavilion
Culet – the tip of the point on a diamond
Crown – the top part of the diamond that includes the table and some facets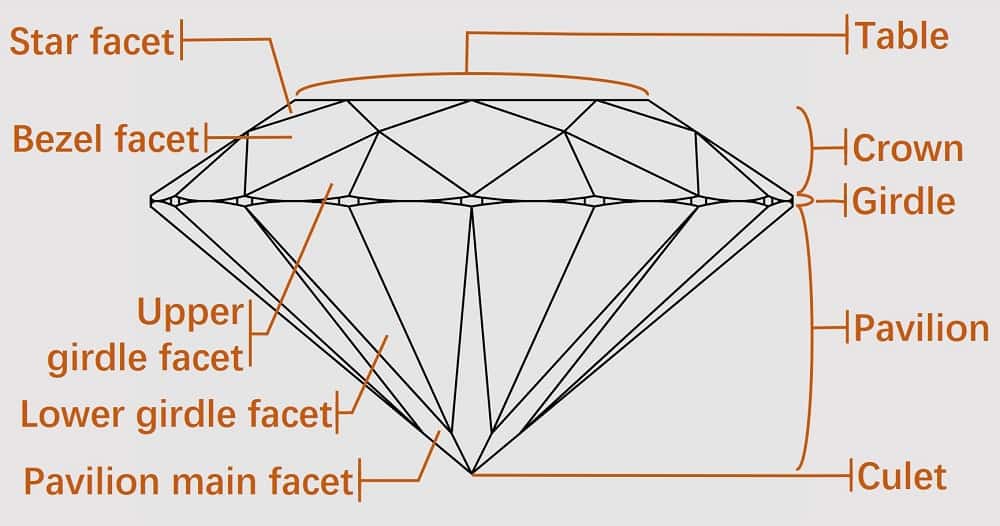 Two Kinds of Cuts
To avoid confusion when reading through this comprehensive guide, you must know that when speaking about diamonds, there are two different kinds of cuts.
Cut is referred to as the process of developing the facets on a stone.
A cut also implies the shape or design of the stone.
Cut Design
Modern diamond cut shapes can be styled as a brilliant cut or a step cut. In some cases, particular shapes have been developed into both cut styles or even a hybrid of the two. Before, there were early cuts, but currently in the diamond market, they are divided into brilliant or step.
Brilliant cut
The brilliant cut was first developed by Marcel Tolkowsky with the round brilliant (we'll learn more about that popular shape later) stone. The intent of this style of cut was to create as much brilliance as possible to the round shape.
The brilliance was so popular that different diamond cutters began developing it into other diamond cut shapes. Outside of the traditional round, oval and pear brilliants are very popular. Brilliants are very good for hiding inclusions due to their many facets, usually 58 and above.
Step cut
The step cut style is designed by fashioning it into a square or rectangular shape. They are different in placements of facets as they are often referred to as steps going downward. Step cuts allow for a wider table surface, making the stones look big.
Due to the surface area of such styles, it is recommended to get a high clarity step cut. They are not near as able to cover inclusions as a brilliant.
Modified step cuts
The step cut shape has been modified into many different shapes, many of their histories unknown. Here are some of the following modified cuts:
Whistle Cut
This cut is a step cut in the shape of half a pentagon.
It needs to be channel-set as a side stone due to its pointy top.
Bullet Cut
This cut is often mistaken for a baguette, because they look very similar. It features a long rectangle that comes down to a triangular point.
These stones are used as accent stones to complement other step cuts.
Octagon Cut
It's used is as a center stone in various pieces of jewelry, most often rings.
However, it is not a popular cut and there is not much information on its history.
Hexagon Cut
This center stone cut is rare as well, and they are cut in either brilliant cuts or step cuts.
The geometrics of the shape is what draws people to this unique cut.
Fan Cut
The fan cut is a side stone shape with limited facets and known information.
The shape of the cut is similar to the shape of a spread fan one might have in feudal Japan.
Well-Known Diamond Cut Shapes
The following are the most common types of diamond cuts you'll run into when looking into both jewelry stores and online retailers.
Round Brilliant
The round brilliant cut is the most popular cut of diamond. It can be found everywhere. Round brilliant diamonds are one of the few cuts of diamonds that have evolved over the years.
In early diamond cutting days, the round cut was just known as round.
Brilliant actually describes a cut style. The round cut was first introduced in the 17th century, but it was not completely round or symmetrical. The first official round brilliant cut was introduced by a famous designer,
Marcel Tolkowsky in 1919. Interestingly enough, before he became the father of the round brilliant cut, he was actually a mathematician, physicist, and engineer.
Tolkowsky believed that by looking at diamond cutting mathematically, he could cut a diamond with enough facets that would project the highest form of brilliance for that shape. Round brilliant cuts have 57 to 58 facets, if you're counting the culet.
Currently, round brilliant diamonds actually make up over 2/3 of the world's diamonds and is still the most popular cut of diamond to date.
Princess Cut
Princess cut is probably the second most popular cut of diamond. It is also known as the square shape. This common cut was introduced in the 1960s.
Back then, it was referred to as the profile cut. It was developed by Arpad Nagy, a diamond cutter from England. It is also a type of brilliant cut.
A princess cut diamond has a unique characteristic. When cutting a diamond from the rough and faceting it good enough to be sold commercially, a lot of the rough stone is done away with. With a princess cut, it utilizes around 80% of the original rough stone.
This cut of diamond has 58 facets as well, but its brilliance isn't as good as the round. However, even though it doesn't sparkle as much as the round brilliant, doesn't mean it isn't a good cut. Many prefer the princess cut to the round.
Oval Cut
Even though most original diamonds were some form of oval, the refined oval was not brought into official existence until around 1957.
The creator, Lazare Kaplan, was actually related to another Tolkowsky, who invented the ideal cut method.
Kaplan was a fan of taking what someone thought as trash and turning it into something remarkable. And that's exactly what he did with the oval cut. The oval is a great choice for someone who wants a classic shape, but still unique.
Ovals are generally used as center stones rather than side stones. They also have a larger surface area than that of the round brilliant or princess, making it look bigger than another cut of the same carat weight.
---
Guess you like: CTW vs. CTTW: Know Your Diamonds
---
They are cut with 58 facets too, making it a fine sparkly choice for those who want to catch everyone's eye.
The oval cut is susceptible to the bow-tie effect. This is a dark shape on certain cuts that resemble a bow tie across the table of the diamond.
Heart Cut
The heart cut is one of the oldest cuts of diamond known to man. It was believed to be introduced in the 14th century.
While not a definitive fact, most people believe the heart cut was introduced by Lodewyk and Berquem. These were the guys that discovered diamonds could be cut by diamonds. They also invented the cutting wheel.
The heart is cut with 59 facets and used to be a very popular choice. However, in most jewelry stores now, the heart cut is found more in diamond jewelry rather than engagement rings or wedding rings. And it probably goes without saying, it is the most popular cut around Valentine's Day.
While the heart is a popular choice for jewelry with gemstones, finding a genuine heart-shaped diamond is actually pretty rare.
The skill required to cut such a stone is highly technical, so there is not a ton of them produced. When buying a heart cut diamond, make sure you get at least a ½ carat, because any smaller and it no longer resembles a heart.
Pear Cut
Also referred to as the teardrop, the pear cut is a fancy shape that has become increasingly popular in engagement rings.
The pear also makes the most beautiful pendants. You won't see it too often earrings, but even less in bracelets.
Not only did Lodewyk create the heart and the diamond cutting wheel, he really opened up a new world of diamond cutting. He also invented the first pear cut in the 1400s.
The pear is a cross between a round brilliant and marquise, which we'll talk about a little later. It has 58 facets, sometimes 71, and is also a brilliant cut.
When Lodewyk first showed the diamond market the pear cut, most people weren't as taken with it as they are today. The pear cut wastes a lot of the rough diamond when cutting, and it is the recipient of the bow-tie effect too.
Marquise Cut
The marquise cut has a pretty interesting history. It was named after one of King Henry XV's mistresses, Marquise de Pompadour. He was taken by her lips and wanted the stone to resemble them, which is why the shape begins and ends with a point.
The marquise is sometimes referred to as the Navette cut, after a Navy ship, due to its boat shape. They can Marquise cuts are not one of the more popular fancy cuts, mainly due to practicality. You risk chipping with both of those sharp points.
Marquise diamonds are a great choice if you want to make your fingers look long and slender. They have a dramatic effect and draw eyes due to the unique shape of the stone.
The marquise is also a carrier of the bow-tie effect, so you'll want to pick out a diamond whose bow tie isn't too noticeable.
Emerald Cut
The emerald fancy cut has always been a classic design. It is the most popular step cut in the diamond world. It was originally known as the table cut.
The emerald is a tricky cut to nail, as it can be chipped very easily when undergoing the diamond cutting process and after.
Emerald diamonds became popular in the 1940s are still popular among older jewelry wearers for the most part. It's a huge favorite among celebrities such as Kate Hudson, Mariah Carey, Kim Kardashian, and Angelina Jolie.
You are more likely to find an emerald cut diamond in the form of a ring or earrings. You can find them as pendants, but bracelets are a little rarer.
The emerald diamond looks larger than some of the more popular shapes due to its wide table.
Cushion Cut
Here's a really popular style that has risen in popularity in recent times. In fact, as of a few years ago, the cushion has become the third most popular cut, to the round brilliant and princess cut.
A cushion cut diamond is the modern development of an early cut called the "mine cut." The mine cut was very popular cut until the end of the 19th century.
The modern cushion is the shape of a square/rectangle with rounded edges. If you hadn't guessed, it's pretty much shaped like a little pillow without prominent corners.
These cuts of diamonds are also one of the only cuts to have their own variations. It seems that cushions are a whole category.
The most popular variation would, of course, be the modified brilliant cushion. The cushion is not as brilliant as the round (of course), but it does present a beautiful fire in the stone.
Less Common Diamond Cut Shapes
Radiant Cut
The radiant cut is a fun cut, as it plays with the idea of using an emerald cut stone and trading the step cut in for the brilliant.
A man by the name of Henry Grossbard developed this fancy cut. He is the founder of the company Radiant Diamond Cut Corporation.
Grossbard sympathized with those who wanted a rectangular diamond like the emerald, but didn't want to sacrifice brilliance.
Radiant diamonds were the first cut to feature a brilliant cut, rather than just the step cut. This innovative and patented design really set the stage for similar cuts to model after.
And because he is the creator of the radiant cut, his company is the only company that creates them. The company has had contracts with various jewelry companies to distribute their collection of radiant cuts.
However, due to it being a branded diamond cut, it is often hard to find this cut.
Asscher Cut
While not a widely popular cut, most people that know something about diamonds have at least heard of the Asscher cut diamond. This cut was named after Joseph Asscher in the early 20th century.
The Asscher has a similar shape and development to the emerald cut, although the table is not as wide and it contains more facets with this step cut.
The cuts made on this shape allow for a deeper dimension into the "hall of mirrors," we mentioned at the beginning of the guide.
Asscher cut diamonds have either 50 or 58 facets. However, there is another type of Asscher cut that exceeds this number of facets, hitting it at 74!
Asscher cut diamonds that have these many facets are referred to as the Royal Asscher cut. These cuts exude an undeniably unique brilliance.
Trillion Cut
Also referred to as triangular diamonds or trilliants, this cut was also created by the Asscher brothers.
Initially, the name trillion was patented, so other triangular diamonds were just known as triangular diamond. But it's been some time since the patent has expired, so now all triangle diamonds are called trillion.
Trillion cuts are mainly featured in gemstone jewelry and not often used as a diamond center stone itself. They are popular as side stones and are perfect for the person who wants to be unique.
This cut is in the shape of a triangle where the corners can either be rounded or pointed. Trillions look great in size, as they have a larger table surface area than others. This cut has 31 facets and is considered a brilliant cut.
---
Learn more: The Contemporary Trillion Cut
---
While this cut is a fun and unique shape, one must be careful with the points on a trilliants diamonds. Cuts with sharper points are more susceptible to chipping. All this means is when having a loose diamond, you'll need to be careful in handling it.
And if you're picking a quality trillion piece, just make sure the corners are completely secure and protected within the setting.
Rare Cuts
Jubilee Crown Cut
On her 74th birthday, Queen Elizabeth was bestowed with the Jubilee Diamond. This cut was similar to the round, but cut with more facets. Inspired by the Jubilee Diamond, the jubilee crown cut was created.
However, this cut is also referred to as the GemEx diamond, which is the patented brand name. Jubilee cut stones feature a smaller crown than a round brilliant. The facets are fashioned shorter in length.
The crown cut was introduced just recently, in 2002. This cut has a double pavilion, making the reflection in such superior to that of the round brilliant.
The table of the diamond is sufficiently smaller to make way for 16 additional facets, totaling the number of facets to 73.
Flanders Cut
The Flanders cut is pretty new to the diamond market. Created in 1999, this rare cut only has one distributor.
The Flanders cut looks like a square radiant with the corners cut off. It is also an ideal cut with 61 facets and is said to have equal, if not superior, brilliance to the round brilliant.
In some cases, this cut will be produced in a rectangular shape and have 65 facets. But, most of the time, they are the square shape.
Flanders cuts are fashioned with perfectly symmetrical dimensions with two 45 degree angles seen from the view of the table. When looking at the top of the diamond, you will see a perfect square.
Flanders cuts are rare because they need a specific part of the diamond rough, and once it is used, it only uses about 45% of the rough stone. Additionally, the design of a Flanders cut is very difficult, and as a result, there are only a select few that can create this cut.
Currently, the cutters of Flanders stones reside in Belgium, Israel, and Russia. This simple fact makes this diamond very difficult to purchase.
Carré Cut
The carré cut diamond is a square shape that was developed to preserve as much of the rough stone as possible. They use between 61-65% of the rough stone.
Considered a vintage style stone, there are not many carré cut diamonds. This stone was pretty much forgotten with the arrival of the modern princess cut.
Carré cut diamonds have more fire and less brilliance, and are developed with a step cut. They look fantastic when accompanying other step cuts such as the emerald or baguettes.
Carre cut diamonds should be set in a channel, as they are more likely to come loose in a prong-set setting.
As for clarity, they are not good against hiding the natural inclusions. And because there are so few of these cuts to choose from, they are not often chosen.
They do not possess a strong brilliance, so when they were popular, they were just used as side stones with no real enticement.
Rose Cut
The rose cut was an early created cut born in the 16th century. This cut is unique due to its changing shape. The top of the cut is in the shape of a dome and covered in triangular facets.
The bottom is flat and changes with each variation. They can either be pear-shaped, round, triangular, or oval.
As time went on, those variations became concentrated to one general shape. The facets on a rose-cut are made in multiples of six, creating the look as if the diamond were blooming.
Around the 19th century, the round brilliant was created, and rose cuts soon lay forgotten.
They made a small comeback around the 20th century, but then once again disappeared under the Art Deco era diamond cuts that were developed. It seems that the rose cut was "Old Faithful", until something better came along.
French Cut
The French cut is rare to find today as it was one of the original cuts first developed. They came out in the 1400s but only started gaining more popularity in the 1700s.
The cut was a royal shape and desired by those in power, until the brilliant cut came along.
If you hadn't guessed, this cut was most popular in France. The French shape has around 18-24 facets.
This cut has been part of an evolved process starting with the point cut to the table cut and to the French cut.
Princess French Cut
This type of French cut has been modernized to apply the cutting meth to the princess cut stone shape. While the original French cuts are hard to find, the modernized princess cut is much easier.
Diamond Jewelry Cuts
Briolette Cut
This beautiful cut is one of the few diamond cuts designed for jewelry such as earrings and pendant, not for engagement rings. It is shaped similar to a teardrop, but wider and shorter.
The facets go all the way around the stone and generally come in white. Briolettes have been made in various places at much larger carat weights than the average. They are popular in India as well.
This cut has gone through surges of popularity, starting with the 18th century during the Art Deco period. But as new cuts began to be designed, the classic design of the briolette lay forgotten with many early historical cuts.
Briolettes are also less used as it wastes much of the rough stone, so it was not really popular with diamond cutters. Then, as the 2000s hit, they started becoming popular again.
Drop Cut
Similar to the use of the briolette, drop cuts are found in pendants and earrings. A drop cut was used to create a completely faceted pear shape suitable for teardrop earrings and necklaces.
The cut typically has a longer pavilion than you might see in a traditional pear.
Side Stone Cuts
Baguettes
The baguette is not usually a cut that you would find as a center stone. Baguettes are a vintage cut that is appreciated by an older crowd generally.
You will most often see baguettes as diamond accent stones or within pendants. The baguette is a great accent stone to accompany square or rectangular cuts, such as the emerald or Asscher.
Baguettes get their names from their loaf-like shape similar to a French baguette. In fact, it was created by a French baker named August Zang. These cuts are one of the most versatile cuts in diamond history, as they are commonly used in all pieces of fine jewelry.
They were first introduced in the early 1930s during a period when Art Deco and Art Noveau styles were becoming popular. The reception to baguettes was well-received.
The commonly used baguette only has 14 facets, which means that each one needs to be perfect in order to entice wearers. They have created a brilliant baguette as well, but it is not as popular.
In those early days, a huge part of the cut's appeal was that it deviated from the traditional round brilliant. By the time the baguette came out, people were excited about something different.
Tapered Baguette
Tapered baguettes are a form of baguette to where longer sides angle inwards. It is a set cut, which makes them complement brilliant cuts very well.
Tapered baguettes are not used as a center stone, but make a wonderful diamond accent to any piece.
Trapezoids
Another type of cut you might run across in your jewelry journey is the trapezoid. This side stone is usually used in pairs on either side of a larger center stone.
Trapezoids can be cut into either brilliant or step cuts, but the step cut is used more often.
Half-Moon
This shape is simply a semi-circle. Half-moons are mainly used the same way as trapezoids, to accentuate a larger center stone. Sometimes it can be found in bracelets too.
The most common place you should find a half-moon diamond cut would be in a pair of chandelier diamond earrings.
Lozenge Cut
The lozenge cut is a cut that is not really used. There isn't a whole lot of information on this cut, other than it is a diamond cut in the shape of a playing card diamond.
The four sides are cut in trapezoidal facets that stem down the side.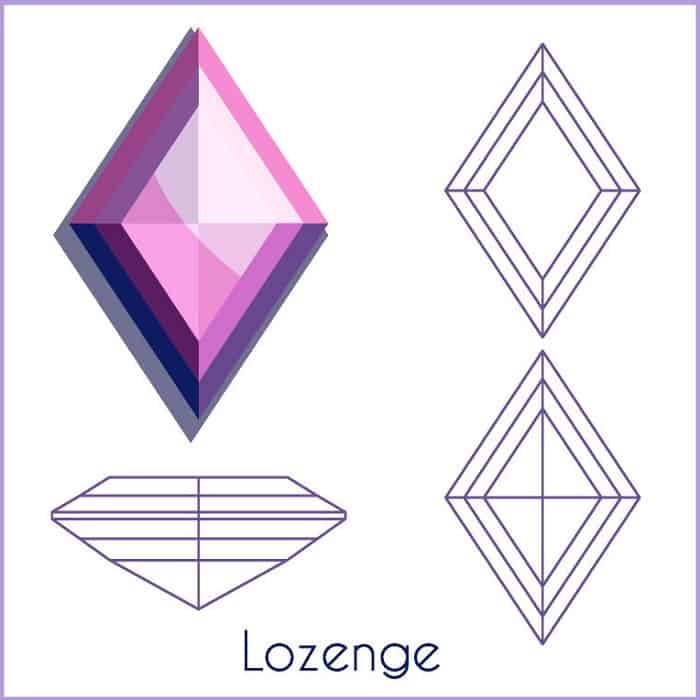 More Cuts Than You Can Imagine
This guide has listed many of the different kinds of cuts of diamond shapes. However, there are other shapes that were not even mentioned. If a cutter is skilled, a diamond can be faceted into many different shapes.
A lot of those other shapes not mentioned in this guide have little history or research, or just didn't seem relevant to what is popular in the diamond market.
Cut Process
1. Mapping
The diamond cutting process is a long and meticulous journey. It starts out at the pre-planning stage. Before any kind of cutting can be done, the diamond cutter must analyze the rough stone and determine what shapes could come out of it.
The goal is to use as much as the rough stone as possible, so a diamond cutter will opt to develop that stone into a shape that will minimize waste. A rough stone is also mapped, using high-tech software to ensure that each facet is the same dimensions throughout and is this way every time.
Through this software, the rough stone allows designers to demonstrate how much of the rough they'll use and throw away if they were to design it. The software allows a visual, yet changeable look of what could be before it actually is.
2. Cleaving
Next, the rough stone goes through a process known as cleaving. This is where the rough stone is split into two, allowing a diamond cutter to work on each piece.
The stone is cut at its weakest point, and the pieces are held together by a mold, usually made of cement or wax.
3. Sawing
After cleaving is done, the diamond cutter is ready to saw. Currently, diamond cutters are using a phosphor-bronze blade to saw through a diamond.
This blade spins at about 15,000.00 rpm, letting it slowly cut through the stone.
4. Bruiting and Cutting
Bruiting is a process not all shapes go through, just round brilliant. This is the act of creating the girdle, also referred to as girdling. Generally, diamond cutters use machines to do bruiting process, but there are still some cutters who work by hand, using diamonds to cut diamonds.
When they cut by hand, they place the diamond pieces between cement to hold it in place while they cut the different facets. During the bruiting process done by machine, diamonds are placed in what's known as a lathe. A second diamond is rubbed against it in the machine creating that polished girdle.
5. Polishing
Following the cutting process, a diamond cutter now moves on to polishing. This process makes the diamond have its shiny and finished look. The stone is covered in diamond powder and placed against a rotating polishing wheel.
This step can be split up even further. There are two more sub-processes during polishing that a diamond goes through: blocking and brillianteering.
Blocking is done to create 8 mains to the pavilion, 8 crowns, 1 table facet, and 1 culet to the stone. It serves as the base of any single cut diamond.
Brillianteering is the one of the last steps within the polishing process and the entire cutting process. This is arguably one of the most meticulous processes, as it will make or break the stone's reputation for fire and brilliance.
During this step, all other facets are developed and studied to find out the best sort of brilliance the stone is capable of putting off.
6. Quality Check
The very last step in the diamond process is where the stone is gone over and decided what diamond grades to award it for sale. They will look at the dimensions of the stone, the width of a girdle, and other factors.
This video well explains how people today turn rough stone to dazzling diamonds.
Grading a Diamond
All diamonds have to receive a grading before they're able to be sold on the market. Higher quality stones can be laser inscribed with serial numbers on the girdle of the diamond. This is useful because if the stone were ever to be stolen and then resold, the serial number would identify the missing stone.
Not all diamonds are that way. Diamonds can be certified, but not laser inscribed. The certification is through the Gemologist Institute of America (GIA). They assign the stone a grading through a system of surveying details of the stone, commonly referred to as the 4Cs.
While the 4Cs can be complex, for the sake of time and relevance, we'll just go over them quickly. When purchasing a diamond or diamond jewelry, one should always consider the 4Cs.
The 4Cs of a Diamond
The Cut Best for You
So, is there an overall best cut? If you've been following along the whole way, you now know that every cut has its pros and cons. Certain cuts are great in specific settings, while others are quite versatile.
Different shapes have different advantages over others. You may prefer the mirror-like effect of a step cut, or perhaps the extraordinary sparkle a brilliant cut brings you. You might not be a fan of step cuts because of the difficulty it takes to hide inclusions or the price it would take to get a stone of high clarity in that cut.
There are many reasons why one would choose one shape rather than another. You may find all these different cuts a little overwhelming, as the possibilities start to seem endless.
But by piecing different diamond cuts and adding various side stones or accent stones, the design of the ring becomes truly yours. And when a piece of jewelry is exactly as you envisioned it, you are creating a unique one-of-a-kind piece to be adored for years to come.
We hope you enjoyed this guide, and we also hope that you feel better prepared when trying to decide on a cut of a diamond. Who knows? The next time you walk into a jewelry store or purchase online, you'll be the expert now!