If you believe in the energy and power of noble gemstones and you've just started your journey, you must've been looking for the best crystals for protection. Here, we listed crystals that will protect you from negative vibes.
Crystals and gemstones, in particular, are believed to have healing properties and are often used to guide one through their journey. However, aside from their healing properties, more often than not, crystals carry protection abilities which help people rise above the negativity and prosper.
In this article, we've covered what are some best crystals for protection and we will detail every crystal to highlight what makes it so unique. Read on!
How Can Crystals Protect You?
Spiritual protection is often above that which can be perceived. Many crystals, aside from healing properties, generate some sort of spiritual protection which can be used in many ways.
Protective crystals have been most effective in filtering out the negativity that other people project on you. They are ideal in protection from toxic people in your life, and there's no secret we come across many of them.
They help swipe away the emotions of jealousy, anger, the feeling of being heavy, drained and disturbed. When there is no spiritual protection in the form of a gemstone, these emotions get chaotic and will certainly overwhelm you.
Crystals for protection have a similar effect in a situation when you must find yourself in a stressful and chaotic environment. Sometimes, you'll be amidst the stressful project at work, surrounded by people with short tempers and bad attitudes.
Sometimes you'll have a doctor appointment, and the waiting room will be full of impatient people, careless of the environment. That kind of energy also appears in the airports, queues at a bank or post offices, shopping malls and more. Luckily, certain crystals can shield you from that energy.
Healing crystals with protection properties are also good for shielding you in extreme esoteric environments. People who practice lucid dreaming and want to learn astral travelling, in particular, can use them to have peaceful dreams and sweep away the negative energy. Some crystals are also known to shield your spirit from psychic attacks.
However, it's worth noting that different crystals come with different types of protection. So, depending on the sort of protection you need in life, the right crystal should be chosen. Below, we've listed ten crystals for protection that will shield you from negativity and give you a more optimistic outlook on life.
Tips for Using Crystals for Protection
Crystals for protection can be used in various situations because they all have unique properties and structures. However, the crystal you'll use depends solely on its true intention. Here's how to use each crystal and in which situations.
Protecting home
You can easily surround your home with positivity and strength using crystals like black tourmaline. You should place each crystal in the corner of the room. Tourmaline can also be put in the yard and on the lawn if the negativity surrounds your house.
Toxicity
If you want to protect yourself from clingy, possessive and insecure people who exhibit toxic traits, place black obsidian arrowhead, or use it on a ring.
It will protect your entire body from negative attitudes. It will also enhance your intuition and instincts and encourage you to deal with the people that make you prosper, not the opposite.
Negative influence
Smoky quartz and jewelery with it are a great protector from negative influences, especially for introverted people who are exposed to crowds and insecurities. It protects from negative influences, addictions and more.
Electromagnetic forces and radiation
In the era of computer and technology, we're exposed to x-rays and massive electromagnetic fields. That's why creating a grid with smoky quartz, shungite, black tourmaline, fluorite and blue kyanite is great protection from negative effects. That includes the use of computers, TVs, microwaves and other electric appliances.
10 Best Crystals for Protection
Below you can find the best crystals you can either place on jewelery for protection or leave in your room, to surround you with positivity. Notice that some crystals boast darker colors, with some being even deep black. That's because those crystals have the strongest power in absorbing negative energy, as opposed to crystals with more vivid colors.
1. Black Tourmaline
Black tourmaline is one of the best crystals for absorbing negativity and evil spirits. It's a must-have for every collector of crystals and in addition to that, can be combined with more crystals for more reliable protection.
Color: Black
Chakra: Root
Where can you find it: Brazil, Australia, USA, Africa, Pakistan, Sri Lanka
It will reject and dodge low energy and frequencies while encouraging you to be more self-confident, self-aware and get a more positive outlook on the world. Its most powerful property is being able to transfer negative energy into positive energy.
In addition to that, it provides a metaphysical force field around you. The shield will disallow all negativities from entering you. That way, other people's negative thoughts and attitude won't affect you and will be sent away.
Black Tourmaline's chakra is root, which makes it quite connected to earth and nature. It will help you remain protected by those who wish you bad and transfer their negative attitudes on you. Meanwhile, the crystal will cleanse the accumulated negative energy from you, your home and environment.
Keep in mind that you can combine this gemstone with other protection crystals, as well as healing crystals to reach more consistency. It's the best to combine it with fire agate to revoke will-power, passion and persistence in hard life situations.
Although it can be used as a stand-alone decoration to your house or carry-on accessory, black Tourmaline looks the best on necklaces and bracelets. Furthermore, you can easily combine it with your favourite clothing, providing more elegance and maturity to your looks.
2. Black Obsidian
Black Obsidian is another root-based crystal. Aside from being a very strong and reliable protection stone, different civilizations have used it for healing. Black Obsidian is forged through the rapid and raging processes of volcanic eruptions, combining raw elements like fire, earth and water.
Color: Black
Chakra: Root
Where can you find it: Everywhere.
It has many features, and one of them is that it fractures in a way to create sharp edges. These edges metaphorically give you spiritual awareness in a way that you can cut and pierce through lies, deceiving, blockages, fake friendships, cheating relationships and more. It will also help you break destructive habits and focus on personal growth.
In mythology, black obsidian was used by shamans and white witches for protection of their sorcery, as well as reflect ill fortune, curses and negativity in particular.
Aside from being a great piece of jewelry, empaths could have great benefits of using black obsidian. It will help you shield yourself from people who abuse your empathy for no good.
It will move away from the negative people who bully you or install feelings of not belonging or being unwanted. Empaths who have troubles channeling their feelings of love, care and compassion can use the black obsidian as support to know who to help and who not.
Lastly, black obsidian can help you learn more about yourself, accept yourself for who you are and move forward with self-love.
Aside from jewelry gemstone, black obsidian also exists as a "mirror" that reflects negative thoughts, attitudes, traits and helps you let go of past relationships. It is also used as a home decoration.
3. Smoky Quartz
Quartz is already known to boast healing and protection chakras, and it comes in many forms and variations. Smokey quartz is no exception.
Color: Varies from light to dark grey or brown with small tints.
Chakra: Root
Where can you find it: Everywhere
Smokey quartz is an undying source for cleansing negative energy and transforming it into positive energy. If you're looking for psychic protection, this crystal will cleanse you spiritually, creating a positive outlook on life.
For those who believe in negative energy fields, this stone is great for disbanding them. It is a great transformer for anger, resentment, the feeling of not belonging and more. It also contains root chakra which makes those who own it closer to nature and earth.
Smoky quartz also has a fragile and gentle essence, which makes people feel peaceful and composed. However, its healing and protective characteristics are unimaginably powerful and persistent. It has been used in tribal ceremonies to deliver protection to families, warriors, and peace in the afterlife.
This crystal is ideal for carrying both during the crystal meditation, as well as keeping it on your body. Also, make sure to cleanse it regularly so that it'd continue functioning the same as when you got it.
---
Also Read: Black diamonds: Are They Real Diamonds and Worth Buying?
---
There is another thing you probably didn't know about Smoky Quartz. Aside from spiritual protection, it will guide you against radiation and the consequences of being exposed to the electromagnetic field.
Smoky quartz is ideal for people who are constantly exposed to electromagnetic fields, like working at an electro-distribution service, in the kitchen, in front of a computer and others. The stone will successfully remove and cleanse the electromagnetic energy heading your way, releasing you from any unwanted consequences.
4. Amethyst
Amethyst is not only a beautiful and elegant addition to your jewelery, but it's also a stone of spirituality and contentment. It is an irreplaceable accessory for meditation and relaxation you must have in your collection.
Color: Variations of purple and lavender.
Chakra: Crown, Third Eye
Where can you find it: USA, Mexico, Canada, Russia, India, Sri Lanka, Britain, Brazil, Siberia, Africa
Amethyst is one of the most spiritual stones, used for its magical properties and many purposes. Its high frequency and vibrations will protect you from evil spirits and negative attitudes.
Although most of its properties are associated with healing and protection, amethyst is best known for transforming negative energy into positive. Amethyst had been used since the beginning of the times, and nowadays is best used for cleansing from addictive and toxic relationships, as well as help you set free and let go of negative past.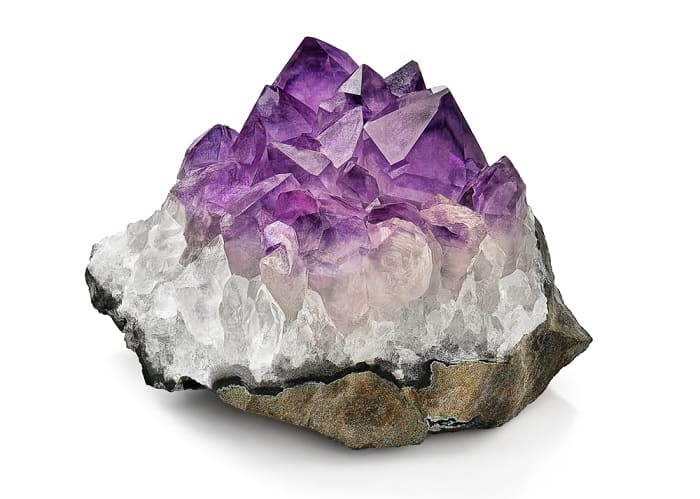 It's also a great accessory for travelling, especially those that serve as self-discovery. It's used for protection from thieves and pickpockets when travelling, just don't lose it.
Aside from healing from addictive relationships, healers use amethyst for healing from physical addictions. Some also call it the "stone of sobriety" because it's stress relieved and revokes inner strength. With amethyst, lower vibrations turn into higher vibrations, and transfers hate into love and with a good healer, it can be used for everything.
It can treat addictions at all levels and shield its owners from psychic attacks and negativity. It can balance good and bad, highs and lows, and help one recover and heal after grief or loss.
Lastly, it's a great cure against insomnia, and can help you return your sleeping habit, free of nightmares. It's advisable to put it on your forehead before sleeping to improve sleeping habits, mental functioning, focus, decision-making, memory and more.
5. Fluorite
Fluorite also associates with discernment and aptitude focusing purely on spiritual protection. It is ideal for those who struggle with their self-image, with unwanted impacts, negative behaviours, addictions and stress.
Because of its protective nature, Fluorite is great guidance against negative attitudes of different people.
Color: Different varieties and mixtures.
Chakra: Heart, Throat, Third Eye
Where can you find it: Germany, Switzerland, Norway, Britain, Mexico, Peru, USA and China.
It will prevent you from picking negativity and negative behavioral patterns from other people. It is great for stabilizing aura and bringing balance to both your physical and spiritual self. If you are often sitting in front of a computer, it will protect you from electromagnetic influences, radiation and stress.
If you're intuitive and want to cherish and nourish your intuition, fluorite is ideal for enhancing your intuitive capabilities and lessening stress. It will help you become aware of the spiritual world and aware of higher frequencies.
If you have any kind of trauma or suppressed feelings, fluorite will help you bring those emotions forward, opening the door to subconsciousness and help you resolve your problems. When you're clouded with a lot of ideas and don't know how to proceed, Fluorite will help you see the clearer picture while increasing self-confidence. Furthermore, it's a great counter to mental disorders.
You're a student who has a hard time focusing? Well, fluorite is one of the best crystals for protection that will enhance your focus and concentration. It will help you visualize your lessons and learn more for less time. It encourages quick and problem-solving thinking while assisting in fast information absorbing.
In emotional aspects, fluorite will also help you stabilize your emotional connection to nature, restore the balance between mind and emotions, as well as the body. It helps in a relationship, by establishing a strong emotional foundation between two people, teaching the importance of balance.
In terms of healing, Fluorite teaches us that our body is a temple that needs to be nourished. It cleanses, purifies and dispels the negativity on our body and in our spirit. It can strengthen cells, bones, and teeth, deflect infections and even repair DNA damage. Keeping fluorite close to yourself will protect you from colds, flu and sinus-related infections. Lastly, it has positive effects on sexual libido.
Fluorite can easily appear on pendant necklaces. It looks stylish and modern and is easy to combine with other jewelry. Additionally, fluorite wands often appear in home décor, restoring positive energy in the household. It at times appears as a "grid" which is ideal for placing near computers that emit electromagnetic radiation.
6. Hematite
Hematite is also known as the stone of the mind. Its protective and healing abilities preserve our minds, shielding it from disorders and negativity.
Still, containing a high concentration of iron and metallic luster, hematite has different approaches for protection compared to other stones.
Color: Black
Chakra: Root
Where can you find it: Italy, Britain, Canada, Sweden, Brazil
It doesn't just absorb the lower frequency energy. It uses the same energy to utilize a protective shield around the body it protects and then reflects negative energy back to the person who sent it. For better effects, it can be combined with Black Tourmaline and Fire Agate.
It's worth noting that its iron concentration contributes to its stronger effects. It also makes it one of the strongest and most important stones for grounding. Being the Stone for the Mind, hematite is good for people who have problem with self-control and anger-management issues.
Hematite is also good for those who are impulsive, lack focus and can easily be distracted. It's a nice choice for sensitive people who are easily affected by people's poor attitudes and insults.
It is good for those who meditate to get rid of physical and spiritual uneasiness. Its healing properties are so strong that the healing effects are visible immediately upon crystal meditation. It's the best for meditation when you lay on the floor with legs and arms uncrossed.
Placing the hematite stone on your abdomen will help spread its vibe in a fast manner. Meditate with deep breaths and clear your thoughts from negativity.
Hematite also cleans the blood and supports faster circulation. It's also good for people with metabolic problems and health issues with the thyroid gland. If you're expanding your healing and protection crystal kit, Hematite is an unavoidable asset to your collection.
7. Blue Kyanite
Blue Kyanite is particularly rare crystal because it can only be found in a few locations. However, not only it looks stunning; its healing and protection properties are going to blow you away.
Color: Blue and White
Chakra: Emphasizes on all chakras, especially Throat and Third Eye
Where can you find it: Brazil and the USA
Primarily, this crystal will protect you and your family from any kind of bullying, whether it's at school, work, internet or anywhere else. Additionally, it will deflect any attempt of manipulation, help you rise above and unchain yourself from the negative impact.
It's connected to all body chakras. However, it's the most effective with the throat and third eye chakra. It is a supportive asset when you're struggling to sweep away negative or even aggressive behaviours.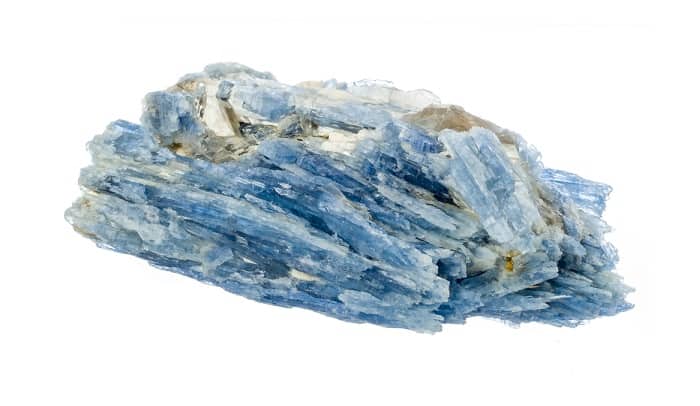 Blue Kyanite will help you be true to yourself, maintain your integrity and speak sincerely. In the process, it will also improve your self-confidence while channeling emotions and responses in the right way.
Blue Kyanite doesn't absorb negative energy; it deflects it. As such, it never requires cleansing, as it won't accumulate and stack negative vibes and frequencies or hold them in you.
8. Fire Agate
Fire Agate is equipped with powerful positive vibrations which encourage you to move forward and take actions to make things better. Its root chakra encourages its users to combine it with other protection crystals for better results.
Color: Blue, grey, red
Chakra: Root
Where can you find it: USA, Mexico
The crystal will help you feel more grounded and physically aware of your surroundings. It inflames your spirit and keeps you passionate about things you're doing. It's equipped with protection energy so powerful, more so than of other stones.
This crystal will help you find the reason, embrace positive spiritual energy and rise above the negativities and poor behavioral patterns.
It's worth noting that its energy is also calming and soothing, making you feel cozy, safe and secure. If you're working on spiritual growth, this stone is ideal and will help you be more authentic.
This stone will protect you from your fears, but also encourage you to take action to overcome them. It will also protect you from psychic attacks and negative spirits. With root chakra, Fire Agate will reconnect you to the Earth and nature, providing a deep and everlasting connection.
It will help you trust yourself, and your instincts while building a shield of protection around your body that fights the negative attitudes, and ill-wills, reflecting them back from where they came from.
---
Guess you like: Black Onyx Meaning: Positive or Negative?
---
While dark and black stones usually absorb the negativities from other stones, Fire Agate is an ideal companion because it returns the negative energies from where they've come from.
The best part of the reflection is that the source of negative energy will also be relieved of the negativity. They will realize what they've been doing is wrong, and will understand the effects of ill-wishes they send, working the healing effects in two-ways.
9. Labradorite
Labradorite comes mainly in blue and white, but it combines a lot of iridescent colors and marks that give it a special look. Those iridescent colors contribute to better self-esteem and confidence.
Color: Blue and White
Chakra: All with focus on Throat and Third Eye
Where can you find it: Brazil, USA.
This stone teaches you to embrace your true self and recognize yourself for who you are. It also encourages you not to care about what others see you as while shielding you from others feeding off your unique energy.
Its high-vibrating energy shields your aura and chakras against psychic attacks and ill-will. It protects you from low-frequency beings and negativity that other people spread on you. Meanwhile, it will ensure that your aura is clean and that it won't be influenced by external effects.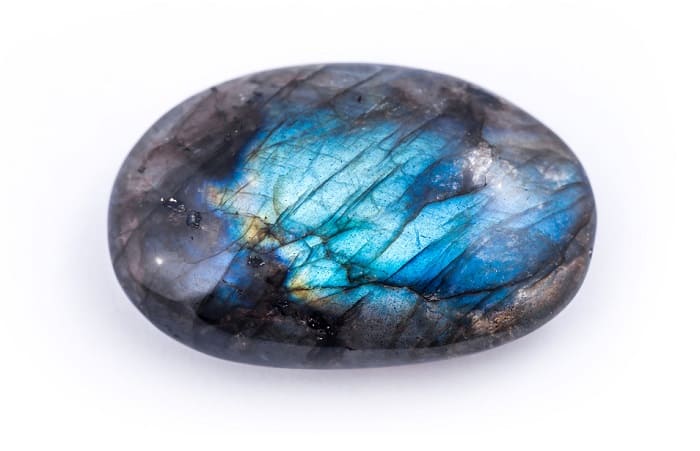 Finally, it will provide utmost protection from negative energy, and being seen in the light that can compromise you. It will also prevent other feelings like jealousy and obsessions from prevailing.
It is a better element for deflecting than absorbing because of its colors. When it comes to jewelry, it's most a pendant necklace, although it often compliments rings too.
10. Jet
While it boasts various protective and healing properties, Jet is rather a fossilized wood rather than a crystal. Nevertheless, it's extremely hard, even more so than coal. It is a great charm against violence, aggression and illness.
Color: Black
Chakra: Root
Where can you find it: Everywhere
If you're an old soul, Jet sports abilities that will make your physical and spiritual journey easier and more intuitive. Do you believe in reincarnation? You can use Jet as your guide, with many civilizations, shamans and others believing that it holds ancient memories, as old as time.
Aside from the mentioned features, this protection stone will guide you against dark creatures and spirit attachments that can latch during the spiritual or astral travel.
If you've just started a new business, you should embrace using Jet as a lucky charm for stabilizing your finances and bring new clients.
Keep in mind that Jet is one of those stones that absorb the negative energy and as such, require you to cleanse regularly. It also absorbs more negative energy than it emits so the negative energy often becomes clogged in this element.
Final Words
As you saw, there are many protective crystals, and each one of them is unique in their own way. You don't have to worry about negative people leaving you with the heavy emotions and disturbance. All you have to do is pick the right crystal, and you'll be ready to embark on a spiritual journey that will change your life for the better, and bring back joy, positivity and happiness.