White quartz crystal is a very common mineral material. But, that's not to say that it's not highly regarded.
Pure quartz is treasured for its ice-like attractiveness, and some colored quartz varieties are classed as gemstones.
Quartz is incredibly popular for a number of reasons: its abundance, its attractive look, its wide range of color varieties and its economic price.
However, quartz's traditional meanings are perhaps the most interesting thing about it.
[toc]
To start out, let's get a little scientific. Quartz is a mineral substance that's made up of a six-sided crystal structure.
It's found in a whole range of different rock types, so you'll come across quartz in pretty much any natural environment where there are minerals around and about.
In fact, there are more variety names for quartz than there are for any other mineral substance on the planet.
Interestingly, the earth's crust contains a huge amount of quartz. This material is actually the second largest component of the layer that makes up our planet's continents.
White Quartz Crystal: Myth and Legend
The Ancient Romans and Greeks had some weird and wonderful things to say about quartz. Some of their famous philosophers actually figured that quartz was some kind of ultra-frozen ice.
In fact, we now know that quartz is found in abundance in regions that aren't mountainous. So, its icy look doesn't actually have anything to do with forming at freezing temperatures.
Still, you can kind of see what those ancient philosophers were getting at, can't you?
The Ancient Egyptians were also total fans of this mineral material. They designed much of their jewelry to include gemstones of pure quartz.
But it wasn't just the living in Ancient Egypt who appreciated quartz's properties. The Ancient Egyptians often carved pure quartz amulets to bury with those who had passed away.
Why, you might wonder? Well, they believed that the attractiveness and healing powers of pure quartz would still be useful, even in the afterlife.
Over history, a fair few different ancient societies have thought that quartz crystals actually embodied the divine powers they believed in.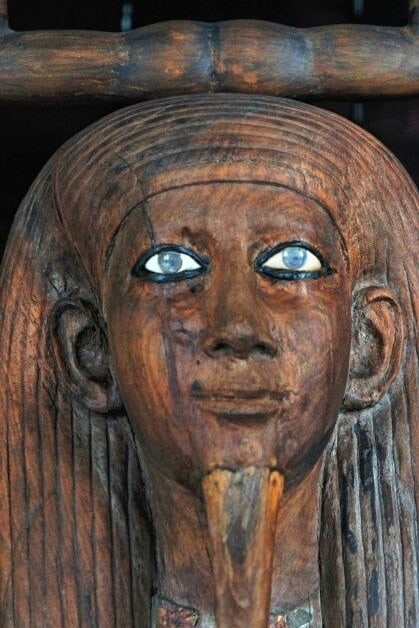 Some tribes from the African continent, as well as the Aztecs, Native Americans, Ancient Romans and Scots apparently thought very highly of quartz, too.
They valued the material for its healing properties, alongside its ability to ward off evil enchantments, improve their powers of calm concentration and increase their levels of spirituality.
What are the Meanings Attached to White Quartz Crystals?
White quartz comes with loads of mystical meanings. Now, healing powers and special abilities might be right up your street, or you could be more on the skeptical side of things.
Whatever the case, these are still some super interesting details. People say that white quartz crystal can help you achieve all this…
Purifies your negative energies, thoughts and feelings
Helps spiritual healing
Increases your powers of concentration
Increases your chances of coming out on top in a short-lived challenge
Boosts your abilities to think strategically
Enhances your abilities as an all-rounder
Lifts your mood on the day to day
Helps positive events come your way, letting you pass on that feeling of contentment to others around you
Boosts your ability to stay calm and stress-free
Helps to lessen levels of prejudice that might be clouding your judgment
Decreases pointless arguments, conflicts and failures
Helps with optimum energy dispersal in feng shui
A pretty impressive little list, don't you think?
So, where did the modern day name we use come from?
The origins of the name 'quartz' are pretty intriguing. Over the years, it's combined German, Polish and Czech influences to get to be the word we use today.
Polish and Czech words that literally mean "hard" were transformed into the old German word "Quarz". This word then morphed into "quartz" in English.
Now, those olden times guys weren't wrong: quartz is, in fact, very hard indeed. If you try to scratch some quartz with a steel blade, it won't even make a mark.
Quartz ranks at number 7 on the Mohs scale, which is the tool we use to rate the hardness of mineral materials. That means quartz sits just 3 places behind diamond, which is the hardest material on the planet.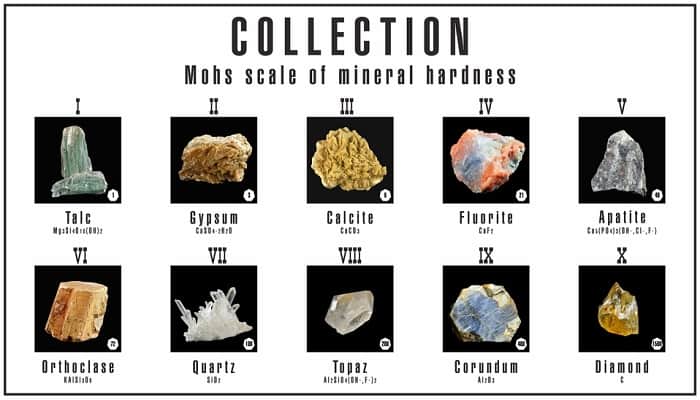 Nowadays, people still refer to the purest forms of quartz as rock crystal. Pure quartz is transparent and carries no color at all.
For quartz to form this purely, it needs to take shape over a very long period of time, in a geological environment that doesn't change very much at all.
For example, pure rock crystals from the Alps mountain range in Europe may have formed over millions of years. They started forming back when the movement of the earth's tectonic plates was creating the iconic range of mountains that we know today.
Pure quartz is some of the most sought after, due to its supposed healing and spiritual properties.
What is White Quartz Crystal Commonly Used for?
Nowadays, white quartz crystal is a pretty popular choice for jewelry. It's versatile and looks attractive in all kinds of pieces, from necklaces and bracelets, to rings and piercings. In fact, this idea actually goes way back in history.
In ancient times, people would use quartz for jewelry, tools and pieces of carving. This was mainly because of its abundance close to the surface of the earth, but also its hardness and its attractive appearance.
Nowadays, quartz varieties are often tumbled before they're used in jewelry. This means they're placed in a device that smoothes out their overall appearance. This enhances the look and feel of the quartz, as well as the way it catches the light.
Often, natural quartz is naturally tumbled, just by Mother Nature herself. As quartz is often found in rivers and streams, the way that the water flows over the stone means this natural process has a similar tumbling effect.
The purest forms of quartz are also vital to the electronics industry. Decades ago, experts discovered that quartz starts accumulating an electric charge when you apply lots of pressure to it.
This characteristic of quartz is technically referred to as its piezoelectric properties. This discovery led to large-scale operations to find a way of producing synthetic quartz.
Making the material artificially in factories meant it would be much more accessible. There wouldn't be any need to mine it in Brazil (where the purest natural quartz sites were) and ship it to its factory destinations, mostly in the USA.
Plus, the electronics industry needed to make sure it was getting reliable supplies of totally pure quartz. Natural quartz normally forms in a twinned formation.
Twinned means that the quartz is made up of conjoined crystals, one laying on the right side and one on the left side.
A famous twinning formation is known as the Japan law twin, where 2 quartz crystals connect at a right angle to each other.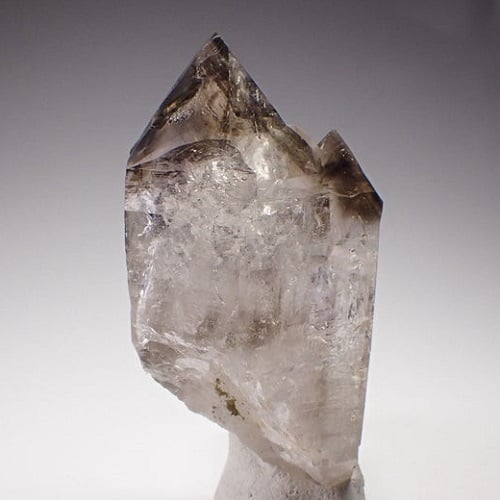 Another interesting twinning situation is known as a phantom twin. Sometimes, a quartz crystal will naturally form over another crystal. The enveloped crystal will then appear like a little ghost version of a crystal, inside the larger quartz crystal around it.
But, back to electronics: by producing quartz artificially, the electronics experts could make sure they were getting the levels of purity they needed, but cutting out this natural twinning.
Quartz is also used to produce glass. The main ingredient used in the glass production process is natural sand, which actually contains many, very small pebbles of quartz.
Quartz can also be used in industrial environments to cut softer stones to the right size, thanks to its impressive hardness properties.
What are the Different Types of White Quartz Crystal?
Ranging from opaque to translucent, you can find a whole range of white quartz varieties.
Pure quartz and milky quartz are two major white quartz categories. We've already looked at pure quartz, so this section will focus on milky quartz.
Milky quartz
The name 'milky' comes from its appearance, which is milky white.
When this type of quartz is forming, some gases or liquids infiltrate the pure quartz. Known as inclusions, these additional materials stay within the quartz formation and cloud its appearance.
If quartz is milky, it usually demonstrates that the geological environment that it grew in changed a lot over time. These environmental changes contribute to the gas and liquid inclusions that end up in the quartz.
Unlike pure quartz, milky quartz might not always catch the light so well. In fact, it can sometimes have a matte, dull appearance.
Real or artificial?
It is possible to make entirely synthetic quartz crystals in a laboratory. Some labs also use heat treatments and irradiation techniques to transform natural quartz into a more interesting range of colors.
The amethyst quartz variety is commonly treated with heat, as this lets experts intensify its purple shade.
---
Guess you like: Purple Gemstones List: Ornaments for Your Elegance
---
Plus, many crystals are actually treated with metallic vapors to enhance their overall look. This creates a multi-tone, rainbow look, that doesn't occur naturally in quartz.
Mostly, synthetic quartz is actually produced for big industry, because, as we saw earlier, the material is hugely important in the electronics sector.
Did you know?
Natural quartz crystals normally form from molten magma. That's right, it was real life volcanic material, once upon a time.
Natural quartz can form in absolutely enormous crystals. They can grow to a couple of meters long and they can weigh in at several hundred kilograms.
The largest single quartz crystal that has ever been found weighed close to 40,000 kilograms. This monster mineral was discovered in Brazil and was over 6 meters in length.
Brazil is still one of the most important commercial exporters of natural rock crystal today, as well as the USA, Russia, Madagascar and Nepal.
It's quite common to come across quartz crystals as part of the sediment resting in streams and rivers. As the material doesn't get weathered away from its natural origins at all easily, it often washes down to rest in those kinds of places.
One of the most famous historical artifacts that contains quartz is called the Lothair Crystal. Now kept safe and sound in the British Museum in London, the intricate quartz engraving dates from the years 855-869. The clear quartz disc measures 11.5 across, and it's covered with a delicate depiction of 8 scenes from the biblical tale of Susanna and the Elders.
Other Quartz Varieties
There's a lovely long list of other quartz varieties, so we'll only mention some of them here. The color variety they display actually comes from impurities that enter pure quartz while it's forming in the earth.
By impurities, we mean other natural substances that get combined with the pure quartz. These could be other mineral materials (such as iron, hematite, or many other varieties), gases or liquids.
Each different mineral will add its own color to the quartz, producing the many different varieties we know to exist. You might think these technical impurities actually make the quartz more attractive.
Now, let's look at some varieties. Keep an eye out for a name that might be familiar to you – but you might not have twigged that it was actually quartz before.
Smoky quartz (ranging from gray, to brown colored, to almost totally black)
Milky quartz (the most common variety of quartz crystal – more on this one earlier in the text)
Rose quartz (delicate pink to red as a rose in color)
Blue quartz
Amethyst (there it is! Amethysts range across all kinds of shades of purple, from intense violet to subtle lavender)
Citrine (in orange, yellow and red-brown shades of color, this is a quartz variety that's classed as a gemstone. The more yellow-toned varieties are sometimes called lemon quartz)
So, there's the low down on everything you need to know about white quartz, plus some wider context on its various varieties. With all the legend that surrounds it, quartz sure is an interesting one.