Princess Diana's sapphire engagement ring in 1981 started a worldwide trend. This trend has heightened the popularity of blue sapphire rings. Blue sapphire became the second most wanted gemstone competing with costly diamonds.
However, as the pattern is developing, other variations of sapphire are also making a hit in the gemstone market.
Blue sapphire, in its purest form, can be costly. That is why buyers often look for an alternative of the same gemstone. If you are an individual looking to purchase a type of sapphire, this article can be helpful.
Depending on what your expectations are, you can compare black sapphires with pink and white sapphires. In the end, whichever stone you choose will make the perfect engagement ring that you are looking for.
History and Origin of Sapphires
Traditionally sapphires symbolized truth, honestly, nobility and faithfulness. This gemstone was used to decorate the crowns and robes of various royal members throughout history. The vibrant color of blue sapphire often won the race with other blue gems such as topaz and tanzanite.
Diana's engagement ring reinforced the association of sapphire with romance and elegance. Previously, in ancient Rome and Greece, the kings and queens held a different belief about sapphires. It was believed that owners of sapphires would be protected from harm and envy.
---
Guess you like: White Sapphire Engagement Ring: A Better Way to Go?
---
The popularity of sapphire gemstones also dates to the middle ages. Back then, clergies wore blue sapphires to represent heaven. Their followers believed that being in the presence of blue sapphires bestowed upon them heavenly blessings.
In different periods, sapphires were thought to help make peace among enemies, guard chastity and influence spirits.
In history, art and folklore sapphires were associated with the color blue. The name originated from the Greek word sappheiros. Even jewelry makers commonly used the word 'sapphire' to mean 'blue sapphire'. This often confuses buyers when they learn about sapphires in colors other than blue.
Sapphire deposits are often located in geographical areas such as Kashmir, Myanmar, Sri Lanka, Madagascar, Pakistan, Nepal, and so on.
150 million years ago, rocks under the surface of earth faced intense pressure and heat. This intensity generated the very first traces of sapphire. Usually, sapphires are found at 6 to 18 miles under the surface of the earth.
How are different sapphires formed
Blue sapphire is created when corundum comes in contact with a metal called titanium. When corundum takes on any color other than red, that gemstone is classified as sapphire by geologists.
When there is a marriage between iron and corundum, yellow sapphires are formed.
Purple sapphires are formed when corundum is mixed with mineral vanadium.
A pure sapphire is formed when igneous rocks are transforming.
---
Related: Purple Gemstones List: Ornaments for Your Elegance
---
How slow magma cools decides how large the sapphire will be. The changes in the environment such as speed, temperature, light, exposure to other minerals, decide the unique look of this gemstone.
Properties of sapphires
Corundum is known to be an intensely solid crystal structure. The only other crystal that is harder than corundum is diamond.
On the Mohs scale of hardness, sapphires stand at 9 points. This reading means that they are just as hard as diamonds. Furthermore, this rating makes sapphires 6 times harder than topaz.
---
Also read:
Sapphire vs Topaz: What to Look for?
What's the Differences between Blue, White, Pink and Yellow Topaz?
---
Another way to identify the quality of a gemstone is by doing a refractive index test. This test is a basic reading of how a gemstone separates the spectrum of light.
While sapphires are found in different colors, this does not affect its refractive index. And all sapphires have a refractive index of 1.75 to 1.76. However, this means that compared to diamonds, sapphires appear less shiny.
Black Sapphire vs Pink Sapphire vs White Sapphire: Side by Side
Black sapphires
Black sapphire is an almost opaque stone. The color of this sapphire is so dark that it absorbs all the light that hits the surface of this gemstone. Often, black sapphires can appear to look dark blue or even gray. The black color of sapphire is a result of two minerals coming in contact with corundum. These metal minerals are titanium and iron.
Mainly, black sapphires are found in Australia and are mined in larger quantities. Contrary to popular belief, black sapphires are actually cheap and considered to be low grade.
---
You may also be interested:
Black diamonds: Are They Real Diamonds and Worth Buying?
Black Onyx Meaning: Positive or Negative?
---
If you are considering to purchase black sapphire, you should keep in mind that this is one of the most low-quality sapphire stones. However, the good thing is that this means black sapphires are cheap.
When purchasing black sapphire, the decision comes down to your personal preference. If you are looking for a black stone which is extremely hard and will not cost you big bucks, black sapphires are your best option.
Still, you should be aware that the resale value of black sapphire is next to none.
Pink sapphires
These days pink engagement rings are the most trending choice other than traditional blue sapphire rings. The rosy shades have started to become associated with wedding dresses and themes.
That is how the market for pink sapphires has gained a lot of buyers. The shades of pink range from rosy pink to intense magenta pinks.
If you purchase a light pink sapphire, any inclusions such as chipping or scratches become very visible. That is why jewelers recommend medium to dark pink sapphires.
Pink sapphires were found in large deposits in Madagascar back in the 1990s. Before that, this color of sapphire was thought to be extremely rare. However, since a lot of locations now have deposits of pink sapphire, it is widely available.
Natural pink sapphire in its raw form is too dark, dull or purple. That is why pink sapphires are treated with heat before sold in the market.
Since sapphire is a tough stone, the heat treatment does not jeopardize the stone's performance. However, the price of unheated pink sapphires is higher since it is truly a natural stone then.
Pink sapphires are a good and cheap replacement for highly expensive pink diamonds. Still, they are rare and come at a cost. Untreated pink sapphires that are in perfect condition and color can cost you thousands of dollars.
The pink color in this gemstone comes from corundum's interaction with a mineral called chromium. If the chromium content is high, the pink color is more profound.
White sapphires
Another popular alternative to costly white diamonds is white sapphires. Mostly, sapphires are stereotyped to be blue in color. That is why it can be shocking to know that you can find sapphires in its colorless form.
White sapphires are the purest form of corundum. If a white sapphire is cloudy, it is mostly because of corundum coming in contact with a slight amount of any other mineral.
Side by side, the light performance of diamonds is higher than white sapphires. Under neutral fluorescent lighting, white sapphire has a lot of dark areas and looks messy. That is the cause of its low-quality contrast patterning. That makes it appear glassy instead of sparkly like diamonds.
---
Guess you like: Know the Difference between White Sapphire, Diamond, Cubic Zirconia and Moissanite
---
Compared to diamonds, the only advantage you will gain from purchasing white sapphire is the low cost. Usually, white sapphires are not preferred as engagement rings by most individuals. The hazy color of this stone due to mineral composition impedes its sparkle and makes it less attractive to buyers.
In addition to that, because their cost is low, usually sellers do not use much care when cutting them. Often white sapphires are cut sloppily.
Cutting a stone requires time, effort and attention. Typically, such hard work is invested in stones that are inherently costly and help sellers make a considerable profit. Most polishers do not put in extra effort when manufacturing white sapphires.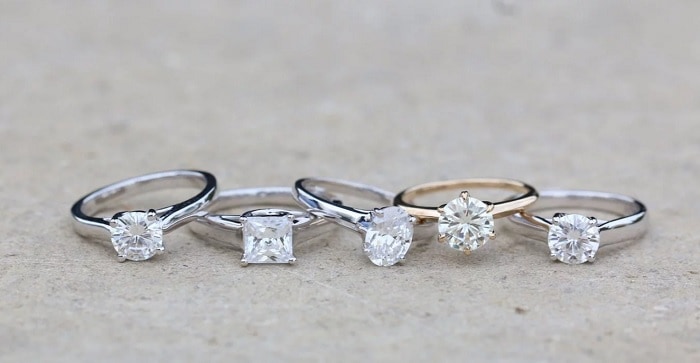 Another issue with white sapphires, when compared with other types of sapphire, is its proneness to inclusions. White sapphires can scratch easily, and they are not durable like blue or pink sapphires. Within a short amount of time, white sapphires can become prone to chipping and dullness.
Price Points
The price point is where white sapphire finds its edge over diamonds. One carat of a high quality and clarity diamond can cost you anywhere between the range of $7,000 to $10,000. A similar carat of white sapphire is surprisingly not even one-fourth of this price range. One carat of finely cut and polished white sapphire can easily be purchased for $450.
However, a diamond comes with a guarantee and certificate of purchase. Often in the market, cheapest stones like cubic zirconia are sold under the false pretence of white sapphire.
This is why when you decide to spend $450 on a white sapphire, the source of your purchase needs to be an excellent one.
For pink sapphires, the color is the most crucial factor that decides its price. While lighter hues are cheapest, deeper hues can cost you almost as much as blue sapphires. The cut and the carat of pink sapphire decides the price range of pink sapphires.
A two-carat oval cut pink sapphire can cost you about $1,180 and above. Whereas, a light pink sapphire of the same carat can be purchased for $820 and above. If you think this cost is still expensive, you can compare pink sapphire price tags with pink diamonds. Today, pink diamonds can cost you about $220,000 per carat.
---
Related: Types of Diamond Cuts: Your Comprehensive Guide 2020
---
Compared to pink sapphires and white sapphires, black sapphires are quite cheap. You can purchase one carat of medium quality black sapphire for about $80 per carat.
Black sapphire rings are the least popular engagement rings. From Victoria Beckham to Elizabeth Taylor, blue sapphire is the most popular choice. Emma Slater's 4-carat dusty rose pink sapphire ring is also what individuals look for when purchasing engagement rings.
How to Take Care of Sapphires
Second to diamonds, sapphires are hard and durable, meaning that they require less maintenance. This gemstone is also suitable for daily wear. However, over time, the accumulation of dirt and dust can even make the rarest sapphire look very dull, and jewelers always recommend little care.
As owners of sapphires, you can take some basic tips for storing and cleaning this gemstone. Pink sapphires need the least amount of care. In comparison, black and white sapphires need an intense amount of care.
To make sure your sapphire jewelry withholds its sparkle, always wear it after you complete your makeup. Any amount of external chemical can react with the polish of your rings, necklaces, bracelets or earrings. That is why you should also use your perfumes with caution while wearing sapphires.
---
Also read: Top 5 Best Ultrasonic Jewelry Cleaners
---
When you are doing home chores such as cleaning, gardening, or washing, it is always best to remove your sapphire jewelry. Even though sapphire is a hard stone, it can be chipped under harsh conditions.
Always protect your sapphire jewelry from harsh household chemicals like chlorine bleach. Such abrasives can damage your precious collection within no time. When cleaning sapphires, warm water or a mild detergent is enough. In case you need to scrub it, use gentle strokes of a soft and precise toothbrush.
Chemical Components of Sapphire
Sapphires are one of the rarest gemstones that take up to millions of years to form just like diamonds. Like rubies and emeralds, sapphires are created from a rare mineral called corundum. In scientific terms, this mineral is commonly called aluminum oxide.
Corundum gets its color when it comes in contact with other minerals during its formation. That is why sapphires are mainly found in recrystallized limestones. Other than that, sapphires are extracted from metamorphic rocks that contain a lot of aluminum and less silica.
When sapphire's crystal lattice is in the process of forming, any transition metal mineral can seep in. This procedure transforms the color from white, transparent to any different hue. This transformation is how sapphires are naturally available in a wide variety of colors.
Conclusion
If you wish to purchase a white diamond replacement that will not require a lot of money, white sapphire is your best choice. However, often, people opt for moissanites or white topaz instead.
For those wishing to make an out-of-the-box gesture, a black sapphire is a good option. This unpopular choice should only be made, in case you do not plan on reselling your jewelry.
When compared with black and white sapphires, pink sapphire is a noble choice. It will help you turn two into four. With that, pink sapphire engagement rings are a famous symbol of love and affection.