Birthstones are said to have been mentioned in the book of Exodus in the bible. Moses' brother Aaron had a breastplate with 12 jewels in it, representing the 12 tribes of Israel. But it wasn't until around the 19th century when each gem was assigned to a month.
Now, this is only for the set of modern birthstones. There are actually multiple sets of birthstones, but in the jewelry retail industry, we follow the set of modern birthstones.
Even though birthstones originate from religion, the idea is taken very mainstream today. People give birthstones for all sorts of occasions, but mainly birthdays, Valentine's Day, and Mother's Day.
The February birthstone is a purple gemstone called amethyst.
ABCs of February Birthstone
Amethyst is a gorgeous stone that comes in variety of hues of purple and reds, making it an excellent choice for the birthstone for the month of February. Amethyst is actually the name for purple quartz. The word amethyst comes from the Greeks meaning "not drunk".
This is because Ancient Greeks believed the stone would protect them from drunkenness. Both the Romans and the Greeks would wear amethyst to parties to avoid getting drunk. Today, we don't use amethyst to ward of drunkenness, but do demonstrate the intoxication of romance.
Amethyst is very common to be given in February as it serves as the February birthstone, and a popular gemstone to give on Valentine's Day.
Guess you like
How Amethyst is Formed
Quartz can be found in copious amounts around the world, making amethyst a pretty common gemstone. Due to impurities caused by iron and manganese compounds, clear quartz turns into purple quartz, giving us different shades of purple amethyst.
Amethyst form in geodes, creating cavities within them. Amethyst crystals can appear purple, pinkish, and even have white stripes in them. It's also found near November's birthstone, citrine. This is because citrine is actually amethyst that's had heat and pressure applied to it, giving its yellow-orange hue.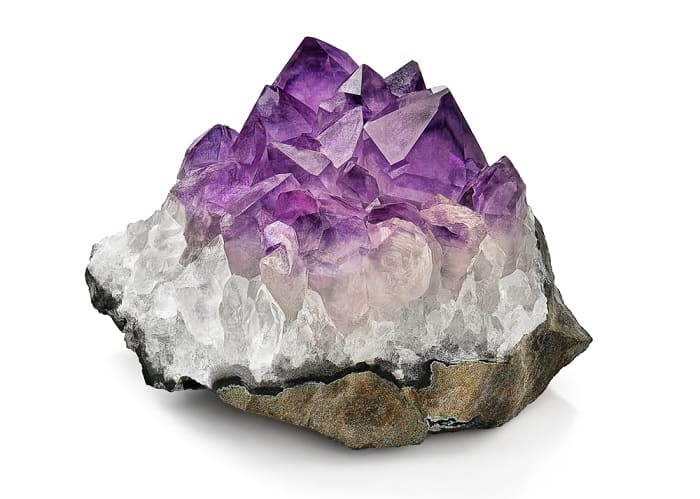 Not only does heat treatment turn amethyst into citrine, it's also used to deepen the purple color in some amethyst stones. Amethyst and citrine sometimes grows together and is formed into the gem known as ametrine.
You see, not all amethysts are a deep purple. They range from barely purple to a deep purple. Lighter purple amethyst is usually used for industrial purposes.
Types of Amethyst
Even though natural amethyst is easy enough to find, there are synthetic amethyst gems out there. Make sure when purchasing amethyst jewelry that you are buying natural amethyst.
Note: you will find a lot of heat-treated amethyst. In fact, untreated amethyst is very rare to find. A common misconception about heat-treated gemstones is that they aren't natural. Almost all colored gemstones are heat-treated in the jewelry market.
There are different names for different shades of amethyst, but not all are recognizable by most people. You may hear terms like lilac amethyst or royal purple amethyst. Amethyst is more distinguished by the location it's found in, rather than the shade of purple.
African amethysts have more reddish hues in their purple, almost like a raspberry color. They also tend to have some inclusions. Most amethyst don't have many inclusions, or bits of crystal trapped inside the stone.
Brazilian amethysts are held in high regard as well. These don't have inclusions like African amethysts.
Siberian amethyst, the most valuable of all. This stone has a deep purple with flashes of red and blue in certain light
Amethyst Lore & History
When we trace February's birth stone back to its first uses, there's a lot of mixed history and lore that comes with it. You already know the meaning of the word and how it used to be believed amethyst would keep you from getting drunk.
Lore
But let's go a little deeper into that lore. The Greeks believed that Amethyst was a young woman who became the subject of Dionysus' fury after he got drunk. She got scared and begged the Goddess Diana to help.
Diana obliged by turning her into a white stone to keep her safe from him. When Dionysus realized what a jerk he was being, he sobbed, tipping over his goblet of red wine. The red wine spilled on the white amethyst and turned it the reddish-purple color we see today.
History
Before the 18th century, amethyst was highly regarded as a valuable gem in the Renaissance periods. It was often found among the royals and their jewels. But then the Brazil amethyst deposits were found.
The amount of amethyst in those deposits quickly made everyone realize amethyst was not as rare as they thought.
Famous Amethysts
Delhi sapphire
Under the name Delhi sapphire, this famous stone is actually purple amethyst. It was stolen from an Indian temple and is said to be cursed. The British Museum of Natural History discovered in one of their old vaults.
Along with the Delhi "sapphire", there was a letter from the last person who possessed it, saying the stone brought bad luck. The caretaker of the museum did not heed the warning and took it on a trip.
Napoleonic amethyst parure tiara
Actually, this famous amethyst jewel didn't start out as a tiara. It was originally a necklace of 15 large amethysts with diamond halos around them. It was first owned by a French empress named Josephine, who was also the first wife of Napoleon.
The gorgeous was fashioned into a tiara frame shortly after Queen Silvia's coronation. The necklace was part of set, or parure, that also had drop earrings. One amethyst and the surrounding diamonds was taken out to make the tiara. It is able to be worn as a hairclip or a brooch.
The piece has been worn by many women, but remains a current favorite of Crown Princess Victoria, the daughter of Queen Silvia.
Duchess of Winsor's amethyst & turquoise necklace
The Duchess of Winsor hand-picked each jewel on this necklace, with the exception of the turquoise. The Duchess was a big fan of the combination of amethyst with turquoise and commissioned Cartier to make a necklace of it.
The necklace has 29 amethysts, diamonds, and turquoise cabochons. The chain is a yellow-gold sturdy rope chain.
The Duchess also asked for a matching bracelet and ring. The bracelet had 5 rows of amethyst beads and 2 rows of turquoise beads. The clasp of the bracelet was shaped like a star, featuring a hexagonal amethyst gem. Turquoise and diamonds outline the star.
The ring made to match the bracelet by using the same hexagonal amethyst cut as the center stone. The side stones are of course made out of diamonds and turquoise cabochons and nicely complements the bracelet.
The amethyst and turquoise necklace was sold at an auction in Geneva, and it went for $605,000.
Amethyst in Crystal Healing
Amethyst is not only found in gem form, but also in rough, crystal, cabochon and tumbled. When used in crystal healing, amethyst is used in all these forms, with the exception of the gem itself.
Mental properties of amethyst
In crystal healing, amethyst belongs to both the third eye chakra and the crown chakra. It is believed to increase psychic abilities and awareness, protects against outside emotional stressors, help with insomnia, and bring balance to intense emotions of anger, depression, anxiety and fear.
If placed in the home, amethyst will cleanse your home of negative energies and protect everyone within the household from other negativities.
Wearing amethyst will help give you patience, stress release, and help in overcoming addictions, especially substance addictions.
Physical properties of amethyst
Physical ailments amethyst is said to relieve include headaches, digestive issues, lungs and respiratory illnesses. Amethyst is strengthening the body against cancer, destroys tumors and helps rebuild tissues.
While there isn't 100% concrete evidence to support crystal healing, there is science to support the idea of it. For more information on healing crystals, check out this post. (insert link to crystal healing post)
Also read
Cleaning and Caring for Amethyst
If you are the recipient or owner of a brand-new amethyst piece of jewelry, you'll want to take care of it by following a few guidelines.
Don't leave your amethyst in prolonged light, like in the summer. Birthstones and other gemstones can be altered by heat, so if it's beach day, leave the amethyst at home. Otherwise, your amethyst could start to fade.
Amethyst can be soaked in warm water with a mild dish soap for about 20mins. Using a soft-bristled toothbrush, you can scrub away any impurities and then pat dry with a paper towel.
If you are using a jewelry cleaner, make sure you are using the cleaner that corresponds to the type of metal the amethyst is set in. Two-tone sterling and gold jewelry can still be cleaned in gold cleaner. Gold can't go in silver cleaner because of the high potency.
Different brands of jewelry cleaners do different things to, so always make sure to do your research on which might be best for you.
Related
How to Pick Out the Best Amethyst
When buying an amethyst, you'll have to decide what kind of color grade amethyst you're looking for. In grading terms, amethyst is graded under the following: AA, AAA, or AAAA.
AA – This grade includes around 50-75% of all natural amethyst gemstones. Color may be light to medium and could have medium to heavy inclusions. You can find amethyst like this at retail jewelry stores found in corporate retail jewelers found in malls.
AAA – Amethysts of this grade count for around 20-30% of amethysts. These ones are usually a mid-dark purple and may have some slight inclusions. Popular independent jewelry stores tend to carry amethyst of AAA grade.
AAAA – If your amethyst is of the finest grade, it is likely that it is a brilliant cut, which is the best cut to show off the beauty of this stone. Amethysts with this grade will be clear of inclusions and be a deep purple. With this grade, your amethyst is part of the top 10% of amethysts in the world.
If you shop online for amethyst, make sure that what you're buying is a genuine amethyst. There are many different kinds of purple stones being passed off as amethyst or even just being called amethyst for the sake of keyword purposes.
Synthetic amethysts (also known as lab-created amethysts) and cubic zirconia (CZ) are often the stones these imposters try to pass of as amethyst. Cubic zirconia is used in cheap birthstone jewelry you might find at girly shops that carry rhinestone studded wallets and tiaras.
Remember, there is no real cost difference between lab-created amethyst and natural amethyst, so it's better to get the natural one.
Guess you like
Fun Facts About Amethyst
Not only is amethyst the birthstone of February, but it is also the traditional gift given for the 6th and 17th wedding anniversary.
Remember when we talked about ametrine, the gemstone that's a cross between amethyst and November's birthstone, citrine? Turns out, there's only one commercial mine of ametrine in the world, and it's in Bolivia.
Amethyst makes a great gift for Valentine's Day! It's actually said that St. Valentine himself wore an amethyst ring
Amethyst is still part of the British crown jewels.
Not only does amethyst come as itself and citrine, there is also green amethyst. It can be referred to as green quartz, or it's real name: prasiolite.
What Your February Birthstone Says About You
If you are born in February, your birthstone is one of royalty. People born under amethyst are said to be sobering, honest, and clear-minded.
Aquarius and Pisces zodiac signs have the birthstone of amethyst, though some Pisces have aquamarine as their birthstone.
It is said that your birthstone grants you special advantages that perpetuate your destiny in life. With amethyst as your birthstone, you are able to manage overwhelming obstacles better than most people. You see things from an analytical point of view and are not generally ruled by your emotions.
You are good at calming people in times of stress, whether its talking to them or simply being there for them. When it comes to love, February babies fiercely protects their loved ones.
Because amethyst is heavily rooted in spiritual and psychic energies, people born under amethyst are more prone and sensitive to psychic energies, if tapped into.
To Wrap Up
February babies, I hope you've enjoyed the unraveling your truly royal birthstone, amethyst. Whether you are wearing amethyst, using it for healing, or cleansing your environment of negativity, it is clear that amethyst is a stone fit for royalty.