One of the best things about jewelry is how personal it can be. There are people who pass by a jewelry store and all they can think about is how could anyone spend that much money on something like a diamond.
But then there are others. These are the ones who look at a diamond pendant and see personality, individuality, and artistry. With so many different types of diamonds, gemstones, metals, and styles, it easy to project your entire being into one beautiful piece of art.
One of the most beautiful and popular settings chosen today is the pave setting, an cost-effective option.
What is a Pave Setting?
The word pavé is French, meaning paved. This is an apt style name due to the fact that pavé settings are "paved" with diamonds.
The diamonds in a pavé setting are encrusted with small diamonds. The diamonds range in size from small to chips. Chips are very small bits of diamond that glitters when catching the light. It's a beautiful effect.
Depending on size of stones and prongs that hold them, some brands further define pavé settings into three types, from bigger to smaller:
Pavé
Petite pavé
Micropavé
Pavé diamonds are generally between .01-.02 carat points and anything smaller than that is referred to as micropavé. Lastly, petite pavé is when the diamonds are larger than micropavé, but with the same small prongs.
Upsides of buying a pave setting
Pavé settings work with many styles.
No matter what your taste in rings are, pavé will work with any style of setting. Pavé diamonds are very popular in vintage styles or settings that have milgrain in them. They are also popular within halo settings.
Better for a budget.
Small diamonds are what makes the pavé setting what it is. Instead of spending money on larger diamonds, pavé allows for a gorgeous and almost preferred budgeted option.
Accentuates your center stone.
Pavé styles are great for someone who does not want a classic solitaire setting, but still wants their center stone to be the star of the show. Pavé diamonds serve as a path to your center stone, highlighting it, not detracting from it.
Balances out imperfections.
If you aren't able to purchase the clearest, most brilliant diamond, a pavé setting is great to help balance out features you'd rather not make apparent, such as color or clarity.
Pave settings work with any shape.
Because of their uniform size and shape, pavé settings complement any shape of diamond. It is the most versatile setting that bring the beauty out of any diamond cut.
Downsides of buying a pave setting
A potential problem with sizing.
At most retail jewelry stores, stock size is a 6.75. With some pavé settings, the small diamonds go further down the band.
If they go further down the band and are also sized up or down more than one full size, the setting is compromised and you can lose stones. Most pavé settings like this have to be special ordered in the desired size.
Likely to fall out
The smaller the diamonds, the more likely they will fall out. Be careful with how small you want your diamonds in the pavé. Because of the way they are set, your tiny diamonds can fall out as there's very little metal holding them in.
The eternity band
One of the most popular styles of pavé settings is the eternity band. Eternity bands are pavé settings styled with small diamonds that go all the way around the band. The metal is very hidden and it projects a forever circle of diamonds.
Egyptians associated the ring with love and eternity, thus creating the eternity ring concept. Eternity rings are typically given as an anniversary gift rather than used in a wedding set. The shine most beautifully on their own, or as a stackable.
While the concept of never-ending love is romantic and heartfelt, eternity bands unfortunately lack an element of practicality. You might think that you are careful with your jewelry. You might always take off your ring when working with water, chemicals, or gardening.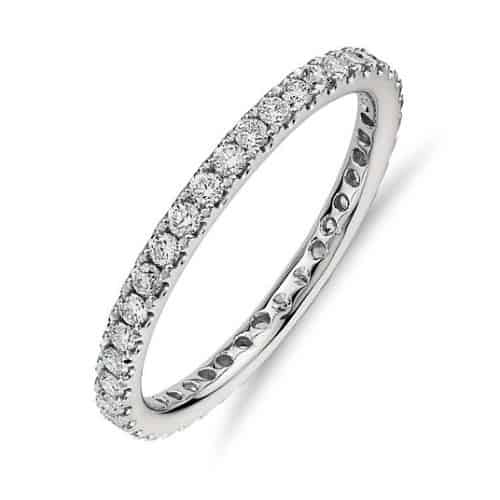 But because these stones travel below the band they are getting knocked around more than you realize. In most settings, the stones do not travel too far down the band for sizing and durability. The metal can withstand the little bumps on the counter, or hitting against your keys.
With small diamonds there, the more they get tapped, the looser they become. Even the most cautious of ring-wearers can lose a stone. It isn't necessarily the quality of the eternity band that is durable, but the overall style isn't completely practical.
Now, this isn't true with all eternity bands. Some people own an eternity band for years and have never lost the stone. They wore it every day and it never compromised. But there's been enough reports of stones falling out to be able to tell you that it's a common issue with eternity bands.
How Are Pavé Settings Made?
When creating a pavé setting, professionals need to choose the right thickness of the metal. The metal has to be just a bit wider than the diamonds are going to be set. Pavé styles can be done in silver, gold, or platinum.
---
Related:
Sterling Silve, Pure Silver and 925 Silver: Are They the Same?
Can You Prevent Silver From Tarnishing (and Keep it Shine)?
Platinum, White Gold, Yellow Gold and Rose Gold: What Makes them Different?
---
A grid is then carved into the metal. They have to be measured equally apart from each other. The squares in the grid will need to be big enough to hold desired stone size.
At the points in each square, pilot holes are drilled. Pilot holes are drilled by what's called a drill bur. A round drill bur drills the holes in which the diamonds will sit in.
A tiny saw is then used to create extra grooves in the grid, making stones sit more securely by being surrounded by the metal.
Ring designers then start placing the diamonds into the grooves within the grid. Every groove has to be meticulously designed, as each square must have the exact same measurements. If the depth is just a tiny bit off, the diamonds will be uneven and the risen stone can be knocked loose.
After making sure every stone is at the same level within the metal, a rotary polisher is used to remove any bit of metal remnants from carving the metal.
A beading tool is then used, dripping tiny beads of the metal onto points of the diamonds. This serves as the "prongs" that would secure your stones. But instead of prongs, the beads securing them like pushpins.
Those same beads used to secure the diamonds are also used to drip over the metal creating many beloved milgrain and vintage looks that are so popular today!
You can also enjoy this video clip, which shows how the craftsman "paves" 186 tiny diamonds.
How to Pick Out Pavé Diamonds
When buy pave diamonds, it's important to know what you are looking for, especially if you are custom designing a piece.
Pavé diamonds, like all diamonds are rated by the 4Cs. If you haven't read any other articles, we'll do a quick refresher on what those are.
Cut – The overall design and craftsmanship of the diamond
Color – How colorless the diamond is
Clarity – Having the least amount of natural inclusions.
Carat – The weight of the diamonds used in the setting
While you may have heard that clarity is a factor in larger carat rings that you do not want to compromise, the same is not true for diamonds in a pave setting.
Ideally, it would be amazing if we could all afford the clearest, colorless, excellent cut diamond, but as I'm suspecting, it's probably not within the average budget.
They say that with the larger carat diamonds, you should compromise in color for budget purposes, but there are ways to create a piece that makes the diamond look colorless instead of light yellow.
---
Guess you like:
CTW and CTTW: What's the Meaning?
Types of Diamond Cuts: Your Comprehensive Guide 2020
---
With pave stones, because many of the popular pave styles are micropave, you don't need a high clarity because the stones are so small, you couldn't even see the tiniest of inclusions. Of course, the larger the pave stone, the higher clarity you'll need.
You also don't need to worry too much about color because the smaller they are, the whiter they look. But overall, pave stones are not meant to be the star of the ring, and the color is not noticed when set in conjunction with a center stone of good color.
After deciding which grades of the 4Cs you want in your pave setting, you must make sure you are able to afford the exact same grade scale for every stone in the setting.
Do not compromise a few of the stones. This will cause an unevenness in the brilliance and sparkle of the piece and have the opposite effect. The stones will look dull, even dirty.
Once you get your piece back from a designer or a jeweler, it's important to inspect the craftsmanship of the pavé setting with a jewelry loupe. They are 20x magnification to look at jewelry pieces.
Check and make sure there are no loose stones. Inspect the diamonds and make sure they are all level and there are no irregularities in the sparkle. Make sure none of the diamonds are chipped, cracked, or damaged.
It's important to make sure the alignment of the stones is uniform throughout, especially if there are multiple rows of pavé diamonds. The tiniest part of the alignment gets thrown off and the whole piece is compromised and looks off.
So, as long as you keep this criteria in mind when shopping for pavé settings, you are now capable of being able to pick out a beautiful pavé setting.
Now You Know, So Go Buy
You've been informed of everything there is to know about pavé settings. After reading this article, you should feel more confident in knowing if pave style is the right one for your ring.
This setting has so many positives and so few negatives. However, for some, the possibility of losing stones is not worth the show of the setting. Whether or not pavé settings are your style, you cannot deny their appeal, cost, and popularity.