Chrysoprase and chrysocolla are two very intriguing stones. Both of them boast an impressive range of healing properties (from the physical, to the emotional, to the mental).
They're incredibly useful tools to have around, in terms of boosting your capacities for self-development – and better relationships with the others around you – in both your personal and professional life. Sound intriguing? Too right it is!
Chrysoprase vs Chrysocolla: Know the Differences
These stones might have very similar names but they've sure got very different applications! Here, we'll delve into the detail on chrysocolla and chrysoprase.
What is it that makes these gemstones so eye-catching? What are their ancient associations? 123What are their healing properties and how can you effectively incorporate their powers into your daily life?
Let's get to it!
Chrysocolla – is closely associated with the Earth itself. Its mixed tones of blue and green align it with the natural shades of our planet, creating this strong link between the stone and its original source.
Chrysoprase – is known for its more delicate green-toned colors. It often includes mixed shades of yellows and greens, creating an interesting dappled appearance.
Chrysocolla healing powers
Chrysocolla is renowned for its strong connection to the fundamental properties of the Earth. These feelings of harmonious connection and a pure link to our surroundings also connect to the effects of chrysocolla on the body.
Instilling greater harmony and cleanliness in the body enhances its ability to naturally defend itself against the infections, illnesses and ailments that might affect it day to day.
Within this general ability to increase our body's natural defense mechanisms, chrysocolla is especially linked to helping us recover from infections more easily, as well as better dealing with changes in pressure within our blood circulation.
Of course, you should always consult a medical professional if you have any concerns about physical or mental issues that you might be experiencing.
Also read
A Guide of Blue Gemstones You Can Actually Buy
Healing Properties of Selenite
Chrysocolla and symbolism
We've seen the close link between these stones and the planet Earth.
Many sources state that these gemstones embody the ancient forces of nature, showing their predominance over any human influence that has arisen over the years.
These gemstones also enable us to better tune into the nature around us, giving us better understanding of – and appreciation for – the natural elements that often go unnoticed in our modern lives.
So, in a nutshell, these stones symbolize the awe-inspiring power of Mother Nature, reminding us lowly humans of the phenomenal forces that are at work around us every day.
Chrysoprase healing powers
Chrysoprase is known for its no-nonsense effectiveness: it's hailed as a real smooth operator in the world of gemstones! So, if you're looking for a stone that will help your body to rid itself of niggling impurities and blockages, why not give using chrysoprase a try?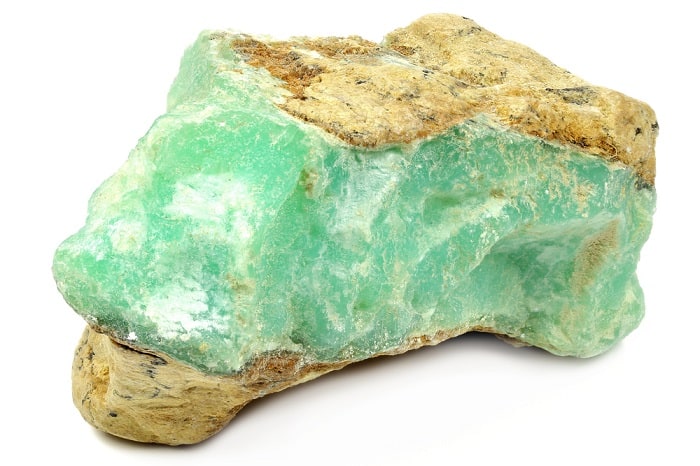 This stone is also known for its ability to boost the body's metabolism, generating a feel of renewed invigoration. Plus, it's been said to contribute to relieving pain that may be experienced due to rheumatism, as well as helping to strengthen our natural eyesight.
Chrysoprase is associated with relieving the effects of narrowed or blocked arteries within the body, helping to restore a feeling of balance and a fully functional circulation system.
Of course, it is always best to consult a medical professional if you have any doubts or concerns about symptoms you may be experiencing.
This stone is also claimed to calm acne, should your skin be prone to outbreaks. Simply place the chrysoprase stone in clean water overnight and then use the chrysoprase-infused water to wash your face the following morning.
Guess you like
How Many Types of Green Gemstones Are There?
8 Best Healing Crystals for Anxiety
11 Best Crystals for Focus: Saving You from Mindlessness
Chrysoprase and symbolism
Some healers say that these gemstones embody purity in a physical sense, but also in a more emotional, mental and spiritual sense.
Chrysoprase allows us to cleanse away the trappings or confusions that often inhibit us from behaving in a truly authentic manner. Of course, delving deep into our inner thoughts and feelings does require some bravery, as well as a significant amount of confidence to then share these with the wider world.
Handily, chrysoprase also has closely links to increasing our general levels of self-confidence, allowing us to start on this path to clearer and more truthful communication, both with ourselves and with others.
Chrysocolla: Wider meanings
Chrysocolla and communication
Very much a stone of mediation, chrysocolla enables us to better:
Access our ability to forgive those who might offend or misuse us
These stones can help us to rise above any petty, unhelpful grudges that we might be feeling, enabling us to move on from a negative situation more effectively.
Channel our desire to create peace in the difficult situations that we might find ourselves in
If you're facing a situation of emotional conflict, this property can be very useful to help you keep a level head and calm down others in a tricky situation.
Forge and maintain deeper connections on an emotional level with those around us
This applies to relationships that we already have, improving our emotional connection to lead to deeper understanding, and also to relationships that we are yet to form.
Related
Sterling Silver, Pure Silver and 925 Silver: Are They the Same
Popular 20 Types of Bracelet: Find Your Style
Access our own ability to empower ourselves, bringing about greater self-belief and confidence
These gemstones are known for increasing our personal resilience and faith in our own capabilities.
If you're facing an upcoming challenge, use these stones to instill a feeling of confidence in yourself, preparing you to take on any difficulties that might be coming your way.
Combine traits of personal strength with a gentle, welcoming approach to others around us
A strong sense of self, including belief and confidence in our own abilities, does not mean we need to become overbearing.
These gemstones allow us to access our most confident selves, while still maintaining a gentle approach to others around us. This enables us to form closer, more productive relationships with others, rather than pushing them away.
Chrysocolla and professional life
Renowned for its professional applications, too, chrysocolla also helps us to:
Bring out our professional acumen, helping us to make more insightful and well-informed decisions
Clarity is key in a professional environment and this gemstone can help us to gain greater levels of it.
Increase your capacity to effectively analyze the situations that are unfolding around you, reacting quickly and astutely to create the best outcomes.
Optimize our cerebral activity, while maintaining a clear head
Speedy decision-making combined with effective analysis of both professional and personal situations is quite a bit for one brain to handle!
This gemstone helps us to enhance our own cognitive capacities, while keeping our minds clear of muddling emotions.
You migh like
Necklace Chain Types: A Guide for You
Is Rhodium Plating Harmful to Jewelry
Can You Prevent Silver From Tarnishing (and Keep it Shine)
Wider Meanings of Chrysoprase
Chrysoprase and the mind
Chrysoprase has long been associated with enhancing specific mental functions. These tones can effectively enhance our ability to:
Bring the conscious and unconscious facets of the mind into balance
Regulating, processing and understanding our own thoughts and feelings can be a real minefield sometimes. These stones can help us to find some balance here, bringing the conscious and unconscious elements of our being into better communication.
Plus, better interpretation of our unconscious selves can help us to more effectively interpret the messages we might find in our dreams.
Cultivate happiness from the situations in which we find ourselves
Making the most of the situations that arise in life is an integral skill for finding happiness. Leave those "the grass is always greener" thoughts in the fantasy place where they belong and focus on the here and now.
What do you have that makes your life positive? Re-appreciate the little things and you'll realize all over again that contentment is wherever you choose to look for it.
Work on our friendships, optimizing the meaningful connections that we experience with other people around us
These stones are known for helping us to create and preserve functional, meaningful links with the other people around us.
This could be in a personal or a professional sense – but we'll take a look at more of these stones' professional applications a littler later on.
Like chrysocolla, it's been long for these gemstones to have associations with happy, long lasting marriages. We've got the Ancient Greeks to thank for that, as they first linked these stones to making a marriage stick!
More with the mind
Make use of good luck and fortuitous situations, if and when they arise for us
Learn to recognize good fortune when it comes around for you. That way, you'll be able to make the most of any opportunities that arise.
Luck is all about keeping your eyes and ears open! These gemstones can help to sharpen our ability to take advantage of the doors that open up around us, as well as guiding these opportunities into our paths.
Channel our own feelings of inner fortitude
Do you feel that you need a little boost on occasion to tell you that "yes, you really can do it"?
These gemstones could be the added reassurance that you need to take that step into the next unknown. Let them guide you, assure you that you've got what it takes and help you to access your inner strength.
Access our personal reserves of bravery
Like we've seen, these stones could be that extra boost you need in your corner!
This is another property that stems from Ancient Greek beliefs, as they closely associated this gemstone with beneficial physical healing properties.
The Greeks believed that leaving the gemstone out under the light of a half moon would effectively recharge its healing properties. You never know… why not give it a go?
Increase our feelings of self worth
We all need some extra self-love sometimes. Sources link these stones to increased feelings of self-belief and self-worth, increasing those positive yes-you-can thoughts.
Help us to move past the negative feelings associated with the end of a relationship
An integral part of this process is the recovery of good levels of self-esteem. So, why not let these stones give you the boost you need, while everything is still sorting itself out?
Also read
Types of Diamond Cuts: Your Comprehensive Guide
20 Types of Ring Settings: Find the Perfect Design For You!
Is It a Good Idea to Buy an Uncut Diamond?
Chrysoprase and professional life
These stones also have significant weight in our professional lives, if we use them correctly. See if chrysoprase can help lead you to:
Increase success in business and planning
Increased clarity – of mind and of purpose – can help you to bring about key improvements to your business strategy and communication with others.
These gemstones can enhance the quantities of good fortune that we experience. They also give us the good sense to make the most of these chances when we do see that they're arising around us.
Generate and preserve prosperity
Profit is, of course, a component of success – whether that's monetary or otherwise. Use these stones' powerful vibrations to bring you inspiration and tact, helping to generate opportunities for prosperity and to capitalize on these situations once they come about.
Increase your positive sense of self and overcome any feelings of inferiority that you may be experiencing
Are there niggling, negative voices in your head that tend to hold you back on occasion, chipping away at your self-confidence? Use these stones to re-harness your sense of self in a professional sense, as well as increasing your general self-esteem. Plus, wave goodbye to unhelpful inferiority complexes – they're just stopping you from being you!
Chrysoprase vs Chrysocolla: How are They Used in Jewelry?
Chrysocolla is actually too fragile to be used in jewelry, unless it is treated with specific chemicals.
The sea green and sea blue colors are very popular for jewelry. So – if you can't find a well-treated chrysocolla for use in jewelry pieces, how about opting for turquoise as a more durable substitute? It might be interesting for you to try out.
Chrysoprase is a far more durable stone, so works well in all kinds of jewelry. Clean your jewelry pieces with some warm, soapy water and then store them in a soft, clean cloth to protect them from any scratches.
Related
Top 5 Best Ultrasonic Jewelry Cleaners