Blue is perhaps the most popular gemstone color used in Jewelry. From the rarest blue diamonds to common blue chalcedony, there are hundreds of blue gemstones to select from. From a psychological point of view, the color blue is associated with calmness, gravity, power, knowledge, stability and depth. It also symbolizes truth, faith, trust and confidence.
In all their shades, vividness and textures, blue gemstones are dazzling. That explains why blue is a popular feature in engagement rings. Do you know that the most iconic engagement ring in the world (the one initially won by Princess Diana and currently by Kate Middleton) features a big blue Ceylon sapphire?
The following is a comprehensive blue gemstones list:
24 Popular Blue Gemstones
1. Agate – (Soft Blue Color)
Agate derives its name from Sicily's Achates River. A Greek naturalist discovered this stone around the region between 400 and 300 B.C. Agate, particularly the South American variety, is usually grey in its natural form.
Just like many other variations, the color in blue agate comes about through dyeing. However, some blue agate like blue lace agate and ''Holley blue agate'' occur naturally.
Calmness characterizes the stone. It boasts great healing energies. Many people believe that blue agate lessens various stresses and negative energies. The stone is great at releasing tension and helping one relax.
Just like with other agates, you can clean this one with a soft brush and soapy water. Avoid exposure to extreme heat and household chemicals.
Guess you like
2. Amazonite – (Teal Color)
This teal-colored stone is found in Brazil, Australia, Colorado and Virginia in the United States. The ancient Egyptians believed that it had healing powers.
It boasts calm and soothing powers on the nervous system; no wonder it is used in curing trauma and other energy taking conditions. The stone is also believed to enhance love.
Amazonite is used to make ornaments such as pendants, earrings, necklaces, and tie-tacks.
This stone is sensitive to chemicals and heat. To clean it and maintain its luster, use water at room temperature and mild soap.

Also read
3. Apatite – (Translucent Teal Blue Color)
The first people to identify Apatite's chameleon-like properties were the Greeks. They also established that it boasted the ability to resemble other beautiful crystals such as the Peridot.
This stone's meaning emanates from the Greek word that means 'to deceive' owing to its unique and changing properties. Apatite is a combination of different levels of hydroxide, chlorine, and fluorine.
It contains the same elements that constitute our tooth enamel, thus making it excellent for healing dental issues as well as mending broken bones.
Given this stone's inspirational qualities, you can use it if you are looking for encouragement for a peaceful respite from the stress and confusion of the modern world. The stone helps at reawakening clarity which lights or illuminates the path of self-expression.
It provides the guidance needed to maintain the delicate balancing act between your daily responsibilities and following your dreams.

Related
4. Sapphire – (Blue Color)
In the early days, the Greeks used this stone to curry favor with their god Apollo. They wore it as they visited the Oracle of Delphi. In the Judeo-Christian tradition, this stone was associated with Abraham. It is among the twelve stones that were incorporated in Israel's high priest's breastplate.
Since medieval times, sapphire has always been associated with the tranquility and majesty of the heavens. As the stone was believed to symbolize heaven, middle ages clergy wore blue sapphires.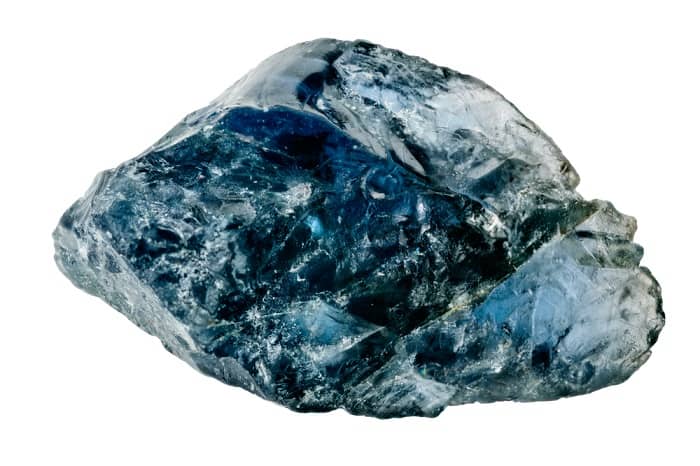 Queens and kings wore it for protection and to attract wealth. Many thought that the stone dispelled evil thoughts and brought amiability as well as peace to its wearer.
Around the 1800s, ruby and sapphire gemstones were classified as among the varieties of the mineral corundum. With its toughness, this stone stands up great to an array of cleaning methods. You can clean it with a soft brush and soapy water.
After washing it, you need to rinse it thoroughly. There is no harm in steam cleaning and ultrasonic treatment. Nonetheless, just like with the other gemstones, boiling gemstones is not recommended.

You might like
5. Azurite – (Turquoise Color Featuring Green Veins Throughout)
Azurite is found in some parts of Africa, China, Southeast Asia and the USA. It stimulates a person's intellectuals by enhancing creativity and promoting intuition.
This stone also has calming properties. Many people believe it can cure heartache and dispel negative behavior such as arrogance.
To prolong the life of azurite, you should keep it away from chemicals and heat. Additionally, avoid leaving the stone in the sun as it causes sun-bleaching.
During cleaning, use a soft cloth to wipe it together with lukewarm water and mild soap.

Also read
6. Azurite Druzy – (Dark Blue Color Featuring Natural Crystal Formations)
Azurite is among the most sought after blue gemstones. It is popular for its striking blue color that evolved over the millennia through reactions between oxygen, carbonate, hydrogen, and copper.
This stone features some deep contrasting shades of blue that emanate from its fusion with Malachite.
It is a gem when it comes to improving inner wisdom and creativity as it activates and cleanses the third eye chakra. To channel the healing properties of this stone, you should place it in your studio or office for a continuous flow of powerful energy.
As it enhances intuition and stimulates creativity, the stone is handy for use during a work session or as a study aid.

Guess you like
7. Labradorite – (Translucent Light Blue Color)
Labradorite derived its name in Labrador, which is a Canadian province located on the Isle of Paul. At some point, Inuits referred to this stone as a 'firestone.'
They would utilize powdered forms to cure ailments. Moravian missionaries of the 18th century were the first people to describe this stone. On top of that, they also introduced it into the European market.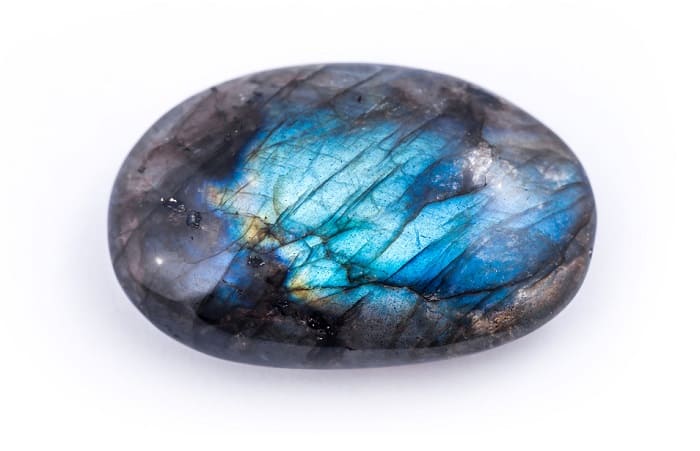 It is important to note that this stone is not exclusive to Canada only. It is also available in Finland, Russia and Mexico. Since it was discovered, labradorite has been sought-after for application in jewelry. Other than that, this stone is handy when it comes to the production of ceramic manufacturing, road construction and production of glass.
Many people consider it a tremendously spiritual stone. It is especially helpful to folks that tend to overwork by helping them regain energy while assisting the spirit and body in healing itself. Within the metaphysical world, this stone is considered among the most powerful protectors.
It creates a shield for auras as well as protects against the world's negativity. The stone boasts the ability to temper or combat the negativity within ourselves.
Because it features internal layers, the stone is prone to breakage if you strike it too hard. The same can happen when you apply too much pressure.
Because of this reason, many designers use it in necklace and earring designs over rings and bracelets to assist in avoiding direct blows. The best cleaning method is using water and gentle soap with an untreated cloth.

Related
8. Lapis Lazuli – (Medium Rich Blue Color)
Lapis lazuli is among the oldest opaque gems in history. It has been in existence for over 6500 years now. The stone's most known source at the foot of mountains of present Afghanistan.
Throughout the years, the Romans, Greeks, Chinese, Minoans, Babylonians and ancient Egyptians have used it as a form of art.
In the middle ages, painters ground up the stone to create a deep blue paint by the name ultramarine. The paint was handy at painting Mary of Nazareth's robes on ceilings and walls of churches such as the Sistine Chapel.
In South America, the pre-Columbian cultures like the Inca and Diguita were warring, trading and carving over the stone from mines in present Chile and Argentina.
The Sumerians were of the opinion that their god's spirit lived within the stone. The ancient Egyptians saw the stone as the night sky's symbol.
It is sensitive to abrasives, household cleaners, heat and pressure. Clean it with lukewarm soapy water and a soft cloth. Do not forget to store it dry.

Also read
9. Larimar – (Mix of Cloudy White and Blue Color)
Dreamy and mesmerizing larimar goes by different names – Atlantis stone, Caribbean gemstone and dolphin stone. According to reports, the stone was discovered by Father Miguel Domingo Loren in 1916.
However, it was not mined until a decade later when the Father together with Norman Rilling, a Peace Corps noticed a larimar piece on the shoreline of Barahonas province.
The general feeling is that Larimar is a calming stone that offers countless incredible healing powers. Some consider it to aid in communication. The stone is associated with the throat, third eye, heart and crown chakras.
Many holistic and alternative healers utilize larimar for an array of spiritual, emotional and physical practices. It promotes relaxation in the wearer. You can use it as a worry stone.
Many jewelry artists normally incorporate the polished and freeform version of larimar pendants as well as cabochons into necklaces and earrings.
Because of its soft nature, this stone should be handled and cleaned with the most care. You need to avoid chemicals, heal and rough handling.

Also read
10. Aquamarine – (Light Translucent Blue Color)
This blue gemstone is associated with the sea due to its color. The stone is found in Brazil, some parts of Africa and Pakistan.
In ancient times, the aquamarine stone was believed to offer protection for those at sea making them fearless and keeping them safe. Because of this, the aquamarine gemstone is a common gift among those travelling at the sea.
The stone is believed to bring success, happiness and peace to the wearer. It also helps couples in marriage to work out their differences by maintaining balance and order hence making it a worthy gift for wedding anniversaries. The Aquamarine gemstone has an energizing quality that brings good luck to the wearer.
Proper care is necessary to prevent fading. Avoid exposing the stone to the sun and extreme temperatures.

More about Aquamarine
11. Cats Eye Aquamarine – Semi-Translucent Light Blue Color
Cat's eye aquamarine occurs in most localities that yield ordinary beryl. The most popular source of this stone is Sri Lanka, Madagascar and Brazil.
Under sunlight, the color of this stone fades to white. Heat treatment can also cause the stone to fade its original color. To get the original color, you can treat it with irradiation treatment.
It brings with it properties and meaning to calm the mind. Through calming of rough emotions, the stone can help you make a calm judgement. It brings peace and stability to the wearer. If stress and baggage characterize your life, you should use this stone every day in your life.
The stone also boasts the power to reconcile with power. If you have rivals and enemies, use this stone to avoid unnecessary conflicts.

12. Hemimorphite – (Light Blue Color)
Found to resemble smithonsite, Hemimorphite is found in the United States, Germany, Italy, Mexico, Romania and Belgium. It was mined for many years from parts of zinc ores.
Hemimorphite is believed to bring about spiritual growth by removing ego-centric attitudes. It promotes compassion and empathy during interactions with others. Moreover, the stone cures headaches, reduces ulcer-related pain and encourages weight loss.
Care and storage involve storing it on its own or in a soft layered jewelry box to prevent scratching. Cleaning entails the use of warm water, mild soap and a soft brush to clean the edges.
Avoid exposing the stone to any chemicals, cosmetic sprays and creams as these would cause the stone to wear out its lustre.

13. Jadeite – (Striking green color)
Jadeite is among the two forms of jade. Many people love it in their jewelry because of its prominent green color. Thousands of years ago, these stones were used as weapons.
Its toughness makes it an excellent choice for carving into tools and axe heads as well as customary artifacts. It did not take ages before ancient civilizations noticed the stone not only for its durability but also for its attractive nature and prospective metaphysical abilities.
Cultures in central America would sometimes hold it against their sides to assist cure ailments. The Chinese have valued this stone and used it for an array of purposes. Primarily, they used it to possess health-strengthening abilities as well as to improve longevity.
According to the Chinese, jadeite bangle bracelets are handy at absorbing negative energy and protecting the wearer.
The feng shui holds that this stone is able to not only influence health but also prosperity. Ancient cultures, at least most of them, considered it a 'dream stone.'
Today, it is handy at encouraging creativity and accessing the spiritual realm. The best way to clean it is by dipping in soapy water and using a soft cloth to wipe it.
Because of its porous nature, it is prudent to avoid submerging this stone completely in water. Before you store it, make sure that it is completely dry. Avoid using ultrasonic and steam cleaners.

Related
14. Kyanite – (Dark but Rich Color of Stone)
Abraham Werner named Kyanite in 1789. It draws its identity from cyanos a Greek term. There is no doubt that Kyanite is among the most attractive blue minerals available.
Sometimes, it exhibits intense shades of blue or even several shades with color zoning in one crystal. Until the mid-20th century, the French spelling cynaite was highly common.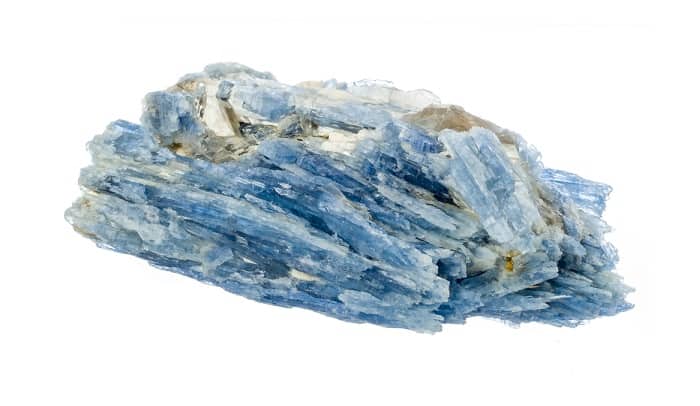 In its non-gemstone form, Kyanite is used in abrasives, electrical insulators, electronics and ceramics. It forms under specific metamorphic conditions that make it an "index mineral" which is a material that assists geologists to approximate the pressure, temperature and depth of its surrounding matrix.
It is strongly believed that this stone facilitates meditation. Some practitioners usually consider its meditative power to be among its defining features. Some folks are of the opinion that this stone aligns with chakras automatically such as Wi-Fi that is perpetually on.
Others believe that its abilities include promoting a balance of male/female energies, perseverance against challenges, growing awareness of others and stimulating communication.
Although Kyanite is durable, it is complicated. Its anisotropic properties make it a brittle stone that is susceptible to splitting along its 'grain.'
You should never clean it by placing the stone in ultrasonic cleaners or steamers. What is more, it is prudent to avoid household chemicals such as bleach during the cleaning process.

You might like
15. Chalcedony – (Light Translucent Violet Blue Color)
Chalcedony is a natural form of silicon dioxide. It is a cryptocrystalline variety of Quartz. This nurturing stone promotes goodwill and brotherhood.
It is great at absorbing negative energy. The stone brings the spirit, emotions, body and mind into harmony. Chalcedony instills feelings of generosity and benevolence. With it, you can be able to alleviate hostility and change melancholy into joy.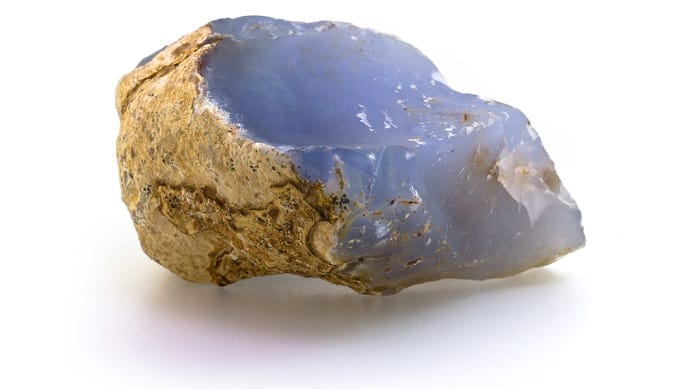 The stone not only eases self-doubt, but also creates enthusiasm and openness. It absorbs and dissipates bad dreams, emotions and negative thoughts.
Blue chalcedony imparts verbal dexterity and mental flexibility. It stimulates your ability to learn new languages as well as improve memory.

16. Sodalite – (Dark Blue-Purple and Gray Color)
Sodalite is a stone that many people often mistake it for others. It is unimaginatively named because of its high sodium content.
At first glance, you can easily mistake lapis lazuli and Sodalite for each other. Nonetheless, lapis usually contains pyrite flecks that make these two stones look different on a closer look.
Before the stone's official entry into the western mineralogy, this stone was known all over the Americas. Nonetheless, around 2600 BC, the Caral residents traded this stone in what is currently Peru.
Sometimes, this stone is considered a guardian for heroines and heroes particularly for those that speak the truth to power. Folks believe that it boasts the ability to unite intuition with logic.
If you are a beader that loves deep and rich blue stones, then chances are high you will not keep your hands off Sodalite.

17. Turquoise – (Light to Medium Blue Color with Some Green Throughout)
While turquoise has enchanted the imagination of man for many years, no one is certain of its discovery date. The history and beauty of this stone are unmatched. There is no doubt about that.
Steeped in intrigue and history, this stone has been used in religion, treaty negotiations, trade, and art by many people and kingdoms. Whether you study Native American people, Aztec Mythology, Chinese Dynasties and ancient Egyptians, one thing is clear – turquoise has been, is and will always be a stone of good fortune, beauty and life.
An official December birthstone, many people herald this one as the stone of communication. It not only provides understanding but also encourages attention to detail while at the same time attracting success and prosperity.
The stone's sprawling coppery matrix lines offer a huge amount of energy to the person wearing it. Perhaps that is the reason why turquoise is prized as a highly powerful talisman boasting healing properties.
A notable highlight of this stone is the fact that it is a hydrous compound of aluminum and copper. Therefore, it loses color when dehydrated.
To prevent your treasured blue gemstone from becoming dehydrated, it is prudent to water it just like would your plants. Using pure saline water goes miles to revive or maintain its color.
Due to its porous nature, chemicals can damage your stone. You should only use pure water with a soft cloth to wipe your stone.

More about Turquoise
18. Chrysocolla – (Dark Green and Blue Color with Countless Veins of Each Color Running Through)
This soft gemstone is found in a number of places with copper deposits such as England, France, Australia and Zaire.
It occurs in a blue-green color which brings with it a deep sense of calm. In the early times, the stone was used by goldsmiths as a solder ingredient.
Chrysocolla gemstone is associated with feelings of calm, peace, and love. In negotiations worldwide, the stone is used to bring reconciliation and resolutions. It can also strengthen the body's immunity and cause emotional healing.
You can clean it using soapy water and a soft cloth. In addition to avoiding exposing Chrysocolla to extreme heat, you should store it on its own to prevent scratching.

19. Blue Diamond – (Rich Translucent Blue Color)
The term diamonds come from the Greek word "Adamas," which means unbreakable. Diamonds are popular all over the whole world.
They come in different colors such as pink, yellow, black and blue. However, colorless ones definetely dominate. The color of diamonds is among the factors that determine their value.
Diamonds are believed to bring clarity. They can also prevent any misunderstandings. Diamonds also represent commitment, faithfulness and purity hence making them a popular feature in engagement and marriage rings.
They are also believed to have healing properties which calm the mind and body by detaching it from unwanted thoughts and things.
Because these gemstones are hard, cleaning them entails the use of jewelry liquid cleaners and steam.

Related
20. Dumortierite Quartz – (Violet-Blue Color)
A deep blue gemstone, dumortierite gemstone is named after a French paleontologist who first discovered it in France.
This gemstone is found in Peru, Europe, Brazil, Sri Lanka, Canada and the united states. Dumortierite is used in the manufacture of necklaces, beads and porcelain of high grade.
This stone is believed to have qualities of high discipline, self-dependence and brings about memory. Due to its hard nature, you can clean it using an ultrasonic cleaner as well as soapy water.

You might like
21. Fluorite – (Many Colors with Blue Being the Rarest)
Fluorite comes in a number of colors such as purple, yellow, green and white. The name fluorite originates from Latin which means continuous change. Fluorite is found in China, Norway, Namibia, Austria and England.
It is believed that fluorite has astronomical powers causing discernment. Others also opine that it can purify and cleanse the body.
The fact that it increases concentration makes it an effective learning aid. Fluorite is used in the healing of headaches and arthritis.
As fluorite is soft gemstone care should be taken to prevent it from being scratched by sharp objects. To clean it, warm water, mild soap and a soft cloth should be handy. When cleaning, take great care to avoid leaving any soap residues behind.

More about fluorite
22. Tanzanite – (Dark Translucent Violet Blue Color)
Within a short stint of 50 years, the popularity of tanzanite has skyrocketed akin to a starlet in Hollywood. Yet, unlike diamond that is plentiful and readily available in Russia and Africa, tanzanite mines are predicted to dry around 2022. Because of this, tanzanite boasts much intrigue and desire.
Of great importance to note is that tanzanite is zoisite's exquisite form. Its color ranges from sapphire blue to ultramarine. Moreover, it appears with amethyst and sometimes yellow hues in artificial light.
This stone is commonly believed to facilitate a higher consciousness as well as stimulate perception and intuition. Some folks opine that it is capable of detoxifying the body and enhancing vitality. You should wear this stone in situations that you need a soothing presence and calming.
Due to its high vibration rate, some people believe that it can turn out to be a stimulant of the head and throat as well as preserve youthfulness.
Although tanzanite is considered a hard stone, you still need to handle it like a rare gem. Avoid scraping or bumping your jewelry throughout the day. Refrain from laying it face down especially on hard surfaces after taking it off.

Guess you like
23. Iolite (Purple Blue Color)
Iolite comes in different shades of blue and purple-blue, from vivid to pale. High-quality iolite rivals stones such as tanzanite and sapphires in its beauty.
Nonetheless, due to its plentiful nature, this blue gemstone is not valued highly. While that is the case, it remains a brilliant stone that reflects very well particularly when cut expertly.
The fact that it ranks at 7.5 on the Mohs hardness scale means that it is fairly hard. Nevertheless, it isn't as tough as the likes of a diamond because of its unique cleavage.
Because of this reason, this stone is prone to breakage when you expose it bumps and knocks. Most iolite boasts excellent clarity and is transparent.
Cleaning this stone should be a walk in the park. Just like the many others featured on this primer, the only thing you need is some lukewarm warm, soap and a cloth.
It exhibits pleochroism.

Also read
24. Spinel (Deep Blue Color)
For many centuries, many people confused spinel for sapphires. It is made of magnesium aluminate. The stone is found in similar mines as the corundum varieties.
A majority of blue spinel tends to be eye-clean. Moreover, it exhibits fire and brilliance when you expertly cut it.
While it might be a very gem and similar to many sapphires in terms of beauty and durability, this stone is not as highly valuable. You can always find it retailing at affordable prices. Experts advise against heating or treating this stone although it has been synthesized.
It ranks 8 on the hardness scale making it very durable. Because of its hard nature, cleaning it shouldn't be challenging. Some warm water and soap should be enough to clean your precious stone.
Do you know any other blue gemstones not covered in our list? Please leave a comment and tell us more!
The beauty for you oday