What length should a necklace be? How do I determine the appropriate measurement? Averagely, what is the size man's/woman's necklace? What is the name of those long necklaces? All these are million-dollar questions that many necklace enthusiasts grapple with when in the market for one!
Traditionally, a standard chain or necklace measures 16 '' – 20'' inches long. In most people, this length normally sits somewhere between the collarbone and the base of the throat.
Picking the correct necklace measurement, as we shall learn later in this primer, depends on various factors such as face shape, height, body type, etc.
Know the Appropriate Necklace Measurement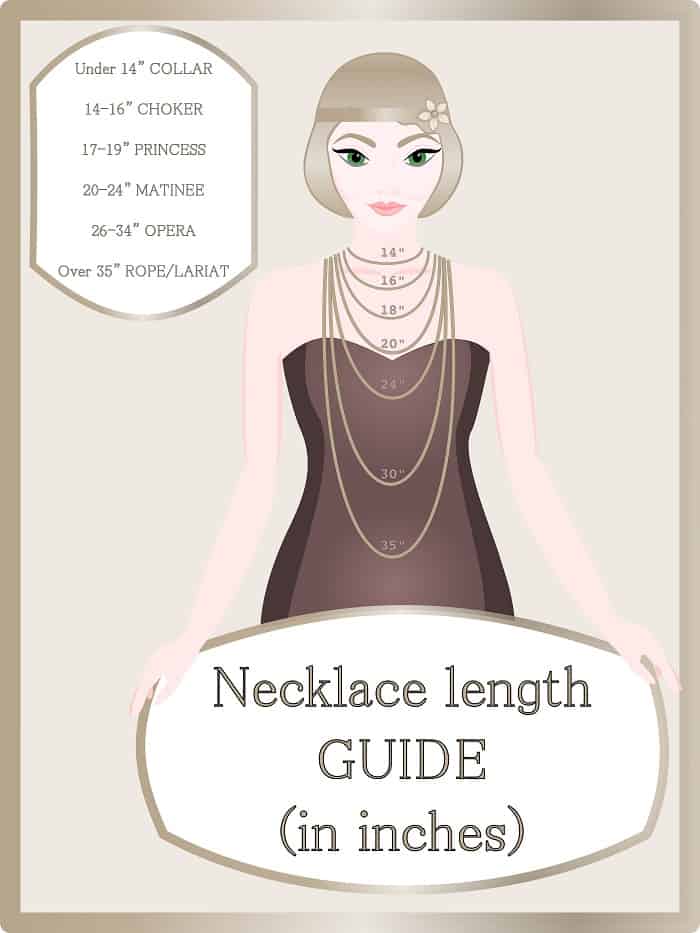 Some necklace sellers sell them based on their sizes (length in terms of inches). Others use terms such as 'princess' or 'choker' length for various lengths. Every term comes with a certain range or length:
Rope necklaces – 35'' and longer
Opera necklaces – 26'' – 34''
Matinee necklaces – 20'' – 24''
Princess necklaces – Roughly 18''
Choker necklaces – Roughly 16 inches
Collar necklaces –14'' or shorter
Collar Necklaces
These are roughly 14 inches in length. They lay very close to your chest. When buying collar necklaces, ensure their length is 2'' longer compared to that of your neck. Here are a few tips to consider:
Collar necklaces are best worn with a strapless dress or open neckline
Best choice for petite women
Avoid this attention-grabbling style if you are self-conscious about your style
Also read
Popular and Rare Black Gemstones
Black Onyx Meaning: Positive or Negative?
Choker Necklaces
Choker necklaces are roughly 16 inches long. They rest loosely on your neck's base. Normally, they sit on top of the collarbone. Compared to collar necklaces, chokers are not quite as snug.
Here are a few highlights:
They are best worn with an open blouse as they peek out from below your collar
Chockers also look gorgeous with other tops featuring open necklines like strapless, scoop necks and V-neck styles
Similar to collar necklaces, they draw attention to the neck. Give them a try if you consider your neck among your body's best features
Related
Platinum, White Gold, Yellow Gold and Rose Gold
Necklace Chain Types: A Guide for You
Matinee Necklaces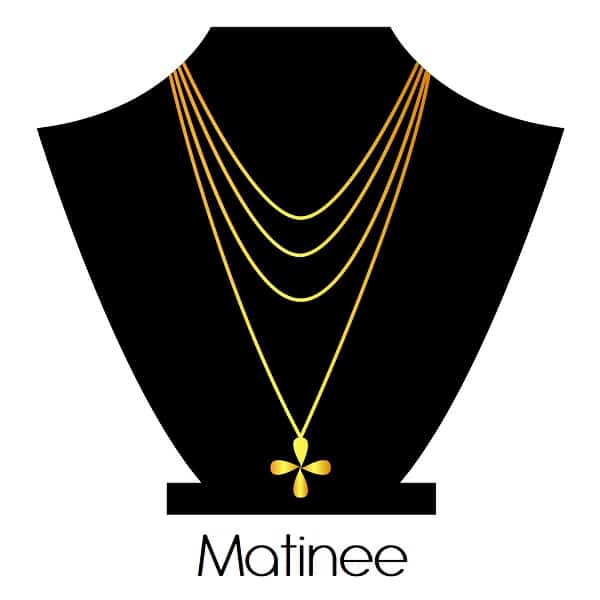 In terms of length, matinee necklaces range from 20 inches – 24 inches. Based on the length of the necklace and your height, they hit at the bust or just below it making them awkward to wear.
In most instances, it is best to avoid them when wearing a strapless top or open neckline. They interfere with your clothing's neckline.
This style looks best over simple clothing options such as turtlenecks and closed button-down shirts.
Due to their length, they complement most types of bodies
More about silver
Sterling Silver, Pure Silver, and 925 Silver: Are They the Same?
Can You Prevent Silver From Tarnishing (and Keep it Shine)
Princess Necklaces
18'' in length, these pieces are undeniably generally gratifying. They sit on the collarbone to guarantee a womanly appearance for all body types or heights. Their length is the best to flaunt a special bauble.
Best worn over a turtleneck or any other high neck
Looks great with any strapless top, open neckline or low top
You might also like
CTW vs. CTTW: Know Your Diamonds
Opera Necklaces
Operas are any necklaces that range from 26 inches – 34 inches. Typically, they fall above the waist and below the bust.
You can wear them over dresses and tops
A great style for emphasizing a tall frame
Excellent length for plus-size women as they draw attention to the bustline
Rope Necklaces
Any necklace or chain 36 inches or longer qualifies to be a rope. It falls below the waist although the 36-inch ones might hit above the waist with some women. It is perfect for bigger ladies.
You can wrap it several times around the neck to enjoy an array of looks
It looks beautiful with elegant clothing as it appears formal
Other Necklace Lengths and Styles
On top of the necklace styles and lengths we have mentioned previously, the following do not necessarily follow the 6 common chain lengths:
Torque
Torque is made of solid metal. It is open at the back, coming to a point at the front. Often, it is choker
Statement
Statement refers to bold, large pieces with ornate and pendant details. In most instances, it is a choker or princess
Sautoir
Sautoir is a French name used to refers to a lengthy necklace featuring a big attractive pendant. In most cases, it is opera size if not longer.
Riviere
Riviere refers to one or two roses of valuable stones that get smaller as they go back. This style is often choker or princess
Plastron
Plastron is heavy and covers the whole area of the bust's front. As the chain covers your entire bust area, it includes rope, opera, matinee, and princess
Pendant
Pendant refers to a chain featuring a focal section at its bust's anterior. It is opera, matinee, and princess
Locket
Locket is a pendant necklace with a tiny compartment for holding pictures. Normally opera, matinee and princess
Lavalier
Lavalier is a slender chain featuring a pendant at the front. The pendant features ornate stones. In most cases, it is princess
Lariat
This is a type of necklace of a rope size.
Note: It does not feature a clasp. Often, you can pull it via a rounded filter at its front. Normally rope
Graduated
This is a one strand chain featuring beads that slowly get tinier as they go down to the neck's down part. It is princess
Festoon
Festoon brings with it draped elements. Usually choker
Bib
Bib got its name because it covers your breastbone just like a bib. Its layers hang off at longer lengths. Usually choker
How to Choose the Right Necklace Length for A Female
The right necklace is not only able to pull any outfit together, but it can also be a woman's body focal point. An ideal necklace length complements your body perfectly. If you are a woman, consider these factors to help you choose the right necklace length for your body:
Face shape
There is more to a necklace being an accessory. It also frames your shape. Like other accessories, the shape of your face informs what necklace style is the best for you.
You can use a necklace to accentuate the strongest features of your face. Additionally, it can be handy at helping you alter how others perceive your face.
Heart-shaped – If your face is heart-shaped, you need to try shorter necklaces from 16'' – 18'' to help soften the angles of your face.
Oblong/square – Shorter or choker necklace styles help soften your face's sharper angels thus highlight a longer neck.
Oval/round – if you have an oval/round face, look for a necklace that elongates your face such as those whose length if 20'' – 24.'' These are handy at easily framing your face hence creating a V-shape which brings your eyes down.
Body type
When it comes to body type and necklaces, most people tend to concentrate more on where the necklace ends.
Therefore, if you are not comfortable with that part of your body, it is wise to avoid necklaces which, end there. Long layered chains or a long thin chain would work best with women with smaller busts.
Inverted triangle – Longer length necklaces are great for broader shoulders as they help draw attention more to your waist thus highlighting the smaller body parts.
Hourglass – In this case, choose a chain length that rests on the collar to highlight your curves.
Athletic – Is your body shape athletic? You can put on any style of necklace. Nonetheless, longer ones are the best if you desire to lengthen your body more.
Pear-shaped – If your body is pear-shaped, it means it is smaller on the top side. For this reason, you need to look for a necklace that broadens your shoulders. 18inches to 24inches chains are the best as they sit on top of your bust. That way, they highlight the upper body.
Height
Taller or shorter people often have the hardest time finding the right necklace length. For short people, longer necklaces are handy at helping elongate the frame. For short lengths, 16'' – 18'' fit proportions correctly. If you have a regular height, then any length will suit the frame.
Regular height – If you are 5'4'' – 5'7'', you can put on a necklace of any length. Nonetheless, remember to consider your body type and face shape before settling on one.
Tall – While tall people can wear necklaces of any length, longer styles are the best as they accentuate their height. If you prefer the shorter styles, ensure the size complements the shape of your face.
Short – How big is your frame? If it is 5'4'' and lower, settle for necklaces that elongate your frame but do not hang too low. A 16'' – 18'' necklace should also fit your proportions correctly. If you prefer a longer piece, try between 20'' – 24''.
Neck size
It is prudent to measure your neck before buying a necklace. So which is the best way to measure your neck? Gently shawl a tape measure around your neck. The measurement that you will get, add two inches to have a comfortable size particularly for chokers, which are normally sized at 16''.
For a pendant, you should add 4'' to the derived neck size. As you have already learned, chokers work best for those with long necks. Is your neck short? If yes, then it is better to avoid it.
Check out this video:
Standard Necklace Lengths for Men
Here are the standard chain lengths for an average size male:
24'' – Reaches the area above the sternum. Because of its length, this style is used commonly for meaningful or religious pendants.
22'' – Falls some inches under your collarbone. You can wear this length under or over the clothes. It is a common length for men's necklaces as it offers more breathing room.
20'' – Reaches the collarbone.
18'' – Sits at the neck's base. It is common for decorated chains or necklaces. You can wear it with a crew neck shirt.
When it comes to men, the most common length or style is the 19 – 21'' length. It sits on your collarbone.
If you are a skinner man with a smaller frame, 18 – 20'' length fits your body shape better. 22 – 24'' length is preferable for men with a larger build. 24'' and above length looks great for tall men.
Standard Necklace Lengths for Women
As we have already established, there are roughly six necklace types based on a specific length. While certain necklaces do not necessarily fall within these lengths, most of the ones in the market today do. Princess and choker style/length are the most common.
Here are the standard necklace styles for women and what they can be best worn with:
37 – 60'' – This is the rope It runs from your bust's center to the stomach. The rope style is best worn with an evening, business and evening wear.
28 – 37'' – This is the opera It runs from the upper part of the bust to some inches below. The opera style is best worn with high necklines and evening wear.
20 – 24'' – This is the matinee The matinee style is best worn with casual and business wear.
17 – 19'' – This is the princess It sits on the collarbone. You can wear it with almost everything.
15 – 17'' – Necklaces in this bracket are the choker They sit at the bottom part of your neck. You can wear them with almost everything.
13 – 15'' – This is the collar It is close-fitting around your neck. It is best worn with an off-the-shoulder, boat neck, scoop neck, and V-neck.
Among women, the most common styles are the princess and choker style resting 17 – 19'' on the collarbone and 17 – 17'' on the neck's base respectively.
These styles tend to be flattering to many women as they do not come in the way of necklines and clothes. Additionally, they look great with most facial types and bodies.
Longer styles such as the tope, matinee, and opera or shorter ones like the collar are equally popular. Nonetheless, you may have to pay close attention to your outfit whenever you sport these styles.
It is also important to consider your facial shape, body type and height to establish what style fits you best.
Necklace Lengths for Different Outfits
Your everyday wardrobe is an important factor in your necklace length decision. Now that we have highlighted what necklace suits you, let us delve into what necklace length is the best for which outfit.
Take a look at our guide below to learn how to complement your outfit perfectly:
Turtleneck – Pendants or long chains
Crew – Collar or bib
Strapless – Choker
Scoop – Short pendants with volume
V-Neck – V-shaped pendants
Halterneck – Slim pendants
Square – Angular pendants
Off-shoulder – Asymmetric
Sweetheart – Pendants or curved beads
Cowl – Choker or short pendant
Boat neck – Long beads
Collar – Choker or short pendant