Each month of the year has its very own gemstone that symbolizes different characteristics, according to the time of year.
Birthstones have an incredibly interesting history that dates back to many centuries ago and that takes us all over the globe. Sounds intriguing? Too right.
Here, we're going to take a closer look at the birthstone for the month of May: the emerald.
What are its unique characteristics? What's its history? What meanings does the emerald birthstone have? And how can you work your birthstone into your jewelry collection?
Carry on reading to find out below!
But first up:
How Did Birthstones become a Thing?
Birthstones are incredibly popular in modern times, but this popularity actually dates way back in history.
Ancient Christian believers are actually responsible for the idea of birthstones that we still have nowadays.
The Book of Exodus in the Old Testament tells of a sacred item known as the Breastplate of Aaron. High priests would wear this sacred breastplate to be able to speak to God.
Now, centuries ago, Christian scholars came up with a link between the twelve precious gemstones that were set in this ornate breastplate, the twelve months of the year, and the twelve signs of the zodiac.
In this ancient Christian civilization, many people started to believe – because of this connection between the twelves mentioned above – that the different gemstones carried all kids of different meanings and properties that would be beneficial for the wearer.
So, over time, specific gemstones were associated with different months of the year.
Believers began to wear each stone in a particular month to get all the benefits associated with each gem.
But as time went on, people began to just wear the precious stone in the month of their birthday; so, the idea of birthstones was born.
Guess you like
How have things changed now?
Nowadays, we have slightly different gemstones that are associated with each month of the year.
This is simply because we now know so much more about the different types of gemstones that are out there.
In ancient times, the only way people could tell gemstones apart was based on color. There were no high-tech mineral analyses, gemologists or color and type charts.
There was no way of telling sapphires from lapis lazuli, diamonds from other white-colored gemstones, rubies from garnets… you get the picture.
Now, though, we have all the accuracy we need. So let's take a look at those emeralds, shall we?
May Birthstone – Emerald
Gemstone characteristics
Emeralds are incredibly elegant gemstones. Their classy, dark green color works beautifully in all kinds of jewelry.
Extremely high-quality emeralds are a very rare find indeed: they're some of the rarest gemstones in the world, and are potentially even harder to find than high-quality diamonds.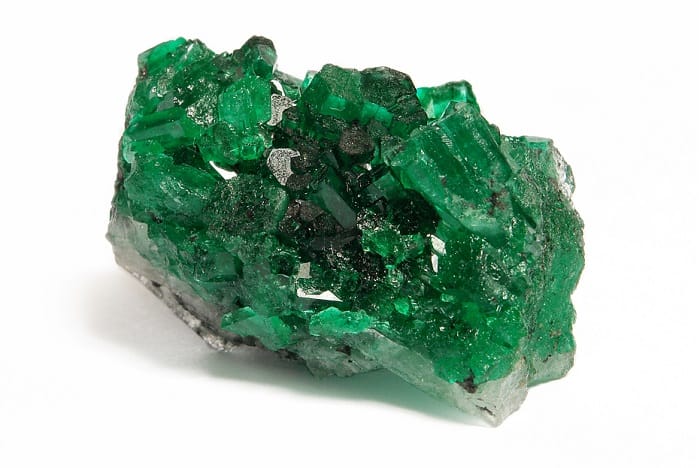 What makes an emerald high or low quality, you might ask?
Well, what we would normally mean by, say, a perfect emerald is a gemstone that has no flaws on the inside of its structure, nor blemishes on the outside of its structure.
However, emeralds are a bit of an exception when it comes to being classified as technically 'flawless'.
While the surface of emeralds naturally withstands scratches very well, the inherent structure of these gemstones means that they can be easily damaged and cracked by impacts on their surface.
This is because of the lattice-shaped structure of the crystals that form these gems. The particular shapes of emeralds' structure means cracking from impact is all the more likely.
So, that changes things a little in terms of how we classify emeralds as technically 'flawless'.
If an emerald has no cracks that are visible to the naked eye – without using any specialist magnifying equipment, that is – then the box gets ticked: it's flawless.
In modern times, Colombian mines produce the greatest amount of high-quality emeralds.
But, emeralds are found and mined all over the world: in the USA, Norway, Russia, Brazil and Australia, to name just a few of the locations.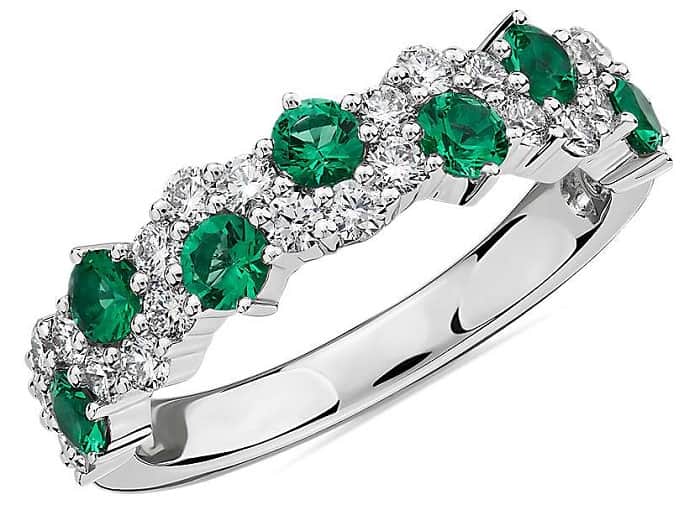 Gemstones typically get their color from the minerals that are present in the earth in the area where they have formed.
It's widely believed that the green color of emeralds comes from the mineral chromium, or the mineral vanadium.
Emeralds come in all kinds of shades of green. Whether that's a dark, sultry forest green or a delicate, pale green, emeralds are known for their truly exquisite colors.
Related
Emerald History
Where did these gemstones get their name?
Tracing the name 'emerald' is quite a complex process that takes us from Old French, to Middle English, Latin, Ancient Greek, Hebrew and Sanskrit.
It's either the Hebrew word izmargad, which means 'emerald' or 'green', or the Sanskrit word marakata, which means 'green', that is the original version of the word 'emerald' we use in modern English.
Over time, these source words became the Ancient Greek word smaragdos, which literally meant 'green gem'. From the Ancient Greeks to the Ancient Romans, this word smaragdos gradually turned into the Latin word smaragdus.
Sure, those words in Ancient Greek and Latin are very similar, but that change in the last vowel makes all the difference.
From the official Latin smaragdus, we got the colloquial Latin words esmaralda and esmeraldus. These were the versions of the official Latin word for emerald that were used by normal people in their daily lives.
So, from Latin to historical French and English: esmaralda/esmeraldus became the Middle English word emeraude and the Old French esmeraude.
From there, it's easy to see how we arrive at the word emerald we know and love today!
Famous rulers
Over history, several famous artifacts have also been made of these intriguing gemstones…
Cleopatra's no.1 choice
Legend has it that Queen Cleopatra was a huge fan of these beautiful green gemstones. It's said that they featured widely in her prized jewelry collection.
Cleopatra's emerald collection would have come from Egypt, probably from sites close to the Red Sea.
While Cleopatra is probably the most famous emerald fan to come out of Ancient Egyptian civilization, other rulers from that period also particularly valued emeralds.
Many members of Ancient Egyptian royalty chose to be buried with these gemstones included in their resting places, possibly to bring them good fortune in the afterlife.
In fact, evidence has been uncovered that shows there were diamonds being mined in Egypt way before Cleopatra was born.
The Crown of the Andes
This amazing crown is studded with close to 450 emeralds – that's a truly impressive sight.
History tells us that the emeralds used to make this crown were most likely worn by a famous Inca named Atahualpa (Atawallpa in the native Quechua), who was the last Inca Emperor.
Atahualpa ruled Peru for a short time, before the Spanish Conquest ended his reign.
How has this history affected our modern day?
It was actually the Spanish invasion of South America that has largely led to the modern emerald mining set-up we still have today.
When the Spanish conquistadores went to South America, including their invasion of Peru, they saw native leaders like Atawallpa wearing these striking gemstones to show their status.
The Spanish took many emeralds from the native peoples they conquered and were also determined to find the sources of the gemstones for themselves.
Mining sites were discovered one after another. The most important were the discoveries of the emeralds in the Chivor and Muzo mines in Colombia.
Since the Spanish came across these areas that are rich in emeralds, the mines have been in pretty much non-stop production, right up until the modern day.
As we've seen, Colombia is still known worldwide nowadays for producing the best quality emeralds of all the mining locations across the globe.
What Meanings does the May Birthstone Carry?
May babies are springtime babies, so shades of green are the perfect color to symbolize this month of birthdays.
Emeralds are supposedly the gemstone symbol of rebirth and fertility, which fits perfectly with this season.
New buds appear after the winter, new flowers bloom around us and all kinds of new creatures are born in the animal kingdom.
Over the many centuries that the idea of birthstones has been around, people have also thought of emeralds as symbolizing love.
Back in Ancient Rome, emeralds were even selected as a specific dedication to Venus, the Ancient Roman goddess of love and beauty.
For these same reasons of association with love and fertility, the Ancient Greeks also dedicated emeralds to their goddess Aphrodite.
Ancient civilizations used to believe that the emerald birthstone would bring its wearer:
Youthfulness
Good fortune
The ability to look ahead and plan for the future
This skill of foresight might have come from the widely held belief in the Middle Ages that emeralds gave the wearer the power to see into and predict the future
Calmness
Patience
Spiritual development
Wisdom
Hope
Intelligence
Strength of conviction
Some of those attributes are still associated with these gorgeous green gemstones in modern times, too.
Back several centuries, there were also some other beliefs associated with emeralds.
Although we've come a long way in our understanding of science and medicine since then, they're still interesting to take a look at!
So, let's go for it – people used to think that emeralds:
Helped to prevent epileptic fits
Stopped wounds from bleeding
Gave the eyes a rest because of their soothing green color
Worked as a cure for dysentery
Helped to cure a fever
Worked as a cure for stomach problems
Hmm… modern day developments sure have a thing or two to say about those particular attributes.
Also read
How Can I Wear My Birthstone?
Emeralds are very versatile gemstones that look great in all kinds of jewelry pieces, as well as when they're set in gold or silver bases.
Just bear in mind that characteristic of these green beauties that we saw a little earlier on: they are very susceptible to cracking from harsh impacts, because of the nature of their structure.
So, it might be an idea to go for a piece of jewelry that will be less exposed to bumps and bangs.
For example, you could go for an emerald necklace or pendant, or a beautiful set of emerald earrings, rather than a ring or bracelet.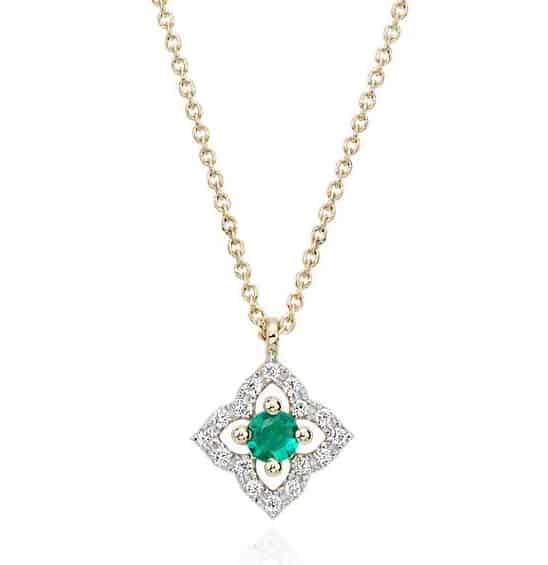 When you're browsing for emeralds, it's also important to bear in mind that there are very convincing imitation emeralds on the jewelry market today.
Although these might be created synthetically in a lab or just made from high quality green glass, they can look like the real deal.
So, make sure you know exactly what you're looking at before you make your purchase!
You may like
The Development of the Emerald Cut
If these green gems are so fragile, you might be wondering how jewelers even manage to cut them to size in the first place? Good question.
While it is still a good idea to keep emeralds away from the possibility of impact in general, experts have come up with a way to help protect these gemstones while they're being cut for use in jewelry pieces.
The Emerald Cut is a particular design of gemstone cut that reinforces the strength of an emerald's structure, to try to protect it from damage through chipping and cracking.
Gems that are cut using the Emerald Cut are also enhanced in terms of their overall look.
So, the Emerald Cut is definitely an excellent option for working with these gemstones.
This cut design brings out the very best of both their integral strength and resistance to damage and also their natural beauty.
Also read
Caring for Your Emerald Birthstone Jewelry
We've already looked at emeralds' more fragile internal structure, but there is another characteristic you'll want to keep in mind if you're looking to keep them safe and sound.
Emeralds are susceptible to losing their gorgeous green color if they're heated strongly.
While you're not likely to be getting to those kinds of industrial temperatures in the kitchen, it's still a good idea to remove your emerald jewelry pieces before dealing with warm and hot items.
Related
The Beauty for You Today