Nose rings have become one of the most popular jewelry accessories. However, it's well-known that they haven't been in western culture since always. They originate from the far east and have a vibrant historical value and culture.
Civilizations wore them for ages and in different locations, representing different meanings and traditions before they become some of the most stylish and fashionable piercings. In this article, we're detailing the nose ring meanings which will help you combinate them the right way.
Reaching Back
Nose rings have a huge origin story. While most of the nose ring tradition originates from the middle east, it's worth noting that the nose ring history stretches for well-over 4,000 years.
Many historians and those who study the culture of the eastern countries often consider them the oldest types of piercings in the world. More importantly, many consider nose rings the most universal body part for receiving a piercing.
Nose rings aren't the only type of jewelry suitable for the nose. Many people choose the nostril piercings, and to septums. Some choose studs and hoops to suit their style better.
However, nose rings still remain at the top of the most demanded nose piercings. Additionally, different western cultures are embracing it and starting to accept it as a fashionable accessory
It's worth noting that over the past years, jewelers also introduced new metals to make the nose rings with. Still, many people opt for silver because it's the most universal material for jewelry and goes well with other jewelry pieces.
Similarly, to how people used to view tattoos, western society is still slightly skeptic about the nose rings use in fashion. Nevertheless, it's becoming more accepted despite the stigma. As opposed to the western community, Eastern cultures worship the use of nose rings and consider them sacred.
Before we dig into the particular meaning of each nose ring type, we'll travel to the cradle of their origin and learn more about their vibrant tradition.
The following paragraphs will detail how nose rings became so popular, as well as their expedition to the Western societies, as well as the deeper meaning to their different types. The sole goal of this article is to show that nose rings are more than just a stylish add-on to your style.
---
Related
Which Nose Ring Sizes are Perfect for You?
How Long Does It Take for A Nose Piercing to Heal?
Where to Buy Best Fake Nose Rings in 2020?
---
The Origin of Nose Rings
There are many nose ring meanings, but we must explore their unique history before we learn more about them. Nose rings can be listed in two different categories – nostril piercings and septum piercings. Below, we'll describe the individual journey of the two rings throughout history.
Nostril Nose Ring
Nostril nose rings first appeared in the Middle East. The first records of nostril nose ring being born trace back to 4,000 years. In The Old Testament of Bible, it was a popular accessory, which popularized the communities in 1500s.
The nostril nose rings have their place in the book of Genesis too. Where Abraham's servants gave young Rebekah an array of jewelry as a marriage gift originating from her future husband Isaac. Inside the many of the gifts, there was also a golden earring called a "Shanf" which later turned out to be the nostril nose ring.
Nostril nose ring also appears in the Mogul Empire from Central Asia. The nostril piercings became extremely popular in the empire, but many people in India practiced wearing them over the 16th century.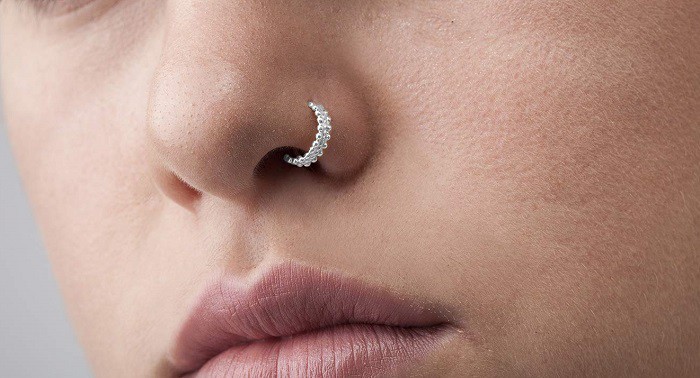 The nostril nose rings are now prominent in India, as women there are found wearing ornate chainrings that are flattering their cheeks with ear attachments. These rings are an important accessory during the wedding ceremonies in India and other surrounding countries.
Aside from typical nostrils nose rings in the shape of the ornate chain, women also often wear the nose stud rings, or vary between bars and hoops. Nostril nose rings became popular in the West during the 20th century.
The first country wearing them was France, and then the rings migrated to the U.S. during the 1960s as a popular accessory in the hippie movement. The hippie movement supporters would visit India to learn more about the sacred meaning of nose rings.
Being the representation of the anarchy and rebellion, hippie culture wearing nostril nose rings catered a lot of negative attention for this piece of jewelry. However, they became extremely popular over the past few years and decades.
Septum Ring
But what is a septum? It's a spot located in between the nostrils. Over the past years, it's a popular spot for a piercing in the Western countries. However, its vibrant and fashionable origin comes from various tribal communities.
Tribal cultures found it the essential accessory for performing meaningful rituals. Different communities wore septum rings including Native Americans, Australian, Aborigines, Aztec, Inca, Indian, Nepalese, Mayan, Bengali, Tibetan, and other tribes.
Priests promoting their religion as well as warriors used different septum nose rings. Materials included bones, woods, and tusk while those richer made piercings of gold, and jade. Also, it's worth mentioning that each tribe had its own representation of what wearing septum rings meant.
The most popular attributions of the septum jewelry include beauty, milestones, power, manhood, strength, courage, wealth, fertility, intelligence and more.
Nose Ring Meanings
Nose rings reside at different sides of the world, and with each culture comes a different meaning. That said, there are too many meanings to look into. In this article, we're going to focus on the essential, most widespread and popular meanings for good fortune and other nose ring meanings.
Wealth
One of the popular nose ring meanings revolves around status, wealth and success in general. Many cultures predict that wearing larger nose rings may bring better results when it comes to wealth fortune, prestigious living and better status. This belief comes mostly from the Berber Tribe from North America.
That's why those who lived in richer and more prestigious communities referred to wearing larger nose rings. So that they'd visually represent their social status. That said, those who would wear bigger nose rings, reflect on their wealthy and powerful status.
Marriage
Being worn by multiple cultures, nose rings often associate with marriage fortune and status. Nose rings have different meanings in marriage based on the culture that they emerge from. The marriage meaning originates from the Old Testament of The Bible.
The first meaning comes from the historical representation in the Book of Genesis, where Abraham gifted the jewelry to his future daughter in law as a wedding gift.
In different cultures, men gift future wives with nose rings which would establish financial security. That said, if the woman becomes a widow or divorces, that means the nose ring will be the property that she sells to return its value and move on with her life.
Nose rings are also a part of a dowry for marriage in some Middle Eastern countries, as well as some African cultures. Asian culture also uses septum piercing to represent the woman's readiness to get married.
Fertility
Different cultures also associate nose ring meanings to fertility properties. They often appear in the Ayurveda, which is an ancient Indian practice for healing which is often called "The Science of Life." According to this science, woman's left nostril shares a connection with her reproductive organs. The theory further suggests that making the left nostril pierced makes childbirth easier and more bearable. Additionally, it's soothing to menstrual cramps while encouraging fertility.
Rebellion
As mentioned above, nose ring meanings also share a connection to the Western cultures in terms of rebellion and defiance. Instead of being sacred like in the Eastern cultures, media and people perceived it quite the opposite because it was mostly hippies who wore it.
Back then, many perceived it as an ugly modification which would make people appear ugly and unsighty, with stigma intensifying even further with the emerging of Gothic communities, which reached the peak of their popularity during the 1980s. At that time, the punk communities and bands were also popular. Those communities wore nose rings even more. Back then, Western countries identified nose ring meanings to defiant, rebellious and thought that they inspire anarchy and chaos, rather than prosperity which was the case in Eastern traditions.
Modern Nose Ring Meanings
Even now, 40 years since the emerging of punk and gothic clothing styles, there is still a social stigma towards the nose ring meanings. However, many western communities learned to embrace them, making nose rings irresistible pieces of jewelry and accessory suitable for any clothing style.
It's most likely that the prominence of celebrities wearing these rings that inspired the communities to accept them. After all celebrities around the world are role models for many teenagers, children, but also adults. They also serve as trendsetters for many clothing styles and accessories. Nowadays, news articles and fashion blogs constantly promote the use of nose rings.
Fortunately for those who love them, the popularization of nose rings as accessory led to many radical views on this jewelry to subside. It is accepted, not only in everyday styling but also at schools, universities and workplaces.
That said, if the nose rings continue growing in popularity, even the prominent corporations that dictate clothing style and prohibit body modifications will be more accepting of wearing nose rings. There's also no doubt that in the next few years, we can expect that nose jewelry will be as popular as wearing ear piercings.
While the view on nose jewelry drastically changed from the last century to today in the Western countries, meaning on the East remains. Nose rings serve as a traditional value and are an irreplaceable accessory for many events like weddings.
Those cultures propose you have a lot of ways to use these accessories. You can wear them as studs, hoops, septum piercings and bars, predicting that more fashionable and stylish nose piercings will appear in the future.
We hope that this article helped you learn more about the nose ring meanings and their popularization across the world. Also, it's worth mentioning that nose rings are a great piece of jewelry if you want to explore what conventional piercings look like.
What do you think about nose rings? Let us know in the comments!