S
imple, straightforward and beautifully engineered, Diono products are the go-to choice for safety-conscious parents all over the world. They regularly feature in top-10 articles, and they tend to pick up awards left, right and center.
Their best-selling car seats are certainly no exception. The R100, R120 and RXT are all excellent options with strong steel frames, plenty of fool-proof safety features, and the kind of build quality that make Diono's claims about a '10 year lifespan' very easy to believe.
Picking between them can be tough though. At first glance, all three seats seem to offer fairly similar features, but the price points seem to imply a substantial variation in both function and quality.
Drilling down into the finer details of each seat, it does become apparent that the three options are all aimed at a slightly different type of parent, and offer something unique that their intended customer is sure to prize. Understanding the intricacies of these differences can be a real challenge though.
To help you work out which of the three you should be looking at, we've put together a handy table to summarize the most salient details, and provided a full review of each seat below:
Diono Radian R100 vs R120 vs RXT
[divider]A Quick Comparison[/divider]
Adjustable 5-Point Harness
Adjustable 5-Point Harness
Adjustable 5-Point Harness
Adjustable 5-Point Harness
What about the Product Recall?
As mentioned in our stand-alone review of the RXT, Diono did voluntarily recall all of their Radian car seats in 2017.
At first glance, this does call their otherwise-impeccable safety record into question, but the truth of the matter is that Diono's product recall was actually a very conscientious and forward-thinking move.
They made the decision to recall all of their seats because installing the seats in the forward facing position WITHOUT the tether provided actually provided slightly less impact protection than the manufacturer had anticipated.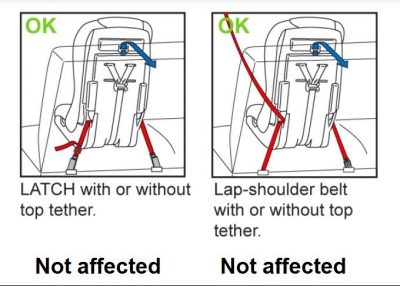 It wasn't enough to change the seats' safety ratings, but Diono made the decision to be upfront with their customers anyway, and quickly issued an upgrade kit to everyone that owned a pre-2017 model in the Radian range.

It might be the little brother of the R120 and the RTX, but Diono's Radian 100 is still a fantastic car seat in its own right.
Safety Features
Despite its striped-back aesthetic and simple, no-nonsense outline, it boasts an impressive set of safety features. These include a robust steel frame, an adjustable 5-point safety harness and energy-absorbing, EPS foam.
It's also a 3-in-1 seat, with LATCH fittings and tethers that can be used to fit it as a rear-facing car seat, a forward-facing car seat, or a backed booster seat for bigger children.
And as 3-in-1 car seats go, we have to admit that the R100 has a surprisingly high rear-facing weight limit, which sits right up at the 40lbs mark. Children kept in the rear-facing position are, statistically speaking, much safer than children seated in a forward facing car seat and this particular option will probably let you keep all but the tallest children in the rear-facing position until their 3 years old.
In our eyes, this makes it a strong contender for anyone with an eye for safety, particularly if you're shopping on a tight budget. The Radian R100 is surprisingly narrow too; measuring just 17 inches across at the widest point. As a result of its narrow width, you can comfortably fit 3 across the back of most small cars – making it a great buy for parents with multiple children, or parents who spend a lot of time driving their little one's friends around.
Things we didn't like
There were a few things that we didn't like about the R100 though. To start with, it doesn't have the memory foam seat cushions that are found in the R120 and the RTX. It does also lack the small infant insert and the memory foam cushions that make its bigger brothers so comfortable.
The R100 is quite tall too; measuring a whopping 28.5 inches at its highest point. This is technically true for all of the seats in the Radian range but it is still worth bearing in mind before you make a purchase, as cars without much space between the front and back seats may not be able to accommodate it.
Bottom line
If you're shopping on a tight budget, the R100 is definitely one of the safest car seats you'll find. It boasts a huge, 10yr lifespan, and little touches like the folding mechanism do make it quite easy to use. That said, it is the bare-bones option when it comes to Diono's Radian range, and there are better options if comfort is your primary concern.
To all intents and purposes, the Radian R120 is just an upgraded version of the R100.
More Lining
It boasts all of the same safety features, the same narrow design, and the same 5-point safety harnesses, but it also incorporates a memory foam lining and a handy infant insert.
It may not be the most aesthetically pleasing of car seats, but it is one of the comfiest. Its soft, padded base makes it the perfect choice for long journeys, and the aforementioned insert provides plenty of padding for babies at the lower end of its 5lb minimum weight limit.
Higher Safety Standards
Like the R100, the R120 is also incredibly safe. It meets or exceeds all federal safety standards, and its hefty steel frame feels more robust than we'd have expected, particularly given the seat's relatively spartan design. As an added bonus, it does also have a rear-facing weight limit of 45lbs, which does give it a slight edge over its cheaper cousin.
Easy to Install
The R120 is very easy to install and use too: It makes use of Diono's unique SuperLATCH system, which lets you instantly attach or release fiddly LATCH connectors with the press of a single button, and it can also be installed with a foam angle adjuster that allows you to mitigate some of the problems caused by the seat's high back.
Things we didn't like
There are a few small niggles though. The R120 doesn't have a no-rethread harness, which means that you have to remove it if you want to make a significant adjustment to its height. People do also complain that the LATCH belt is quite difficult to tighten properly, which can be a problem as the instruction manual stipulates that you must not be able to move the seat more than an inch in any direction once it is installed.
Other issues include the lack of winged headrest, which the RXT features, and a high overall weight. This last point isn't a huge problem if you're not planning to remove the seat, but it is at odds with the fact that the seat's designed to fold up, and the fact that Diono advertise the seat as being flight-safe.
We're sure it could be packed up and then installed on a plane, but we wouldn't want to do it in a hurry, and we'd certainly want at least one extra pair of hands for the installation process.
Bottom line
That said, if you're looking for a 'set it and forget it' style seat, you probably won't find a better all-rounder. It's reasonably priced, it offers unparalleled protection, and it'll see your child right through from 5-120lbs.
And it does boast a few extras too: You'll find the same removable seat cover that's used on the RXT, and you'll also find things like a cup holder which, while not strictly necessary, is super-handy on long journeys.
Diono's Radian RXT is – unquestionably – the premium option.
More protection
It's built around the same set of top-tier safety features, but it's also been loaded up with little extras like an angled cup-holder, memory foam inserts and a winged headrest that provides additional support for taller children.
The cozy infant insert makes it very premie friendly too. We can't count the number of seats that don't really offer much comfort or support for babies at the bottom end of their minimum weight limit, but we're pleased to say that the RXT is definitely an exception.
The same is true at the upper end of its 45lb rear-facing weight limit. Thanks to its generous height and premium support, children 3-4 years of age will be able to sit comfortably for all but the longest journeys, and you won't need to switch them round until you're sure it's safe to use the forward facing configuration.
Aluminum reinforced sides
The sides of the RXT do also feature aluminum reinforcement too. In conjunction with the impact-resistant foam padding, this reinforcement helps to protect your baby from side-on impacts – to a much greater degree than federal safety standards demand.
Premium quality
Beyond concerns of safety and ease-of-use, we're also really pleased to say that the RXT really feels like a premium seat too: Everything from the soft, breathable fabrics, right through to the padded, memory-foam cushion add a certain air of luxury that we just didn't see in the R100.
That said, it is still worth noting that the RXT is built on the same frame as the rest of Diono Radian car seats. Comfort and ease-of-use aside, this does mean that it's not really all that much safer than the R100. it does have higher weight limits, and it does offer features that you just won't find elsewhere in the Radian range, but these are quality of life improvements, rather than fundamental differences in the core capability of the car seat.
Some Downsides
The shared base design does also mean that the RXT suffers from some of the same drawbacks found in the R100 and R120 models too: The seat is, again, very tall, which can make it a poor fit for small vehicles. Tightening the LATCH belts can be tough too, and there's no getting around the fact that this is a heavy seat, either, and you probably wouldn't want to try and set it up in a hurry.
Bottom line
That said, the RXT does still offer a level of comfort and luxury that you just won't find anywhere else. If you're looking for a top-tier seat with all the bells and whistles, you've come to the right place.
Having used it a fair few times ourselves, we're also confident that it'd last the full 10 years so if you're looking for a car seat that's a real investment, you won't go wrong with the RXT.
In our view
The R100 is the best choice for safety conscious parents on a budget
The R120 is a great all-rounder, and offers a good compromise between price and comfort
The RXT is a top-tier seat with a price point to match, but it does offer the last word in luxury.
Final Words
There's a Radian seat to suit every family, and Diono's range includes some of the safest seats we've ever had the privilege to review. When it comes to actually picking between the R100, the R120 and the RXT, just take your time, evaluate the key differences, and then make a choice based on your priorities.
If you're struggling to pick, the table at the top of this article should help to provide some clarity!
Also read:
---
Last update on 2020-07-01 / Affiliate links / Images from Amazon Product Advertising API