Good 3-in-1 car seats are few and far between: Most are either incredibly bulky or relatively uncomfortable, and the overwhelming majority never really manage to be as good as a bespoke, rear-facing child seat in terms of feature set or usability.
Diono's Radian RXT is one of the few exceptions to the rule. This slimline seat boasts high-comfort, memory foam padding, a steel-reinforced frame, and a whole host of additional safety features that put it leagues ahead of the competition.
It's also one of the few seats that's designed to offer extra room in its rear-facing position, which means it'll keep your little one safe.
There are some downsides – including the seat's weight, and a fairly arduous setup process – but this is still one of the best 3-in-1s we've reviewed, and it's something of a must-have for safety-conscious parents.
Below, we've broken down the pros and cons to help you make an informed decision. We've also given a brief overview of the setup and maintenance process, so that you know exactly what you're in for, should you choose to purchase one for yourself.
Diono Radian RXT General Introduction
It'd be foolish to start an in-depth review without first addressing one of the biggest concerns around the RXT.
It is true that Diono recalled a large number of their 3-in-1 car seats back at the late 2017, and that many pre-2017 models were affected by this recall. However, the actual details of the recall are much more benign than you might expect.
The truth is that Diono recalled their seats due to an issue that they'd discovered in testing, where forward-facing seats that were attached via the seatbelt – and not tethered at the top – provided slightly less impact protection than initially anticipated.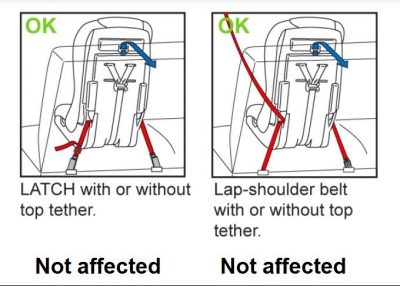 The seats all still performed within the required parameters, but the manufacturer decided to be proactive, and issue a full product recall.
They also offered to send an upgrade kit, containing a replacement chest clip, and instructions on how to reconfigure the seat so that it was 100% safe. Plus, the design was updated to ensure that all future models are free from the issue, which means that all new seats are completely unaffected.
If anything, we think this proactive approach to customer safety makes Dianno more trustworthy than other retailers, who may have been tempted to just update future designs. The level of transparency displayed by the manufacturer does also mean that you can rest easy, knowing that any future issues will be brought to your attention immediately.
Beyond Diono's commitment to safety, the RXT boasts a whole host of positive attributes. We've detailed out favorites below: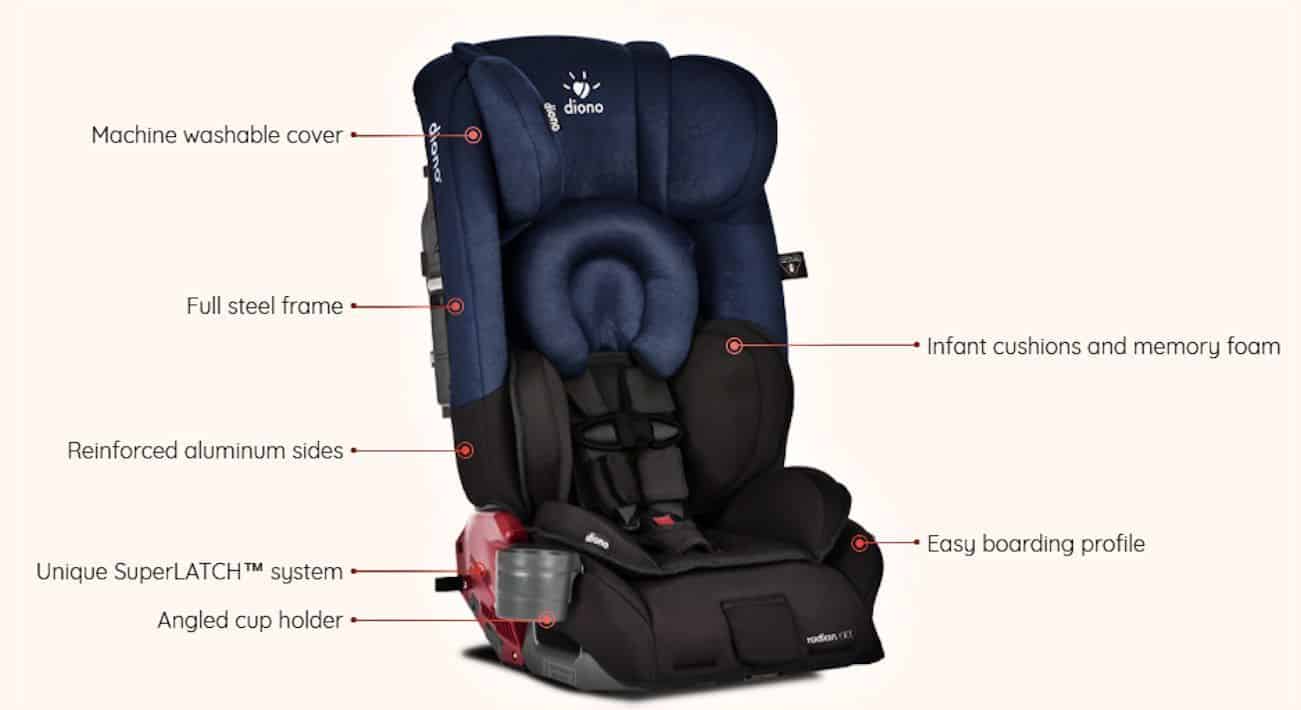 High rear-facing weight limit
One of the key selling points of the RXT is the fact that it can be kept in the rear-facing position right up until your child weighs over 45lbs.
Rear-facing car seats are much, much safer than seats placed in the forward facing position. So much so that in Sweden, the country with the best safety record in the world, all parents are advised to keep their children in rear-facing car seats until they are at least 4 yrs old.
Unfortunately, most modern 3-in-1 car seats are only designed to accommodate children up to 40lbs in the rear-facing position, and a great many actually ask you to switch the seat round at around 35lbs.
This makes seats like the RXT an absolute must-have for safety conscious parents. Those extra 5-10lbs might not sound like much, but they'll let you keep your child facing the back of the car for an extra year or so at least.
The RXT is also one of the toughest car seats around. It has a sturdy, steel frame that's rated to comply with NHTSA regulations, and it also boasts a super-strong headrest that's been reinforced with aluminum to provide extra protection.
Despite the fact that the NHTSA only test front and rear impacts, Diono have also taken extra steps to ensure that this seat provides adequate protection for side impacts, which is always very reassuring. We're also really pleased to see that the manufacturer has padded the whole seat with shock-absorbing EPS foam.
The manufacturer has even incorporated a patented SafeStop harness that's designed to reduce the force of impacts while the seat is setup in its forward facing configuration.
This unique feature is designed to sit between belt and seat, so that it can soak up the extra energy and momentum caused by a collision. While it's not 100% necessary, we really like that it's been included, as it lets you make sure that your child is absolutely safe at all times.
All in all, we think it's fair to say that this is probably one of the safest car seats on today's market.
All of that extra strength hasn't really added any extra bulk though. In fact, the Diono RXT benefits from an incredibly narrow frame, particularly when compared to other, modern 3-in-1 car seats.
It's just 17 inches across at its widest point, tapering down towards the base of the seat. This makes the RXT incredibly easy to fit, and it also means that you'll have a lot more usable space around the seat.
If you're wondering just how much space, we're pleased to report that you can comfortably fit three RXTs in the back of an average sized saloon car, which should tell you something about just how narrow this 3-in-1 is!
This might seem like an odd strength to pinpoint, given that all 3-in-1 car seats are designed to be versatile.
That said, one of our favorite things about the RXT is its incredible adaptability: There's plenty of overlap between the weight and height limits on each mode, which means that you can choose to transition your little one at a point that suits you. All of the harnesses, straps and safety fittings can be moved to ensure a good tight fit too, allowing the RXT to accommodate infants of any shape and size.
The seat is also designed to cater for children all the way up to the 120lb mark (in booster mode) and the super-handy infant inserts mean that you can use it right from birth without compromising on safety.
These inserts are actually a brilliant little feature: they add a bit of extra padding and support, but they're incredibly easy to switch out once your child has grown a bit, and they make the car seat super comfy for those first few months too.
As we'll note below, this definitely isn't the easiest seat to set up, but it is the kind of seat that'll grow with your child, and its 10yr life span means that it'll be with you right the way through to the 120lb mark.
The RXT has both LATCH and belt fittings too, which means that you can choose exactly how you want to set it up. This might seem like a minor point, but we're a huge fan, as it means you can safely fit the seat in cars without LATCH fittings, but still have the choice to use this slightly-safer alternative if you want to.
Finally, we're happy to say that the RXT is a comfortable seat. There may be more padded options out there, but the firm, memory foam inserts and the soft cover mean that your unlikely to hear any complaints, and you'd be happy using this seat for long road trips.
Cons of the Diono Radian RXT
Of course, there are a few things that could be better: The RXT is actually one of the heaviest car seats we've reviewed, weighing in at approximately 31lbs.
While the handy 'carry mode' that lets you quickly fold the chair up into a compact bundle does make it nice and easy to transport, there's no getting around the fact that this is a cumbersome seat.
It's also quite a difficult seat to set up; the LATCH connectors and belt fittings are all simple and straightforward to use, but actually getting the belts and clips tight enough requires a fair bit of strength. This is particularly true of the latch fittings, which are quite awkward to tighten properly, and may well require two sets of hands.
Once the seat's in though, it is very secure. If you intend to move between cars a lot, or see yourself regularly taking the seat out, the RXT may not be the best 3-in-1 for you. That said, if you're planning to 'set it and forget it' this is probably one of the best possible choices.
One other issue is the amount of space the seat uses in the rear-facing position: Until you can use the upright angle settings, the seat (and headrest) do take up quite a lot of space and the manufacturer does insist that there's a gap between the front seat and the baby seat.
This means that you might have to move the front seats forward slightly to accommodate the extra-large seat back. For the first few months at least.
That said, the seat is still one of the safest 3-in-1s you'll find, and it is a really high-quality option so if you have a bit of room to spare, and don't mind spending 45 minutes setting up the seat for the first time, it's definitely a good choice!
Use & Maintenance of Radian RXT
The straps might fight back a bit, but setting the RXT up is a simple and straightforward process: The clips, connectors and detachable base are all clearly labeled, and the instruction manual walks you through the whole process step by step.
There is only one LATCH strap, which means you will have to completely detach the seat in order to flip it between rear- and forward-facing configurations, but the different belt paths are signposted on the back of the seat, and we were actually very impressed with how straightforward the entire process was.
Changing the position of all of the straps and harnesses is really simple too, and the headrest is very adjustable, which is great if you're trying to get a really snug fit.
Note: Please pay very careful attention to the instructions given in the user manual when setting up this seat. Diono has gone to great lengths to ensure that you know exactly how each part should sit, and making sure that the seat protects your child requires that you follow these instructions to the letter.
In terms of general care and maintenance, the most important point is that the seat cover is completely removable, and washing-machine friendly.
If you've ever bought a car seat without a removable cover, you'll know exactly how frustrating it is to try and spot clean stains, smears and spills, so the fact that you can just peel the whole cover off and throw it straight into the washing machine is a huge plus point.
The cover is also a really nice, soft-touch fabric that holds up to repeat-washing very well, so you don't have to worry about wearing it out too much.
All the other elements of the seat, from the cup holder to the infant insert, are really easy to unclip, and folding the seat up for transport is really straightforward too: Just flip the seat on to its back, take out the insert (if you're using it) and pull on the marked clip to fold everything up into a compact bundle.
Some other reviewers have noted that the various latches and clips on the Radian RXT can be quite stiff at times. This is definitely true, but they're also very sturdy and we found their heft quite reassuring. If you take the time to engage with the owners manual, you should find this seat very easy to set up and maintain.
---
Diono Radian RXT - Black Scarlet
Diono Radian RXT - Black Scarlet
---
In Conclusion
The Radian RXT is one of the few 3-in-1 car seats that we'd always be happy to recommend. It is heavy, and it is also quite arduous to set up for the first time, but all-in-all, it's a very user friendly seat, and the security it provides is unparalleled.
If you're keen to keep your child in a rear-facing seat, want something that won't waste space, or value security above all else, you can't really go wrong with this seat.
---
Last update on 2020-07-01 / Affiliate links / Images from Amazon Product Advertising API