Y
our pillow might be the answer you need to achieve your daily dose of healthy sleeping hours. Of course, having sufficient sleep on a regular basis is very important for the proper functioning of your body system.
On the average, an adult human is expected to have about 8 hours of sleep each day. While we all tend to pay extra attention to having a balanced and nutritious diet, we often show little concern to our daily sleep requirements.
It may interest you to know that your pillow comprises almost 20% of your total sleep surface. Although some people sleep well without a pillow, most people prefer using at least a single pillow for their sleeping comfort.
In a recent study, two-thirds of the respondents admitted they often used one to two pillows. Then, about one-fourth of the respondents said they used at least three pillows while sleeping. Surprising right?
Read on if you want to really learn more about how your pillow could be the therapy you need to achieve sound sleeping hours on a regular basis.
The 'Right' and the 'Wrong' Pillow
Scientific studies have proven that for us to enjoy a deep and fulfilling sleep, our body temperature must fall to a lower level.
This explains why more and more emphasis is being placed on the use of cool pillows with fabrics that allow superior air circulation.
Hence, you should avoid pillows made with materials that release gaseous substances.
Your pillow is much more than just being a support for raising your head while you sleep.
Using the right one that suits your sleeping pattern will go a long way to make your sleep more fulfilling and beneficial for your health needs.
As you read on, we shall reveal more benefits you can derive from using one of the best pillows for stomach sleepers on the market.
You may like: Pillow Stuffing: What's Best for Me
Different Sleeping Patterns and Habits
People follow different sleeping patterns and habits, depending upon their individual comfort levels so they tend to sleep on different sleeping positions and so on.
A large number of people sleep on their sides while many people sleep on their back. Some people sleep on their stomach too. Yet some other people may not have a set sleeping habit.
But one thing that is common to the majority of all people, is that they indeed want an ideal pillow which would give them complete comfort throughout the night.
Most people are also not inclined to spend a fortune on their pillows. To cater to the needs of different types of sleepers, different types of pillows with various types of fillings and covers are available in varying price ranges.
You may like: Baby Won't Sleep in the Bassinet?
Pillow Support for Stomach Sleepers
If you are a stomach sleeper, then this article will be of interest since we specifically address your needs. It would be interesting to note though that a stomach sleeper would not often sleep all through the night on his stomach.
He would be sleeping for some time on his back and sides as well. Your pillow should be able to take care of your comfort in all the situations, though for most of the time, you are likely to sleep on your stomach.
As stomach sleepers do not need to provide elevation to their head nor do they need support from their pillow for their neck and upper back, thin and flat pillows suit them the most.
Stomach sleepers can also occasionally use these thin and flat pillows under their stomach to give support to their lower back.
What Makes a Good Pillow?
Pillows can be judged for their usefulness on the undernoted parameters:
Firmness – The firmness of a pillow determines the comfort that the sleeper gets while using. A stomach sleeper would need much less firmness in his pillow as compared to a back sleeper or a side sleeper.
Cover and Materials –Most customers prefer impeccable quality when it comes to covers and materials as this is the point of contact for the body.
Eco-friendliness – Eco-friendliness is a concern for most people today. More and more people are now becoming conscious of their responsibilities towards the society.
Cool effect –For a sound and comfortable sleep through the night, the temperature of your body must fall while you sleep. Cooling effect in a pillow is a big contributing factor in this.
Malleability – Your pillow needs to be somewhat malleable but should also provide adequate support to your neck. A balance needs to be struck between malleability and firmness.
Price – For most customers, price is an important factor. Your pillow should not only meet all your requirements on the quality front, but must also be within your budget or in a reasonable price range.
Top 5 Best Pillows for Stomach Sleepers
Some pillows which are ideal for back sleepers or side sleepers might not be appropriate for the stomach sleepers.
Studies show that stomach sleepers are most comfortable with thin, flat pillows. Now let's consider some of the popular pillows available for stomach sleepers.
On Sale
On Sale
On Sale
Elite Rest Ultra Slim Sleeper Memory Foam Pillow
This is an extremely thin pillow which is both soft and dense, making it the first choice of many stomach sleepers. While stomach sleepers often need a very thin pillow, some of them even use one under their stomach to prevent pain in the lower back. This pillow serves both purposes well.
This product may well be the thinnest pillow that you have ever seen till now. It is only about 2 inches thick whereas normal pillows that most people use are between 4 and 6 inches thick.
This soft memory foam pillow sinks to conform to your shape as you sleep on your stomach. With this pillow, your head will barely be above the mattress.
A good thing is that with Elite Rest, people in the habit of sleeping on their stomach with their arm under the pillow will find this pillow very comfortable.
Overall, a great option for a thin yet supportive pillow.
Pros

The thinnest pillow available on the market and the ideal pillow for stomach sleepers.
Half pillow design , being flat on one side and normal on the other.
Memory foam with hypoallergenic, anti-microbial, and bedbug resistant qualities.
Cons
Short-statured users may not find the pillow to be very comfortable
Some users may find the foam to be too soft
[button color="white" size="normal" alignment="center" rel="nofollow" openin="newwindow" url="https://amzn.to/2PtY14M"]Check It out on Amazon[/button]
Xtreme Comforts Slim Bamboo Pillow
This is a thin pillow which does not go lumpy or flat because of the good quality shredded memory foam used for it make-up. It provides adequate support to your spine, back and neck.
This product is a thinner version of another popular traditional pillow from the same manufacturer.
A really cool feature, is the Certified ultra-deluxe premium quality shredded memory foam used by the manufacturer, which does not become lumpy or go flat. It is also hypoallergenic and dust mite resistant.
Its density remains uniform and constant to conform to the contours of your neck and head and give you a comfortable sleep all through the night. Here is how it facilitates your sleeping position.
It also promotes proper alignment of your back, neck and spine and eases neck and lower back pain.
Overall, a good pillow which is healthy and provides all that you need to sleep tight.
Pros

It has the ability to return to its original shape night after night
Made with CertiPUR-US Certified, making it absolutely safe even for pregnant women
Hypoallergenic and resistant to dust mite and therefore, safe for people with allergies
It has soft bamboo cover which provides superior air circulation and breathability
A 30-day, full money back guarantee
Best in the business 6 year Warranty
Machine washable
Cons
Some indication that it flattens in the middle
[button color="white" size="normal" alignment="center" rel="nofollow" openin="newwindow" url="https://amzn.to/2Emx02h"]Check It out on Amazon[/button]
Pancake Pillow – Adjustable Layer Pillow
This pillow is different from others available in the market as it has
six layers of ultra soft puff microfiber-fill
with an option to
adjust the number of layers using the zippered pillow case.
If you so desire, you can make two pillows of three layers each.
The manufacturers believe that sleep comfort is all about the pillow height, in addition to good material being used in the manufacture. Indeed, on many occasions, one gets neck pain because of too much or too little height of the pillow that one had the compulsion to use in a hotel or elsewhere.
Pancake is suitable for all types of sleepers because of this unique feature.
This product, as the name suggests, comprises of six layers of super soft puff microfiber fill that stack up like a fluffy stack of pancakes, giving you an option to choose the number of layers to custom fit your perfect pillow.
If you wish to add or reduce the number of layers, the pillow case zippered on 3 sides makes your job easy.
If you choose the Pancake pillow, when you are buying pillows for the whole family, you don't need to bother about the preferences of all the members regarding height or their sleeping preferences. Everyone gets what he wants by way of the option to adjust pillow heights.
Overall, a great versatile pillow for the whole family.
Pros

It is a suitable pillow for all sleeping positions since the height is adjustable
300 Thread Count with 100% Cotton Outer Case
Hypo allergenic soft microfiber fill for total comfort
Cons
Some complains that the pillow "sinks in" too much
[button color="white" size="normal" alignment="center" rel="nofollow" openin="newwindow" url="https://amzn.to/2PtY14M"]Check It out on Amazon[/button]
Coop Home Goods – CertiPUR Memory Foam Pillow (best seller)
This product comes with many exceptional qualities. The manufacturers claim that their intention is to improve the quality of your everyday living with better quality products. This product is definitely worth considering.
The Coop Home Goods pillow contains a proprietary mix of CertiPUR-US approved shredded visco-elastic memory foam and the customers can choose to add or remove foam to adjust the pillow height or loft to suit their personal comfort level. It comes with Interlock Fabric, the tightest knit possible to have a smooth surface.
This feature makes these pillows ideal for all sleep positions while also permitting greater ventilation for better alignment.
What makes the Coop Home Goods ideal for stomach sleepers is how the shredded foam is adjusted to let the head rest in the foam while it is thick enough to support the neck, and also provides space for breathing while you rest on your stomach.
This pillow is engineered with bamboo Viscose Rayon and Polyester in the cover, a combination that keeps you cool.
Pros

It is suitable for all sleep positions since it allows for adjustment
Inner lining made with Interlock for a tight knit and smooth surface
Made with CertiPUR-US Certified foam which makes it environment friendly
Hypoallergenic and dust mite resistant pillow that is safe for people with allergies
It is machine washable
Removable cover
30 day, full refund guarantee
Cons
A bit too soft and not as supportive as expected
[button color="white" size="normal" alignment="center" rel="nofollow" openin="newwindow" url="https://amzn.to/2QN3fxb"]Check It out on Amazon[/button]
eLuxurySupply Extra Soft Down Filled Pillow
This mildly filled pillow is ideal for providing support to your neck as you sleep and also provide the much-needed cooling all through the night. The product is designed specifically for stomach sleepers.
These soft density pillows are filled less than the traditional ones to provide optimal support to your neck through the night. While dense pillows tend to trap body heat, these mildly filled pillows keep you cool throughout the night.
Their tight 100% cotton ticking encourages ventilation. Durable 230 TC Cambric woven 100% cotton casing provides softness and durability both. The filling comprising 80% down/20% feather blend is designed specifically for stomach sleepers.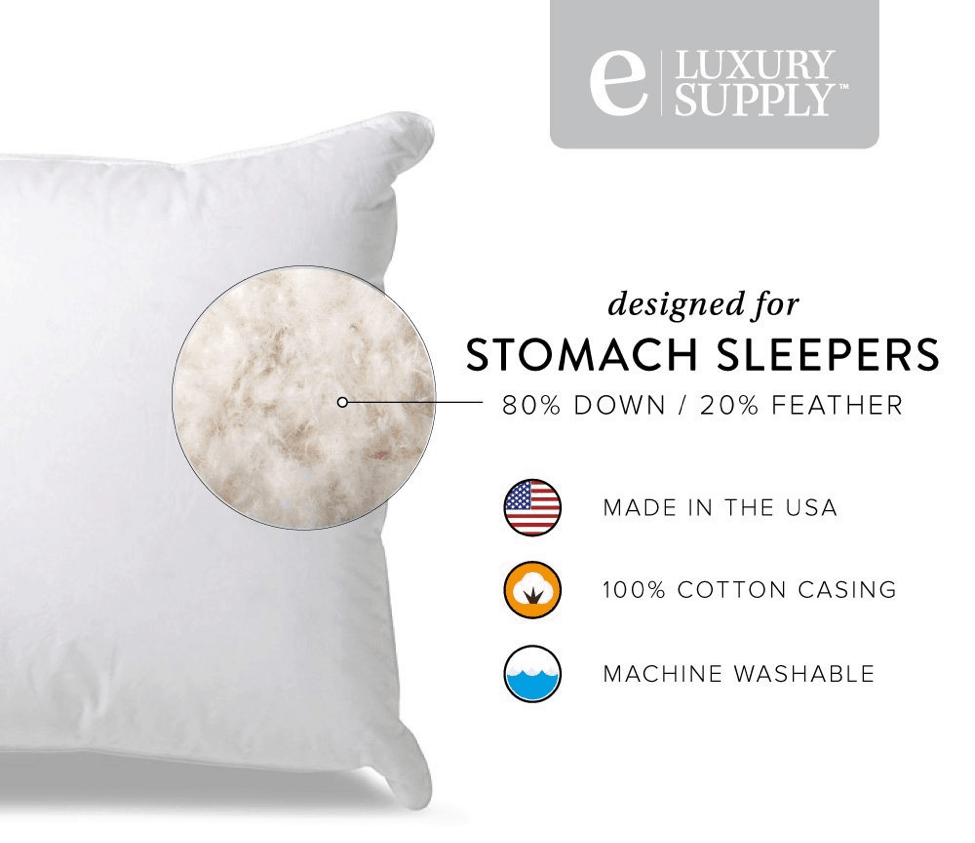 Overall, this is a great eco-friendly solution for a comfortable pillow if you are a stomach sleeper and fancy down/feather.
Pros

It has fillings that are specifically designed for stomach sleepers
Low loft to suit stomach sleepers
Special cotton casing weave to avoid feathers poking and yet allow the pillow to breathe
Hypoallergenic to safeguard the users against allergy
Machine washable and dryable
30 day, full refund guarantee
Cons
The down and feather make a sound like a paper bag at times which can be annoying
[button color="white" size="normal" alignment="center" rel="nofollow" openin="newwindow" url="https://amzn.to/2L81ipP"]Check It out on Amazon[/button]
Key Takeaways
No doubt, an essential pre-requisite for a sound sleep is a good and comfortable mattress. Yet, many people stay restless for hours at nights tossing and turning around on their beds despite sleeping on very comfortable mattresses.
This, in many cases, may be due to the use of pillows that are not suitable for their sleeping patterns. Such scenarios speak volumes on the importance of buying a pillow that suits your sleeping needs. This is the only way you're sure of achieving deep, sound, and comfortable sleep on a regular basis.
What we have done in this post, is to gather the best pillows for stomach sleepers, based on an extensive research in the market. Whichever pillow you choose from this list, our impression is it will cater for this sleeping position, so all that is left is to weight in the pros and cons and act accordingly depending on your needs.
Until next time, take care and let your pillow make your night a better one.
Last update on 2020-07-01 / Affiliate links / Images from Amazon Product Advertising API