In today's day and age, colored gemstones are becoming increasingly popular. Yellow gemstones are no stranger to this rise in popularity.
In fact, it is the presence of their brilliance of color and versatility in hues that make them so attractive to a wide range of consumers. From saturated golden hues to eye-catching, sunny colors, yellow gemstones exude warmth.
16 Types of Yellow Gemstones
Yellow gemstones showcase a wide variety, which can be divided into those suitable for everyday wear, occasional wear, or just being a part of gemstone collection.
The yellow color itself is often associated, due to its sunny appearance, as an optimistic color that can increase our creative and intellectual energy.
Similarly, yellow gemstones are known to aid logic, memory, concentration, and will-power, and can be especially helpful to those who suffer from seasonal depression.
Too little yellow in our lives can make us feel apprehensive in trying new things, and can even result in low self-esteem. On the other hand, prolonged contact with yellow gemstones can make it challenging to stay focused on a singular task, and resulting in a feeling of being overwhelmed.
It can promote aspects of being a workaholic and can make us more demanding and critical. It is therefore recommended to wear these gemstones in close contact with our skin around the pulse points of the ears, wrists, ankles, and necklines. This can also help in balancing out our 3rd Chakra.
Outlined below are 16 of the most well-known yellow gemstones:
1. Yellow Diamond
Yellow diamonds are the most expensive among the yellow gemstones. The presence of yellow in this gemstone is due to nitrogen.
In a traditional, colorless diamond, there are carbon bonds in a lattice structure. In yellow diamonds, however, nitrogen can replace carbon. The presence of even the smallest nitrogen can lend diamonds their distinctive yellow hue.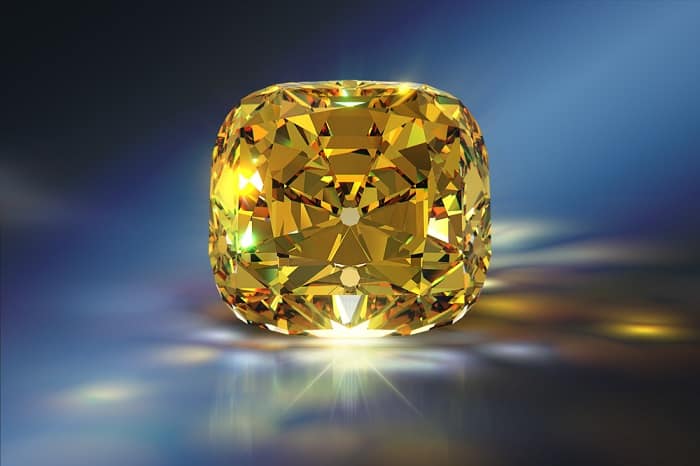 Related
Types of Diamond Cuts: Your Comprehensive Guide
Is It a Good Idea to Buy an Uncut Diamond?
Other secondary hues like green, orange, and brown are also visible, although green hues are thought to lower the attractiveness of the diamond.
These colored diamonds are naturally occurring, and are very rare in nature. They can also be lab-produced. Control of the Nitrogen-Carbon bonding has increased in labs, such that a certain color or hue can be produced more definitively. These lab-produced diamonds rank lower in the market for the price as compared to mined diamonds.
It is important to note that their hardness is not affected, and they still rank at 10 on the Mohs scale. They are classified or graded as Fancy Light, Fancy, Fancy Intense, Fancy Dark, Fancy Deep, or Fancy Vivid, depending on the tone and saturation of the color yellow.
Also read
Necklace Chain Types: A Guide for Your New Year
Platinum, White Gold, Yellow Gold and Rose Gold
Interestingly, yellow diamonds graded as Fancy Intense or Fancy Vivid can sometimes cost more than a colorless diamond. The price of 1 carat of Intense yellow diamond can range between $6500-8000. A Fancy Light is usually priced around $3500/carat, and a Yellow diamond with a Fancy grade can lie between $4500-5000/carat.
The traditional diamond is a symbol of love and everlasting devotion, but yellow diamonds further expand onto that and signify knowledge, intellect, and wisdom. They also denote the beginning or continuation of a happy life, lived in love.
It is best to pair yellow diamonds with white gold or platinum, surrounded by traditional white diamonds to increase the contrast between the two. However, setting yellow diamonds in gold, paired with smaller yellow diamonds, is also done to emphasize the yellow tones.
2. Yellow Sapphire
Yellow sapphires are correlated with the planet Jupiter and are less expensive than yellow diamonds. As the popularity of yellow diamonds is on the rise, yellow sapphires can be constituted as more reasonably priced alternatives. They are chemically composed of aluminum oxide, which lends them their unique hue.
Yellow sapphires are naturally occurring, and can also be manufactured in the lab. It goes without saying that the artificially created sapphires result in a much lower price in the market. However, there is no compromise in hardness, as it ranks at 9 on the Mohs scale.
Canary yellow sapphires with no heat treatment are thought to be of the highest quality. Light yellow sapphire gems under 1-carat size are not rare and quite inexpensive.
The yellow sapphire stone carries much significance and is thought to bring prosperity to those who wear it. In India, this gemstone is believed to represent divine grace and power and is known as the gemstone of knowledge. It is said to bestow good health, longevity, honor, and protection from evil spirits on its wearers.
Gold or silver are thought to be the most suitable for yellow sapphires. These metals are also suggested for spiritual reasons, such that the metal in contact with the skin can spread its positive energy and longevity into the wearer.
Guess you like
Pavé Setting: Know It Before You Buy Diamonds
10K, 14K, 18K and 24K Gold: Which to Choose?
3. Citrine and Yellow Quartz
Citrine is a type of quartz and is found rarely in nature. However, they are still quite inexpensive, and price per carat ranges around $6. The price is subject to the quality of the gem, but even then, this gemstone remains very affordable.
Most citrines present in the market are heat-treated, with low-grade amethysts or smoky quartz being "cooked" at high temperatures to produce more of an orange hue. Citrines found in nature tend to be pale yellow in color.
The citrine ranks the same as quartz on the Mohs scale at 7. They are composed of Silicon Dioxide. Citrine is thought to possess healing properties from the sun, although hues with orange and brown tints are not uncommon.
Citrines are thought to aid in mental clarity and can boost your creativity as well as the abilities of visualization. They are said to dispel anger and radiate optimism.
Also, citrine is an excellent stone for chakra realignment and can focus the solar plexus chakra, located at the top of your abdomen.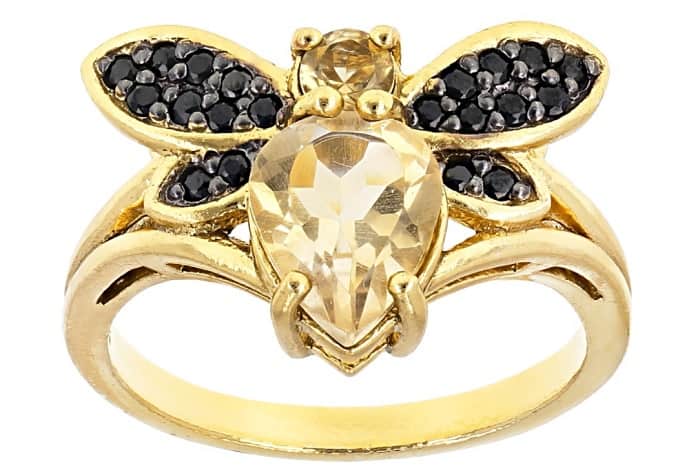 Also read
Gold Vermeil, Gold Plated and Gold Filled: Know it Better
Sterling Silver, Pure Silver, and 925 Silver: Are They the Same?
4. Heliodor
Heliodor is the member of beryl family and is sometimes misidentified as a yellow emerald. It's chemically composed of silicate and can be lab produced as well as found in nature.
The distinctive yellow hue is attributed to the small amounts of iron present in the mineral's internal structure.
A heliodor made in a lab is usually accomplished by heat treating, which can result in different hues of yellow within the stone.
For instance, radiant heating can sometimes improve the yellow coloring, but further heating can transform the yellow into a greenish-blue or blue mineral, which are classified as heat treated aquamarines.
Heliodors rank from 7.5 to 8 on the Mohs hardness scale and are relatively unknown to the public. Their price point is quite affordable, and the price per carat does not increase until there are 10+ carats in the stone.
Heliodors are believed to have the power to solidify new relationships and can be used to bring about happiness, strength, enthusiasm, and success.
The light-yellow heliodors are thought to combine the yellow with the rays of sunshine and induce a time of development and maturity for the wearer.
Related
CTW vs. CTTW: Know Your Gemstones
Can You Prevent Silver From Tarnishing (and Keep it Shine)
5. Garnet
Most commonly known as the January birthstone, and notable for its reddish-brown hues, garnets also occur naturally as yellow-hued Hessonite and Andradite.
Hessonite is relatively common and is composed of calcium, aluminum, and silicate. It is also referred to as the "cinnamon" stone.
Hessonite is thought to be inferior to other forms of garnet as it ranks lower in terms of hardness at 6.5-7 on the Mohs scale. The most sought out hessonite gems are those in which a bright golden orange coloring is present.
The andradite garnet's yellow variety, also known as topazolite, is very rarely found in nature, and its unmistakable yellow hues are amplified by its high dispersion, which results in the illusion of "fire" in the gem.
It is composed of calcium iron silicate and ranks from 6.5-7.5 on the Mohs hardness scale.
Hessonites are known to bring about confidence in the wearer and are thought to be a powerful talisman, bringing longevity and happiness to the wearer. Topazolite is said to increase perseverance in a person, and promotes the growth of abilities.
Silver and gold are usually the best metal pairings with these gemstones and are thought to amplify the energy of these gems.
You migh like
Popular 20 Types of Bracelet: Find Your Style
Do You Really Know January Birthstones?
Top 5 Best Ultrasonic Jewelry Cleaners
6. Chrysoberyl
This gemstone has a chemical composition of beryllium-aluminum oxide, and it is distinctly different from the mineral known as "beryl", although the similarities in their names can cause some confusion.
Chrysoberyl is found in small deposits, and it is considered to be a gem with extraordinary hardness. It ranks at 8.5 on the Mohs scale and is known as the third hardest gemstone that is occasionally found on the earth's crust.
This gemstone's most distinct feature is the cat-eye, also known as chatoyance. This phenomenon occurs when there is a high presence of parallel fibrous occlusions.
Some cat-eye specimens appear to have two different colors on either side of the cat-eye divide, which gives the illusion that the gem is formed of two separate minerals. Cat-eye chrysoberyl gems are often priced at $1750/carat. The most cherished cat-eye color is golden brown.
This stone is thought to bring protection from the evil eye or "Nazar". It also brings great clarity to the wearer and can defend against a vast array of physical illnesses.
Also read
7. Tourmaline
Tourmalines are thought to be the most diverse in terms of the color spectrum and can range in all colors of the rainbow.
The yellow tourmaline is believed to be among the rarest of its kind. Tourmalines are chemically composed of Silicates, and those with yellow tinges are caused by the presence of lithium. They rank at 7-7.5 on the Mohs hardness scale and are relativity resistant to chemical weathering.
Tourmalines are found naturally in coarse granite, or segments close to such formations, but heat and irradiation treatments are commonly used to improve their color.
Heat can lighten some brown-toned tourmalines, and irradiation treatments can give lighter stones more brilliance.
Yellow to gold tourmalines with high clarity are rare, and the presence of green hues are quite common. A vivid yellow gemstone can range from $150-$450 per carat. Imitation gemstones are seen in the market quite frequently, which buyers need to be wary of.
These gemstones are paired well with metals like silver or white gold, which can enhance the subtle glow of the yellow tourmaline.
Tourmalines bring happiness and longevity to the wearer, and can even help in staying focused and motivated. Yellow tourmalines are especially encouraged to those who need to dispel negative energy so that they can become more positive in their approach.
Guess you like
11 Best Crystals for Focus: Saving You from Mindlessness
Purple Gemstones: Ornaments for Your Elegance
8. Danburite
The danburite gemstone occurs naturally in three hues, namely: colorless, pink, and yellow. They are not yet mainstream in the gemstone industry and are thus quite affordably priced around $55/carat.
They are composed of calcium, boron, and silicate, with their hardness ranging around 7 on the Mohs hardness scale.
The clarity present in these stones can result in them sometimes being mistaken as yellow topaz. These gems are known for being heat-sensitive, but can still be worn as an unusual addition to your jewelry collection. They are not particularly 'fiery' in hue, but if cut properly, they can display an excellent color.
This gem is thought to ease your heart and aid in emotional healing. They are also used to assist in lowering anxiety, and sometimes grief.
Danburites can also be utilized to help you with astral projection, which results in lucid dreaming. To maximize the gem's healing potential, pairing it with gold or sterling silver is recommended.
Also read
8 Best Healing Crystals for Anxiety
9. Jade
Yellow jade is among the lesser-known varieties of jade, which are more commonly known for their green hues.
They are naturally occurring, but quite rare, and their shade range can vary from being light, translucent yellow too much more vibrant, golden colors.
Their chemical composition is calcium-magnesium-iron silicate, and their hardness rests at 6 to 6.5 on the Mohs scale.
Jade is more durable than glass and should not break easily. It can be used to make pendants and bracelets, unlike other gemstones, which are usually set in metal.
Yellow jade stones signify wealth, prosperity, and happiness, and are even thought to aid in digestion and to ease the pain of kidney stones.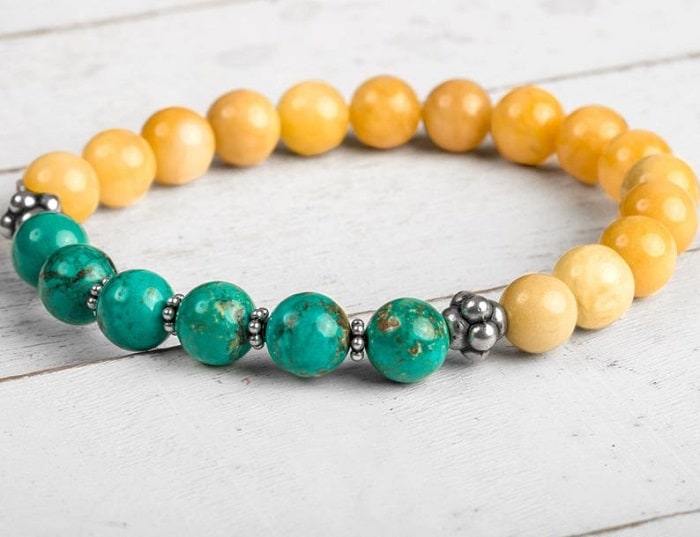 10. Topaz
Topaz is a naturally occurring yellow stone, although its color can range from lighter tones to reddish-orange tones. Topaz with deeper colors is of a higher value than those that are clearer.
This type of stone is sometimes confused with citrine, due to their similarities in hue and tone. However, citrine is a member of the quartz family, whereas topaz's components include silicate, aluminum, fluorine, and hydroxyl. Generally, pure topaz is entirely colorless, and yellow can be attributed to impurities within the gem.
Topaz ranks 8 on the Mohs scale and is usually cut in the oval, pear, or rectangle styles. The naturally occurring yellow stone is a rarity in nature, and priced at $7/carat, although once the stone size exceeds 10×8 mm in size, then a sharp rise in price can be noted.
This stone is known as November's birthstone and holds significance as a 4th and 19th wedding anniversary gemstone.
It is suitable for both men and women and benefits the wearer with a reprieve from negative energy and feelings of regret. Topaz is also touted as a measure to control aggression and anger.
Related
Sapphire vs Topaz: What to Look for?
Blue, White, Pink and Yellow Topaz: Differneces and Your Picks
11. Zircon
Zircon is a naturally occurring gemstone, with the chemical components of zirconium and silicate. It should not be confused with cubic zirconia, which is man-made material.
The stone is present in most granitic fragments, although its particles are too small to be classified as a gem. Zircon is usually yellow, brown, or red, although they can be heat treated to be turned into colorless or blue zircons, which are relatively more popular.
They score 7.5 on the Mohs hardness scale, but they tend to have a lot of durability. They are also quite chemically resistant.
The yellow variation of zircon, coined as Honey Zircon, is sold for $50-$100 per carat. If the sizes are unusually large, then a rise in price point can be expected.
Zircons are thought to emphasize spirituality and can help the wearer become more used to themselves, such that they feel more comfortable in their skin.
To maximize their energy, they are recommended to be inlaid in silver jewelry like necklaces or earrings.
12. Golden South Sea Pearls
These pearls are known to be amongst the most valuable pearls ever produced. They are generally larger than other salt-water pearl varieties.
The growth period for the pearl is 2-4 years, and the salt-water oyster that produces them is known as the Pinctada maxima. They rank 3 out of 10 on the Mohs scale.
The deeper the hue of the golden pearl, the more priceless it tends to be. The most profound golden colored pearls are also called the "24 carats".
The average size of golden south sea pearls is 10-13mm, which is much larger than other pearl types. Pearls, as large as 24 mm have also been found. On average, these pearls have been known to fetch the value of $100,000 due to their size and relative rarity.
Depending on the quality, size, and shape of the pearls, necklaces can range from $10,000 to $30,000.
These gems are thought to emphasize sincerity, loyalty, and purity. They can help promote spiritual faith and can also help the wearer connect with their feminine energy.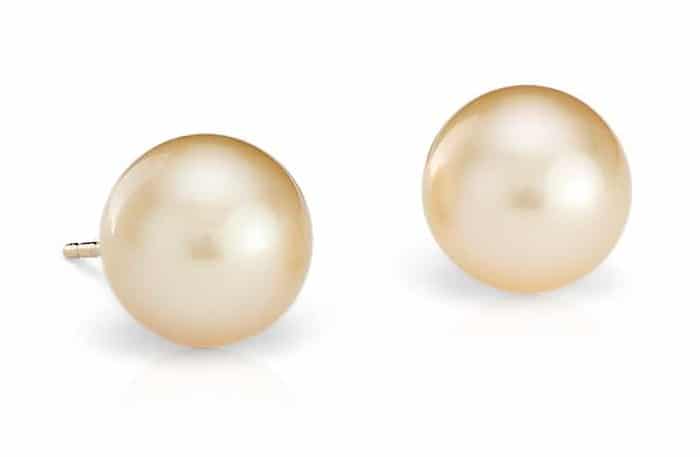 13. Amber
Amber is thought to be a gemstone and has been appreciated as such since the Neolithic era. However, what is so interesting about this particular gemstone is that it is, in fact, not a gemstone at all.
It is a fossilized tree resin, which results in a range of orange and yellow hues. Its chemical composition is carbon hydrogen and oxygen.
Most inclusions in this stone are a small insect, animal, or plant materials. The "youngest" amber is known to be 10,000 years old.
Amber is always mellow to the touch, and at times it is heat-treated to create darker colors or to remove the cloudiness. It ranks at 2-2.5 on the Mohs scale.
The price of the amber is determined principally by its color, clarity, and size. Generally speaking, the most valuable amber has a vibrant yellow color. Amber can be priced up to $40 per carat.
Ambers are thought to be extremely special due to their old energy and act as a cleanser of chakras. They are also associated with the Taurus zodiac sign.
Guess you like
Cartilage Piercing: Really? Cos It Sounds Painful
Exploring the Meaning of Rose Quartz Crystal
14. Fire Opal
Opal is a hydrated amorphous form of silica, such that it contains silicate, and is chemically bonded to water. The water content in opals can range from 3% to 21%.
Fire opals are sometimes confused with precious opals. The main difference between these two gems is that fire opals have a yellow, bright orange, or bright red background, whereas precious opals display spectral colors when placed under a light source. An appealing quality of opals is that they glow in the dark.
The play of color on fire opal can be either bright flashes when the opal is placed under a light source or a neon display of colors from different directions.
Fire opals are generally cut as faceted stones, or as cabochons. The value of the fire opal is dependent on the uniformity of its color. Yellow fire opals are thought to be lower in value than those with dark red hues.
They rank 5.5-6 on the Mohs scale, which means they are soft enough to get scratched or nicked over prolonged wear. It is therefore recommended to wear this gemstone as earrings, pins or pendants that are not subject to rough usage.
Fire opals are thought to signify comfort, and its properties bring luck to the owner. It also gives the wearer vitality and energy and can cause the owner to feel lighter in spirit.
Related
Black Onyx Meaning: Positive or Negative?
Popular and Rare Black Gemstones
What Does The "925" Mark On Gold Jewelry Mean?
15. Scapolite
Scapolite is a rare gemstone and is named after the columnar formation of its crystal, known in Greek as "skapos".
This gemstone is most commonly found in the color honey yellow, but their hues can range from violet, pink, brown, orange or grey, to colorless. Due to its relative rarity, this gemstone is virtually unknown. Scapolite stones with high color intensity are thought to be the most valuable.
Impurities in this gemstone are quite common, some of them resulting in the formation of cat-eyes, which make the gem extremely desirable. It ranks 6.5 on the Mohs hardness scale and is a combination of numerous elements, including sodium, calcium, aluminum, and silicate.
Scapolite is generally not heat-treated, and are cut into fairly common gemstone shapes such as rectangle, or square cuts. They can also be reduced to pears, ovals, emeralds, and cushions, usually up to the discretion of the buyer.
People hold the belief that scapolite gemstones can fix disordered energy and reduce the wearer's stress. They are also used to improve mental power and provide the wearer with more patience to solve their problems.
Guess you like
Square Cut Diamonds: How Do You Choose the Perfect Stone
20 Types of Ring Settings: Find the Perfect Design For You!
16. Sphene
Sphene is an extremely rare calcium titanium silicate that is hardly seen in jewelry collections. It is also known as titanite, as it is derived from titanium ore.
New sources of this gemstone are being discovered, however, and they are slowly rising in popularity. As sphene is extremely rare, the gemstones found are usually no larger than 2 carats at most.
This gem is relatively fragile and rates only 5.5 on Mohs hardness scale. Due to its relative fragility, it is recommended not to be used for rings, but it is suitable for pendants, brooches, and earrings.
Sphene ranges from colors such as colorless, greenish-yellow, or brownish-yellow. Usually, they are transparent, but can also be opaque. Their price per carat is often $120.
Sphenes are known to help the wearer process a more considerable amount of information and can help in improving the mind's concentration.
Also read
Diamond Accents: Are They Worth It?
How to Clean White Gold? (Steps with Hints)
Assessing the Quality of Yellow Gemstones
Determination of a gemstone's quality is done by following the four C's, which are:
Also interested in gemstones of other color?
Pink Gemstones: Get to Know the Best of the Best
How Many Types of Green Gemstones Are There?
Chocolate Diamond: Why So Controversial?
Black diamonds: Are They Real Diamonds and Worth Buying