The term gauge, pronounced ''GAYj'' refers to the thickness of body jewelry. It means how wide a post's shaft is instead of how long. How big of a piercing hole that is needed to accommodate a piece of jewelry is usually what is at play.
Gauge is abridged 'g.'
Note: As you will later learn in this primer, g sizes work in reverse. This means that higher numbers such as 16 gauge are thinner compared to smaller numbers such as a 6 gauge. The bigger-is-smaller while the smaller-is-bigger rule of thumb is somewhat counterintuitive. Always recall this detail when dealing with g sizes.
Gauge Sizes In Detail
When it comes to gauge, understanding different sizes can be challenging. This is especially true if you are a beginner to the world of body jewelry. Nonetheless, once you understand the two systems involved, it becomes very easy. You can measure gauges and other types of jewelry in two ways:
Millimeters (mm)
Gauges (g)
Understanding ear gauge sizes is hard. Before delving deeper into which sizes work the best, let us break it down for you – The smaller the number, the larger the gauge's size.
Larger gauges translate to being larger around. However, it is stated with a smaller value. If you need a bigger g than 14, then the best ones to consider are 10 or 12, not 16.
Note: Gauging entails increasing a piercing hole's size to accommodate larger jewelry. The process of stretching the piercing is involved.
The most common piercings are 18 g or 20 g. This is very small. The sizes of ear g get increasingly bigger. What does this mean? You would gauge to 16g then 14g and progress down if you wish. The lower you go, you ultimately arrive at 00g (roughly 3/8th inches).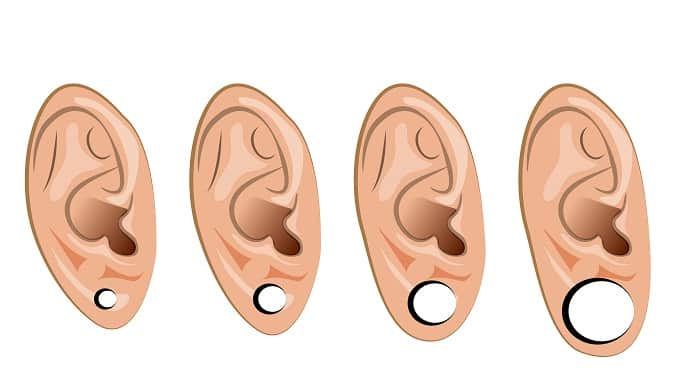 Related
The Beauty of Belly Button Piercing
Cartilage Piercing: Really? Cos It Sounds Painful
How Much Does Nose Piercing Cost?
What informs the reverse nature of gauge sizes?
The gauge system measures the thickness of a wire. For wire to be thin, the makers had to pull it via holes. The more holes they pulled the wire through, the thinner it would become. For instance, thinnest wires are hauled via 20 holes while thicker ones through 5.
The measurements vary from a piece of jewelry to another and company to company.
Common range of body jewelry gauge sizes
They range from 18 gauge – 00 gauge. 20 g is also available. When the value of body jewelry goes beyond 00 g, it is stated in real measurements, like with half-inch plugs.
Gauges compare to diameters in millimeters and inches through the following:
00 g = 9.3 mm, 3/8-inch
0 g = 8.3 mm, 5/16-inch
2 g = 6.5 mm, ¼-inch
8 g = 3.3 mm, 1/8-inch
14 g = 1.6 mm, 1/16-inch (septum, nipple, labret, navel, tongue piercings)
18 g = 1.0 mm, 0.04 inches (nose and ear piercings)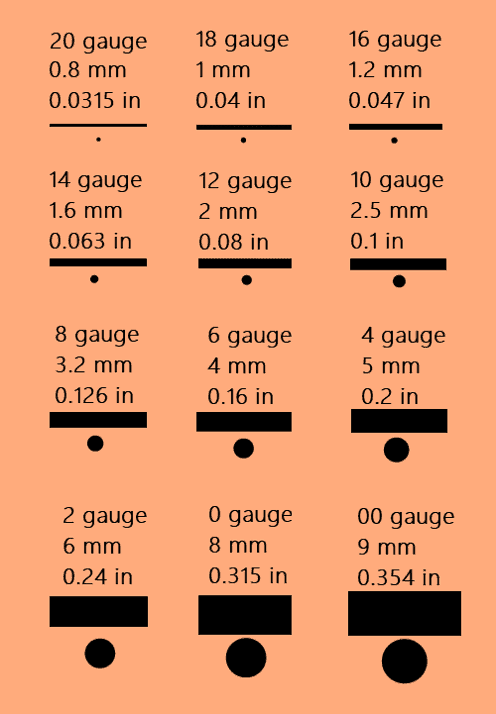 Popular Body Jewelry and Their Standard Piercing Sizes
The standard piercing sizes for different types of piercings are as follows:
Ear – 18 g and 20 g
Septum – 14 g and 16 g
Daith/Conch/Rook/Helix/Tragus – 16 g and 18 g
Nipple – 14 g
Monroe – 16 g
Labret lip – 16 g or 14 g
Industrial barbell – 14 g
Eyebrow – 16 g
Cartilage – 18 g and 16 g
Tongue – 14 g
Nose – 18 g and 20 g
Navel/belly – 14 g
Captive bead rings
These also go by the name ball captive rings, BCRs, and CBRs. Measurement is from the biggest inside diameter. Captive bead rings come in an array of sizes, shapes, and variations. However, the measuring rule applies. The rule of thumb is to always measure the circle's largest inside diameter.
Straight barbells
When it comes to a barbell, you need to measure the length between two balls along its bar. Barbells come in an assortment of lengths and gauges to find the ideal fit for your specific piercing.
Horseshoe/circular barbells
Many jewelers popularly use these as earplugs, earrings, eyebrow rings, nipple rings, and belly rings. They can also work in genital piercings. Measuring circular barbells is from the largest inside diameter.
Because all piercings are different, there is a huge variety of circular barbells in every length and gauge.
Curved barbells
Bent barbell is their other name. Jewelers use them for septum piercings, rook piercings, eyebrow jewelry, nipple rings, and belly button rings.
Nose rings
18 is the average g for nose rings. Nose twists which also go by the name nose studs or nose screws are measured from the charm's or ball's base to the twist's start.
Measure your nose bones to shaft's end right before the beaded tip. You're supposed to measure nose fishtails from the ball's or charm's base to the barbell's end.


More about nose rings
Exploring the Meaning of Nose Ring
Where to Buy Best Fake Nose Rings
Which Nose Ring Sizes are Perfect for You?
Tragus & cartilage earrings, lip rings, and labrets
Labrets also go by the name flat back barbells. You can wear them around the mouth and cheeks. The smooth surface is perfect for close fit piercings.
Measurement should be from the ball's base to the smooth disc's top. 5/16'' or ¼'' are the average sizes for labrets. Jewelers commonly use the 3/16-inch for gristle piercings instead of mouth piercings for a good fit.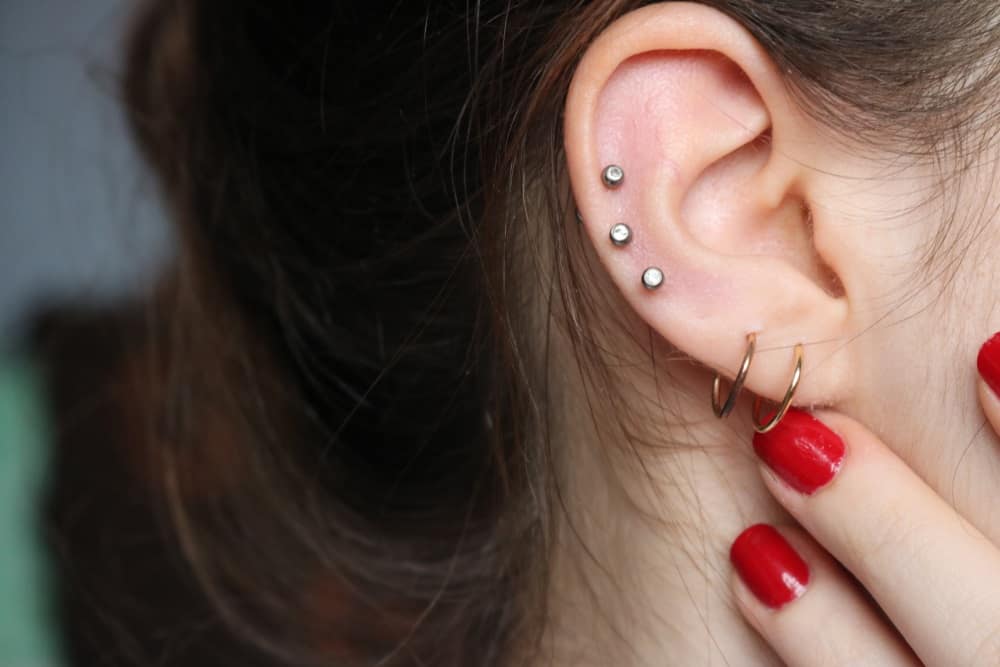 Earlets, tunnels, and plugs
An ear plug's wearable length is measured from the horizontal's line inside edge. Do the same to measure ear tunnel body jewelry and earlets. Plugs are manufactured in countless different variations, designs, and gauges.
How to Find the Right Gauge Sizes
Wondering how to know your piercing jewelry gauge? The best way is to ask your piercer. Lest you need something different, there are preferred average sizes by piercers for starter trinkets. In most cases, starter piercings are either 16 g or 14 g. Others might go as small as 18 or large as 12.
Note: Larger gauges are usually the best options. Small gauges like 16 or 18 run a greater migration risk as they might behave like a cheese cutter's wire, slicing its way through the skin. They might cause possible rejection or a lot of pain.
Provided you pierce it properly, a larger gauge like 12 or 14 should be more stable.
Some people shun bigger gauges thinking that they are more painful. This is not the case. Either way, it is going to be uncomfortable. Neither is unbearable. The prudent thing to do is get a piercing that you will not need to remove several months down the line due to migration.
Step-By-Side Guide to Gauge Your Ears
Stretching or gauging your ears can happen in two ways:
The taping method
The tapers method
Using tapers is the most common method. This is especially true for folks that have never stretched their ears before. The taping method is more popular when you get to around 0 g.
Tapers method
Tapers are made from acrylic or stainless steel. You round them up at one end and taper into a point for effortless insertion. The different types of tapers are:
Concave steel tapers
These are almost similar to the steel ones. The only difference is that the concave part features a dip at the back for you to place your ear gauge plugs.
Steel tapers
Steel tapers are a premium option. Stretching them is easier. They are less painful. Cleaning them is also a walk in the park.
Acrylic tapers
They are the most popular and cheapest option. On the flip side, they are the easiest ones to get infected. Therefore, you need to be extremely careful when using them. They are a good option for stretching. Wearing them for the long term is a different ball game.
Follow these steps:
Step 1:
Thoroughly wash your hands and everything that will get into your ear lobe
Step 2:
Choose a lubricant. Jojoba oil or vitamin E oil are the most commonly used lubricants
Step 3:
Place the lubricant on a taper. Gently push it in. The entire process shouldn't feel pain if you use enough lubricant and go slowly enough
Step 4:
When you have your taper through, you will have successfully put the plug in
Taping method
Once you reach the 0 gauge, you can use the tape wrapping method. This stretching method not only stretches your ears slowly but also carefully.
Follow these steps:
Step 1:
Wrap the tape around the existing ear tunnel or plug two to three times
Step 2:
Lubricate your plugs and insert them in. allow two to three weeks to heel
Step 3:
Repeat until you attain a bigger size
Although tapping takes longer, it is great at keeping your ear lobes healthy and thick.
Note: When gauging your ears, you cannot use any kind of tape. Bondage tape and PTFE tape are the best options. The latter is a popular choice. It is super thin, non-adhesive and inexpensive. The former is costlier.