Did you know that September birthstones aren't as clear cut as many people think? Belief in birthstones has been popular for centuries, so it's not surprising that the stones we associate with different months have changed over time.
Not only this, but different countries sometimes attribute different stones to the months of the year. It's hardly surprising that some months of the year have more than one precious stone associated with it.
Read on to learn more about birthstones and which gems are attuned with those born in September.
How Birthstones Became a Thing
In the Western world, linking precious stones with months of the year was started off by Titus Flavius Josephus who was a Jerusalem born first-century Romano-Jewish historian.
He thought that there was a link between the twelve precious stones on Aaron's breastplate (which signified the different tribes of Israel) and the twelve months of the year.
In the eighth and ninth centuries, it was common to keep twelve stones and wear a different one each month, rather than just having one stone that related to your own birth month.
This practice of preferring just one is only a few hundred years old. However, the origin of this tradition isn't known for sure.
The stones we attribute to different months today comes largely from the Polish tradition. In the late 1800s, Tiffany & Co. used a poem about birthstones to promote their collections.
A maiden born when September leaves
Are rustling in September's breeze,
A sapphire on her brow should bind
`Twill cure diseases of the mind.
There have been numerous poems and traditional songs written on this topic. It wasn't until 1912 that the National Association of Jewelers of America met to standardize a list of birthstones.
The list was updated in 1952 by the Jewelry Industry Council of America. In the UK, the National Association of Goldsmiths drew up their own standardized list of birthstones in 1937, with many similarities between that and the American list.
September Birthstone #1 – Sapphire
One of the four precious gemstones (along with ruby, diamond and emerald), the sapphire is a beautiful stone that's admired by people regardless of their birth month.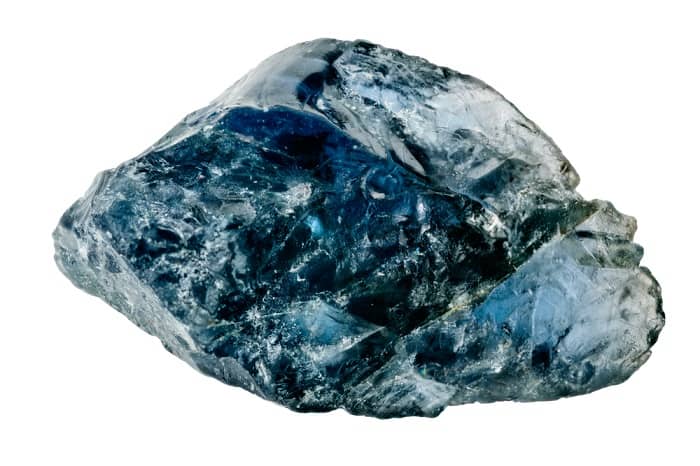 Typically, sapphires are blue, and this is the stone that springs to mind when you think of glittering blue gemstones. However, natural sapphires also occur in a number of colors, including yellow, purple, orange, and green.
Parti-sapphires are rare and exquisite examples that feature two or more colors. Even though sapphires are seen in many colors, blue remains the most popular and sought-after choice.
Sapphires have seen an increased popularity in recent years, particularly as engagement rings where diamonds are used alongside a stunning blue sapphire.
One of the most famous sapphire engagement rings belonged to Princess Diana of the UK. Her ring had 14 solitaire diamonds surrounding a stunning 12-carat oval blue Ceylon sapphire set in 18-karat white gold.
The recent popularity is due to the revival of this ring when, in 2010, Prince William proposed to Catherine Middleton, giving her his mother's engagement ring. This event propelled sapphire rings back into popularity once more. As the color of sapphire is often described as 'royal blue', it's no wonder that this gem is popular with royalty!
You might like
Choosing a Sapphire
If blue isn't your color but you want a unique sapphire, there are plenty of choices to choose from. Pink sapphires have risen in popularity, as have padparadscha sapphires. These have a delicate coloring, with light to medium tones of pink-orange.
Padparadscha sapphires come from Sri Lanka and are very rare, and natural stones of this 'lotus color' gem are some of the most expensive stones on the market.
Another unique choice would be a star sapphire, or a stone that displays the color-changing alexandrite effect. One of the most famous special sapphires is 'The Star of India' It's a near-flawless 563.35-carat sapphire with stars on both sides.
However, its dwarfed in size by 'The Star of Adam', discovered in 2015, which is the biggest star sapphire in the world, weighing 1,404.49 carats
Related
Meanings of sapphire
Like all stones, sapphires have special meanings attributed to them. If the September birthstone correlates with the date of your birth, you might feel more connected to this stone and also to the powers they're said to contain.
Sapphires are said to help open up the third eye, which is how you receive wisdom and insight. They also open the throat chakra, which will allow you to communicate well with others.
Sapphires are associated with spirituality, devotion and peace. Wearing a sapphire could help you to dispel negative energy and attract positivity.
Also read
September Birthstone #2 – Lapis Lazuli
If you are looking for an inexpensive September birthstone, you'll struggle to find a sapphire within your budget. However, these sparkly stones aren't the only gems associated with this month.
While the UK also has the sapphire as their main September birthstone, another British September gem is lapis lazuli. It's easy to see why, as lapis lazuli is also famed for its stunning blue color, though the depth and brilliance isn't as clear as with sapphires.
Lapis lazuli is perhaps the bluest of all gemstones because of its history and association with fine art. While lapis lazuli is less expensive than other stunning stones, they were worth more than gold at one time.
These stones weren't just priced as gemstones to wear, but also for decoration and painting. Powdered lapis lazuli was used as eyeshadow by Queen Cleopatra of Egypt.
Much later in history, in Renaissance Europe, artists coveted the paint that could be made from this blue powder. Nothing like it had ever been seen before.
This was the first blue pigment to hold its color, making it invaluable in artwork, especially when you consider the prevalence of religious paintings, where the Virgin Mary's blue gown could now be painted in heavenly brilliance.
Guess you like
Choosing a lapis lazuli
While this September birthstone doesn't have the same glittering appearance as a sapphire, don't disregard it when choosing jewelry.
Lapis lazuli isn't sparkly, but the stones have unique textures and deep colors, with individual quirks that make the stone personal to you.
The royal blue coloring means that lapis lazuli can pair nicely with either silver, gold or platinum. You can choose a metal that suits your skin tone, without worrying that it may wash out the hue of the jewel.
Round, oval or teardrop pendants are popular styles, as are spherical stones – the texture and coloring can make a spherical pendant look like a globe.
Related
If you like bold, chunky jewelry, or jewelry with dozens of tiny stones, there are several styles that suit lapis lazuli. Aztec style jewelry with bold designs pairs well with this strong color.
Afghanistan is a major source for this blue stone, and so jewelry styles from that part of the world are also popular.
Like sapphires, this stone is associated with royalty, good luck and energy. Anything associated with royalty is also linked with financial wealth and riches.
The rich color of the stone links it with wisdom and creativity. Whether you're an artist creating a masterpiece or an academic trying to attain higher knowledge, this is a powerful stone to have in your possession.
September Birthstone #3 – Chrysotile/Peridot
From the 15th – 20th century, this was the September birthstone. However, this has less to do with the month itself than with the zodiac sign that covers part of the month.
Libra is the sign for those born between 23 September – 23 October, so while it only covers the end of September, this is a clear link between the September birthstone and the Libra sign stone.
Unlike sapphires and lapis lazuli, peridot is more commonly known for its green hues. It is available in a sort of turquoise shade, but officially the color range is 'grey to green,' and the blue is more of a secondary hue.
These days it's usually called peridot because of the connotations between chrysotile and asbestos. Peridot is a gemstone combined with olivine and a silicate mineral. The intensity and exact hue of the color depends on the percentage of iron in the crystal structure.
In the past, peridots have often been confused with emeralds, particularly in treasures belonging to churches where the glistening green gems can easily be mistaken.
This was famously the case with a stone that adorns the shrine of the Holy Magi in the cathedral at Cologne, where a peridot was believed to be an emerald.
The largest cut peridot olivine is a 310-carat specimen in the Smithsonian Museum in Washington, D.C. Most gems found are under 3 carats, so the one in Washington is humungous by comparison.
You might like
September Birthstone #4 – Sardonyx
If you want a special birthstone but aren't into blue or green, there's another option for you. An often-overlooked birthstone for September is sardonyx, which has roots in the old Roman and Polish calendars.
While these days, sardonyx is more commonly linked with August birthstones, it can also be used by those born in September. Just like the zodiac signs which don't fit exactly with a particular month, there is also crossover with certain stones.
A vibrant rippling effect can be seen on this stone, which usually has bands of white, orange, red and black. It's a type of onyx with red bands of sard, instead of deep bands of black, giving it the name sard-onyx.
It's said that soldiers of Ancient Rome wore this stone. As such, it's no wonder that this is a birthstone said to inspire courage and give confidence.
The bold coloring also connotes bravery – we all know that bright red is a power color. This stone can also be used to channel energy to help keep you motivated, disciplined and to reach success. The deep grounding action of sardonyx relates to the base chakra.
Also read
September Birthstone #5 – Zircon and Moonstone
Another crossover stone, zircon can be seen as a birthstone for September because of its zodiac links. Zircon has significance in the Hindu calendar, because Virgo falls partly in September (and August).
So in the Hindu tradition, zircon was a talisman for those born under Virgo and so relates to September birthstones.
Often used as an inexpensive substitute for diamonds, zircon is available in different colors, though blue is popular when linking it with September.
Like diamonds, zircon represents wealth, power and prosperity, and their often clear appearance links with clarity of mind, clear thought and calmness.
Going back even further in time, the Hindu tradition also sites moonstone as a prosperous stone for this time of year. Their milky appearance goes in and out of fashion, but how they appear to glow from the inside out has an enduring appeal.
It's no wonder that this charming stone can inspire feelings of calm, mental wellbeing, relieving anxiety, and promoting peace.
To Wrap Up
Are you a September baby or seeking a special birthstone for someone else? Whoever you're buying for, there are plenty of choices when it comes to choosing a celebratory stone for late summer babies.
For stunning and sparkly, a sapphire is a popular choice. Available in so many colors, don't feel that you have to stick to traditional blue, although blue is certainly one of the prettiest shades of sapphire on the market.
If your budget doesn't stretch to a sapphire, there are other September birthstones to choose from. Lapis lazuli is a great choice for creative minds, whereas moonstone would make a perfect pick for your mindful and calm-loving September friends.
Not everyone likes the pale green of peridot, but if you know a September baby with red hair, pale skin and green eyes, this will be the perfect choice to complement their look.
If you're more attuned to the dark side and like deep, dazzling colors, a sardonyx in dark red would be a unique birthstone to show off your personality.
Remember, the appearance of the stone isn't the only thing to take into consideration. When choosing a birthstone, also pay attention to its attributes and powers, and decide what would fit in best with your ethos in life.
More about birthstones