People who are born in October have a lot to look forward to during their birth month. One of those reasons is that instead of one, the month boasts two October birthstones that people can choose.
Opal and tourmaline, in particular, come in different variations. Additionally, there are endless color combinations that contribute to their original look.
This article focuses on the origin and importance of these gemstones. It describes the relationship between the two birthstones with October and what makes those born in this month so special.
If you've thought about gifting your friend or family member born in October a gemstone, this piece will make you more familiar with its concept.
Because they come in so many different variations, both opal and tourmaline look gorgeous, elegant and easily fit on different jewelry.
Additionally, you can keep them at your home with other gemstones, if you collect them. Both gemstones have a rich origin.
However, we'll first discuss opal, as it's older. It's worth noting that there's nothing wrong with getting both gemstones together.
Combining them just gives more significant meaning to your birth month. If you can't get both, we hope that this guide helps you decide on October birthstone of your choice.
October Birthstones #1 – Opal
People who collect gemstones and receive a lot of education about them believe that opal is the traditional October gemstone.
Origin
The stone origins trace back to India, from where it came to the Western cultures. It has several meanings. The first one is in Sanskrit where priests and people of high society referred to it as "Upala" known as a "precious stone."
Another meaning comes from the Ancient Greeks. They called it "opals" which meant "seeing change." The name then further adapted in the ancient Roman Empire, where people called it opalus. The name has since transformed a little, and we know it as opal today.
Many people became easily enchanted by opal's gorgeous and mesmerizing shades. It interchanges its colors so that they resemble of hues on a rainbow. The phenomenon has been further studied, with it being called the "play-of-color."
Its color shifting is exactly what makes opal so unique. It's worth mentioning that no opal stone looks the same as the other one, as it's extremely hard to replicate such a unique selection of colors on the stone. There are many color variations, including milky white, azure, green, blue, as well as combinations of red, yellow and orange.
More about other colored stones
Meaning
In ancient times, priests and people of tradition thought opal has magical properties, thanks to its colors. People used to call it the "Queen of Gems" because it equipped the colors of nearly every other stone that was known. Additionally, it showed properties of changing its color, when the sunrays would catch a certain spot on the gemstone.
The colorful play of color in opal also inspired various artists, writers and others to worship and detail it in their artworks, masterpieces, manuscripts, and others. Many writers compared it to celestial bodies in the space, gas clusters like galaxies, but also volcanoes and fireworks.
Opal also gained a lot of focus among Bedouins who believed that the gemstone could contain the lighting and that it rained down from the skies during heavy thunderstorm weather.
As opposed to them, the ancient Greeks believed that opal is beneficial for people's health. It was considered a gift of prophecy and has often been brought to people who were fighting an illness or seeking protection from one.
People often gift opal to couples when they celebrate 14th years of marriage. Aside from that, it's a gift for the newborns, an amulet for health and good fortune.
Related
Where to find opal?
You can find opal in everywhere around the world. However, Australia is richer in the October gemstone compared to other continents. That said, it can easily be found in Ethiopia, Mexico and Brazil. Opal is also present in Europe, as well as Madagascar, Honduras, Peru, Indonesia, Turkey, and the United States.
Australia
As mentioned above, Australia is the most popular opal deposit in the world. It's especially abundant in the Lighting Ridge located near New South Wales, Australia.
Many people go there in hopes to uncover the black opal. Opal is produced in rockier and drier regions. Lighting Ridge is such, covered by trees and climate-appropriate for opal creation.
Additionally, it rarely rains, with tremendous summer temperatures also affecting the opal presence. But, miners have it hard, as they have to adapt to living underground to survive the heat and dig opal out.
There are also variations of opal in Australia. The continent boasts White Opal, which is also around New South Wales, particularly in the White Cliffs. It's also abundant in Mintabie, as well as Coober Pedy in South Australia. Sometimes, it can also be tracked in Andamooka.
Australia also hosts the Boulder opal. However, it's mined only in Queensland with no other locations being available in the globe.
Guess you like
Africa
When it comes to Africa, Ethiopia in particular, you can dig for opal in a small village called Wegel Tena in Wollo Province of Ethiopia.
There are a lot of mines and hardworking miners that dig opal out. The gemstone is available in a range of colors, starting from yellow, white, orange, brown, red, as well as "chocolate brown."
Many of the gemstones also exhibit the properties of enchanting colors overlapping phenomenon, mentioned above.
Another large mine in Africa is located in Ethiopia's Shewa Province which boasts black and orange opal. You can also find other variations such as white and crystal opal.
You might like
Mexico
The opal is also abundant in Mexico. It is available in Queretaro and available in different colors. Some of them include yellow, orange, reddish to orange, and other variations, many of which show the colorful phenomenon.
It's worth noting that mines in Mexico ended up as popular touristic attractions. In order to get the opal for yourself, you have to go a long road and move through dense rain forests. It also requires passing rough mountain roads and exploring oaky pine and forests.
How to care for opal?
Opal can sometimes be hard to care for. People often treat it by impregnation. The common methods include using oil or plastic materials.
Some people at times use wax which is also not recommendable. People also often look for opal doublets and triplets which are finely cut parts of opal that get attached to the base material, covered in a layer of pure quartz.
The October birthstone can also use water for caring and cleaning. However, make sure it's warm and soapy. If you don't want to use other methods for cleaning, watch out. There are several methods that can damage the gemstone or the filler material inside it.
If you use water, make sure not to expose it for too long as it can weaken the bonds of adhesive in doublets and triplets. In the case of original, pure opal, don't expose it to immense heat or abrupt temperature changes.
When it comes to hardness and durability, opal sorts between 5 and 6.5 Mohs. That's not particularly hard, which means it can be prone to scratches by other materials. There are other gemstones that can easily damage it, including, rubies, sapphires, and even emeralds, as well as many others like diamond.
Opal healing properties
Opal teaches us to love, be loyalty and gives us peace of mind. If you're struggling after a painful breakup, opal is there to restore the balance in your emotions, making you primarily faithful to yourself.
Its vibrant colors although numerous can endlessly reflect the mood of the one who wears them. It will help you become independent, become more conscious of yourself and perceive new dimensions.
It is an artistic stone and will inspire uniqueness and originality. If you are a writer who suffers from writer's block, an artist who doesn't know what to draw, opal will make you more creative.
Wearing opal will bring more loyalty and desire in your relationship, make you and your partner more faithful and spontaneous. Opal has properties that help one fight an illness or infection. It is often used to reduce fever, purify the blood and help with the period cramps.
Also read
October Birthstones #2 – Tourmaline
Tourmaline became the October birthstone more recently. The reason it joins opal in October is that both of these stones mix several colors.
There are a lot of tourmaline variations, including cranberry, pink, purple, magenta, pink, orange, yellow, forest green, lime green, blue and more. Just like its October sibling, tourmaline can exhibit more than one color at the same time thanks to its build.
It's worth noting that the more colors one gemstone can show make it more worthy in the market. That said, one-color tourmaline can be found on the market too.
Many also associate the colorful nature of tourmaline to this month being more vibrant than others. This could explain why these stones describe October so perfectly.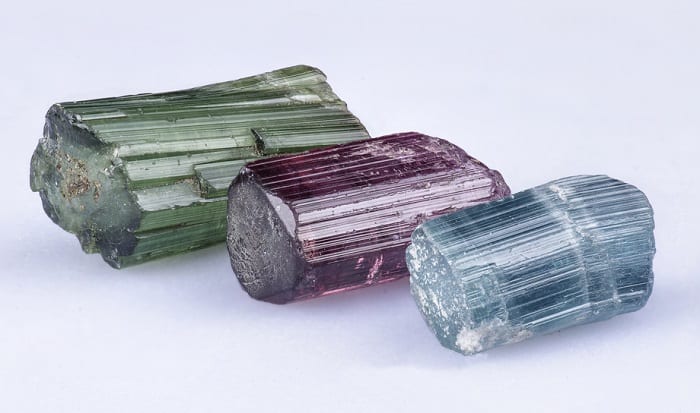 Origin
Being the more recent stone, it's often the second choice when springing for an October Birthstone. Still, it's just as beautiful and significant.
It originates from the Sinhalese word "toramalli" which directly translates to a "stone with multiple colors." There are not many gemstones that share similarities in color mixtures like opal and tourmaline do.
That's why mystics believed that many artists who want to express themselves through their art would do so by using opal and tourmaline. The vibrant specter of colors can be used for expressing any mood or physical property.
Although there are many variations of this October gemstone, there are some options that are favorite among people include pink as well as red rubellites, azure green tourmalines and the emerald-like combinations, as well as the neon-like green and bluish-violet variation also known as "Paraiba" tourmalines.
Guess you like
Meaning
It's important to note that each unique color of tourmaline also means different healing properties for it. If you spring for black tourmaline, know that it inspires higher self-confidence and awareness.
It will help you overcome your insecurities, fears and grow a better self-image. If you pick pink tourmaline, know that it's associated with love, compassion, caring, and softness. Those who pick green tourmaline need more courage, strength, persistence and more.
Similarly to those who pick opal for the wedding gift, keep in mind that tourmaline is often sent as a gift to those who celebrate their eight years anniversary and want to add more strength, power, and love into their bond.
Also read
Where to find tourmaline?
Unlike opal that is the most abundant in Africa and Australia, tourmaline hides in South America. You can particularly find it in Brazil. Its abundance in South America is vast, but miners also mine it in Afghanistan and Pakistan, as well as Kenya, Madagascar, and Mozambique in Africa.
If you want to look for the October birthstone in the United States, know you can find it there too. But, the richest tourmaline mines are located in California and Maine. It's worth noting that the two locations have a history of delivering fine tourmaline.
In Brazil
The October birthstone mined in Brazil comes with historical value. Miners delivered it from centuries and originated as pegmatites in Minas Gerais. Tourmaline source generated from the subterranean magma deposits which resulted in a plethora of virtual kaleidoscope of gem minerals.
However, that's not the only area rich in vibrant tourmaline in Brazil. During the late 80's, miners also started bringing the electric green, violet and ocean blue tourmalines thanks to the deposits of Brazil's Paraiba State.
Researchers even conducted studies on the October birthstone finding that its colors were affected by copper and other metals. This is also the first time that the copper was detected as a contributor to the color of any tourmaline.
This is not the only location to boast this copper-affected October birthstone. More deposits, identical to those found in the Paraiba region also hide under Mozambique's terrain. More of those also exist in Nigeria.
Thanks to the discovery of Paraiba and other types similar to this type of tourmalines, their price and value on the market vastly changed.
They boast a wider range of colors which are more vibrant and noticeable. That affected the price, with the best Paraiba-like gemstones being more expensive compared to other tourmalines. When it comes to the US-based tourmaline deposits, it's also a large market, with the value being held for centuries.
Related
In the US
Maine is the most popular location in the US. Miners began looking for tourmaline since 1820, particularly at Mount Mica near Paris. It was discovered accidentally after two boys explored the local terrain.
There are a lot of colors available in the quarry located at Mount Mica. But, the largest quantities of tourmaline are produced close to Plumbago Mountain in The Dunton Mine.
The first commercial tourmaline mine in South California opened in 1898. It opened at the Himalaya pegmatite from the Mesa Grande district. The location also holds its fame for fine rubellite.
The mine grabbed the attention of Empress Dowager Cixi who was obsessed with vibrant colors. That led to mines from San Diego to collect and send over 120 tones of rubellite to Imperial China over the period from 1902 to 1910.
When the Empress died in 1908, it led to overthrow in the Chinese dynasty which also led to the ending of the tourmaline heyday mining in California.
There are still a couple of mines in San Diego county, which can deliver good-quality tourmaline, but it's not a constant source as it once used to be.
How to care for tourmaline?
Tourmaline may be a more appropriate candidate for the October birthstone due to its hardness and being more durable than opal. It ranges from 7 and 7.5 at the Mohs hardness scale. That makes it ideal for everyday jewelry and an amulet of protection.
The jewelers put special attention to make tourmaline as strong and durable. Its hardness also made it more resistant to damage caused by chemicals, in a moderate amount. It's worth mentioning, however, that the October birthstone isn't as durable against the heat. So make sure not to expose it to hot chemicals.
You can easily care for tourmaline using warm, water combined with a soap and clean its edges with a soft bristles brush. If you have a jewelry cleaner, try to avoid using it as ultraviolet warmth and hot steam can cause damage and cracks.
Tourmaline Healing Properties
Tourmaline is popular for its numerous protection and healing properties. It will inspire and aid understanding, acceptance and compassion between oneself and others around them.
As mentioned above, it's responsible for self-confidence and esteem. It teaches one how to become a tolerant, inspiration and encourage prosperity.
If you're suffering from anxiety or mental illness, tourmaline is there to guide you to overcome your fears and paranoia. If you struggle with hand-eye coordination or dyslexia, tourmaline will provide the strength to prosper and improve by cleaning and enhancing your energy.
Final Words
No matter which October birthstone you pick, you'll surround yourself with love, patience, courage and health. Both gemstones have unique properties. Although tourmaline is more durable than opal, both look as beautiful and mesmerizing.
The beauty today for you