When you're going to shop for an engagement ring, cost is your main concern. If you're unable to go with a traditional diamond ring, man-made stones come in handy. However, it's important to understand what characteristics are behind popular alternatives like moissanite vs cubic zirconia. More information will help you make the right choice.
The difference between moissanite and cubic zirconia is often a question on everyone's mind. It's true that both these gemstones are imitations of diamonds, a much more expensive stone. However, while they look similar, the differences are more significant than their similarities.
What is Moissanite
In terms of man-made stones, moissanite is one of its kind. Henri Moissan discovered particles now known as Moissanite after a meteorite strike in Arizona back in 1893. Even Moissan thought he had found diamonds, but further examination brought the truth forward.
This compound is rare to find in nature, which is why most gems are now generated artificially. While it mimics diamonds quite well, in terms of color, diamonds project a clear white appearance whereas moissanites have a slightly yellow or grayish appearance.
What is Cubic Zirconia
Cubic zirconia engagement rings are common alternatives to more expensive stones. While moissanites can still be found in nature, this gemstone is completely made in laboratories. The name comes from its chemical composition and crystal symmetry.
When compared with moissanites, it's easier to take care of cubic zirconia. Additionally, this stone can be made to appear completely colorless just like diamonds.
German mineralogists did discover natural cubic zirconia but the French and Soviets perfected its manufacturing technique. This has made cubic zirconia more accessible and cheaper.
---
Also Read:
White Sapphire Engagement Ring: A Better Way to Do It?
What's the Difference among Cubic Zirconia, Diamond, White Sapphire, and Moissanite
---
Moissanite vs Cubic Zirconia Side by Side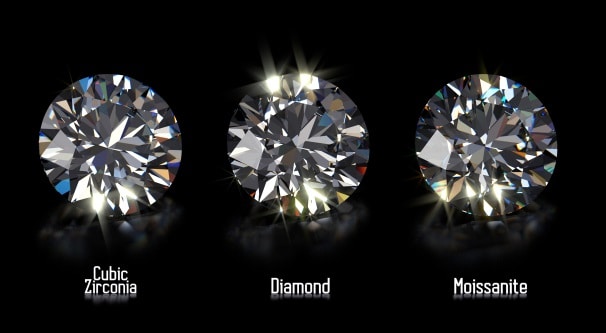 Are they some types of diamonds
If you compare cubic zirconia with diamonds, the latter is significantly less costly. For any buyer who wants a particular style and setting of their ring or jewelry, this is an inexpensive choice.
Another plus point is that the wait time is shorter in comparison to diamonds when you order the former stone.
While this gemstone is very durable, its hardness is not comparable with that of natural or lab-made diamonds. The Mohs Scale of Hardness rates it at 8.5 whereas diamonds usually rate above 10.
However, this artificially created stone is made to be flawless. Diamonds, on the contrary, very rarely appear flawless.
Nevertheless, if you're looking for a stone that shines brighter than the sun, a diamond is your best bet compared to cubic zirconia. This stone has a lower refractive index and it captures light differently. Still, cubic zirconia is the best quality you can get at the price point it comes with.
When you put moissanite and diamonds side by side, it also helps you understand just how different cubic zirconia is than moissanite. On the Mohs Scale of Hardness, this stone is rated at 9.25. That makes moissanite even more durable than cubic zirconia.
Moissanite is still very different than diamonds. It has a faceted pattern which helps create a rainbow-like effect. Some buyers absolutely adore the way it hits light but others think of it as more of a disco ball more than a diamond.
If you wish to minimize this effect, you can decrease the size of the stone. The light dispersion on moissanite is more, which makes it brighter than both diamonds and cubic zirconia.
Price points
The actual price of a gemstone depends on numerous factors. These include:
the design
the cut
the carat
their durability
If a stone is highly refined, the prices can hit the roof immediately. Both gemstones when compared with diamonds only cost a fraction of its price. But the further difference lies between the price tag of cubic zirconia and moissanite.
A high-quality moissanite stone can retail for approximately $400 per carat. But, you can easily get the same size of cubic zirconia in between the range of $20 to $40. Keep in mind that while the price is very low, cubic zirconia has no resale value.
Shoppers who think moissanites are fake diamonds are often surprised by its relatively high price range. Because it is lab generated, this diamond simulant is expected to cost less than it does.
It's still important to notice that it requires state-of-the-art technology and skills to be made in a lab. Synthesizing it is also a highly costly procedure.
Even then, it only costs about 10% of what a small diamond will ask of you. With that, in terms of investment, moissanite has a higher score than cubic zirconia. When you decide to sell your jewelry items, you can get your money back or even make a profit on it.
Reaction to dirt
Over the period that you own any item(s) containing moissanite or cubic zirconia, the accumulation of grime or dirt can make them both appear cloudy. The hazy look can also be a cause of household products such as cosmetics, detergents, body oils and so on.
Since both these stones are prone to losing their sparkle, moissanite can easily resist the dull effect. Compared to this, cubic zirconia loses its sparkle and becomes cloudy at a faster rate.
That means that it requires more maintenance and it should be cleaned more frequently. In terms of their reaction to dirt, moissanite is the winner.
Durability
Comparing the ratings of both stones on the Mohs Scale, moissanite is a harder stone than cubic zirconia. In fact, after diamonds, this stone is the second hardest gemstone used for making jewelry.
In terms of durability, moissanite is ideal for everyday wear. It can resist damage such as scratches and any abrasion.
An engagement ring gets excessive exposure every day and if you're looking for something that is scratch resistant and heat resistant, moissanite will suit you better.
Cubic zirconia is also a hard stone and it can be a good choice for daily wear. The durability is similar, but this stone is not as tough.
Gemstones are prone to breaking and so cubic zirconia can break more easily than moissanite. On a PSI scale, moissanite has a rating of 7.6 whereas cubic zirconia has a rating of 2.4. The former is 3 times more resistant to chipping or breaking.
Chemical composition
The initial point that sets these stones apart is the make-up of moissanite and cubic zirconia. Moissanite is a composition of Silicon Carbide (SiC). Cubic zirconia, on the other hand, is made up of Zirconium dioxide (ZrO2).
Cubic zirconia stone is mainly silicon and moissanite contains carbon. When compared with diamonds, moissanite is much closer. That's because diamond is purely carbon.
Moissanite vs cubic zirconia: Where to buy
Due to its extremely low price point, spenders do not have to worry about where they go to purchase cubic zirconia. You can easily find the gemstone or ready-made jewelry at any store online or on the street.
Since retailers don't make much money from selling cubic zirconia, they often try tactics to increase its price. Some brands call it 'zirconium oxide' to add more value to it. Still, it's the same product. Keeping a lookout for this marketing strategy will save you from getting ripped off.
On the other hand, moissanite is a riskier purchase. It's best to make sure you're not being scammed when purchasing moissanite. In order to do so, you can take several precautions.
Buyers should make sure they're going to a trusted source for their purchase. You can check any previous customer reviews, look into return policies and check after-sales policies. This helps you give an idea about how legitimate the company is.
You do not get a lab report or a certificate when buying moissanite. This high technology gemstone is often carried by reputable stores. It's best to make a safe purchase, which is why these stores are at your disposal.
Furthermore, you can assess its light performance and notice if it produces a rainbow-like reflection or not.
Moissanite vs Cubic Zirconia: Which Metal Works Better
If you wish to add more value to your moissanite ring, you can opt for yellow gold. Since the stone costs 90% less than diamond, it saves you room to make further investments. The yellow tone adds to the wealth and beauty of your jewelry piece, which is why this metal is a popular choice.
A cheaper alternative is purchasing yellow gold plated moissanite rings or mix metals instead of pure gold. The karat amount increases depending on the purity of the metal but it can be hard on your wallet.
White gold is slightly cheaper than yellow gold. For your wedding bands or engagement ring, this is the next best choice. It has the look of silver or platinum but it's more durable.
You should note that this metal is not naturally reflective. Retailers have to plate it with rhodium to give it a sleek appearance. Over time, it can become scratched.
Since cubic zirconia retails for a cheap price range, it's smart not to invest in expensive metals like those mentioned above. Sterling steel, silver, platinum, cobalt or titanium are best suitable with the stone.
---
Also Read:
Know the Difference of 10K, 14K, 18K and 24K Gold
---
Stigmas attached to moissanite vs cubic zirconia
Natural gemstones always stand on a higher level than lab-made stones. Because of centuries of traditions, jewelry consisting of natural stones is more preferred and socially valued as well. Naturally formed moissanites has a slight edge over laboratory-made moissanites but it's hardly available.
Often purchasers are concerned by a certain level of skepticism while others strongly believe that they will always be symbolic. Some celebrities often react sensitively to being accused that the stones in their rings are not true diamonds.
With time, however, the acceptance of these alternatives is increasing. Certain populations have also developed an admiration for selecting alternate stones over diamonds.
The ethical concerns surrounding extraction of diamonds are becoming more of a critical subject. The trends are also shifting towards economical dopplegangers of natural gemstones.
Healing powers
If you're a buyer who's interested in the astrological value of gemstones, this section can be of your aid. Healing powers are associated with natural gemstones. Since cubic zirconia is purely lab generated, it is not valued as a birthstone. Natural moissanite, on the other hand, is quite popular in these terms.
Naturally occurring moissanite can only be found in microscopic crystal. This gemstone is an excellent choice for ruminations about life and/or humanity. It helps provide the owner with composure. Additionally, it is widely believed that the aura of moissanite aids in strengthening of the inner self.
Wearers of this gemstone are promised the cleansing of their life from the darkness that comes within. Many astrologers recommend it for experiencing spiritual awakening as well. Spiritual healers popularly use this rare stone for their readings.
It helps them access any past life information and remove anything from their client's life that is blocking spiritual growth. In order to experience these effects, they recommend wearing it as a pendant, earrings, or any other form of jewelry.
Final Thoughts
Natural gemstones like diamond, emerald, and ruby are still one of the best choices for jewelry items. Their durability, light reflection, hardness and dirt resistance is impeccable and cannot be compared to anything else.
However, their affordability is becoming harder for a huge number of populations. Now, people have started to look for other economical options.
For buyers who are looking for a clear shiny stone that resembles diamonds, the choice has to be either . While they both look identical, moissanite has more of an edge over cubic zirconia in conclusion.
Still, you should make the decision based on which price you are comfortable with and which occasion you're purchasing the gemstone for.
If you are a buyer who wishes to purchase a stone, keeping in mind that it is long-lasting and has a resale value, moissanite is your best pick. This technologically advanced stone has become a popular replacement of diamonds without a doubt.
On the other hand, if you're a buyer who doesn't have any long-term concerns or plans of investing your money for future value, cubic zirconia is a more suitable selection.