June is synonymous with celebrations – birthdays, graduations, anniversaries or weddings. There is no better way to celebrate these occasions than with a June birthstone. If you were born in June, you are lucky to choose from three gorgeous birthstones. – pearl, moonstone and alexandrite.
Until 2016, June birthstones were only two – moonstone and pearl.
For many years, the pearl has been a famous gemstone. This is in spite of being fundamentally different from many of the other semi-precious stones and crystal-based precious gems.
In stark contrast, alexandrite was mined first less than 200 years ago. Moonstone, just like a pearl, has been used for countless years. The Romans believed it was formed from the moon's solidifying rays.
With numerous attractive options, folks with June birthdays or any event can find a birthstone that matches their budget or mood. The three June gems offer different price points and colors.
Pearl
Pearl is an enchanting June birthstone that originates from different rivers, lakes and oceans around the world. Loved by women of all ages, the pearl is unquestionably a timeless wardrobe staple. This birthstone's origin fascinated our forebears.
Meaning and history
In the past, Middle East ancients believed that pearls were teardrops that fell from heaven. According to the Chinese, this June birthstone emanated from a dragon's brain. Christopher Columbus together with his contemporaries opined that mollusks created pearls from dew drops.
As organic gems, pearls grow inside the tissue of a living freshwater or saltwater mollusk – either a mussel or an oyster. So how do natural pearls from? They come about when mollusk discharges a substance by the name nacre around a bane such as a parasite or a piece of sand.
Cultured pearls
These are a result of human intervention. Professionals working in the lab implant a small piece of mantle tissue alone. This is particularly common for freshwater cultured pearls. Alternatively, they can implant the mantle tissue with a mother-of-pearl shell bead into a mollusk host.
Once that is done, the mollusk then covers the irritant with nacre similar to a natural plant. Of great importance to note is that cultured pearls are grown in pearl farms. Freshwater or saltwater operations occur where cleaning of mollusks take place. They are protected from predators and ultimately harvested.
Because of thousands of years of pearl fishing, there has been a decimation of natural pearl beds. Today, cultured pearls account for a majority of overall pearl sales. The cultured pearl birthstones are available in a beautiful array of shapes, colors and sizes.
Metaphysical properties
For long, many people have associated pearls with innocence, humility and purity. Therefore, it might be said that the meaning of this June birthstone is ''sweet simplicity.'' Due to this, traditionally, the birthstone was given as a wedding gift.
In the yester-years, pearls were thought to boast beneficial properties. For example, in the ancient Sanskrit text, pearls were associated with bestowing prosperity and long life.
In Asia, these birthstones were believed to alleviate hemorrhages and indigestion. Some physicians in the 19th century maintain the birthstone's powder was magical at easing depression, quieting nervous tremors and improving eyesight.
The 50.56 carat La Peregrina is among the most famous natural pearls. It is roughly the size of an egg of a pigeon. This natural pearl was discovered in the Gulf of Panama in the 1500s, it became a valuable possession of European loyalty.
At some point, Richard Burton presented this birthstone as a gift to Elizabeth Taylor in 1969. In 2011, the Carter necklace that contained La Peregrina was auctioned at Christie's New York for $11.8 million.
Source of pearls
Dramatic scenery, clear skies, and warm waters! Sounds like a dream beach vacation, right? It is also an excellent and accurate description of the locations that you will often find pearl birthstones.
Their mollusks can never thrive in polluted waters. Consequently, pearl farms are normally located in civilization. It's common to find them in breathtaking settings.
Pearls that are saltwater cultured are grown in countless areas around the world. China and Japan are the primary homes of the Akoya cultured pearl farms.
To be specific, they are grown along the Guangxi and Guangdong provinces in the southern coast. South Sea cultured pearls, on the other hand, are farmed from Australia's northern coast.
They are also available in Southeast Asia's southern coast. Large operations exist in the Philippines.
The Tuamotu Archipelago and the Gambier Islands, both part of French Polynesia, are some of the locales where culture farming of the rich black Tahitian pearls takes place. The main source of the freshwater cultured pearls is China.
For more than 5,000 years, natural pearls have been present in the Persian Gulf (Arabian Gulf). Divers are always finding the June birthstone in the Red Sea since the 300 BCE. Since 2000 BCE, the Strait of Mannar have been offering pearls.
Beginning the sixteenth century, in the Spanish colonial rule, huge pearl quantities were recovered from the Mexican waters and Central America, what is now known as Venezuela.
Care and cleaning
On the Mohs hardness scale, pearls sit on the 2.5 – 3.0 range. This means that they are not only a comparatively soft gem but also need special care. It is prudent to store them separately from metal jewelry and other gemstones to prevent scratching.
You should avoid storing your pearl birthstones inside a plastic bag at all cost. Plastic tends to emit a harmful chemical that might damage your gemstone's surface.
The other strategy when it comes to caring is to always apply perfume, cosmetics or hair products before you wear your pearl jewelry.
So how do you go about cleaning? When it comes to cleaning your June birthstone, you should use a damp and soft cloth after removing them.
After learning about the history of pearls, their source and how to take care of them, you now have a deeper understanding and appreciation of these classic beauties.
Cultivating pearls
Natural pearls usually take around 6 months – 2 years to form inside the host mollusk. The cultured pearls feature a nucleus that is injected into the shell that forces a reaction from the mollusk to coat the invading item with nacre. The process allows a stone of suitable quality and size to be harvested much sooner. Of great importance to note is that natural pearls of gem quality only form in 1 out of 70000 mollusks.
This simply means that true natural pearls are very rare. Moreover, it means the price is normally far in excess of other pearls. It is crucial that you understand the difference between freshwater and saltwater pearls.
Myths around it
For many years, the pearl has been linked with soothing of both the body and mind. Many people believe this stone is able to cure stomach ailments.
According to the Japanese folklore, pearls come from the tears of mermaids. Meanwhile, legend has them as dewdrops that fell straight from the moon to the sea.
Physical properties
As aforementioned pearl forms when the host mollusk senses a foreign or parasite body inside its shell. Once that happens, it injects a substance by the name nacre to the invader, that hardens to form such a smooth layer around the irritation area.
With time, more and more layers accumulate around the nucleus which later on form the pearl as we all know it.
Cultured pearls form in a similar way. However, in this case, the introduction of a foreign entity to form the nucleus promotes faster growth hence reduces the time taken to form the finished pearl.
By gemstone standards, pearls are very fragile creations. They can suffer damage easily. Do you know that mild acid in your sweat can damage this stone or jewelry made from it? Yes, it is that delicate which means that you need to handle this birthstone with the utmost care.
Pearl in Jewelry
There is no doubt that the pearl makes spectacular jewelry. The rare nature of natural pearls means that finding them on the open market is very difficult.
If you are to find them, you need to pay a hefty price. If the natural pearls are available, chances are high that they will be very costly. Because of this, finding pearl jewelry can be a tall order.
Guess you like
Yellow Gemstones: Increase Your Creative and Intellectual Energy
Popular and Rare Black Gemstones
Alexandrite
Alexandrite is among the rare variety of the chrysoberyl mineral which changes color in different lighting. The most valuable alexandrite birthstones are those that show a bluish-green to vivid green color in fluorescent light or daylight.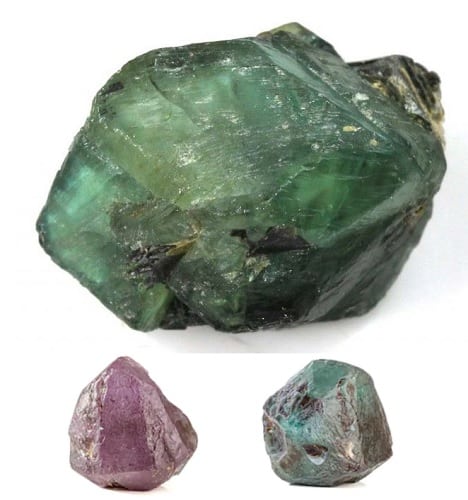 Meaning and history
Alexandrite can also show a purplish red to intense red in incandescent light. Major alexandrite deposits were discovered first in 1830 in the Ural Mountains in Russia. This particular gem was named after Young Alexander II who was the heir apparent to the throne.
This birthstone caught the nation's attention mainly due to its green and red colors mirroring Imperial Russia's military colors.
When orienting particular types of thin and long inclusions parallel to each other, they tend to create another phenomenon that goes by the name the cat's-eye effect or chatoyancy. Few gems are as stunning or fascinating as cat's-eye alexandrite.
Source of Alexandrite
At some point, the stunning Ural Mountain deposits were mined out. Today, most of the alexandrite birthstone comes from East Africa, Sri Lanka and Brazil. These newer deposits have some of the fine or top-quality stones.
Unfortunately, many display less-precise color change and/or muddier hues compared to the nineteenth-century Russian alexandrites.
Due to the scarcity of this birthstone particularly in larger sizes, top-quality alexandrite is among the costlier colored gems.
Care and cleaning
An impressive feature of this June birthstone is the fact that it is relatively hard. On the Mohs scale, it sits at the 8.5 mark. Alexandrite does not have cleavage (tendency to break when struck). It boasts excellent toughness.
The fact that it is tough makes it a perfect choice for mountings which are subject to daily wear such as rings. This stone's engagement ring can make an excellent gift for any bride-to-be who was born in June.
Even though it is best to clean your stone in soapy and warm water, there is no harm in using a steam cleaner.
Cultivating alexandrite?
Alexandrite requires a distinct set of precise actions to take place before crystals grow. If you add or remove any single trace element, then it becomes a different type of crystal that won't show various colors in different lighting conditions as the birthstone does.
Myth around it
Without a history of the rest, alexandrite lacks any form of associated mythology. Because of its unique properties and the fact that it been around for longer, chances are high that it might have a whole string of magical powers which are attached to its legend.
Physical properties
Alexandrite is a kind of chrysoberyl. In spite of containing beryl in the name and having a color almost the same to emerald most of the time, the two aren't related in any way.
Chrysoberyl crystals usually contain aluminum traces. For it to be alexandrite, chromium must replace some aluminum ions which causes the absorption of light within the yellow spectrum.
Alexandrite appears green in daylight because of the sensitive nature of our eyes towards the green light. In the presence of incandescent light, this birthstone appears red as the levels of the green light present are low.
It is the shifting of light that makes alexandrite not only unique but also accounts for great visibility.
Alexandrite in jewelry
Because of the rare nature of alexandrite, and the fact that it only appears in stone below 3 carats, jewelry containing this stone has to be customized only by order. It is unusual to come across ready-to-wear alexandrite jewelry for sale.
Also read
How Many Types of Green Gemstones Are There?
Moonstone
Moonstone is one of the best-known gems in the feldspar group of minerals. This June stone is popular for its adularescence, which is simply a light that billows across the gemstone providing a special glow.
Meaning and history
A major highlight of the finest moonstones is the fact that they show a blue sheen against colorless backgrounds. Many people have associated this birthstone with both the Greek and Roman lunar deities.
According to Hindu mythology, moonstone is made of solidified moonbeams. Often, it is associated with fertility, passion and love. Additionally, it is believed it brings great luck.
Incredible designers of the Art Nouveau era such as Louis Comfort Tiffany and Rene Laique had moonstone featured on their fine jewelry. In the 1960s the moonstone birthstone came the forefront during the ''flower child'' movement. It was also popular with the New Age designers of the '90s.
Source
The sources of moonstone are many. They include parts of the USA such as Virginia, North Carolina and New Mexico. Other major sources of this birthstone include Sri Lanka and India. Tanzania, Myanmar, Madagascar, and Brazil also make the list.
Care and cleaning
Moonstone sits on the 6 – 6.5 range in the Mohs hardness range meaning it is poor in terms of toughness. Moonstone might crack when you expose it to high heat.
Consequently, you shouldn't use it anywhere near steam and ultrasonic cleaners. The ideal option is cleaning your stone with a soft brush, soap and warm water.
Cultivating moonstone
The formation of moonstone crystals takes place when two other minerals become intermingled. The two elements, each with distinct physical characteristics and densities combine to give this moonstone a unique light dispersal property.
Myth around it
According to mythology, moonstone brings beautiful and magical dreams. In other cultures, this June birthstone was a cure for sleepwalking and insomnia.
Physical properties
Moonstone crystals form when two types of mineral feldspar come together. As the two join and cool, they create a separate layer within the crystal stacks. The light falling between the layers is the one that gives moonstone its unique ethereal glow.
Moonstone in Jewelry
Moonstone does not come as cut stones in a similar way as diamonds or even other gemstones. Rather, the preferred method of creating these stones for use in jewelry is by creating cabochons through polishing.
More about birthstones