I bet you have already learned that a good driveway alarm system might be the perfect answer, if you want to keep a watchful eye on your driveway or premises from inside your home.
Whether you're in the bedroom, kitchen, your workshop, or somewhere else in your home, these electronic watchdogs can keep watch for you.
All of these driveway alarm systems come with a separate sensor and receiver and are simple to install. You just need to place the sensor outside your home near where you might expect an intruder to pass, and set up the receiver in a room where you can see and hear it when it is activated.
When the sensor detects motion, it sends a wireless electronic code to the receiver. This alerts you by flashing a series of lights and/or beeps to let you know there is motion outside.
Now, let's cut off all the nonsense, here's our take on the best of these 21st Century electronic wizards and the advantages of each one:
Guardline GL5000 (best expandable system)
The Guardline GL5000 is an expandable driveway alarm system with a lot of great features. It's versatile and adaptable. Extra sensors and receivers are available so you can expand the motion-sensing range and keep track of what's going on anywhere on your property from anywhere inside your home.
The unit is fast and easy to set up and should take no more than 30 to 45 minutes to install using the included quick-start user's guide. An adjustable width detection system for the sensor's "eye" along with a swivel mount will minimize false alarms by allowing you to focus the sensor's detection angle.
A total of two years of testing went into the development of the Guardline GL5000. Technicians tested the unit in hail storms, gusty winds, and heavy rains; through forests and in scorching heat and snow conditions.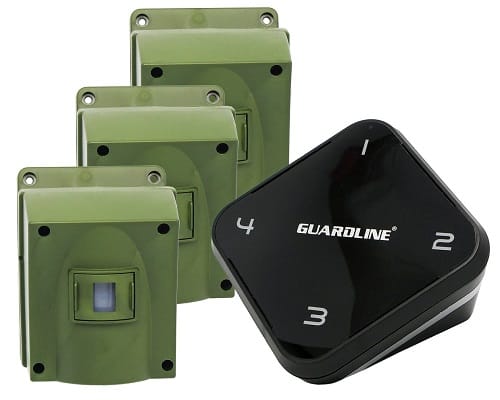 The Guardline GL5000 outdoor sensor has a wireless range of up to approximately 1/4 mile. But, when there are thick walls, tall hills, metal siding, or a heavy tree cover, the wireless range may be lower.
The set we reviewed here includes one outside sensor and an inside receiver. The sensor is located inside an industrial-grade PVC housing that is protected by a rubberized weather-resistant seal and an external sunshade.
When motion occurs from cars, humans, or most large animals, the sensor signals the receiver which will then alert you with the sound of up to 30 different alert tones. There is even a convenient volume control that lets you adjust the loudness of the chimes.
If you need a larger coverage area, the unit can accommodate up to 16 sensors. Each sensor is adjustable to play its own "fun and unique" chime to indicate that it detects motion.
You can also add an unlimited number of additional receivers inside your home so you can hear the alert chimes no matter where you are inside the house.
The Guardline GL5000 detects motion from up to four different zones and with up to four sensors per zone. Each sensor can detect motion from as far away as 40 feet.
The sensor runs on four (4) AA batteries which should operate the unit for about one year. A warning light indicates when the batteries are low on voltage.
The receiver operates by plugging in the included AC adaptor. It can also run using four (4) AAA batteries as backup in case of a power outage. There is also a 12-volt internal relay which can operate added external alarms such as chimes or bells.
The security system operates in temperatures as high as 60° Celsius (140° Fahrenheit) or as cold as -20° Celsius (-4° Fahrenheit). The outside sensor is weatherproof to protect it from rain and other precipitation. A hood is also provided for additional shielding.
About the Company
Guardline Security is a small business located in Seattle, Washington (USA). The company has been in operation making security products since 1999. They offer friendly and knowledgeable USA-based technical support to help customers both before and after purchasing the product.
Dakota Alert DCPA-2500

Kit

(best for detecting vehicles)
The Dakota Alert DCPA-2500 is a driveway alarm system that's designed to detect vehicles in your driveway or any other area of your property. The transmitter operates on four (4) included CR-123A batteries along with 50 feet of burial wire that connects to the exterior case.
To set things up, simply install the sensing probe underground and parallel to your home's driveway. At this position, it should detect vehicles that pass by within approximately 10 to 12 feet.
Mount the transmitter box on the side of a tree or onto a nearby post and then connect the burial cable.
The DCRH-2500 transmitter can monitor up to four (4) different zones by adding additional transmitters. It operates on a single 9-volt battery and includes 25 feet of 3/8″ diameter exterior hose that should lie across the driveway (you need buy the hose kit). Install the weatherproof transmitter in any convenient exterior location.
When a vehicle passes over the hose, a signal transmits to the receiver as far as up to 1/2 mile away depending on local terrain and any obstructions. The operating temperature range is from -35° Celsius (-30° Fahrenheit) to 50°Celsius (120° Fahrenheit).
Each receiver is adjustable so that it will produce a different tone from each transmitter. Four (4) musical selections are available: Classical, Westminster, Ding-Dong or Whistle.
There is also a volume control to adjust the warning tone to your preference. A 12-volt DC power supply is included and a relay output on the back of the unit allows you to add extra alarms, chimes, or bells.
About the Company
Dakota Alert is a leading manufacturer of high quality driveway alarm systems and many other home security products. The company is family run and located in South Dakota (USA). They manufacture several different types of driveway alarms to meet every customer's need.
The company recently announced they were discontinuing their 2500 Series due to product supply issues. A new series of products with a longer wireless range should become available in spring or early summer, 2019.
Htzsafe Solar Driveway Alarm System (best price)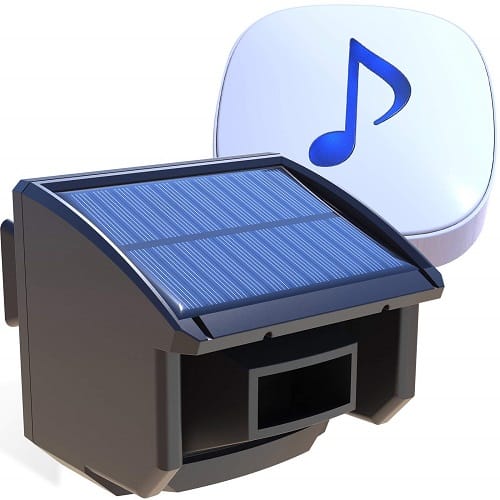 The Htzsafe solar wireless driveway alarm system consists of a motion sensor, powered by a built-in lithium-ion rechargeable battery. This eliminates the need for batteries since the unit charges by a solar panel even in the most inclement weather. Installation is easy with no wiring required.
However, you may want to set the system up in a location where there simply isn't enough sunlight. In that case, the sensor can also operate with the included DC 5-12 volt power adapter or with the use of an additional solar panel that is available by special order.
The new Htzsafe system operates using an improved infrared detection chip. The detection angle is adjustable to reduce any false alarms from the weather conditions such as unusual sunlight, rain, snow, fog, temperature changes, etc.
The outdoor motion sensor is weatherproof and has a transmission range of 1/4 mile, but the actual range can vary depending on the local terrain.
The transmitter is ideal for all types of intrusion applications. Some of the suggested uses include driveway or walking paths, front doors, and any area of your property that you would like covered.
The motion sensor responds to detect movement up to 50 feet away. An adjustable sensitivity control allows for three different range settings; high (50 feet), mid (30 feet), and low (25 feet).
The transmitter is waterproof up to IP66 requirements and is housed in a fully-enclosed cabinet that is resistant to rain or snow. The unit operates within a working temperature range of from -30° Celsius (-22° Fahrenheit) to 70° Celsius (160° Fahrenheit).
The Htzsafe Solar Driveway Alarm receiver has four (4) volume level adjustments and you have a choice of 35 separate ring tone adjustments. When you match the different ring tones with a different sensor, you are able to tell the location of any sensor that is being activated.
The manufacturer must have been having a party when they came up with the names for the receiver melodies. They suggest using "Ding Dong" for the front door sensor while "Jingle Bells is suggested as the melody for the backyard sensor.
The system is expandable and includes one solar-powered motion sensor and a plug-in alarm receiver. A total of up to 32 sensors can be used with an unlimited number of alarm receivers so that you can get complete coverage of your property.
Driveway Informer DI2000S-GA
This is a reliable and inexpensive wireless driveway alarm system. It is easy to operate and is designed to protect your home, office, property, and belongings from unexpected intruders.
Inside the kit, you'll find a state-of-the-art passive infrared (PIR) sensor that detects any movement inside the detection zone. A detailed and complete instruction manual comes with the kit for easy, problem-free installation.
You can guard the entrance to your garage, watch over a warehouse, keep an eye out on your children or pets, or know when a customer arrives at your property or store.
The Driveway Informer's passive infrared motion sensor detects motion whenever a car, person, or animal enters your driveway or any other area that you want to monitor. It then keeps you informed by sending you an alert signal while you are safely inside your home.
Anything with a "heat signature" that moves within the sensor's detection zone triggers the signal to the receiver. The sensor uses two (2) AA batteries (not included) and mounts with the supplied mounting bracket and screws.
Miniature dip switches inside the transmitter allow you to pair it to work with other transmitters and receivers. You can also change the chime sound that the receiver plays when it sounds the warning.
Mounting the sensor is easy. Just pick any surface you like and use the included screws to mount the rotating bracket. Then, plug the receiving unit into a standard wall outlet inside the house or mount it by using the pre-drilled mounting holes.
Once the sensor detects motion, it transmits a signal wirelessly to the plug-in receiver in your home or office up to 1,000 feet away when there is no interference.
When the receiver receives the warning alert, it makes a loud chiming sound to notify you of the movement. A total of up to four (4) monitoring zones can be set up with different sounds for each zone.
As an example, one transmitter/sensor can send a signal to the receiver that plays "ding," when it senses movement, while a sensor for a second zone can play "ding-dong." This enables you to determine the location of the specific sensor triggered. Up to 4 different zones can be monitored with the addition of more transmitters.
Each transmitter can play a separate chime sound. According to the manufacturer, the long-life transmitter battery should last for about five million rings before it needs replacement.
The receiver's two AA batteries (not included) should have a battery life of approximately two years (at 500 rings per day).
The front of the receiver features a resettable tracking counter that lets you know the total number of entrances that have been made passing through the detection zone.
On the back of the receiver, a volume control knob allows you to make adjustments to the volume of the warning chime. Also on the back there are two (2) sets of terminal screws. The first set of screws can power an external speaker so you can hear the warning chime in another room or other distant location.
The second set of screws is a 12-volt power connection that allows you to power external accessories such as a siren, strobe light, chime, or another 12-volt product designed to warn you of an intruder.
Rodann Electronics Wireless Driveway Alarm System RX/TX2000A
Many homeowners, commercial retailers, farmers, ranchers, and others have used the system to monitor their property for many years. The units are very easy to install, but for optimal performance, be careful to follow the instructions.
The wireless outdoor transmitter is water resistant and can transmit to the receiver up to 1000 feet away. However, both the transmission and detection range can be affected by environmental noise including trees, metal fencing, buildings, and other obstructions.
The sensors incorporate the latest state-of-the-art PIR (passive infrared) technology which detects heat and motion and is not affected by the sun, car headlights, shadows, reflections or bright colors.
However, because of the system's extreme sensitivity, it may pick up wildlife in addition to people and vehicles. Follow the installation instructions carefully to minimize some of these issues.
Included in the system are one (1) weatherproof wireless sensor and one (1) indoor receiver that can monitor any alerts that take place. The transmitter will detect people or vehicles up to approximately 50 feet away.
You can install the receiver as far away as 1000 feet from the transmitter, inside your home or business. It will then give you advance notice when someone enters your driveway, opens a gate, or of any vehicles, delivery trucks, or pedestrians that pass by the sensors.
The TX2000A transmitter requires 2 AA batteries, while the RX2000A receiver should be plugged into an indoor electrical outlet. The system can be easily customized by adding more transmitters, receivers, and other accessories like strobe lights or sirens. (Add no more than 3 accessories to a receiver for optimal performance.)
The receiver chime alerts can be set to four (4) different tone options. these include Ding Dong, Double Ding Dong, Single Ding, or Turbo Sound. There is also a resettable five-digit LCD counter that shows you how many total alarm alerts have taken place.
You can also add strobes, speakers, horns, bells, or other accessories to the receiver's relay output to enhance the audible alert warnings.
The Rodann system features a 30-day money back guarantee and a one-year factory warranty on all materials and workmanship.
Hosmart Advantage DT-45538
The Hosmart Advantage is a convenient and affordable full-featured rechargeable wireless driveway safety/security alarm system.
It is manufactured in England by the Hosmart company with over 30 years of alarm system experience.
The manufacturer says that a great deal of time and effort went into the development and testing to make sure the detector is reliable and dependable.
Featuring leading-edge technology, the system includes one battery/AC powered base receiver and two (2) outside sensors.
The system has been real-world tested in settings where there are obstructions such as buildings, trees, walls, and vehicles. Two additional sensors can be added to provide more complete coverage of your perimeter if needed.
The Hosmart Advantage outdoor sensor is perfect for home, business, or any work site. It is manufactured using industrial grade PVC housing, rubberized weather, and water-resistant seals. A sunshade comes with the unit for added protection.
The system detects movement from cars, humans, and even large animals. The components use the newest technology and excellent manufacturing techniques.
Adjustable sensitivity of the sensor's "eye" minimizes any false alarms. The adjustments range from High (30 feet), Mid1 (25 feet), Mid2 (20 feet), to Low (15 feet).
Testing has included transmitting through thick forests, heavy rains, gusty winds, scorching heat, and snow conditions.
On a property that is free of most obstructions, the system's range can reach up to about 1/4 mile. Any obstructions can decrease the effective range. A swivel mount is also included so that you can refine the sensor's focus and detection angle when needed.
An instruction manual, with clear and simple-to-follow directions, is included. A quick-start guide with easy do-it-yourself installation instructions will have you operational in only a few minutes.
When the transmitter receives a warning alert, the receiver alerts you with both light and sound. This tells you that vehicles or pedestrians have approached a sensor within a 30 feet radius. Under most conditions, each sensor can achieve a 1500-foot wireless range.
The system is expandable up to an unlimited number of sensors and receivers for additional coverage protection. All parts and workmanship carry a full 2-year factory warranty.
Guardline Wireless Driveway Alarm GL2000
Guardline's top-rated outdoor weather-resistant motion sensor and detector comes with a unique lifetime warranty showing how confident the company is of the product's quality and durability.
Over two years of testing went into the development of the Guardline Wireless Driveway Alarm GL2000. The unit is ruggedly constructed and has been tested through thick forests, heavy rains, and hail storms, gusty winds, excessive heat, and snowy conditions.
The kit comes with one sensor and one receiver. But it can use up to 16 sensors and an unlimited number of receivers to provide complete coverage of your property.
The long-range GL2000 outdoor wireless sensor rests inside a heavy, industrial grade PVC housing for protection. A rubberized weather-resistant seal and sunshade are also provided.
Install the sensor at any outside location. It runs on four (4) AA batteries that should last for up to one year. The receiver includes an adjustable volume control, battery backup, and a 12-volt relay connection that allows you to add external wired alarm bells or chimes.
The sensor detects motion from up to 40 feet away and in up to 4 different zones, and from up to 4 sensors for each zone. It operates on four (4) AA batteries which last for up to one year. A low battery indicator tells you when the voltage is low.
Each sensor has up to 500 feet of coverage using real-world conditions with buildings, walls, trees, and vehicles.
(Note that extra heavy interference such as metal siding, thick walls, tall hills, and heavy tree cover can diminish the wireless range.)
The unit will detect movement from cars, humans, and large animals that pass nearby, and you can quickly set up unique security zones with different sensitivity settings for each one. A variable adjustment and swivel mount reduce false alarms by widening or narrowing the focus of the unit's detection angle.
The receiver operates on an included AC adapter, but it can also run on (4) AAA batteries as a backup in case there is a power outage. A loud volume alerts you the moment someone nears the sensitive motion sensor.
You can choose from 32 different alarm sounds to alert you when movement is detected. The receiver also includes a 12-volt relay that allows you to add wired external alarms, bells, or chimes.
Guardline Security has been in operation making security products since 1999. They offer friendly and knowledgeable USA-based technical support to help customers both before and after purchasing the product.
Dakota Alert BBA-2500 Kit
The Dakota Alert BBA-2500 is a solar-powered wireless infrared break beam alarm system that is extremely simple to install and requires no wiring.
Two active infrared beams detect any large objects that pass through the sensors' beam area. The sensors have detection immunity against small objects like birds or falling leaves. Both beams must be broken at the same time in order for the unit to send a warning signal.
When the beams are simultaneously broken, the unit transmits a signal to the wireless receiver which can be located as far away as up to 2500 feet.
The system can monitor any area around your home, from the backyard to the driveway and anywhere in between. Additional transmitters can be added if you want to monitor a larger perimeter.
Installation time is quite easy and can take as little as only a few minutes. The unit's infrared sensing terminals can be mounted up to 300 feet apart. The unit's receiver can receive signals from as far away as up to a half-mile when someone passes between the sensors.
You can set up sensors near the entrances to your home or office so that you will know whenever someone enters the area or a potential customer enters the area near your office. The receiver can power strobe lights, sirens, strobe lights, or even an auto-dialer to call for help from a neighbor or the police.
Each of the break beam sensors uses rechargeable lithium-ion batteries that charge during the day by solar panels, so there's no need to run wires to provide power. However, if there isn't enough sunlight, each sensor unit can operate powered by an optional external power supply if needed.
When an alert comes to the receiver from one of the different zones, it will sound one of four different tones. You can choose from Classical, Ding Dong, Westminster Chime, or Whistle to indicate which zone is causing the alarm.
Located on the back of the receiver are four (4) relay outputs and a 12VDC output. Voltage from the DV output can power additional alarms, chimes, or bells placed anywhere else in the house so you will have immediate warning no matter where you happen to be. The duration of the output voltage is adjustable for up to ten (10) minutes.
The receiver also features a convenient 5-minute exit delay this allows you to leave your house without disturbing anyone before the alarm is activated. There is also a reminder beep and a counter which tracks the number of alarm instances.
Mighty Mule Wireless Driveway Alarm FM231
The alarm is an outdoor electromagnetic sensor that detects vehicles only when someone pulls into or out of your driveway. The unit does not react with false alarms due to other people, children, animals or any other movements.
The easy-to-install electromagnetic sensor wand installs right next to your driveway. It will detect any mass that contains metal and comes within a three to twelve (3-12) foot radius of the sensing wand.
When a vehicle passes by the sensor it is detected and the transmitter sends a wireless signal to the internal base station which can be located as far away as up to 400 feet. The receiver then will sound a pleasant chime to alert you that the vehicle has been detected.
The outside unit has adjustable sensitivity and dip-switches to let you personalize transmission codes for each sensor.
The transmitter requires 2 AA batteries (sold separately) and has a low battery indicator on both the Indoor receiver and transmitter. (Use lithium alkaline batteries when used in colder climates.)
When installing the batteries, it's important that you make the installation near the sensor as it "learns" the surrounding area as soon as it's plugged in.
If the batteries are installed further away inside the house, the unit may give false readings and not function properly.
Place the sensor immediately next to your driveway to maximize the sensing range. Be careful to stay at least 25 feet from the roadway, your neighbor's driveway, or any large moving metal objects.
The cable that connects the sensor and transmitter allows you to place the transmitter away from the driveway and concealed from view.
Do not place the transmitter in the direct path of a water sprinkler. Even though the transmitter is water-resistant, it is not completely waterproof, so keep it away from heavy concentrations of sprinkler water.
The system carries a full 12-month factory warranty and includes a complete user manual.
Rounding Up
A good driveway alarm alert system should be able to assure you that you will never be caught off-guard by an unexpected visitor. The best driveway alarms need to be reliable, easy to install and have a long range.
When choosing a driveway alarm system for your home or office, think about the size of your property, the range you'll need, how many zones that you might like to set up, and the types of sensors that would be best for your situation.
Choosing the best driveway alarm will offer you and your family protection that would have been impossible until recently. Today's extraordinary driveway alarms offer you better home security than ever before.