If you've spent some time learning about reiki, crystals, stones and more, you must have stumbled across the terms of chakra and chakra stones.
Often so, understanding chakras can be overwhelming and challenging. That leads to many people drawing wrong conclusions on how chakra stones work.
In this article, we've defined the meaning of chakra and some of the best chakra stones that link with our physical and spiritual state.
Please note that some chakras boast more than one stone, but we'll highlight one prominent and most effective gemstone, while only mentioning the other significant stones.
We hope that our roundup helps you enhance your collection of stones, but also a better application to keep your health balanced.
What is a chakra?
Based on the Eastern believes as well as the Ayurvedic tradition, chakras are related to Buddhism, Hinduism, reiki, yoga, and others. They refer to energies in our bodies, mostly spanning across our spines, including root, sacral, solar plexus, heart, throat, third eye and crown chakras. That energy creates our spiritual body which lives inside our physical shell.
Chakras are also known as energy centers inside our body, places where our strength, will-power and life energy gather and get channeled through the rest of the body. They work together to achieve physical balance, which is of utmost importance for health and well-being.
As we just said, each chakra connects to a certain part of the body. They emits unique color and link with different gemstones used for healing, protection, cleansing and more.
The stone used for certain chakra is determined by its color. Spiritual healers treat ailments by analyzing the state of each chakra in our body.
Poor lifestyle can lead to energetic closure and blockage of pathways where the energy originating from chakra center flows. That can lead to various issues and ailments. Closing the energetic pathways in a proper way is extremely important as it enhances and balances our health from all aspects.
Chakra vibrations
Each chakra has its own energy frequency. Those vibrations within a given frequency are visualized with a different color. When we heal our energy, using different methods such as crystal therapy, each chakra is linked to certain physical, spiritual or emotional problems we're facing. Finding the culprit of our troubles also determines the origin of chakra that causes it.
All gemstones associated with chakras have a crystalline structure so that the chakras get healed, and the healing effect amplified. While some gemstones radiate the negative energy to the sender, improving their overall chakra state too, it's worth noting some gemstones are powerful enough to absorb the negative energy.
The healing is considered successful when the energy loopholes and blockages are eliminated and pathways function in a way that all energy is distributed across the body equally.
Best Chakra Stones for The Seven Chakras
In the further paragraphs, we'll present the seven chakras that are responsible for the state of our mind and body. We'll also highlight the most prominent gemstones and how they can help us balance out our chakra. Read on.
1. Root Chakra and Fire agate
The root chakra, also known as base chakra takes place at the very base of the spine, hence the root. It's complemented by colors red and black and focuses on properties like grounding, security, stability, confidence and more.
When this chakra is affected and feeling weak, the emotions you may manifest are satisfaction, lack of confidence, unhappiness with your posture, size or shape. Disbalance in root chakra often points out that you need to control your life and regain control. Such emotions often lead to feeling overwhelmed, angry, explosive and impatient.
Because root chakra is best described by red and black stones and crystals, we will highlight the most important root chakra stones such as Red Garnet, Red Jasper, Black Onyx, Smoky Quartz, Hematite, and Fire Agate.
Use these stones to regain the balance in the root chakra, with Fire Agate having the most effective applications, especially in combination with other protection stones like onyx.
Related
5 Best Crystals for Root Chakra
Do You Really Know January Birthstones?
Fire Agate
Fire agate will ignite our passion, positive energy, sexuality, confidence and much more. It's a variety of chalcedony belonging to the minerals that come from the quartz family.
Just like most the protective stones, fire agate creates protective shields that provide psychic shielding from the negative effects of the working environment, false friends and others.
The reddish- and brown-like stone radiates special energy, with its vibration enhancing the flow of the spiritual energy and heals the imbalanced chakra.
Above everything, this stone is a great teacher. It helps us become more self-aware, ready to take action for our deeds and take care of our health.
It can do two things at a time.
The first thing involves reflecting the negative vibes back to the sender of curses, swears, and negative energy. In the process, it'll teach the sender to be more mindful and change their bad habits.
The second thing it does is create a protective shield around you. In combination with other crystals like black onyx, fire agate will strengthen the protective shield, making you untouchable and invincible.
Also read
Black Onyx Meaning: Positive or Negative?
Fire agate will encourage you to take action to improve your lifestyle, and practice beliefs which will make you a better person. It'll lighten the fear, improve self-confidence, soothe your sadness and nervousness and make you more patient.
Furthermore, this is the stone of self-expression and creativity, it is ideal for artists who are struggling with a new project or ideas. It helps draw inspiration and motivation to work harder, rewarding you at the end of your hard work.
2. Sacral Chakra and Tiger's Eye
Sacral chakra takes location just under the navel. It's represented by two colors – orange and a blue-green variation similar to azure. Its energy focuses on multiple disciplines. It contributes to certain levels of creativity, but also sexuality, fertility and reproduction in particular.
It's tightly connected to desire, to deep and stimulating emotions. It contributes to more intuitional powers and controls a great variety of stones like Calcite, Carnelian, Blue-green Turquoise and Fluorite, Copper, Imperial Topaz and others.
When the sacral chakra is surrounded by low flow, that means that we're embraced by lack of rest and motivation. If you notice you're facing difficulties staying focused, going through completing basic activities with extreme difficulty and more, it's likely that your sacral chakra is affected.
You may need to restore it by adding more thrill and joy to your lifestyle. Nevertheless, the process may not be so easy. There are different materials you can use to help you on this path. You can use Carnelian, Sunstone, Tiger's Eye and more.
Related
Blue, White, Pink and Yellow Topaz: Differneces and Your Picks
Tiger's Eye
Tiger's Eye may be the most popular sacral chakra stone. Decorated in shades of brown, yellow and red, the tiger's eye looks incredibly powerful and charming.
Aside from sacral chakra, it's also associated with root and solar plexus. It can be mined in Mexico, Australia, the USA, India, South Africa, and Brazil.
This is the crystal of balance and grounding. If you're having difficulties within stabilizing thyself, the tiger's eye will help you achieve that, regulating the pathways and restore your energy. It uses the power of the earth and sun to nourish your energy, making you more balanced and stable.
There are many attributes that describe the powers of the tiger's eye. It's the stone of polarizing, often associated with the ying-yang properties. It heals your emotional body, balances mood swings, and dispels various fears and anxieties you may be facing.
As its name suggests, it brings forth the power of a tiger, as well as its courage. It boosts confidence, knowledge, wisdom and encourages you to succeed in your intentions. It's the stone of brave actions, which invites you to take various risks to achieve your goals.
Just as the sacral chakra in itself, the tiger's eye is associated with strong intuitional thinking, so you should listen to your gut feeling when you feel it. It establishes firm foundations for integrity and self-mastery and reduces food cravings and binge eating for those on a diet.
Lastly, this stone can be used for nurturing your senses, making them stronger and more reliable.
Also read
Tree of Life Doesn't Always Mean Good?
8 Best Healing Crystals for Anxiety
3. Solar Plexus Chakra and Amber
As its name suggests the solar plexus chakra is located in the solar plexus just under the breast bone. It's characterized by the yellow color with a focus on intellectual thinking, power, protection, ambition, and persistence.
The crystals and stones that describe it include Amber, Golden Calcite, Gold Tiger Eye, Citrine and Yellow Jasper.
When the low energy levels in the solar plexus chakra occur, you may feel weak, pressured, in a need to vent and more. The butterflies you may feel in your stomach may often warn you of some anxiety or insecurity.
You'll feel unstable and unable to gain control over your emotions. These emotions are bad because you may grow insecure, overactive, hypersensitive and anxious.
The aforementioned stones may help you get rid of those toxic emotions and now we'll detail the powers of Amber.
Amber
Amber is available in various colors, but mainly gold, golden brown or yellow. Aside from the solar plexus chakra, amber often controls the sacral chakra too. You can find it in Russia, Romania, Sweden, Italy, Germany, Italy, the United Kingdom and more.
Amber refers to the fossilized part of the tree so it's technically not a crystal. However, its healing capabilities make it a great charger for solar plexus chakra. It will help you get rid of instability and purify all emotional blockages that stop you from prospering.
Amber has been available since ancient times and attributed to prosperity in flora, fauna, and other different aspects of life. It harnesses the energy of Earth and the Sun, so it helps heal from problems and issues that also originated from the sacral chakra.
It'll improve your self-awareness, intuition and restore warmth and stability to your heart. It inspires positivity and encourages you to make a change that will improve your lifestyle. It will help you be more relaxed, spontaneous, romantic and friendly. It's a great ally to keep you motivated and help you clear the path for the top.
Amber, on top of everything, is protective and will shield you from the negative energy. It absorbs and transfers negative energy into positive energy, love, confidence and more. Always carry a piece of amber in your pocket or purse, so it's close to both your solar plexus and sacral chakra sources.
Also read
20 Types of Ring Settings: Find the Perfect Design For You!
Sterling Silver, Pure Silver and 925 Silver: Are They the Same?
Types of Diamond Cuts: Your Comprehensive Guide
Yellow Gemstones: Increase Your Creative and Intellectual Energy
4. Heart Chakra and Rose Quartz
The heart chakra, as its name suggests, wraps around the center of your chest, empowering your heart. Its colors include pink and green. As such, they dictate the type of gemstones that surround it.
With that in mind, the most commonly used heart chakra stones include Rose Quartz, Lepidolite, Cobaltian Calcite, Malachite, Jade and others. These stones focus on empathy and compassion, consciousness, balance, love, and passion.
When the heart chakra pathways weaken, you may feel lonely, you may feel insecure and often in conflict with significant other. Furthermore, you're more sensitive, easily explosive and may overreact to the most basic of situations.
Rose Quartz is the most effective stone for alleviating these feelings, below, we'll describe it.
Rose Quartz
The pink-colored Rose Quartz calls forth the never-dying, timeless love. It focuses at the center of the heart and can be found in South Africa, Madagascar, Japan, USA, India, Mexico, and Argentina.
This crystal is the most significant heart chakra stone, and most effective as a heart-healing, standalone crystal.
Rose quartz appears more appealing to the female community because of its elegant, fragile and feminine energy. It heals both heart and mind, focusing in the depths of the heart chakra and the higher heart chakra often called thymus chakra.
Rose quartz will help you explore your significant lover, learn about them and help you fall in love even more with them. It will ease your heartache, heal the heartbreak and help you on the quest to meet someone new and compatible.
It also encourages self-love, treating yourself, and more while improving your sleep cycle and easing your fear of losing the significant other. It's ideal to place it next to your bed, or in the corner where your relationship gifts are.
Related
Exploring the Meaning of Rose Quartz Crystal
Pink Gemstones: Get to Know the Best of the Best
CTW vs. CTTW: How much does Your Gemstone Weigh?
Vermeil, Gold Plated, and Gold Filled: Know it Better
10K, 14K, 18K, and 24K Gold: Which to Choose?
5. Throat Chakra and Angelite
The throat chakra resides in the neck just above the collar bone. The blue color describes it with an energy focus towards divine guidance, communication, self-expression, self-love and more.
The throat chakra is described by many stones, mainly blue in color including Blue Calcite and Kyanite, Celestite, Blue Chalcedony, Sodalite and more.
Also read
A Guide of Blue Gemstones You Can Actually Buy
Chrysoprase vs Chrysocolla: Meaning and Properties
When your throat chakra gets affected, you'll have difficulties speaking and expressing yourself. You may find yourself speaking too fast, or even speaking before thinking.
That can lead to arguments, conflicts and hurting those you love. With disbalance, you can't find a way to control your thoughts and can easily become frustrated.
To fix this, you should meditate using some of the mentioned healing stones so that your thoughts come back to the balance. Such stone is Angelite.
Angelite
Often called the stone of awareness, angelite will help you achieve balance and channel communication properly. It can affect three chakras – throat, third eye and the crown. It's easily found in the mines of Mexico, Peru, Egypt, Poland, and Germany.
It's an angelic stone, which helps you search for the truth from within. It equips you with compassion, empathy, angelic thoughts and more. Described by the colors of blue and white, it leads to self-expression, love and light, while improving the functioning of the thyroid and parathyroid glands.
Angelite is often used by healers and spiritual teachers, although those who want to enhance their communication skills, awareness and confidence may also use it.
More about necklace
6. Third Eye Chakra and Lapis Lazuli
The third eye chakra is located on our forehead, just above the eyebrows. It boasts the indigo color and focuses on spiritual awakening, intuition and light. There are different stones that describe it, such as Lapis Lazuli, Azurite, and Tanzanite.
The third eye is associated with inspiration, creativity and spiritual intuition. When you feel you can't think clearly, draw creativity and motivation to work, it's possible that the third eye chakra has been imbalanced.
The third eye chakra cleanse is achievable through various material, although Fluorite and Lapis Lazuli is the most commonly used ones.
Lapis Lazuli
You may easily get lost in the endless ocean and the universe behind the deep blue. This crystal can be found across the Middle East, Russian, Egypt, Chile, the USA, and other places.
While controling the third eye, Lapis Lazuli is often worn as a necklace to nourish the throat chakra too.
It will help reach clarity while cleansing the issues channeled in your throat area. If you feel you have been refraining from exploding and holding onto angry feelings for too long, lapis lazuli will help you achieve spiritual freedom. It helps reawaken your mind while encouraging self-awareness.
Also known as the stone of truth, lapis lazuli is related to sincerity and honesty. It's great for people who work in providing credible and honest information such as writers, executives and journalists.
Lapis Lazuli can easily be worn in a pocket or purse, kept next to the bed if you want to combat dark dreams and nightmares. However, it's hugely popular as a necklace pendant. Use it, and you'll never have difficulties speaking your mind.
Related
Meaning of Blue Quartz Crystal: Message from the Rare
September Birthstone: You Have More Options
7. Crown Chakra and Amethyst
Crown chakra is at the top of the head and controls the mind. The surrounding colors include white, violet, golden-white and others. It refers to spiritual enlightenment, positive energy, awareness, consciousness and striving towards perfection.
When it comes to gemstones, there are way too many including quartz crystal, amethyst, white topaz and calcite, and others.
If you can't focus or think clearly, if you can't let go of the unnecessary stress, it's likely that the crown chakra fell out of balance. Amethyst is the best crystal for regaining control over crown chakra, learn more about it below.
Amethyst
A violet variation of Quartz with a vitrous luster, amethyst is among the most popular gemstones which can be found everywhere around the world. It's the birthstone of Pisces and among most beloved crystals for jewelry and decorations.
Not too expensive, amethyst is available for everyone and its healing properties are refreshing to the mind.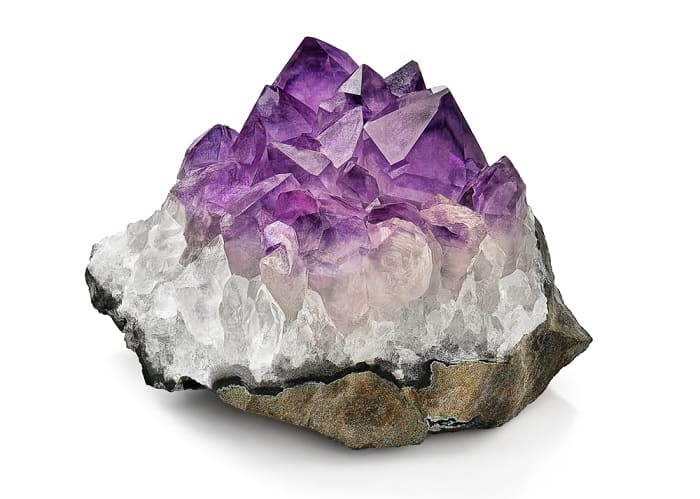 Amethyst was used for healing various ailments throughout centuries, it's associated with better focus, understanding, self-acceptance and spiritual awakening. It's used for enhancing communication, alleviating stress, meditating and more.
Being the stone of the mind, it enhances hormone production so it helps with hormonal disbalance. Additionally, it strengthens the immune system and empowers the metabolism. It's often used for cleansing the blood, so it's great for those who combat drowsiness and alcohol and drug abuse.
Despite being considered the crown chakra stone, Amethyst also protects from respiratory diseases, enhances breathing, and acts soothing towards the lungs in various stressful situations.
More about rings and gemstone cuts
Pavé Setting: Know It Before You Buy Diamonds
Square Cut Diamonds: How Do You Choose the Perfect Stone
In Closing
Each chakra is described by more than one stone, and combining them may fasten the process of healing and closing the damaged pathways in our body. Which chakra stones do you use and why? Let us know in the comments!
And don't forget to share the beauty today!